Fluent Forms version 4.3.9- Get Latest Updates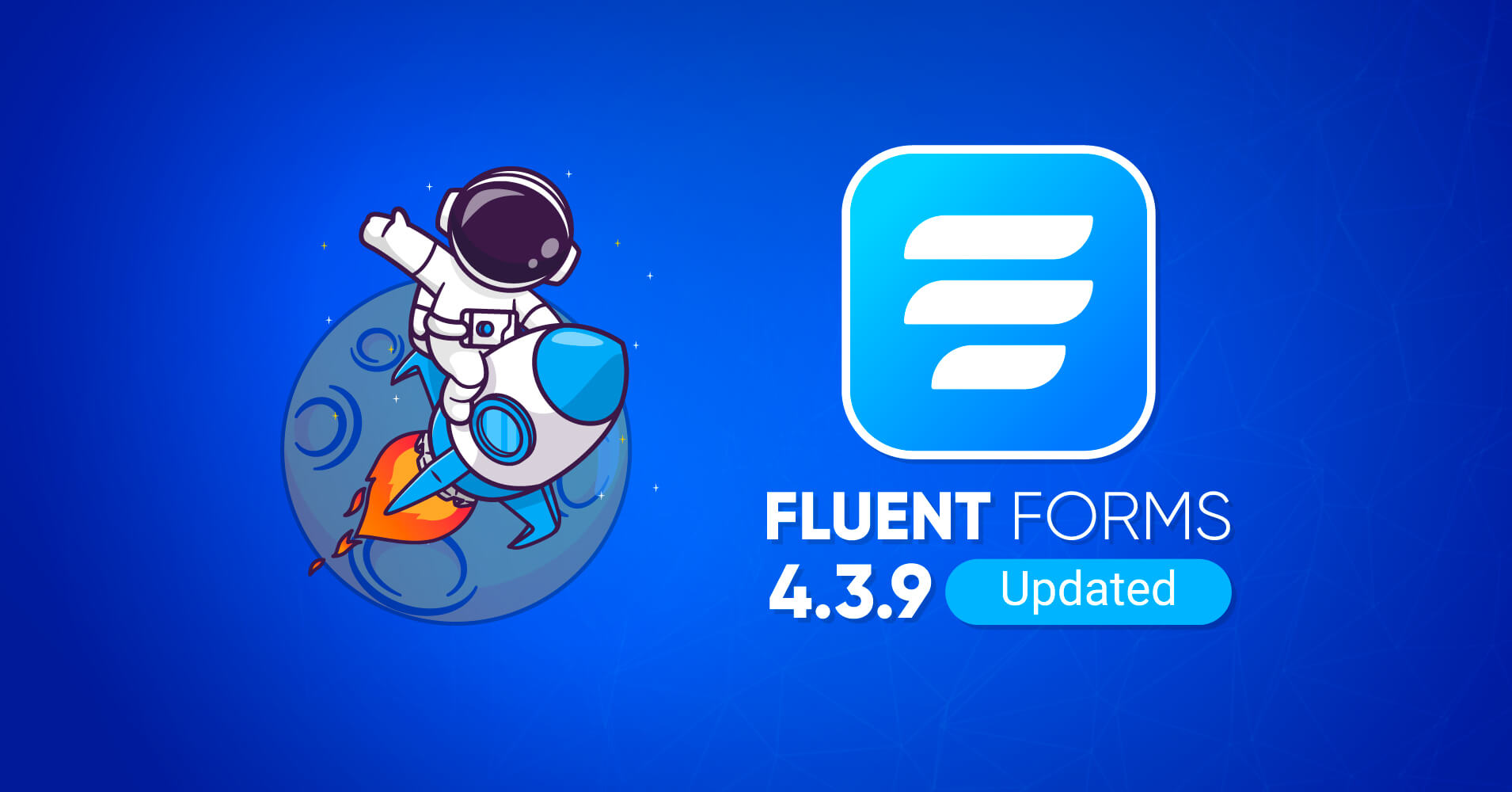 Hello guys, welcome to another release note of Fluent Forms. As we are excited to introduce you to the latest features and bug fixes options for more flexibility, we have come up with another update this month.
In this article, we'll showcase all the main features and updates briefly. So, let's check out the smoother, and faster Fluent Forms' newest version 4.3.9!
hCaptcha in conversational forms
Previously, we have introduced the hCaptcha field in our general forms' fields section. Now you can use it on the conversational forms templates too. Go to Fluent Forms Pro from your WordPress dashboard, and click on the Create Conversational Form button from the dropdown menu of Add a New Form button. Add the necessary fields, and then move on to the Advanced Fields section for the new hCaptcha field.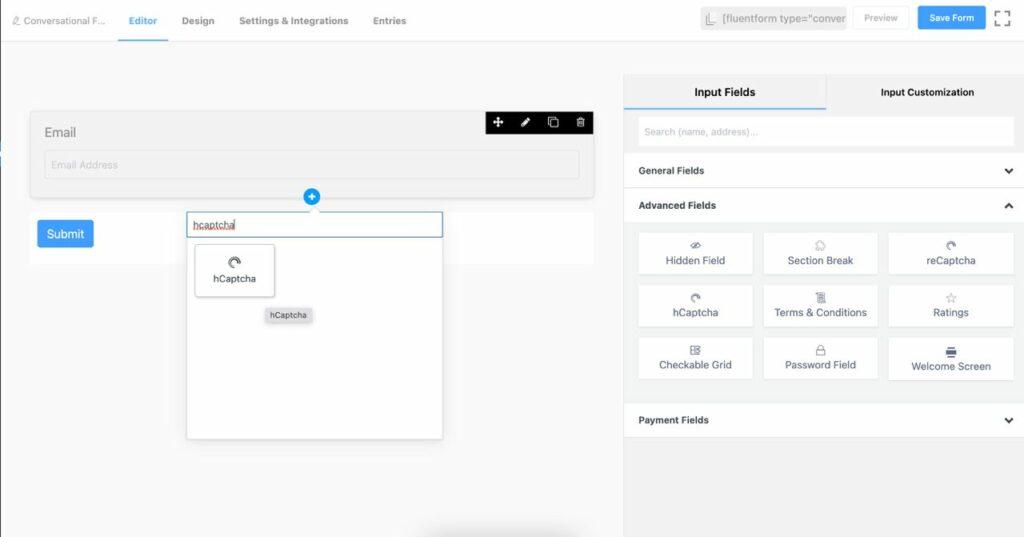 But before adding this field, you have to active the hCaptcha field from the Global Settings option. To do that, you must have to open a hCaptcha account and paste the site key, and secret key to validate the account with Fluent Forms. After that, you can add the field from the editor.
Customizing column width
Formerly, we have had Fluent Forms' global styler or CSS option to modify your form fields' column width. From now on, you don't need to do that separately. In this update, we have added a dedicated drag and drop option to customize the range of the columns.
User profile editing option
Another amazing update of this release is the user profile editing option for any form. You can make the WordPress User Update process super easy by designing a user update form using Fluent Forms. Users will be able to update their information in a modern form. To do that, first of all, you have to turn on the User Registration module from the integrations section.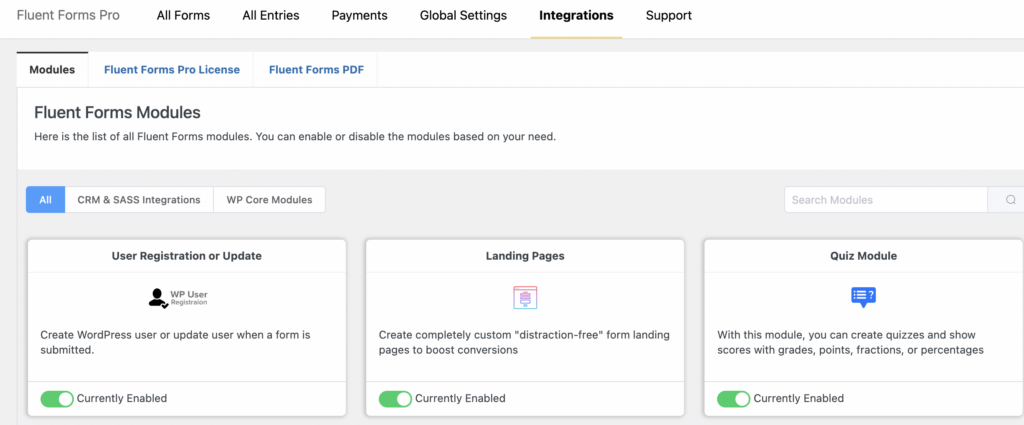 After that, move on to the Marketing & CRM Integrations section of form settings. There you will get the User update option in the services section. Besides, you can set the user meta on this setting.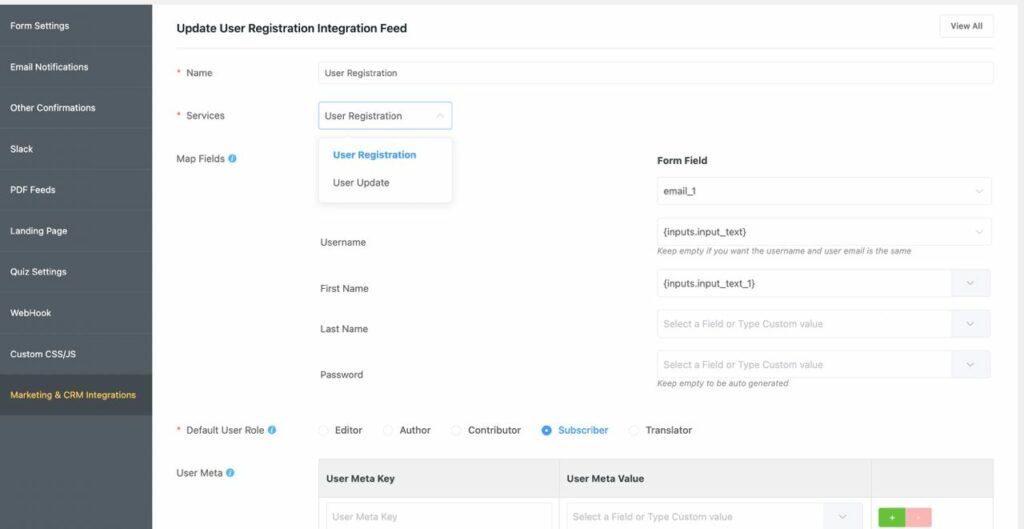 Partial entry bulk delete
From now you don't have to look for partial entries by clicking each entry of a specific form. We have included a bulk option beside the entries option to delete the partial entries separately.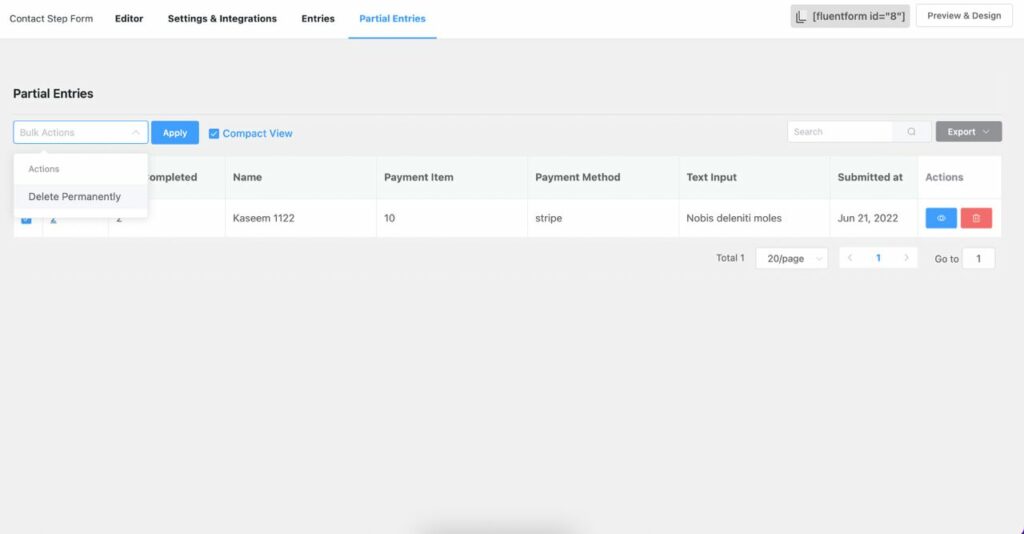 Support formatted regex pattern and fix empty pattern match on conditional logic
We have received many requests from our users to add the formatted regex option on conditional logic to fix the empty pattern match. And we worked on that too. Now you can easily give any command to your conditional logic option, and collect more accurate data from your clients.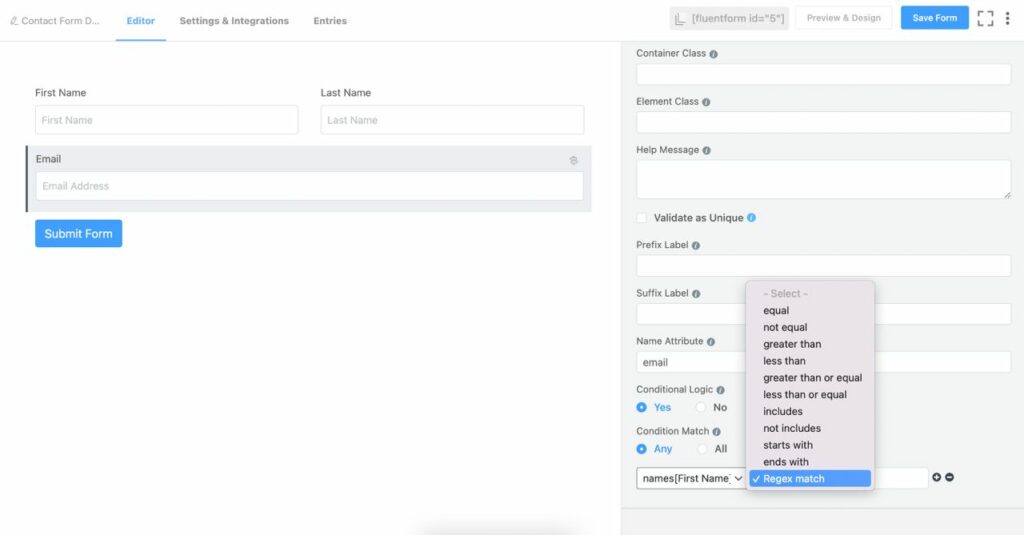 Fixed range slider broken issue for multiple uses on the same page
We have received a complaint from our users that when a form's shortcode is used twice on the same page, the range slider is broken.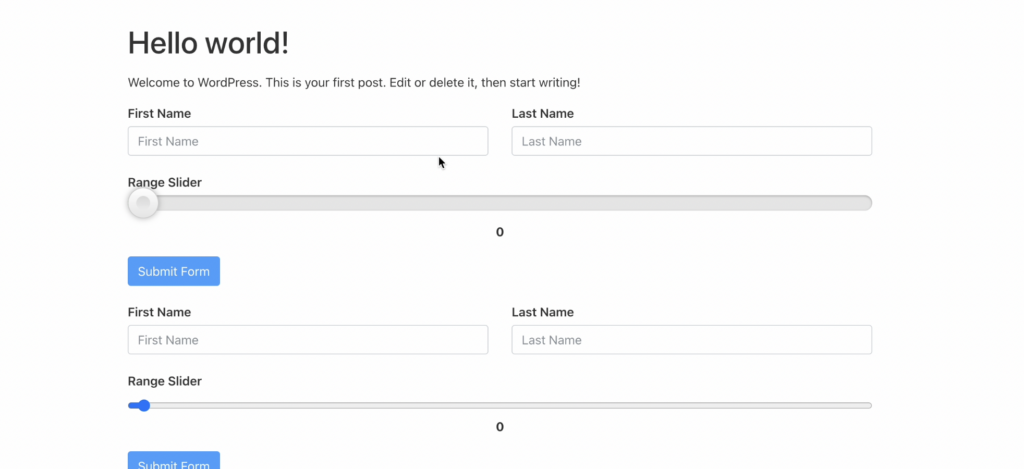 In this release, we have solved this problem. Now you can paste the shortcode on the same page as much as you want without any broken fields.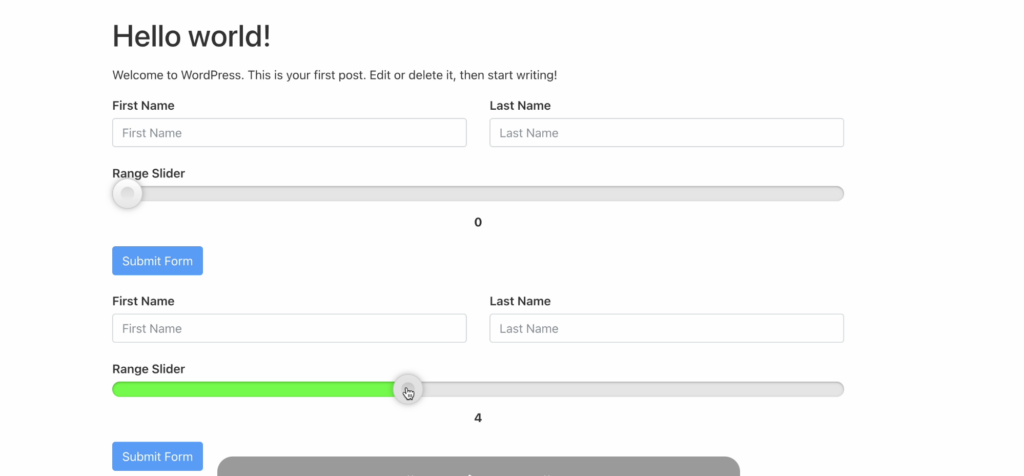 Fixed the bug in the confirmation message
We got another bug issue regarding the form confirmation message, that the confirmation texts cross the border of the text layout.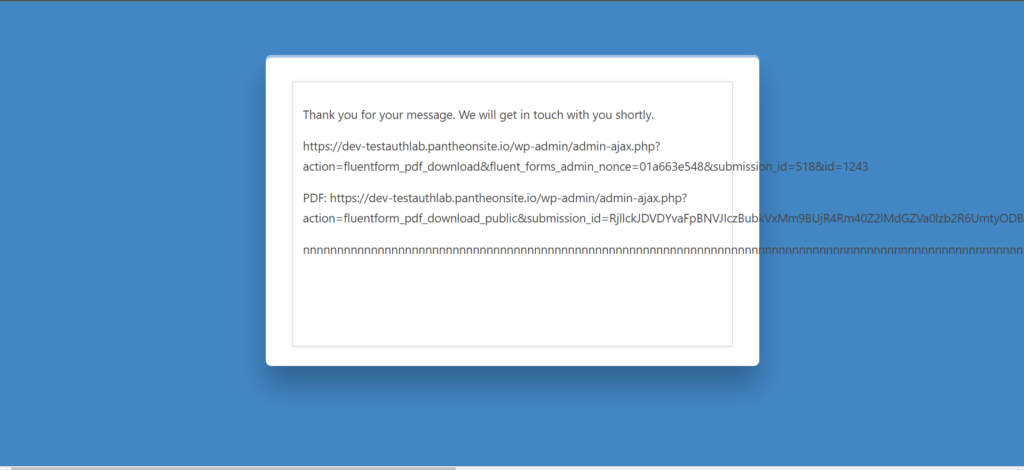 We have resolved this issue too!

What's more?
We always keep track of our users' requests and try to give our best to ensure the smoothest experience of form building. Along with these features, we've fixed some bugs and issues that are bothering you. Most significant improvements are:
Fixed conditional logic empty issue
Fixed form duplicate issue
Fixed Post Form Bug: Query parameter not selecting the default value for taxonomy field
Fixed payment method's field conditional logic issue
Fixed tooltip not fully visible when placed near left border
Fixed post update dynamic default value bug
Fixed Google Sheet large column numbers issue
Wrap up
That's it. Have fun with the latest features and fields, and make beautiful forms with Fluent Forms effortlessly. Follow us on Facebook, Twitter, Instagram, and YouTube for more updates and tutorials on our features.