Grow Your Business with MailerLite Email Marketing Tool
Inqiat Ahsan Reza
. August 27, 2021
. 6 minutes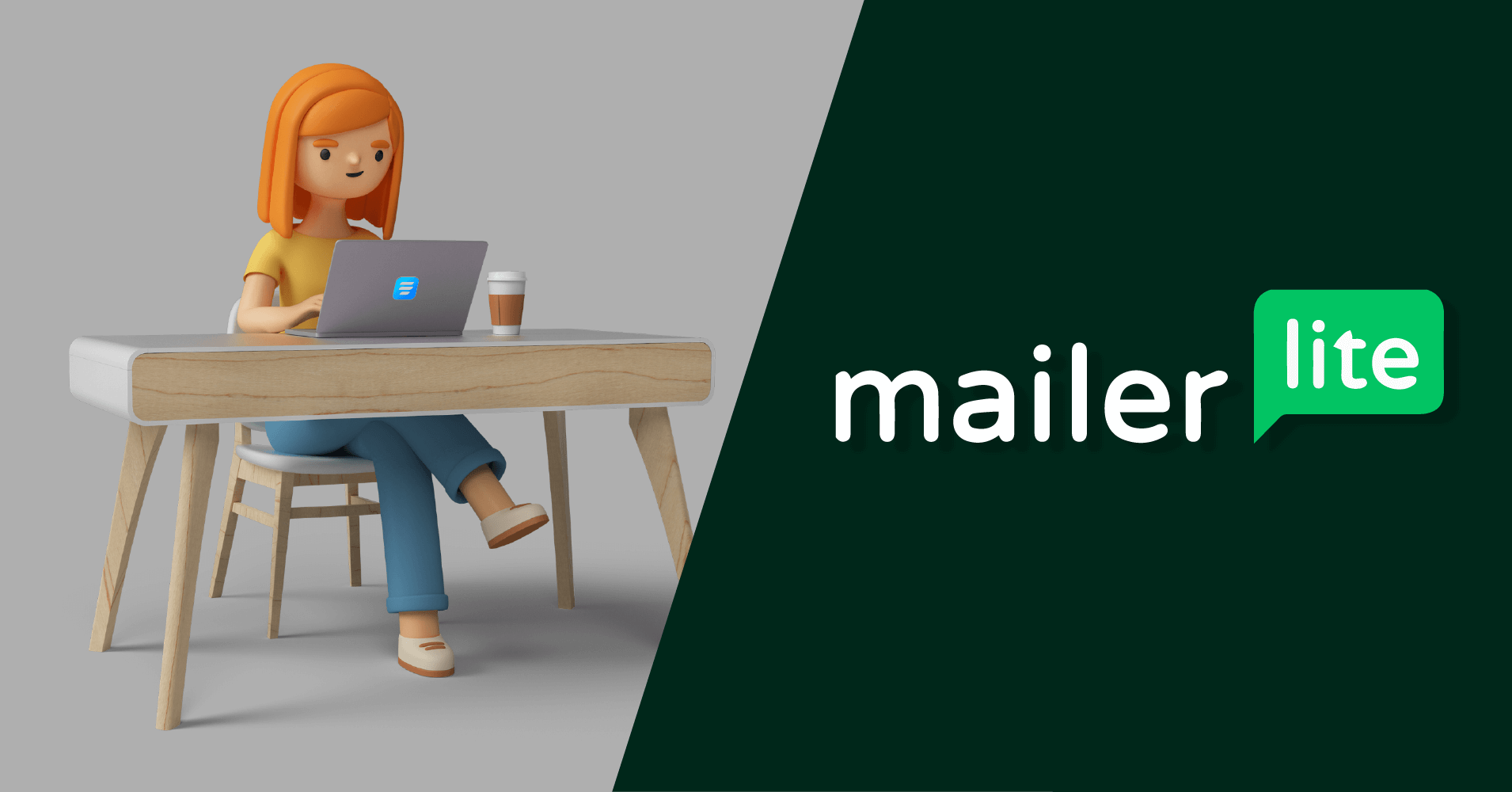 When it comes to email marketing, you can't afford to get wrong. All the world's marketing leaders agree that email is their most effective marketing channel. Did you know email generates $38 for every $1 spent, which could go up to a jaw-dropping 4000% return on investment? Not only that, it's 4X higher than any other marketing channel, including all social media. When shopping for an email marketing tool, it's easy to get lost as there are so many options in the market. If you're on a tight budget and looking for a suitable email marketing solution, you can grow your business with MailerLite.
If you can successfully add the right email marketing tool to your tech stack, you'll be able to nurture your leads to convert them into customers. Which ultimately brings your brand to a much wider audience than you thought possible. You can take your email marketing beyond the inbox and grow your business with this amazing email marketing tool.
Fluent Forms is the most beginner-friendly form builder. Download now and start crafting beautiful forms FREE!!!
Why MailerLite?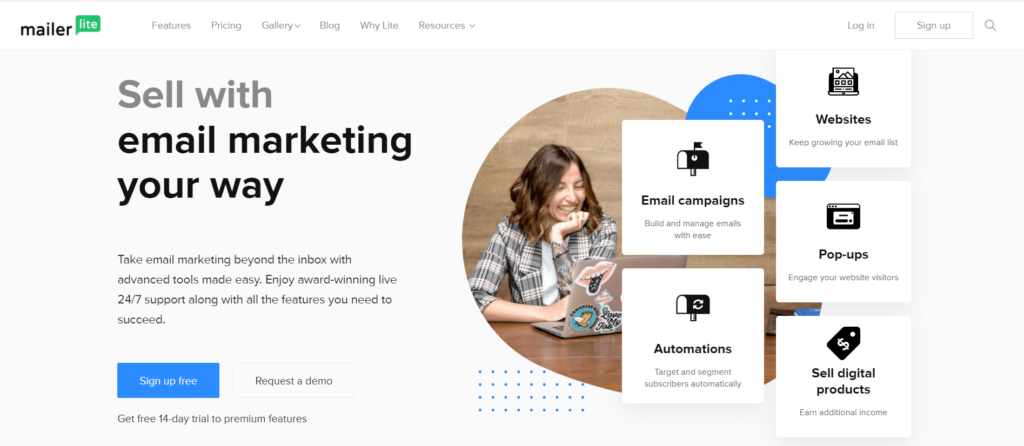 MailerLite is a simple yet powerful email marketing service provider which comes with excellent customer support and beautiful email design. This user-friendly software allows you to quickly create attractive email campaigns and make dynamic emails with ease. You can also track their results, design custom pop-ups, manage subscribers and unsubscribers, design landing pages, do A/B testing & surveys to outperform your last email campaign, and much more. It's an amazing alternative to Mailchimp and has tons of features and integrations to help you grow an effective email list. If you're interested, check out this MailChimp vs. MailerLite comparison in detail.
Now let's point out when to choose MailerLite.
When to choose MailerLite
Before making your mind, you need to know if MailerLite is the best option for you. And we're going to make sure you know when to choose MailerLite and how to grow your business with MailerLite.
Choose MailerLite if:
You've a small business
If you own a small business and have a modest budget but still want a good email marketing tool with amazing features, you can go for MailerLite. It's one of the best marketing tools in the market and such a good value for money. This is a lightweight, easy-to-use email marketing tool that offers features like automation workflows, landing page editor, pop-up forms, contact tagging and segmentation, and so on.
You're a beginner
MailerLite is the best choice for anyone who's just getting started with email marketing tools with a simple interface and easy-to-use email editor. You'll feel a beginner-friendly environment while using it, and their MailerLite Academy will help you turn into a MailerLite certified email marketing expert – which is completely free.
You want a lightweight email marketing tool
The name MailerLite says it – it's a great lightweight email marketing tool and has a bunch of top-notch features. If you're not looking for something fancy and shiny, you can give MailerLite a try. We don't want to mislead you; this doesn't mean it's too basic and boring to use. Instead, it just has the right amount of balance between simplicity and efficiency.
You're on a limited budget
The main difference between MailerLite and other email marketing tools is the cost. With MailerLite, you get a Free Forever Plan, including marketing automation. However, some features like newsletter templates, custom HTM aren't available in this plan. But you can still get:
Up to 1,000 subscribers and 12,000 emails send per month
Full access to features like automation, subscriber management, free templates, landing pages, advanced segmentation, and so on
24/7 email support and video tutorials are also available in the free plan

As we are discussing how to grow your business with the MailerLite email marketing tool, there's another tool that can go hand in hand with this. Fluent Forms and MailerLite are a heavenly match: to take your game to the next level; you should integrate MailerLite with Fluent Forms. Different types of forms can give your business another dimension. And with this integration, you can turn your forms into some flagship marketing tool. You can build versatile forms to attract your audience to subscribe, collect data, segment it and run some sophisticated email campaigns too and fluently grow your business with MailerLite.
Why Fluent Forms?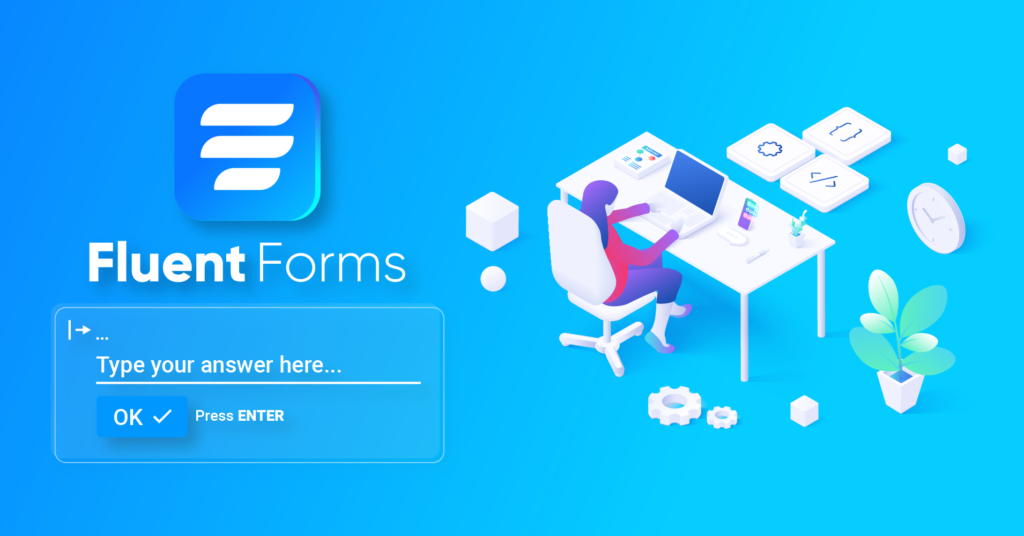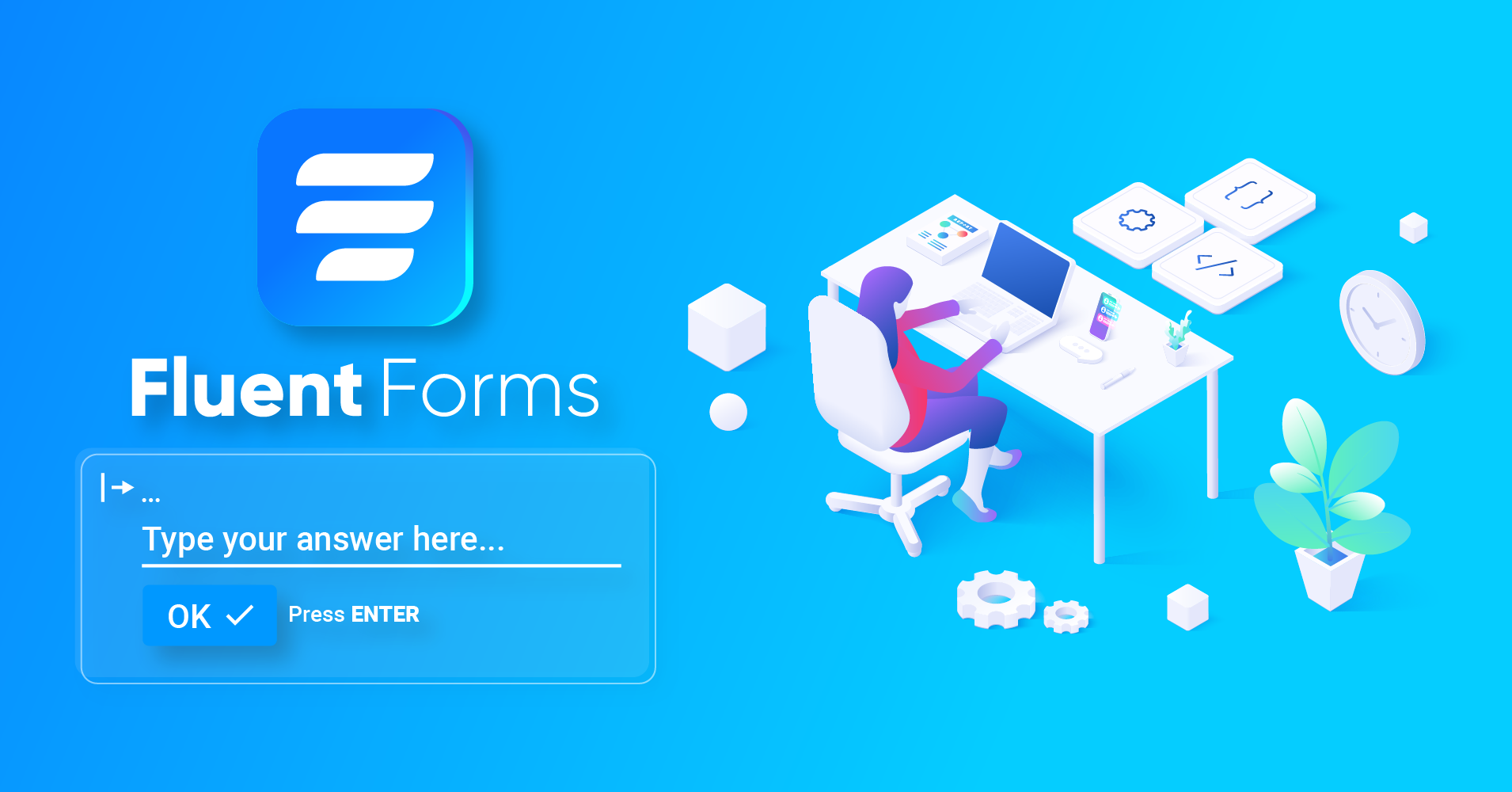 If MailerLite is one of the lightweight email marketing tools, Fluent Forms is the most lightweight form builder tool in the market. It's straightforward and easy-to-use, yet capable of building beautiful forms. No coding required; simple drag-and-drop made it hassle-free for users. The plugin comes with 70+ pre-built templates, 35+ third-party integrations, and 45+ input fields for users. If you want to give your forms some dynamic extent to it, feel free to use Custom CSS/JS, design some eye-catching buttons, add photos/icons to make your form more graphic. Fluent Forms also has a free version which comes with some fantastic features. If you compare Fluent Forms basic with other freemium plugins, you'll know why it's the best option for you.
Now let's dive into the steps to integrate MailerLite with Fluent Forms and effectively grow your business.
Steps to integrate MailerLite with Fluent Forms
Activate the Mailerlite Module
Create a Mailerlite account
Copy and Paste API key in the Settings tab
Save the Settings
First, log into your WordPress dashboard and hover over Fluent Forms Pro. From there, you go to Integration Modules and find the MailerLite Module to enable it.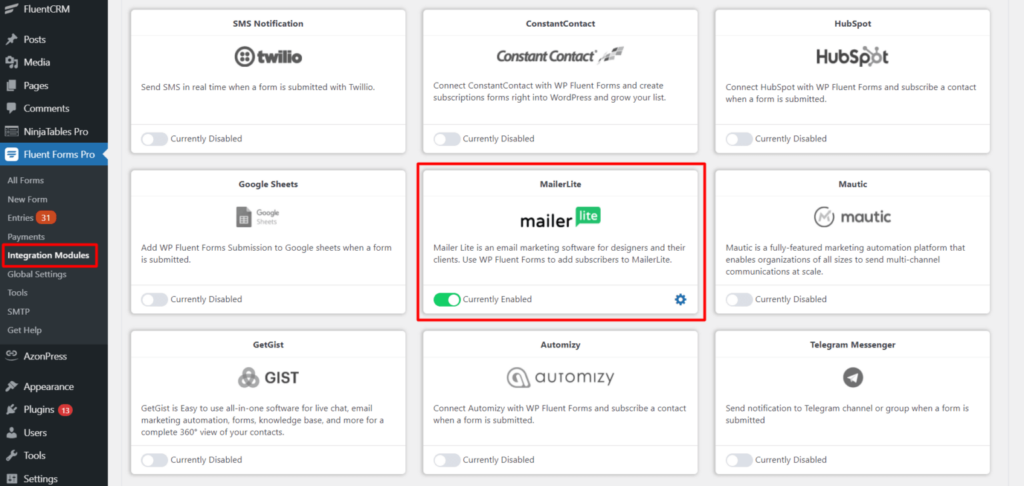 You need to get the MailerLite API to integrate it with Fluent Forms. To get the API key, simply sign in to your MailerLite dashboard, go to the top-right dropdown menu, and choose integrations. If you don't have a MailerLite account, sign up with your company name and email address. After that, you'll need a two step validation. This won't take much time.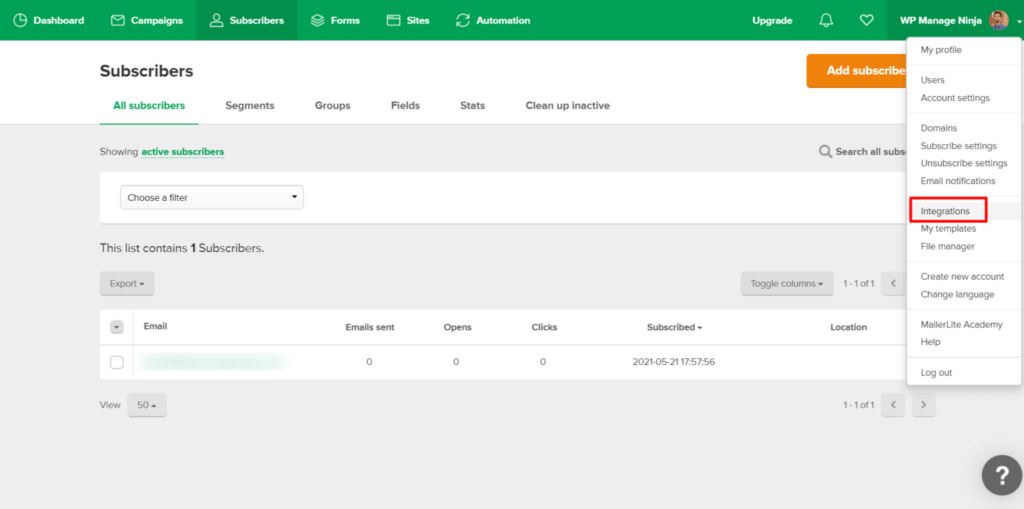 Now choose the Developer API and copy the API key from the bottom of this page, as shown in the screenshot below.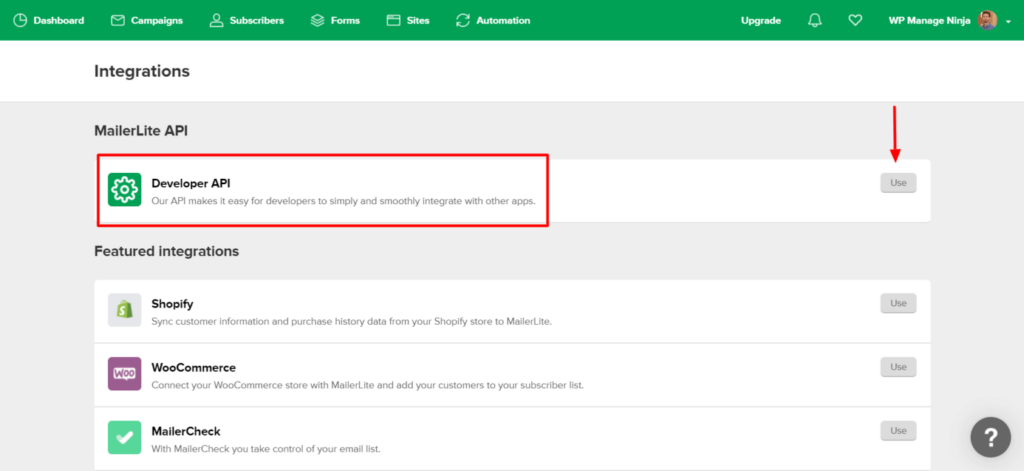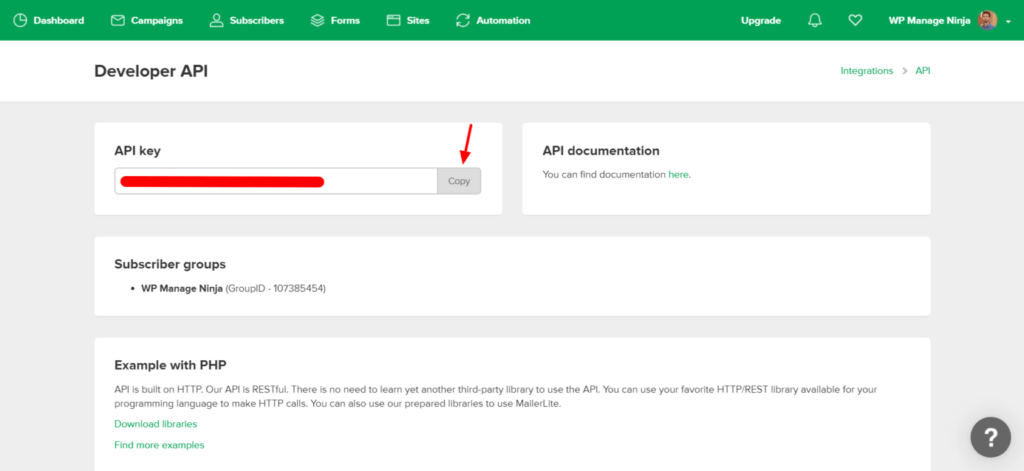 From Fluent Forms, Global Settings, go to MailerLite Tab and add the API Key that you have already copied previously. Don't forget to save the settings. You'll see a success message after saving the settings.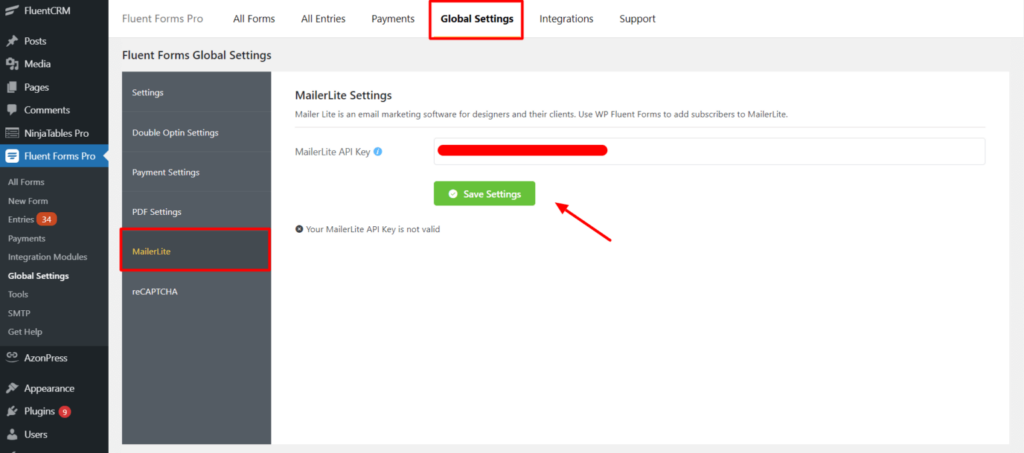 Now create a new form or just open an existing one and go to the Settings & Integrations tab. Here, under Marketing & CRM Integrations, click on Add New Integration and select MailerLite Integration from the List.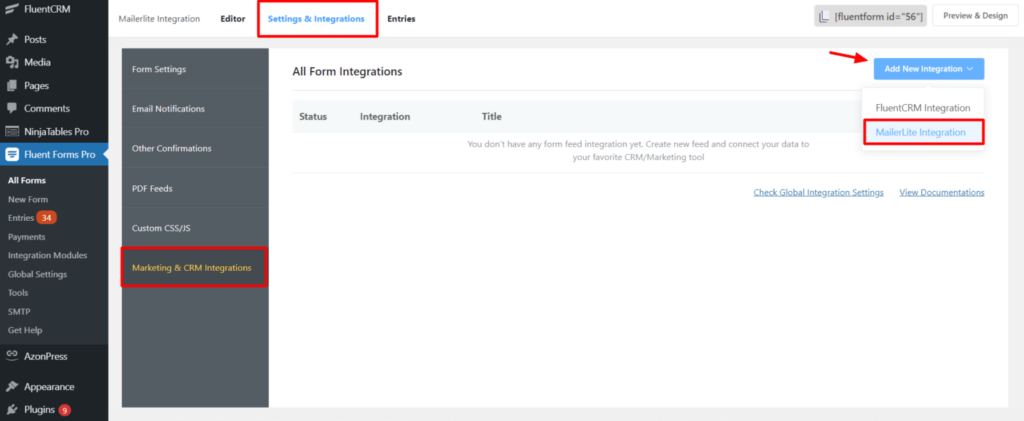 Select a Group List and Map the necessary Fields (Email, Name, Company, etc.) to send the data to MailerLite.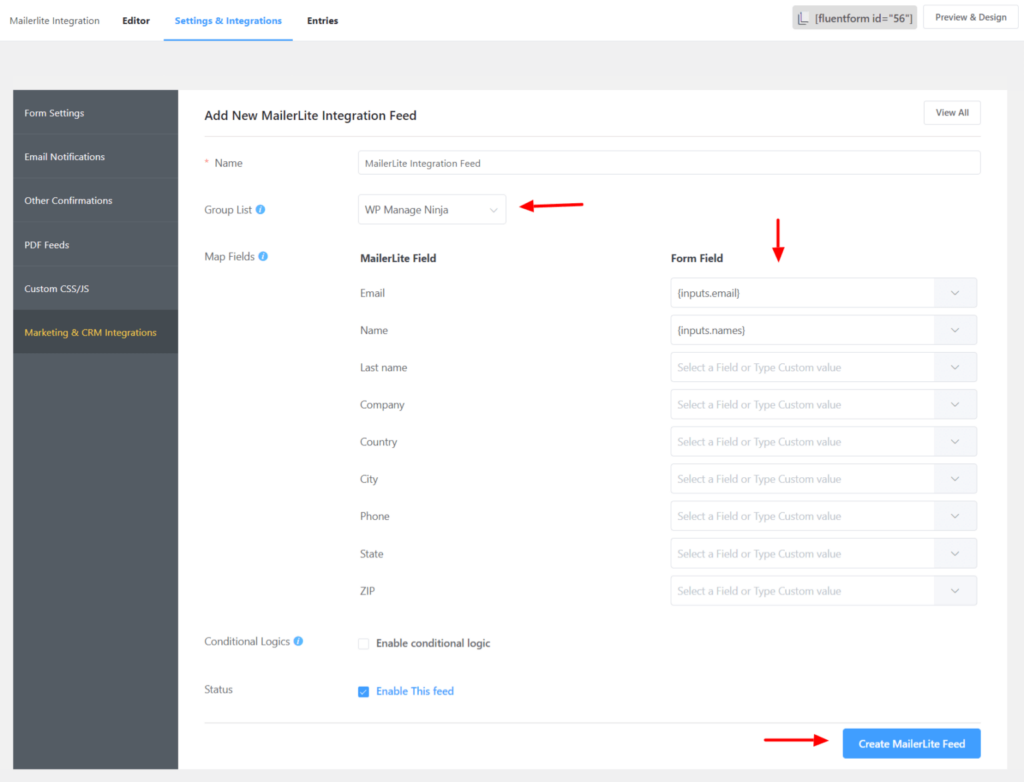 You can also add Conditional Logic if needed. Lastly, click Create MailerLite Feed to finish up the process. Congratulations! You've just successfully integrated MailerLite with the most lightweight WordPress form builder, Fluent Forms.
Now, as you know how to integrate MailerLite with Fluent Forms, you can start your first email campaign to grow your business effectively. To level up your game, you can follow these 11 amazing email list-building strategies. Don't stress yourself out. Just keep calm and grow your business with the MailerLite email marketing tool.
Don't forget to follow us over social media, and feel free to reach out to us if you have any queries.
---
Inqiat Ahsan Reza
He loves to play in the arena of WordPress and learn new things every day. Whenever he's not writing, he's playing billiard or spending quality time with his family.