WP Quiz Pro Review: Create Quizzes in WordPress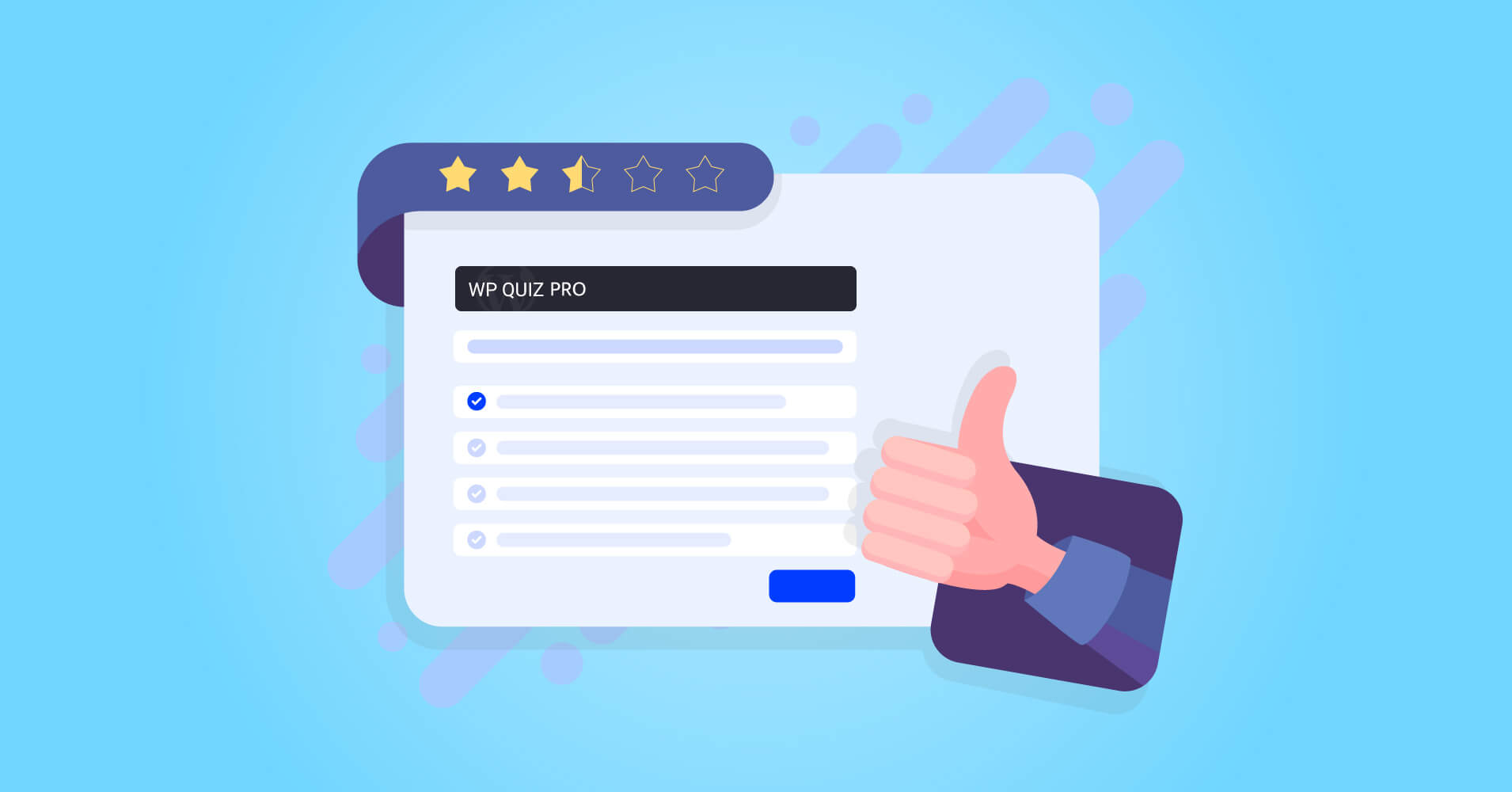 Do you want to increase user engagement on your site? Creating a quiz is one of the most effective strategies to improve user engagement of a website. 
Fortunately, there are some quiz maker WordPress plugins to do the job for you. WP Quiz Pro is one of the best quiz plugins for WordPress that will help you create engaging quizzes for your website. This plugin improves the engagement rate and comprehensive user interaction of a website.
Today, in this article, we are giving the WP Quiz Pro plugin review in detail. Besides, there are some other convenient quiz maker plugins like Fluent Forms. Plus, we have a competitive analysis between WP Quiz Pro and Fluent Forms so that you can cut one between them.
Fluent Forms is the most beginner-friendly form builder. Download now and start crafting beautiful forms FREE!!!
WP Quiz Pro Review
WP Quiz Pro is a well-known WordPress plugin for creating engaging quizzes for WordPress sites. This plugin helps boost the engagement rate and comprehensive user interaction of a website.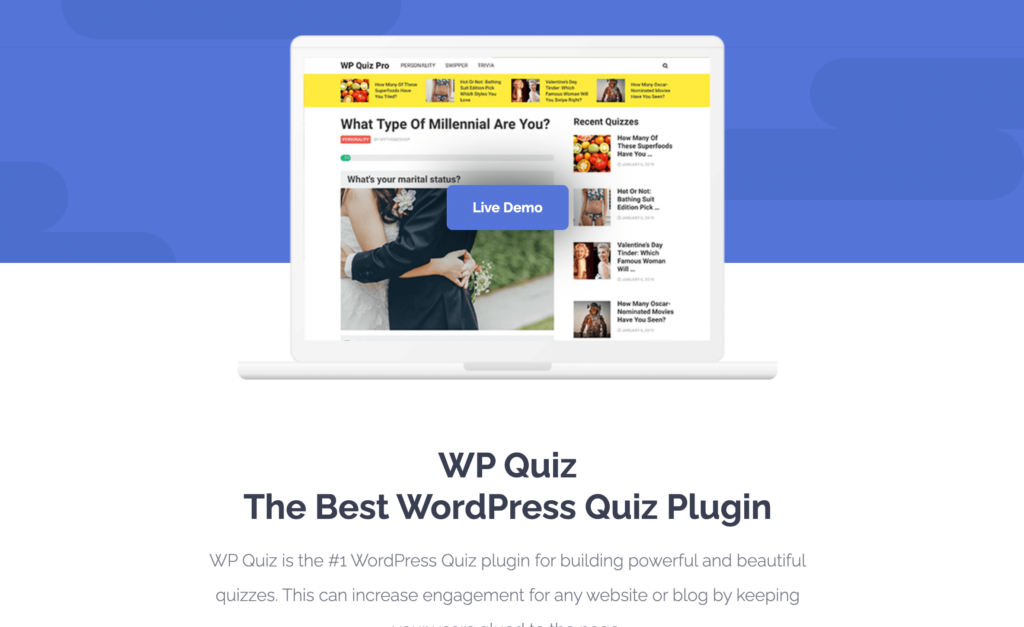 If you want a high-quality quiz maker for your website, an engaging quiz maker plugin like WP Quiz Pro can be a good option. By adding quizzes to your site, you can improve user engagement rate, boost traffic, and reduce the bounce rate.
You know many sites integrate huge traffic and earn a lot just by generating viral quizzes and sharing these quizzes on social sites. It's a beneficial strategy to enhance any business.
In a nutshell, WP Quiz Pro is a feature-rich premium plugin. This plugin offers plenty of awesome features to make professional-looking quizzes.
WP Quiz Pro Key Features:
Progressive user interface
Multiple types of quizzes
100% Responsive design
Email Subscription available
Engaging List posts
Compatible with all themes
40+ excellent animation effects are available
Multimedia integration allows you to use pictures, GIFs, and videos
Social Media support
The dedicated comments section for visitors
Randomized quiz options
Monetization feature (Stripe and PayPal for paid options)
A restart option and a countdown timer
Various Quiz types of WP Quiz Pro
Once installed, the WP Quiz Pro will come with several types of quizzes. These are as follows:
Fun quizzes on Facebook
We all have given fun quizzes on Facebook. For example, "Are you The Joker, Harry Potter, or anyone else?" Or "If you were a food, what food would you be?" Making fun quizzes is a very intelligent strategy to entertain traffic on your site.
As users get these as fun quizzes, they play it more and share the quiz result with others. And here, WP Quiz Pro comes into play. It offers fun Facebook quizzes with an option to share.
Swiper Quizzes
Apps like Tinder most often use swiper quizzes. This type of quiz comes with a swipe-left swipe-right layout. Here you can make any number of "yes-no questions." After that, adjust the swipe right for the "no" answer and swipe right for the "yes" answer.
In addition, you can show the quiz results and keep an option to challenge the quiz to others on social sites. Swiper quiz is more suitable for mobile users.
Personality Quizzes
More than two million people give a personality quiz every year. This plugin enables you to make personality test questions. There are options to show specific results to your users. Besides, the questions can be set on a single page or multi-pages.
Moreover, WP Quiz pro gives options to choose between a "subscribe to see the result" or "share to see the result."
Flip Card Quizzes
If you provide riddle-based content, flip-card quizzes will be a good opportunity to engage readers. There a picture will come with a riddle or a question. Then users will be asked to imagine the answer.
After guessing, people will be able to push the picture, which tends to be flipped to reveal the answer.
Trivia Quizzes
A trivia test lets a person test his knowledge of various interesting and fun topics. This plugin offers several formats to create a quiz, as given in the "personality quiz."
As trivia quizzes are very popular among users, you will get increased traffic.
List Quiz Type
List types of quizzes effectively create a hierarchy type question answer. For instance, if you have a sports website and generate content around the best players in football.
Therefore, you can list some of the most famous players and quiz people to choose the best player and keep them in order.
Take Online Exams & Surveys
There are plenty of online courses, and schools often take online exams. WP quiz pro can make professional-looking exam papers. By survey option, you can create a poll to offer a vote and interact in your survey.
Advanced Statistics
This plugin keeps track of all data and statistics. So, you will be able to check the participants' data and voting patterns of quizzes.
Option to generate a Paid Quiz website
Using WP Quiz Pro, you can generate money by introducing a paid website version. Your site will connect money-transfer systems like Stripe and PayPal for paid options.
WP Quiz Pro Pricing
WP Quiz Pro plugin offers its premium version at $77, which can be used on three websites. There is another premium membership option at $199 for unlimited sites. In this plan, you can access all plugins and themes of MyThemeShop.
The good thing is that this plugin offers a 30-day money-back guarantee. So, if you don't find this plugin useful after buying, you can take your full money back within 30 days.
How to Create a Quiz with WP Quiz Pro?
Creating a quiz nowadays is like a piece of cake if you know the tricks. All you need to do is download the plugin from a plugin store. Then follow the below steps one by one:
Step 1: Download the plugin from the MyThemeShop shop.
Step 2: Then, carry on to the WordPress dashboard >> Plugins >> Add New.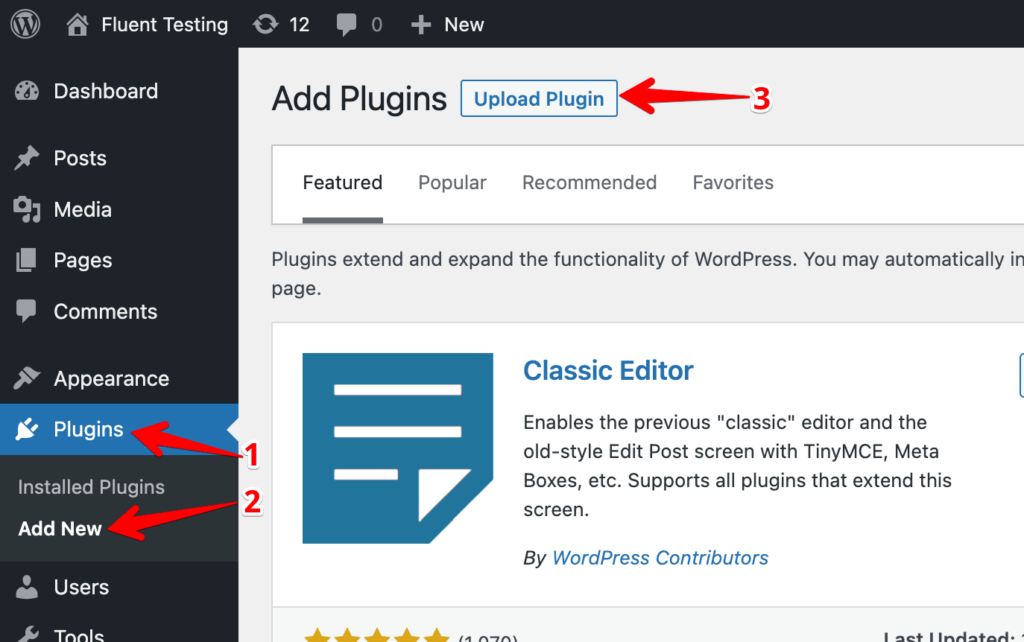 Step 3: You have to add the plugin's zip file and install it.

After installation, click Activate Plugin, and the plugin will be activated.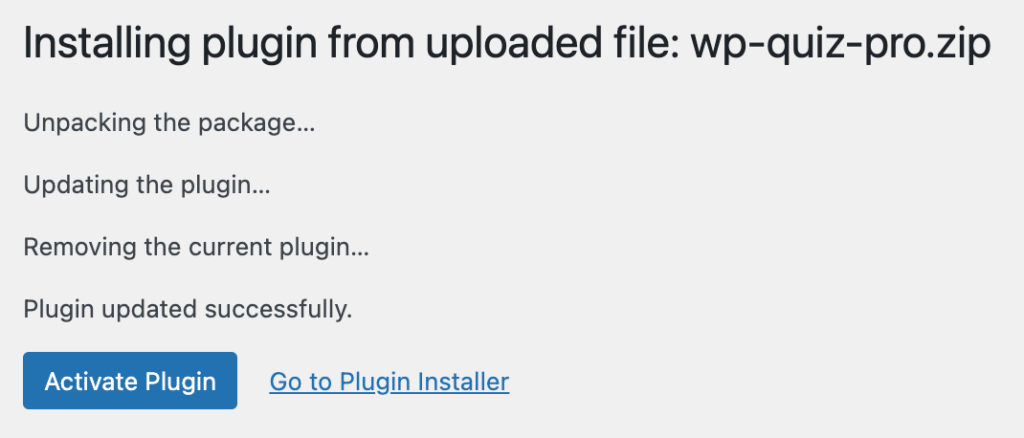 To make the plugin work, you have to connect it with your MyThemeShop account. Click Connect Now button.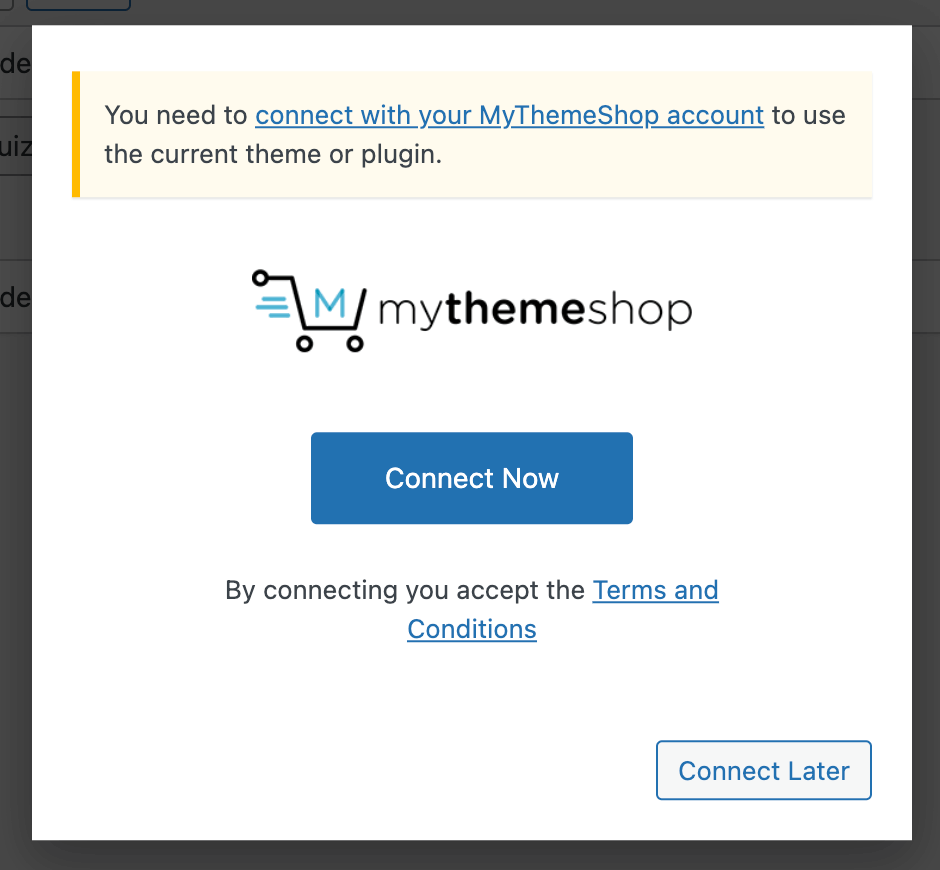 Step 4: After activation, the WP Quiz Pro option will come. You can now make new quizzes.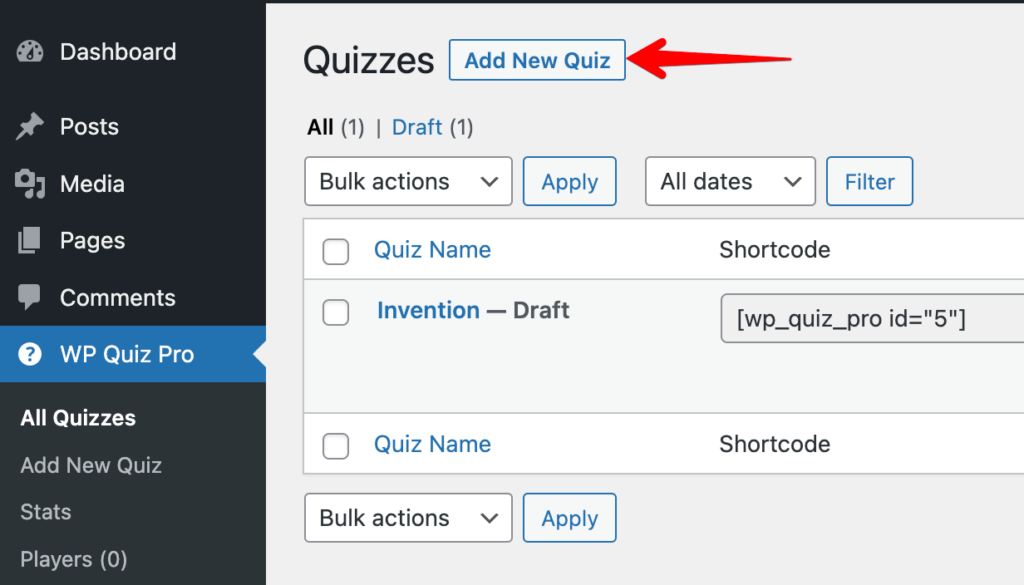 Step 5: Choose what type of quiz you need. This section is set by default. Different quiz types will be displayed there, such as Trivia quizzes, personality quizzes, etc. Just choose one. For instance, you have chosen a Trivia Quiz.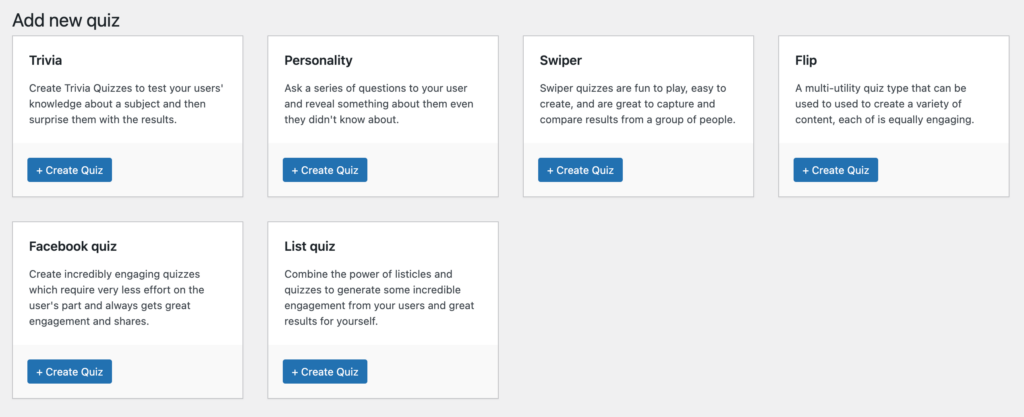 Step 6: After choosing it, there will be a Content Tab.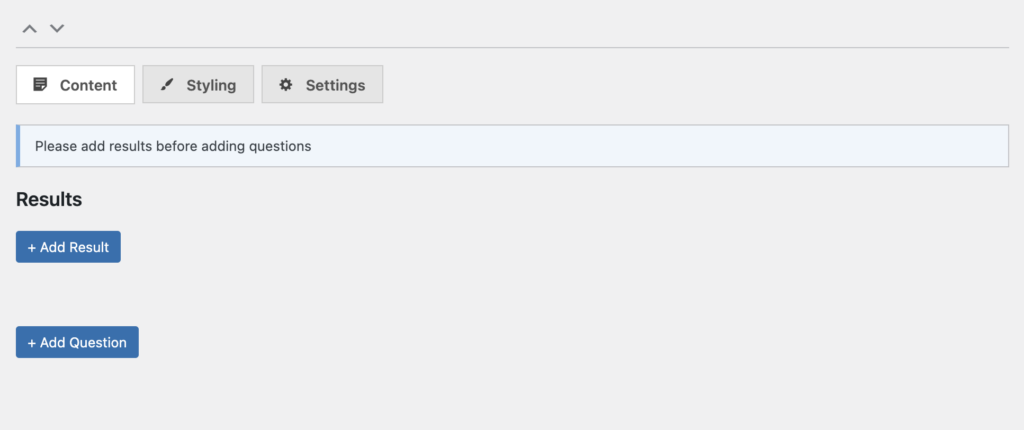 Step 7: Press the "Add question" tab below. There will be options for "Questions with image" and "Questions with video."
Step 8: Click the "Add answer" button. Then set up the result option. You can add multiple questions and answer them following this method.
Step 9: Set up the general settings for it. You have to integrate it with Google Analytics.
Step 10: Fine-tune the styling tab and choose what type of skin and color you want.
Step 11: Now, it's time to work with Settings Tab. You can set up randomized questions, email subscriptions, share to social media, pay-to-play, etc., options.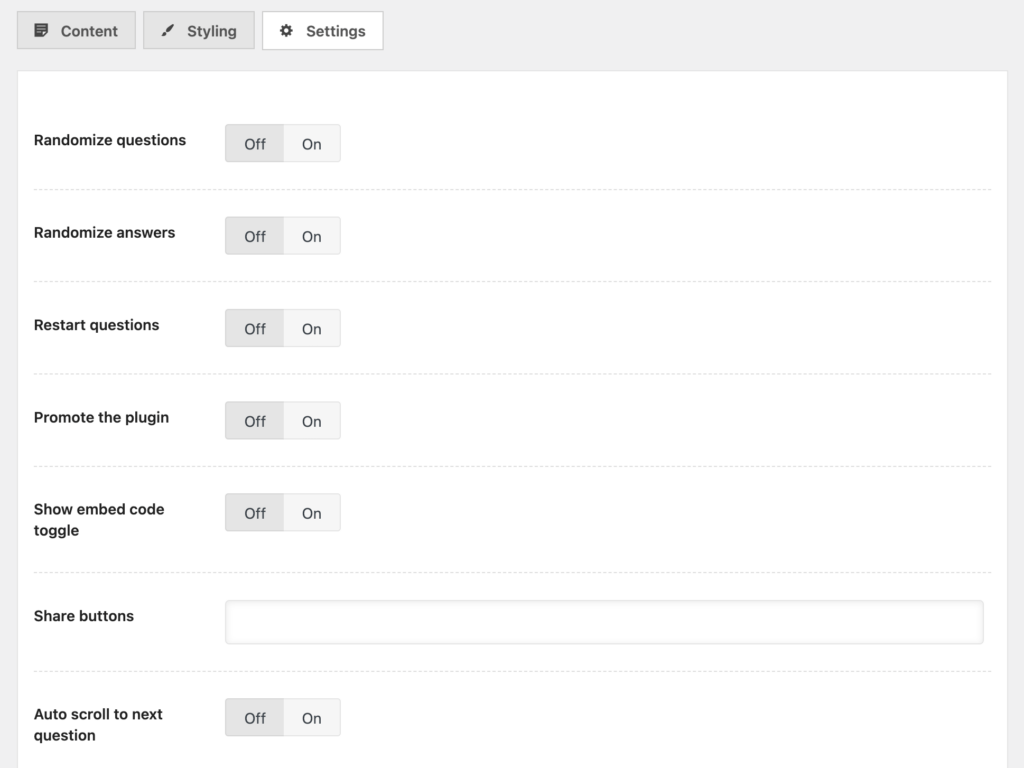 Step 12: Finally, you have to copy the shortcode and paste it to the "post" option. Thus, you can create a quiz with the WP Quiz Pro plugin.
Well, you know all about the wp quiz pro plugin and how to use it to create quizzes on your site. By the way, are there any other plugins to help you create engaging quizzes? Yes, there are plenty of plugins available. We recommend Fluent Forms, which will offer you the best experience.
Why Fluent Forms?
Fluent forms is one of the most easy-to-use user friendly, feature-rich plugins for creating forms and quizzes in WordPress.
Fluent Forms: A brief overview
Fluent Forms is one of the best WordPress plugins to help you create interactive quizzes at ease. It offers a wide range of services. You can create typical quizzes and detailed polls to get clients' feedback and conduct market research.
In addition, this plugin offers 50+ input fields such as radio button, dropdown, checkbox, multiple-choice, etc. Besides, it works with dynamic conditional logic, eliminating useless fields for particular users. Plus, there are 40+ integrations for multiple channels and improved contact management. What's more, Fluent Forms comes with payment options so that you have a monetization opportunity.
Key Features:
Dedicated fields to collect data
Multiple ways to give quiz results
Randomized questions and options
Show quiz score on the submission page or Email
Fully customizable design
Additional Features of Fluent Forms:
Payment Options
Email Marketing Integrations
Conditional Logics
User Registration
Ready Form Templates
Post Creation Forms
Ready Input Fields
Easy To Use Form Builder
Conversational Forms
File & Image Upload
Block Spams & Blank Entries
Action Hooks
Step Forms
Multi-column Form Layout
Visual Data Reporting
Restricted Form Submission
Form Scheduling
Form Notification & Confirmation
30+ 3rd-party Integrations
Sms Notifications
Various types of quizzes that you can create with Fluent Forms:
One-page assessment tests
Multiple choice test
Sports quizzes
Swiper quizzes
Personality quizzes
Trivia quizzes
IQ test
Diet test
True/False quiz
Diagnostic quizzes and more
WP Fluent Form Pricing Plans:
Fluent Forms Pro comes with three different pricing offers:
Single Site – $59.00
5 Site – $129.00
Unlimited Site – $199.00
This pricing plan is comparatively more cost-effective than other competing plugins.
WP Quiz Pro vs. Fluent Forms: A Comparative Analysis
IP Quiz Pro is only a quiz maker plugin. On the other hand, Fluent Forms is a great form maker plugin that comes with plenty of other options in addition to quiz making.
It's like an all-in-one plugin to help you get a lot of options like creating surveys and forms. There you will get some extra functionalities like payment options, Email marketing integrations, etc.
WP Quiz Pro vs. Fluent Forms:
Comparison in Features
Both WP Quiz Pro and Fluent Forms are packed with plenty of exciting features. However, Fluent Forms is not only a quiz maker but also has other functionalities. We have noted the extra features of this plugin in the previous section.
On the other hand, WP Quiz Pro is particularly built for making engaging quizzes.
Our verdict is that if you want to get a wide range of use of multiple functionalities, Fluent Forms would be a better option for you.
Comparison in User Ease of Use:
The plugin WP Quiz Pro has been rated 95% ease of use. There are a lot of happy users who reviewed and found this particular plugin very easy to use.
Similarly, Fluent Form is not also a complex WordPress plugin. Still, as it has several functions to work on, the winner is WP Quiz Pro. It has a more specific use in quiz making.
Comparison in Rating:
According to wordpress.org, Fluent Form has a 4.9 rating with 338 reviews. In comparison, WP Quiz Pro has been rated 2.5 only on the same site (51 reviews). However, WP Quiz Pro has rated 4.9 stars in the Mythemeshop directory with 331 reviews.
Accordingly, Fluent Form seems to have more ratings than WP Quiz Pro.
Comparison in Security and Spam Protection
Spam protection is one of the essential defense mechanisms for any contact forms or quizzes. Both of these two have good security.
WP Quiz has secured code to restrict spam, and it refuses unlogged users. And the Fluent Forms performs spam controls, especially with reCAPTCHA. Besides, it restricts unauthorized form submissions.
Although both plugins offer convenient spam detecting options, Fluent Forms is the winner as it has some additional tools.
Comparison in Pricing:
WP Quiz Pro plugin offers two pricing options. You can get it at $77, which can be used on three websites. Plus, it has another premium membership plan at $199.
Again, Fluent Forms provides three pricing plans. You can use a single site for $59.00. If it is for five sites, it will charge $129.00. Further, this plugin offers unlimited site usage at $199.00, the same as WP Quiz pro.
Though both provide different offers, Fluent Forms is less costly if you consider its wide range of support, starting from $59.00. While you need more than three sites to run, Fluent Forms will be convenient at a relatively lower price.
Why Should You Create Quizzes for your WordPress Site?
Increasing user engagement is one of the biggest goals of any website. How do you engage more traffic to your site? There are plenty of options. Perhaps, quizzes are the most clever strategy to improve web traffic.
We often get distracted by numerous notifications in this world of distraction. That's why the bounce rate is becoming higher day by day. You need more interactive ways to engage your visitors and generate more leads to your website.
Primarily, you should add quizzes for educational objectives, generate viral content, and receive more social media shares. A quiz maker plugin has several features to do the job for you. For example, plugins like WP Quiz Pro or Fluent Forms offer multiple types of quizzes. So, you can choose any quiz that you need.
Final Verdict
Both WP Quiz Pro and Fluent Forms are great plugins for creating impressive quizzes. Each of them has its unique functionality and advantages of use. However, Fluent Forms does not only work in quiz making. It has extensive uses in form building.
So, if you want a simple, easy-to-use quiz maker plugin, WP Quiz Pro will be the best tool. On the other hand, if you are searching for a plugin to enjoy extensive features, Fluent Forms will be the better one.
That is to say, it all depends on your requirements and choices. Happy quiz-making journey!