Akismet vs reCaptcha: Which is the Best Anti-Spam Protector?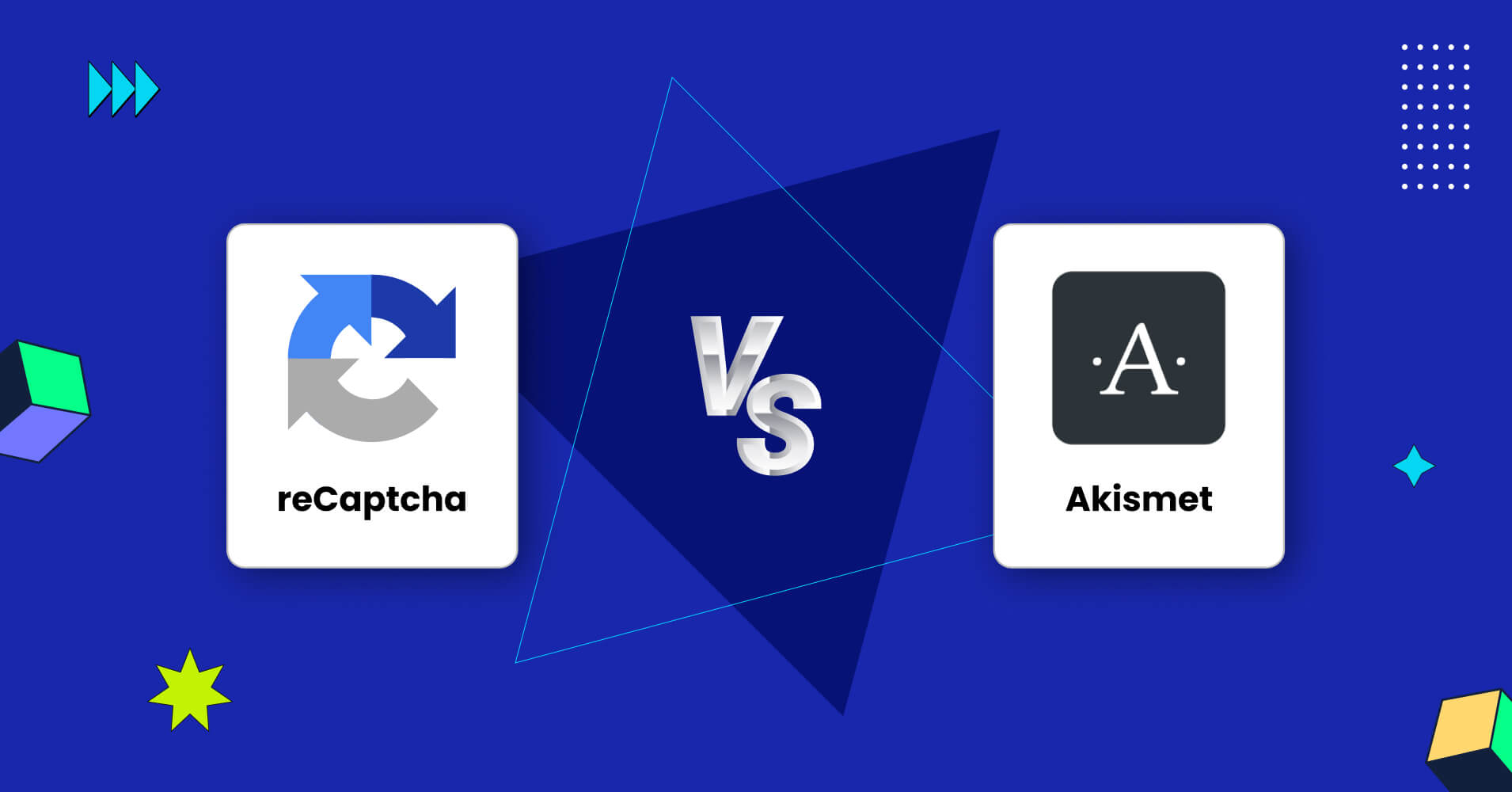 Welcome aboard as we embark on a journey to crack the secrets of battling websites and contact form spam.
Your website is your digital kingdom, and just like any kingdom, it needs protection. That's where Akismet and reCaptcha step in– our trusty shields against digital threats.
Whether you're a website owner, a curious mind, or someone who's just had enough spam jamming up your online life, this blog is for you. We're going to explore Akismet and reCaptcha in-depth so you can easily decide which one to use.
So, get ready for an epic comparison– Akismet vs reCaptcha. Let's explore it step-by-step.
Fluent Forms is the most beginner-friendly form builder. Download now and start crafting beautiful forms FREE!!!
What is Akismet plugin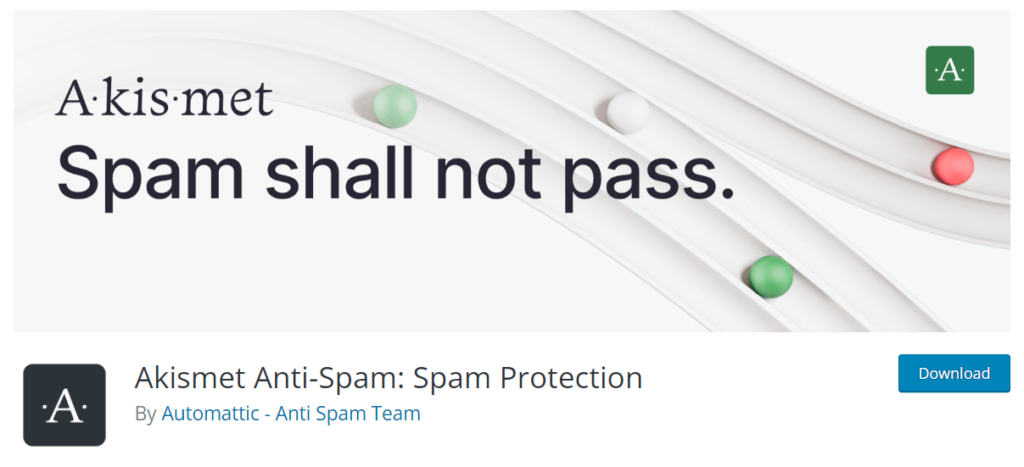 Akismet is an Anti-Spam plugin for WordPress that serves as a shield against SPAM on your website. With over 5 million downloads, this plugin is widely recognized in the battle against unwanted digital communication.
The brainchild of Automattic, Akismet operates as a powerful comment spam filtering service designed for the WordPress CMS. Akismet looks after your website comments and contact form submissions and filters out spam using its smart algorithms.
The fun fact is that the algorithm continuously learns from its mistakes, and the actions taken by other websites; when multiple websites start reporting similar content as spam, Akismet learns to identify that content as spammy and filter it in the future.
This fantastic tool has filtered out 523 billion spam comments to date, and the number is increasing. So, using this excellent plugin will ensure your online platforms are safe and spam-free.
How Akismet works
Akismet utilizes advanced anti-spam algorithms to find spam comments across websites. Whenever a user posts a comment on a website, this tool examines it based on its database. If the anti-spam algorithms specify a comment as spam, it will block the comment from your website.
Akismet's algorithms also learn from actions taken by web users to detect spam email addresses. In addition, this tool allows users to filter comments manually– the algorithms will then record this manual action and use it in the future by tagging it as spam.
Akismet offers multiple excellent features including:
Monitoring blogs, comments, and contact forms.
Detecting URLs in comments for misleading links.
Recording a comment history for clearance status.
Configurable spam parameters such as keywords & links for moderators.
Discard feature to stop major spam, improving site performance.
What is reCaptcha
If you are used to browsing online then you are already familiar with reCaptcha. reCaptcha is Google's very own CAPTCHA technology.
reCaptcha serves as a digital gatekeeper to determine if you are a real person or a malicious computer program (bot). To differentiate humans and robots, reCaptcha uses different methods including–
Checkbox: The user needs to click on a checkbox to verify that they are human.
Image selection: A user is required to select particular images from a group of images to verify.
Audio challenges: Needs users to listen to an audio recording and transcribe the words or numbers to verify.
There are several variants of reCaptcha available under 3 main versions, depending on how you want the anti-spam work on your website. And the most recent one is reCaptcha v3 which we will discuss in the following section.
How reCaptcha works
The main function of reCaptcha is that it analyzes website users' activities to identify if they are human or sneaky bots. Whenever users visit a website reCaptcha collects information about the users' activities like mouse movements, typing style, and many more.
Once reCaptcha collects the data it processes those data through Risk Analysis Engine, which uses advanced algorithms to determine if the user is a human or a robot. If the program thinks the user is a real human then the system allows the user to access the website.
And anyhow if the algorithm detects a user as a robot, it will ask to solve a captcha challenge that stops any robot from accessing the website.
What is Google reCaptcha v3
reCaptcha v3 is the latest and improved anti-spam security solution from Google. What makes reCaptcha v3 different from v2 is that it is an invisible CAPTCHA whereas reCaptcha v2 is visible.
With reCaptcha v3 users no longer have to face challenges like puzzles, math problems, and image sorting on the website. It ensures more user-friendly spam protection.
Here are the key features of reCaptcha v3 that would help you understand this latest CAPTCHA technology.
Invisible Process: Users won't face visible reCaptcha challenges. V3 examines interactions and assigns risk scores.
Risk-Based Decision: The risk score suggests website owners take action. Low-risk scores indicate authentic users, while high-risk scores predict potentially malicious bots.
Customization Flexibility: reCaptcha v3 allows setting custom thresholds for risk scores.
Now let's move on to our battle of Akismet vs reCaptcha.
Akismet vs reCaptcha: Head-to-head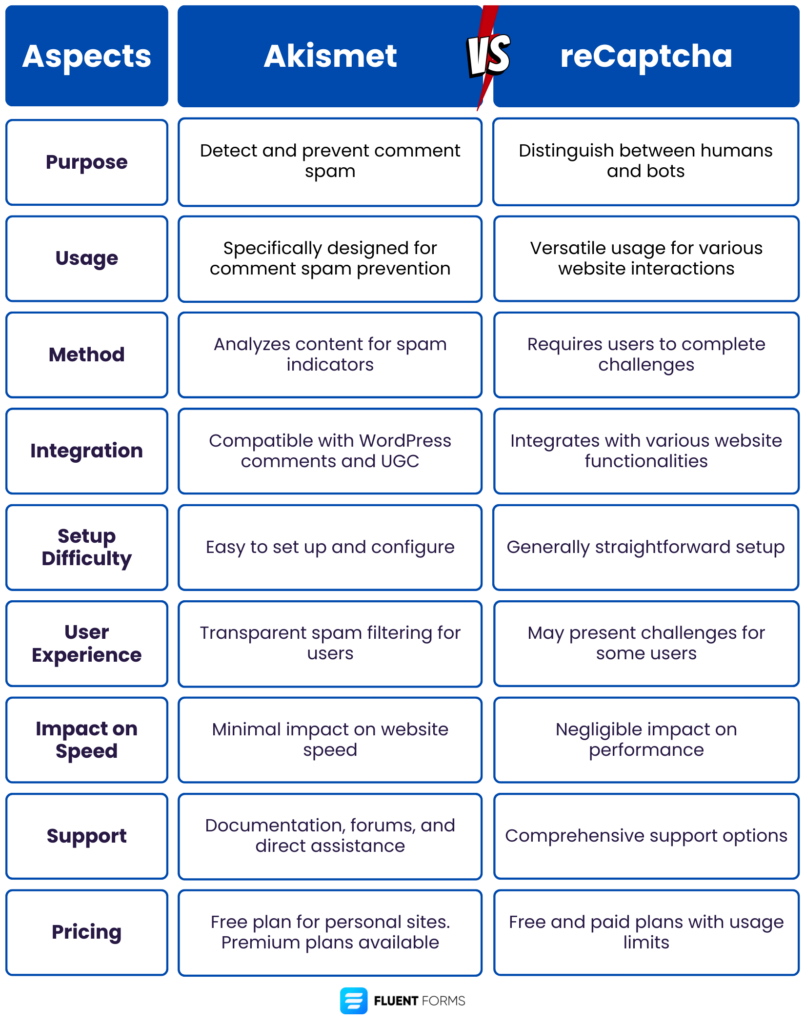 When it comes to protecting your digital assets from fraud, both Akisment and reCaptcha are trusted and efficient. However, they serve differently in combating various online threats.
Let's explore head-to-head:
Akismet Ease of Use
Akismet takes over reCaptcha, particularly in this area as the WordPress installation usually comes up with Akismet by default. You just need to set up an account and get your API to start using Akismet.
Apart from the easy setup, Akismet also offers a better user experience for visitors since it doesn't require visitors to solve any puzzles, instead, it analyzes visitors' behavior from the backend and blocks any suspicious entries.
So a distraction-free spam-filtering method that doesn't cause any friction with users.
Akismet Integrations
One of the best things about Akismet is that it integrates effortlessly with some of the top WordPress plugins.
Spammers are particularly attracted to WordPress forms. And form spam might make it difficult to manage your form entries. However, if you use Fluent Forms, you'll appreciate the ability to use the native Fluent Forms Akismet integration.
Additionally, you will see all the top WordPress plugins generally come with native Akismet integration, and that makes it a super spam protection plugin.
Akismet Support
When it comes to live support, Akismet does not provide multiple options.
There are self-help tools that provide short solutions to common concerns, and you may send a more thorough message by filling out a form, but there is no option for live chat.
Priority email assistance is available on the Plus plan if you want a bit more attention.
Akismet anti-spam pricing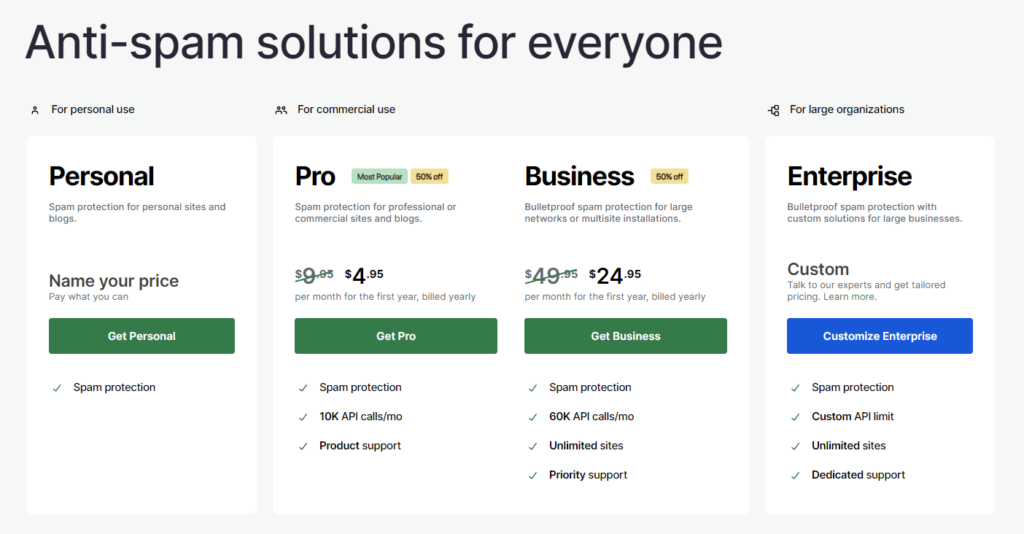 Akismet's price strategy is unique, with a Personal plan for non-commercial sites that allows you to pay what you believe the service is worth. Meaning if you run a modest personal website, you won't have to pay an extra membership to keep it spam-free.
Paid plans begin with the Plus plan, which costs $8.33 per month on an annual basis. This subscription includes 10,000 API calls per month.
That concludes the Akismet section of our Akismet vs reCaptcha analysis.
Let's take a look at reCaptcha now that you know what to anticipate from Akismet in terms of integrations, ease of usage, support, and cost.
Google reCaptcha for WordPress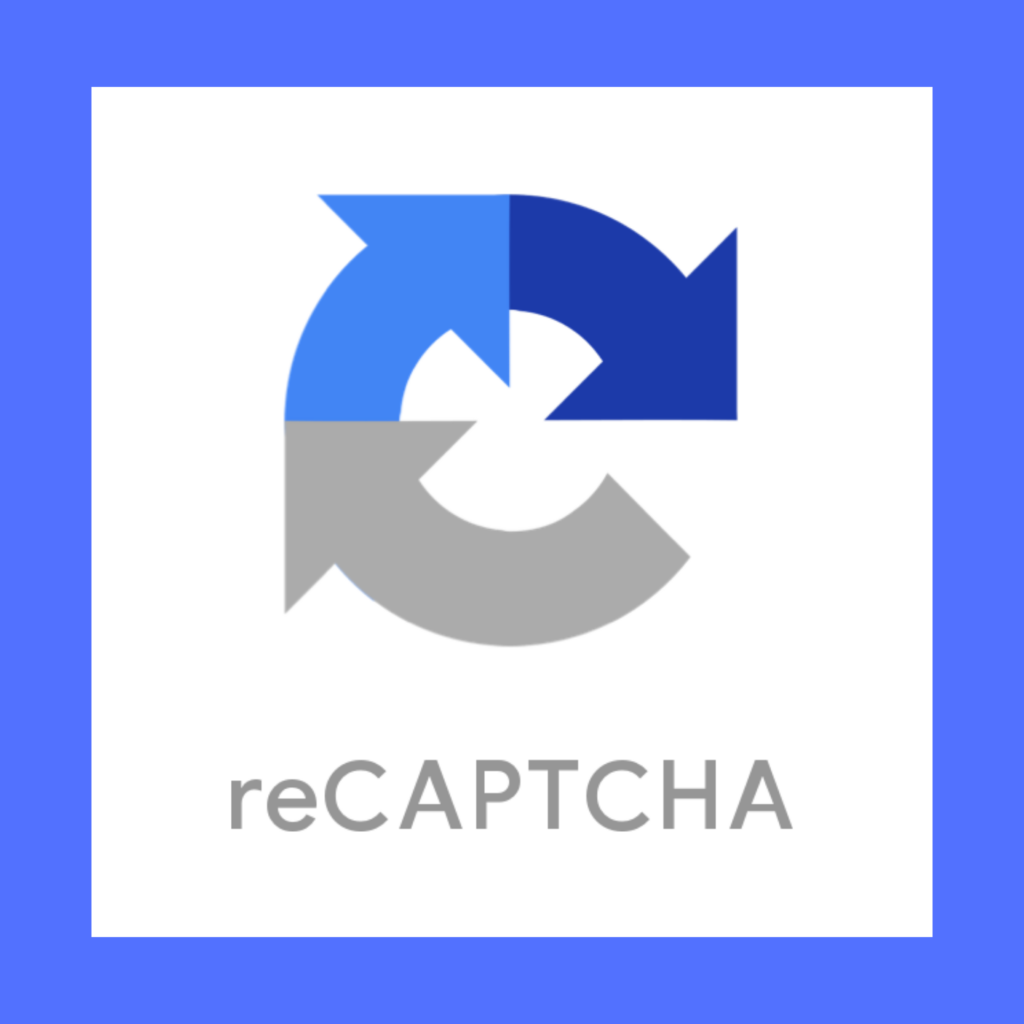 Security is critical in the age of internet communications. Google reCaptcha proves to be a helpful ally in strengthening your WordPress website against the attack of malicious bots.
reCaptcha is not a dedicated WordPress tool like Akismet, but you can still use it with your WordPress website, using one of the many WordPress reCaptcha plugins out there.
Let's look at how this cutting-edge technology may help you maintain your digital defenses.
reCaptcha Ease of Use
Setting reCaptcha is slightly more difficult than setting Akismet. To use reCaptcha, you must first register your site in the reCaptcha admin panel, then obtain your site key and secret key, which you must then enter into WordPress through a plugin like Fluent Forms.
These procedures may take a little longer than the Akismet setup process.
Also, the frontend behavior of reCaptcha and Akismet, however, differs noticeably. To validate their legitimacy, reCaptcha v2 frequently needs visitors to complete picture puzzles.
Consequently, reCaptcha is less user-friendly than Akismet in this aspect.
reCaptcha Integrations
reCaptcha integrates nicely with tons of WordPress plugins. Like Akismet, you can use it with popular contact form plugins like Fluent Forms.
In fact, with Fluent Forms's reCaptcha native integration, you can easily add reCaptcha to any form on your site to prevent spam bots from filling it out, including your registration form, order forms, and more.
You may also easily integrate it into your website by utilizing a dedicated WordPress reCAPTCHA plugin, such as the Google Captcha plugin. This may be the preferred solution depending on where you want to utilize reCAPTCHA.
reCaptcha Support
reCAPTCHA provides more support options than Akismet. The Stack Overflow community or the reCaptcha support group is the initial point of contact for reCaptcha users.
Also, reCaptcha Enterprise users may get Google Cloud assistance, which includes phone help and a technical account manager.
Google reCaptcha price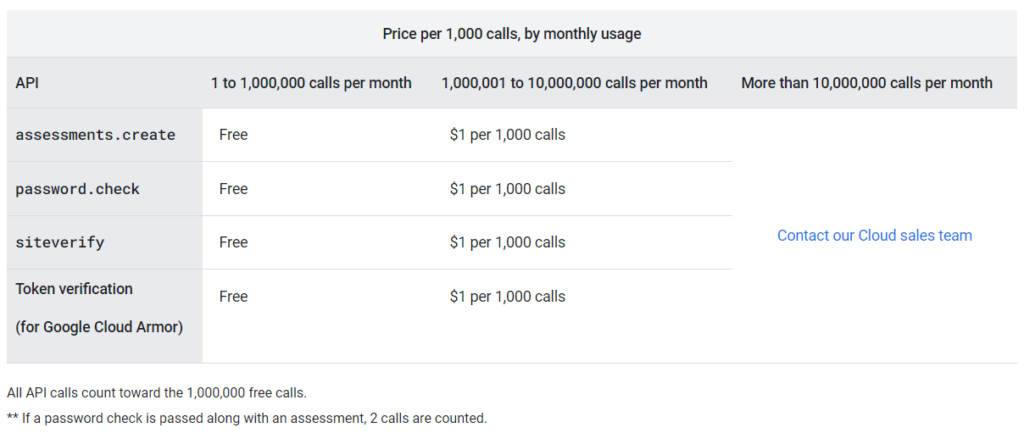 reCaptcha is free to use with a monthly call volume of up to 1 million. After this, you must upgrade to reCaptcha Enterprise, which costs $1 per API request for up to 10 million API calls.
If you want additional API calls, please contact your Google Cloud Sales Team for special pricing.
This brings us to the end of our Akismet vs reCaptcha head-to-head comparison. But let's dig deeper and learn how to set up these spam protectors on your website or contact form.
How to set up Akismet on WordPress
Akismet WordPress anti-spam may come by default with your WordPress website, but you must activate it. We have broken down the processes so that you can easily follow along.
Log in as an administrator to your WordPress website.
Simply click on Plugins in the left sidebar.

Scroll down to Akismet and click the Activate button.
Go to your Akismet account and choose Create a new Akismet API key.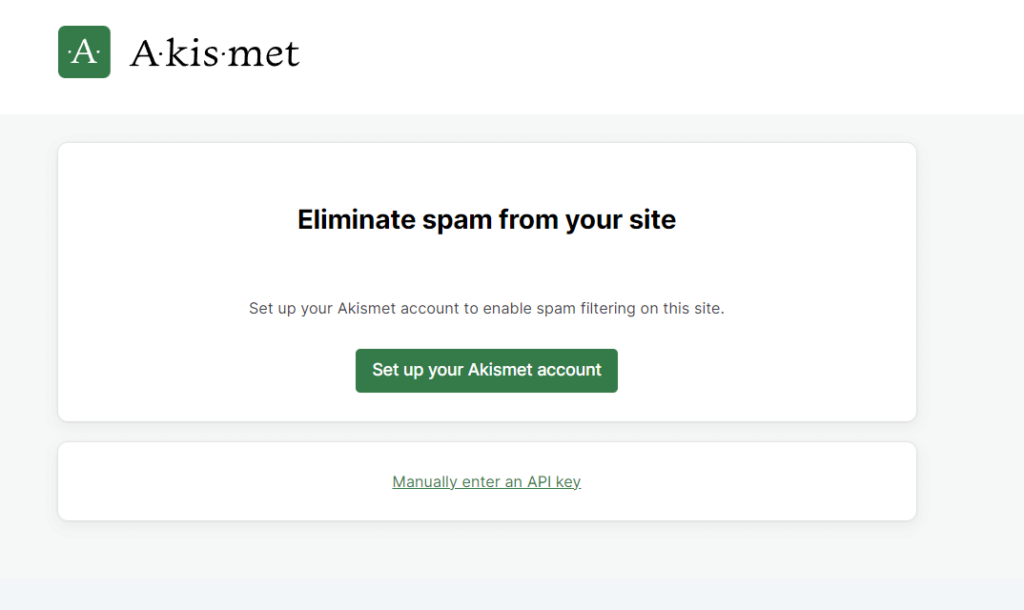 You will get an email confirmation.
Return to your WordPress website.
Scroll down to Akismet and choose Settings.
Now, choose the I already have a key option.
Copy the Akismet API key that was sent to you through email and put it into the Akismet API Key field.
And don't forget to hit the Save Changes Button.
Once you have successfully set up Akismet on your website, now is the time to protect your contact form too.
Akismet contact form integration
If you're using Fluent Forms, you can utilize Akismet to prevent form submission spam. Simply navigate to the Global Settings section of your dashboard.
Then proceed to Miscellaneous. If you have Akismet anti-spam enabled on your site, scroll down to see an Enable Akismet Integration button. Turn it on.

Following that, you must decide what to do with spam found by the Spam validation. You may either mark the form submission as spam or mark it as unsuccessful.
Add reCaptcha to contact form
Fluent Forms users can smoothly set up and add reCaptcha in their forms. All you need is a Site Key and a Secret Key from Google to add reCaptcha to your form.
Follow the steps below to get the required keys.
Step 1: Getting the API keys
Go to the Google reCAPTCHA website to get your API keys.
Click on v3 Admin Console to register your website. Here, you have to do the following –
Set a label
Choose reCaptcha v2/v3 as the reCaptcha type
Enter the domain
Accept the reCaptcha Terms of Service and
Click on the submit button.
You will get a Site Key and a Secret Key on the next page. Copy these API key pairs as you will need them in the next step.
Step 2: Setting up reCAPTCHA with Fluent Forms
This step is all about integrating reCaptcha with Fluent Forms. Follow the process–
Go to your WordPress dashboard
Hover over Fluent Forms in the left sidebar, and then click Global Settings.
The Fluent Forms Global Settings window will appear. From the left panel of this window, select reCaptcha.
Choose reCaptcha version 2/3, enter the Site and Secret Keys from the previous step, and click Save Settings.
You will see the message "Your reCaptcha is valid." You are now all set to utilize Google reCaptcha in your form.
How to add reCaptcha to your form
To add reCaptcha to your form, create a new form or edit an existing one to include reCaptcha.
After you've added all of the required fields, go to the Advanced Fields area and add the reCaptcha field.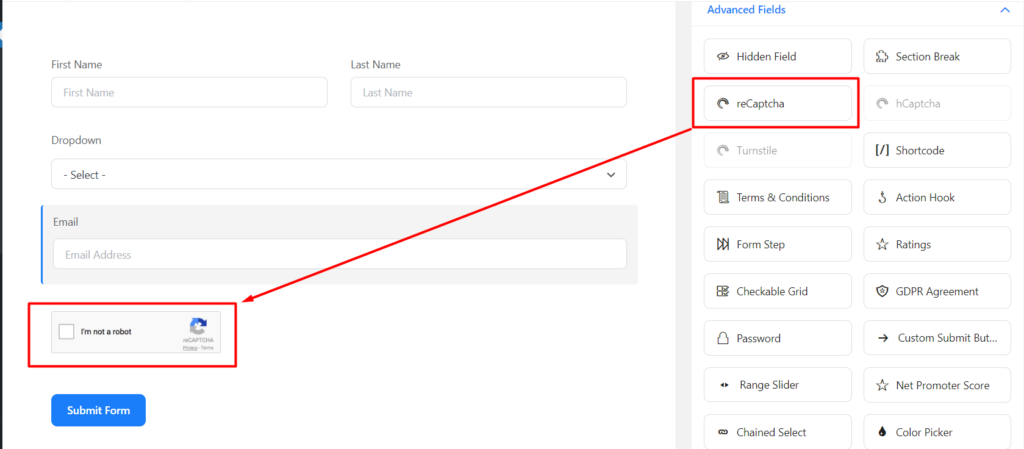 Always remember to save the form after editing it.
That's all there is to it! Your form now has reCaptcha to prevent it from spam submissions. That's how simple it is to add reCaptcha to your Fluent Forms.
Enjoying this article?
We regularly publish helpful content on our blog. Subscribe to get them delivered straight to your inbox.
We won't spam you. You can unsubscribe whenever you want.
Akismet vs reCaptcha: Final Verdict
Akismet and reCaptcha are proven tools against WordPress spam. Akismet is often pre-installed on WordPress sites and has a quicker setup compared to reCaptcha.
Its background processing offers user-friendliness. reCaptcha v3 functions similarly, while other types might need more human interaction. This gives Akismet a slight ease-of-use edge.
However, reCaptcha is also effective and popular. It's free for commercial use, with 1 million API calls allowed.
Akismet, on the other hand, requires payment for commercial websites.
So, it's proven that both are solid spam blockers when combined with Fluent Forms, effectively reducing spam submissions.
And that's it for our Akismet vs reCaptcha battle! Just one more thing, If you're looking for an Akismet and reCaptcha alternative, then you may want to check out hCaptcha in another quest of reCaptcha vs Captcha.