Contact Form by Supsystic vs Fluent Forms: How to Choose a Form Builder 101
Mahiyath C
. September 17, 2021
. 13 minutes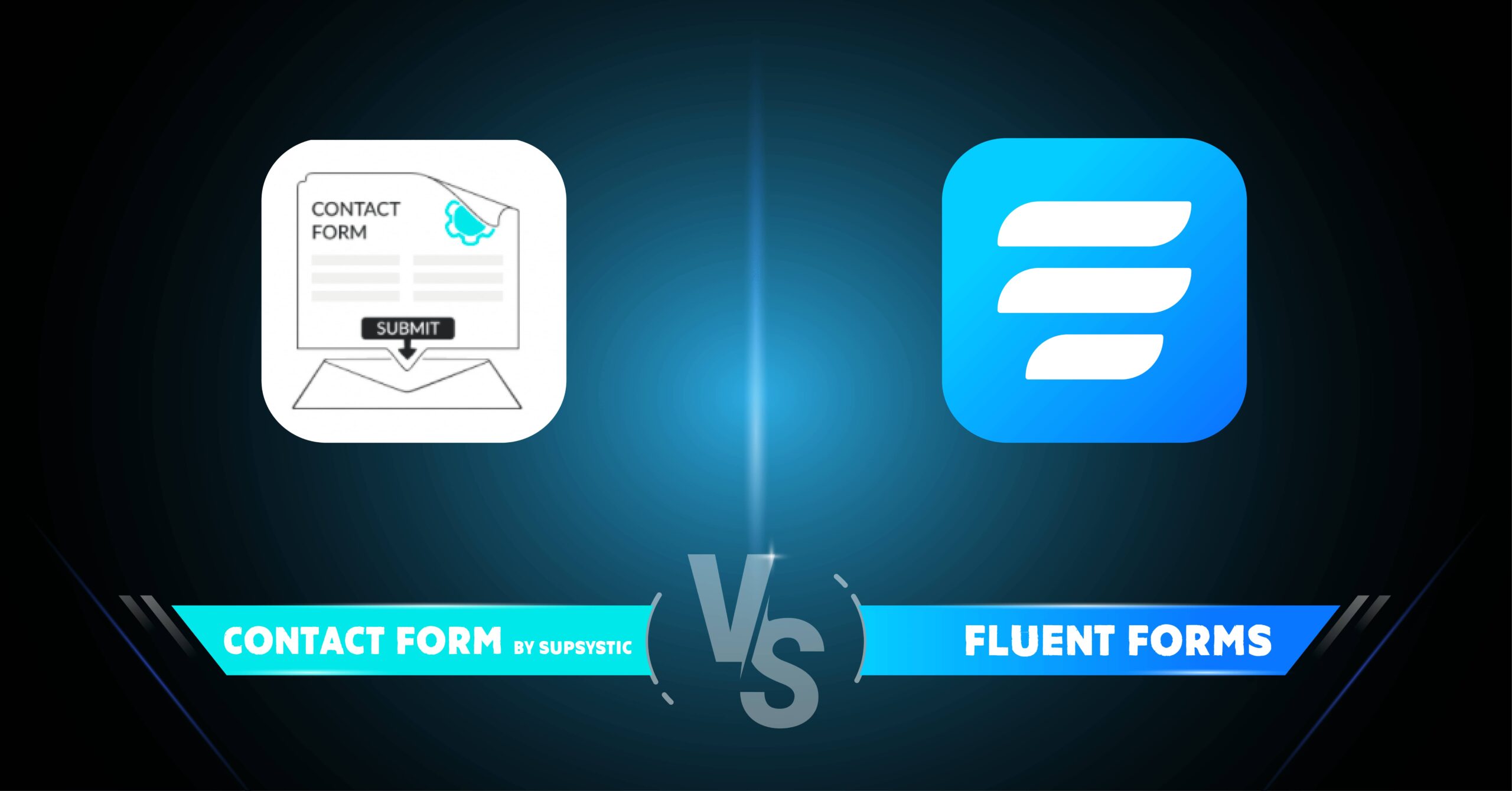 A form builder is crucial to a business. It helps carry out essential tasks like lead generation, order placement, payment, quote request, survey, etc. However, choosing the right form builder can be a bit of a pickle.
So, we bring forward two of the most fantastic form builders available to WordPress users – Fluent Forms & Contact Form by Supsystic. Both of these WordPress plugins are efficient in their own right and have received excellent reviews.
In case you don't have time to try out both of these plugins, we hope this Contact Form by Supsystic vs Fluent Forms comparative analysis guides you in the right direction. But before we delve deeper, a little intro.
Fluent Forms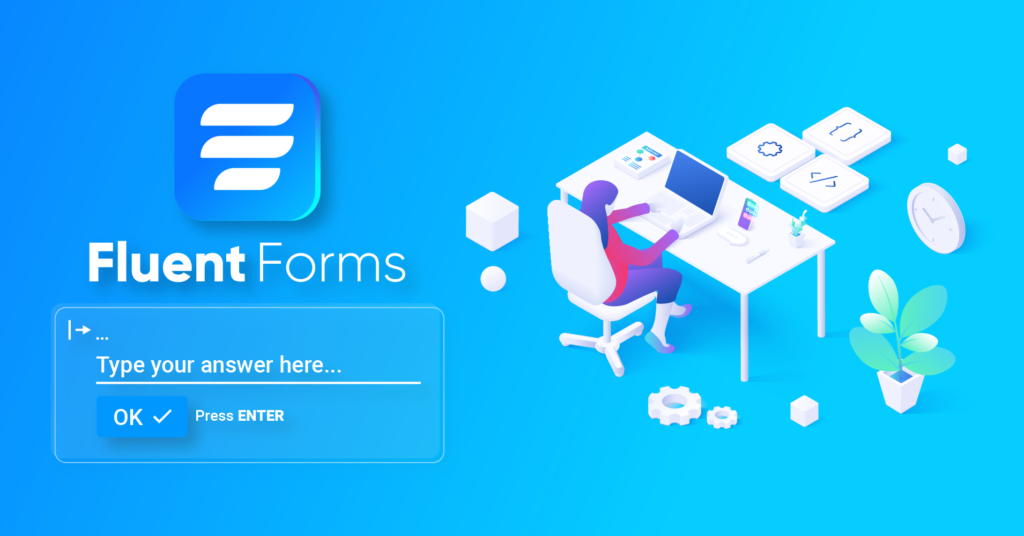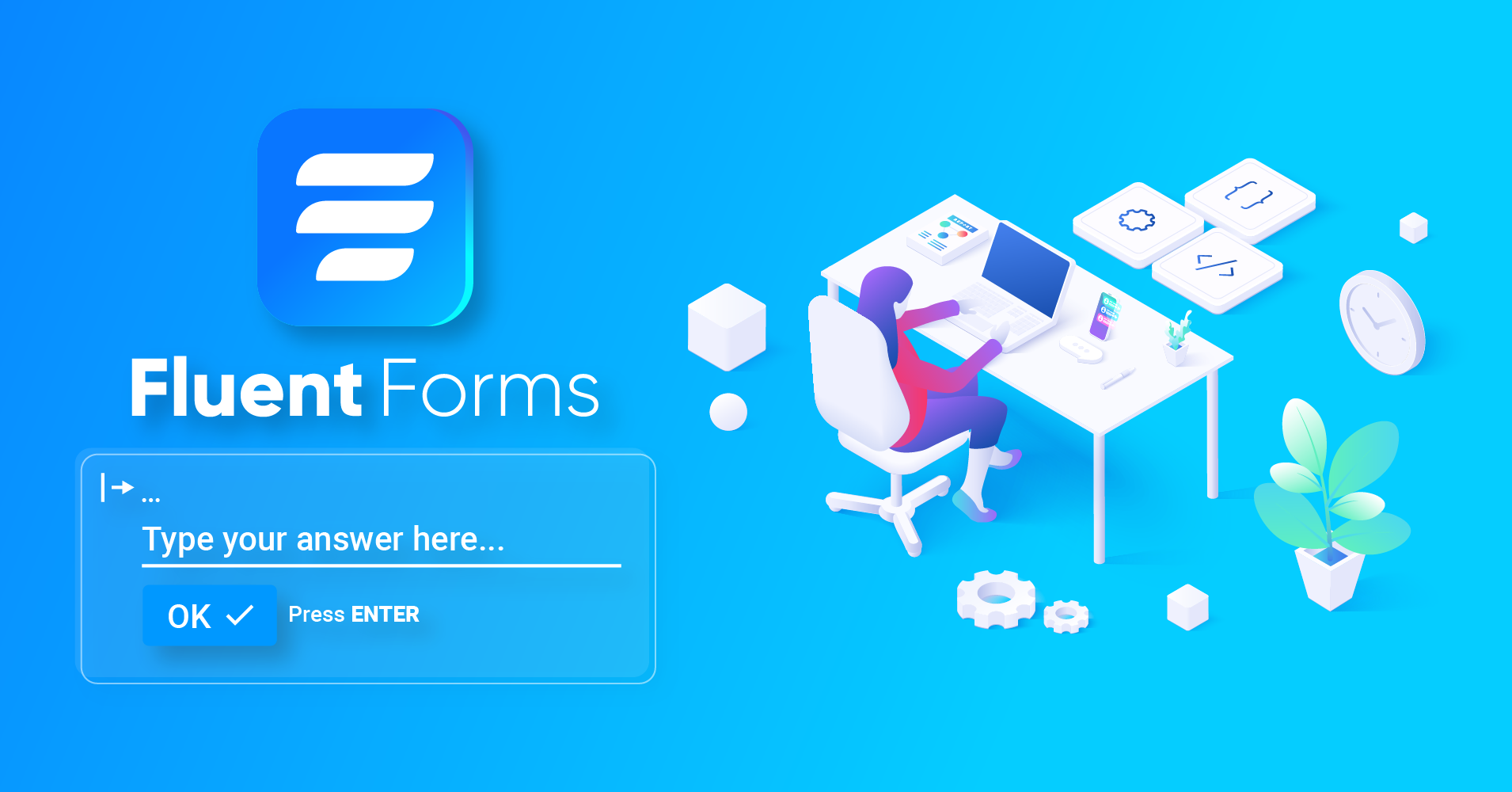 A super-light form plugin that comes power-packed with features and helps create extremely fast webforms sounds like a dream, right? Fluent Forms makes that a reality. It is fast, light, and unbelievably efficient.
You can create any form you need in just a matter of minutes, seconds even if you go with a prebuilt form template. For more functionality, you can pair it up with any integration you need. And don't worry about data security. It is GDPR compliant, complete with double opt-in, delete old entries features.
Fluent Forms is the most beginner-friendly form builder. Download now and start crafting beautiful forms FREE!!!
Contact Form by Supsystic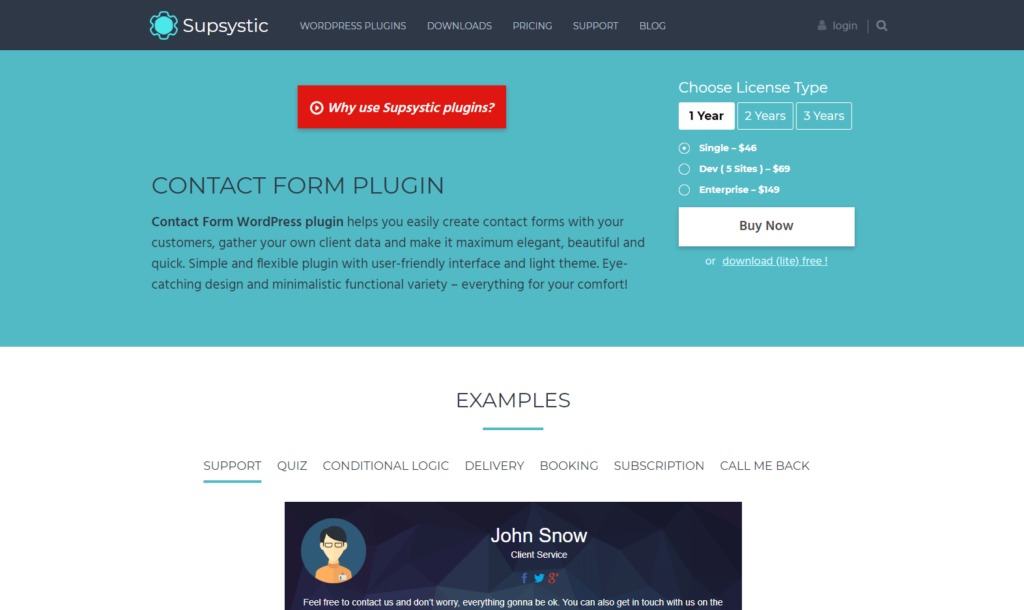 If you are looking for a simple WordPress form builder that helps you create professional-looking without a single line of code, the, Contact Form by Supsystic is a very bright option. This mobile responsive form builder also leaves space for real-time mobile notifications.
It is armed with Google ReCAPTCHA, Google Maps, and two other integrations. Moreover, there are elaborate statistics of all the form submissions so that you can get a quick look at the conversion rates.
Contact Form by Supsystic vs Fluent Forms: Points of comparison
To ensure a thorough comparative analysis, we have listed down some of the core features that a form builder must provide. And depending on the following features, we will be judging the two form builders at hand and see how they fare.
Form editor
Prebuilt form templates
Input fields
Anti-spam features
Conditional logic
Conversational forms
Integrations
Export form submission data
Payment options
Customer support
Pricing
Form editor
The form editor is the first thing a user faces. Hence it is imperative that it be smooth and friendly. From professional experts to novice users, everyone should be able to go about the plugin with ease.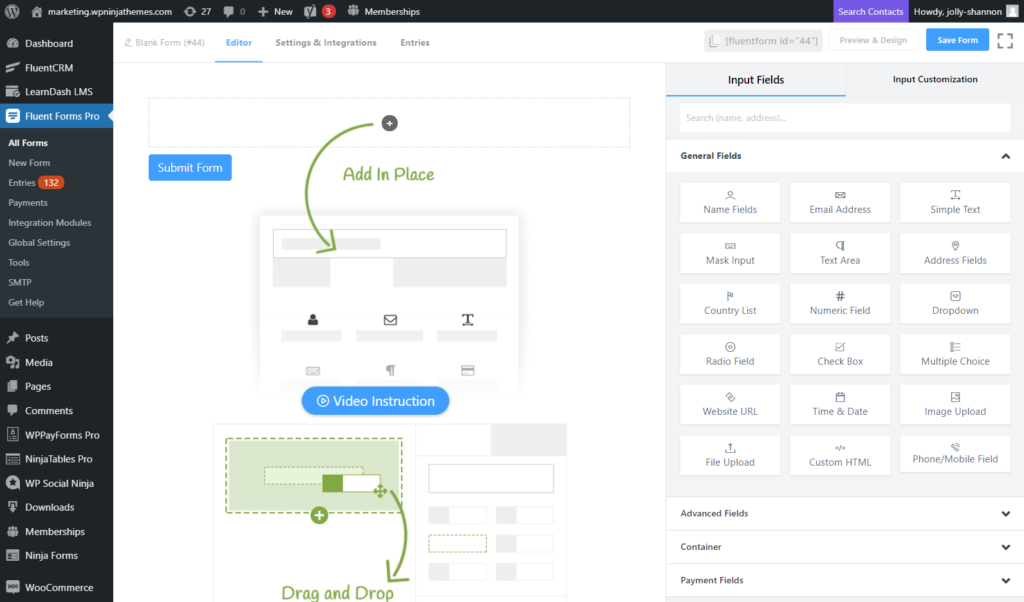 Fluent Forms realizes the urgency of the matter. And hence, the form editor is continuously evolving to provide a more accessible and better user experience so everyone can have a field day, regardless of their coding expertise.
The form editor has a smooth UI, and everything is developed so the user can easily navigate from one page to the next. Moreover, features like drag and drop, quick checkboxes, smooth redirections, etc., help to put the user in peace.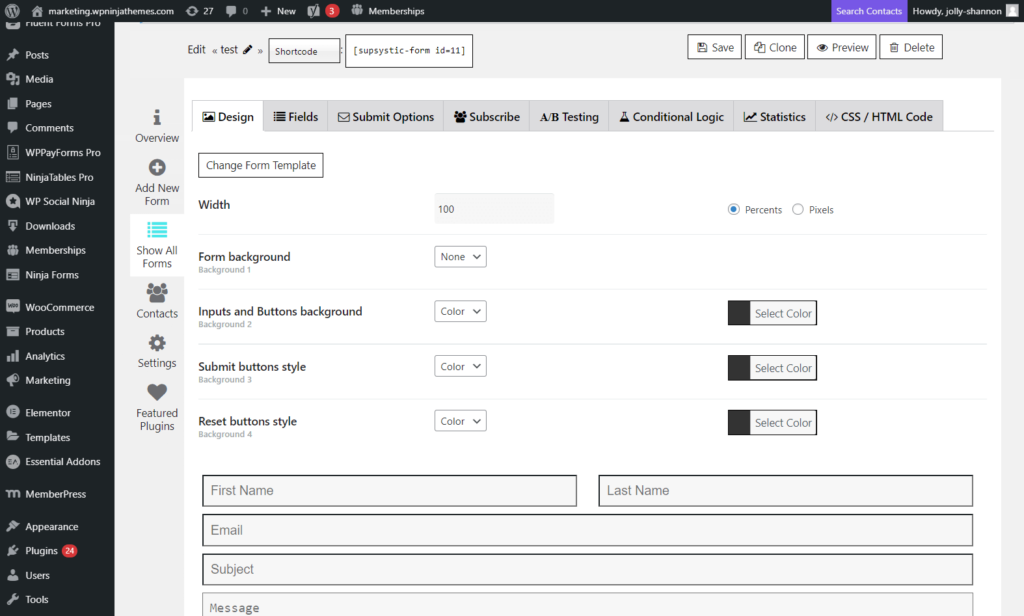 In contrast, the form editor of Contact Form by Supsystic has quite a bulky UI. Amid all the close-packed buttons and swarming text, it is easy to feel a little lost.
Prebuilt forms templates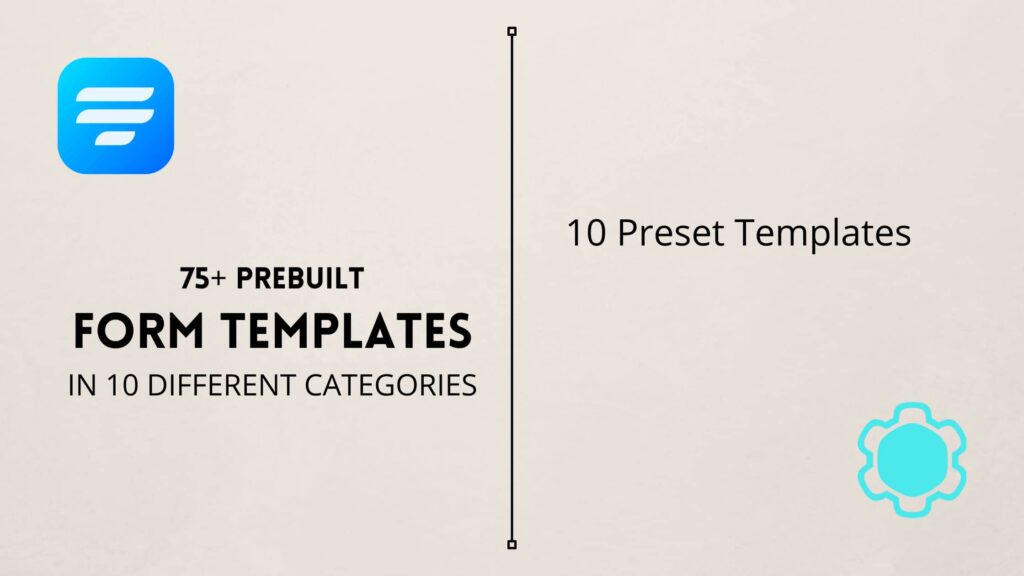 While they may seem like nothing great at first sight, prebuilt form templates are singularly the one thing that can deliver you a powerful working form without wasting any extra second. You can just click on the prebuilt form template you want and boom! Everything you need is already assembled in the form. Sure, you can edit a thing or two here and there, but it is entirely upto your preference.
Fluent Forms understands this urgency, and as such, provides 75+ prebuilt form templates ranging from a simple newsletter form to a conversational form to a quote request form. What's more shocking is that 60+ of them are available for free. How convenient is that?
Contact Form by Supsystic also provides ample prebuilt form templates. They go by the name preset templates and offer versatile options User Registration, Support Service, Event Registration, etc. These templates come complete with styling and design. However, it totals upto only ten templates. That's hardly enough.
Input fields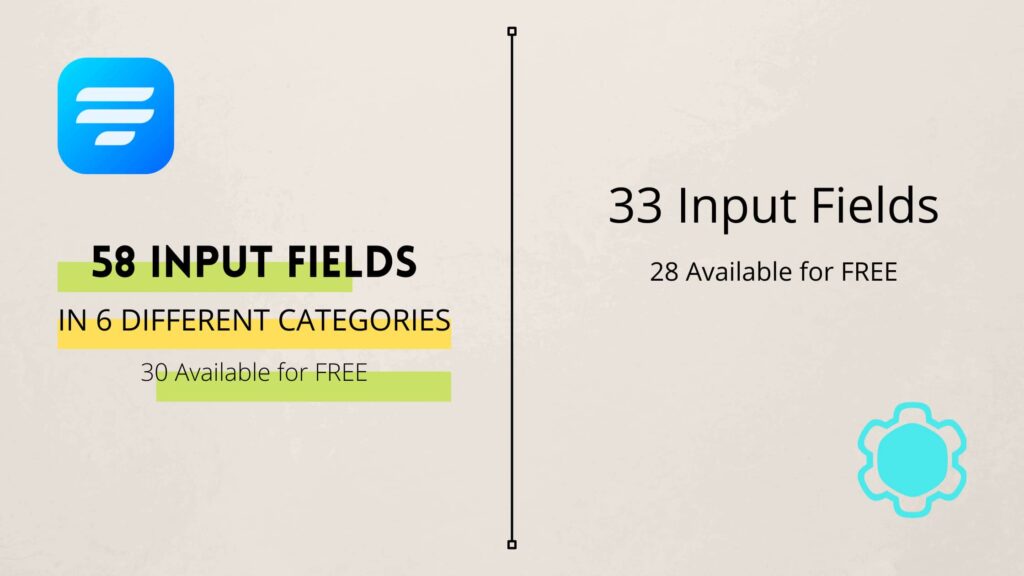 The next parameter in our most crucial features list is input fields. You can obviously collect information with a simple text field or a text area field, but designated input fields specialized for a particular task add more personality and get more work done.
This is why Fluent Forms offers a grand 50+ input fields (30 for free). They are categorized into four distinct options – general fields, advanced fields, containers, payment fields. They can range from the fundamental name field, email field to advanced color picker, ratings, image upload, coupon, etc. And if you are working with a frontend form, then you get an additional 8 form fields in two more categories. How exciting is that?
As for the Contact Form by Supsystic, they provide plenty of input fields as well. The input fields include the basic text field, checkbox, radio button ratings, file upload, etc. Although nowhere near Fluent Forms, the Contact Form by Supsystic provides a handsome 32 input fields.
Anti-spam features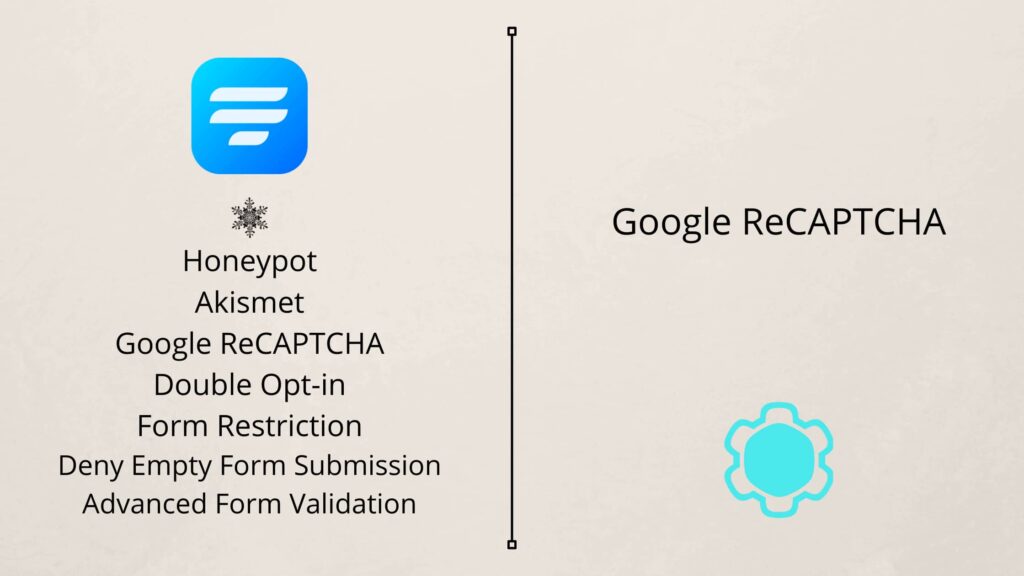 Next up, data security. Before you grant public access to your webform, you need to make sure it is armed with the best cybersecurity measures. There are both artificial and human threats on the internet, and your webform needs to be prepared against BOTH.
Thankfully, this is no concern for Fluent Forms users as it comes with manifold protective layers. Users vow that honeypot alone is enough to take care of the spam. But there are more options, should you choose. It is programmed with Google ReCAPTCHA V2 and V3, which you can attach in your form via input fields. There's also Akismet integration for Pro users. Besides, hCaptcha is also added to the Fluent Forms version 4.3.0.
Moreover, as far as human-backed spam is concerned, there are plenty of features like form restrictions, advanced form validations, reject blank form submission, etc., that will keep you safe.
Coming to Contact Form by Supsystic, you won't get much in terms of anti-spam features. Sure, there is the Google ReCAPTCHA. But that's pretty much it. Google ReCAPTCHA does have some credibility, but for something as vulnerable as a webform, users need more.
Conditional logic
We can create a form in a few clicks, customize it using input fields, and safeguard it, but how can we make it more dynamic? Two words – conditional logic. In fact, it should be renamed conditional magic. And why not? With just a few clicks, you can assign conditions and map the fields, and viola! Your webform will change with every users' answers.
Seeing the potential of conditional logic, the Fluent Forms team devised to make it as simple as possible. And why stick to input fields? You can even use it to configure settings, set up marketing & CRM feeds, email routing, and so much more. Here we have listed seven fun ways you can use conditional logic in Fluent Forms. Give it a go and see if you can't find a couple more.
Fluent Forms is the most beginner-friendly form builder. Download now and start crafting beautiful forms FREE!!!
However, we can't sing such happy tunes while talking about Contact Form by Supsystic. Don't get us wrong. You can still use conditional logic and make your forms dynamic and exciting. Nevertheless, you will need access to a premium license in order to do that. In this day and age, nobody should have to pay for an elementary feature like conditional logic.
Conversational forms
While we are on the topic of dynamic forms, what screams more than conversational forms? These are fun, interactive alternatives to traditional webforms, and experts warn that these will replace them entirely in the future.
Needless to say, Fluent Forms provides conversational form features. You can create a blank conversational form template and fill it with fields as you go. Or you can choose the conversational form template from the popup, and it will come with all the relevant fields. You will be able to perform most of the operations like configuration, integration, metadata, share, etc., for free. However, for an upgrade, you will also be able to design it with smart layouts.
Once again, we are sad to inform you that no such liberty can be found with Contact Form by Supsystic.
Integrations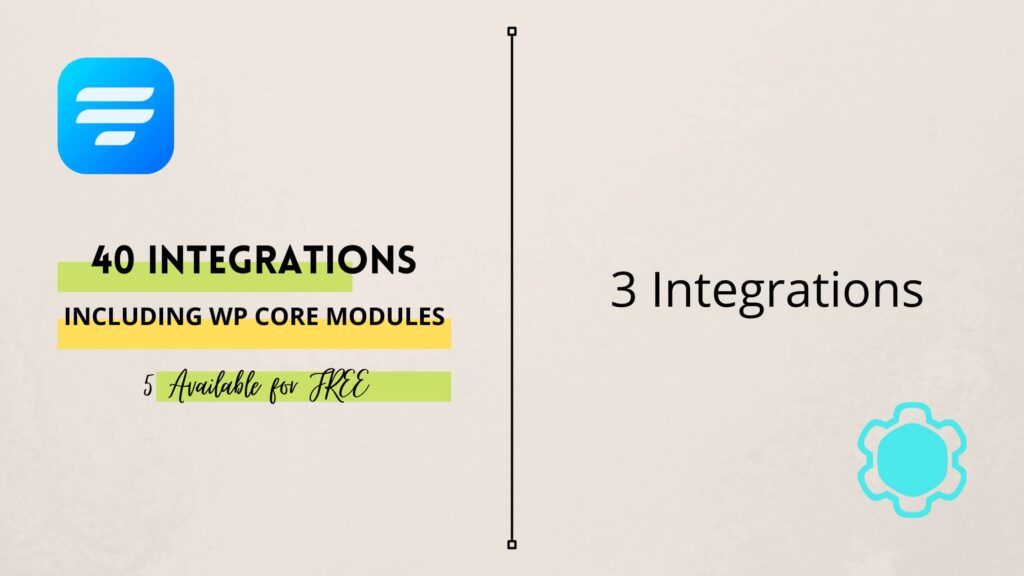 No matter how much a plugin tries to deliver, there are always going to be some restrictions. But that doesn't mean users can't get an optimized experience. Integrations between different services work as a bridge between the tools so the user can get the best out of them.
This is why Fluent Forms includes a staggering 50+ integrations in all the premium plans. These range from WordPress core modules, to CRM tools like FluentCRM, mailerlite, drip, Salesflare to other functional tools like Google Sheets, Trello, etc. These integrations enable users to perform tasks like SMS notification, email automation, etc. Moreover, to ensure users have access to the best tools, Fluent Forms also includes Zapier integration that works as a gateway to 3000+ tools.
And if you don't want a premium license, then don't worry. There are different modules in the free version as well. Fluent Forms comes with MailChimp and Slack integrated for free. And for a more relaxed experience, you can install separate add-ons that Fluent Forms provides to extend the feasibility to Mautic, MailPoet, and Fluent Forms PDF add-on.
Alternately, Contact Form by Supsystic offers a total of 3 integrations, and all of them are integrations with their own products. The number is inadequate, to say the least. Furthermore, you won't be able to work with some of your favorite tools like Constant Contact, sendfox, ActiveCampaign, etc.
Export form submission data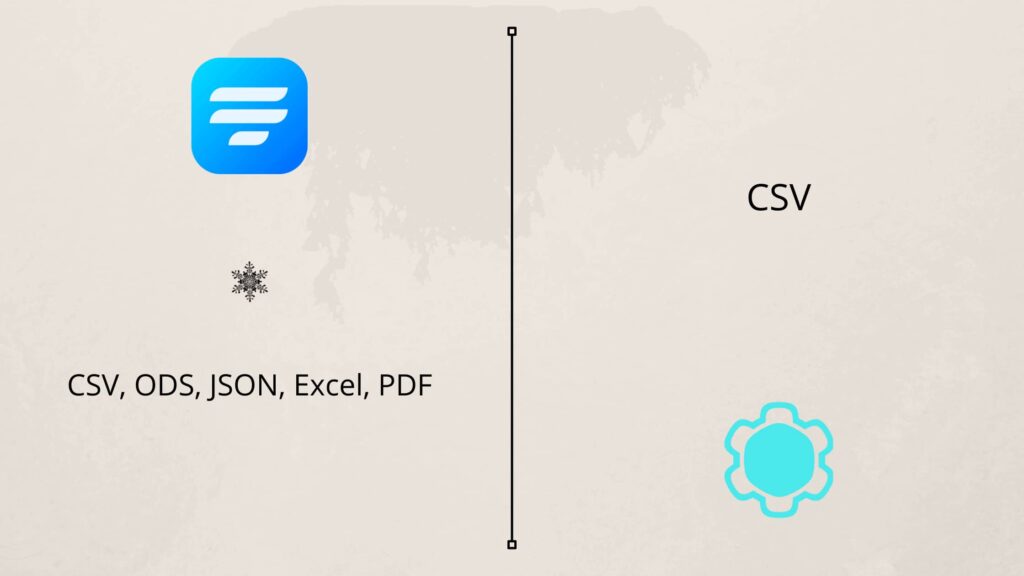 You now have your form up and running. But what about entry management? It is one of the most vital segments of an operation. Once you dispatch your form and start collection submission, you will need a system that will organize all that.
But don't you worry. Fluent Forms comes with a strong VueJS powered backend that will allow you to view and operate on your form submissions from a single page. You can also edit the entries as EDS, CSV, JSON, and even PDF. Moreover, if you have objective fields like radio, checkbox, multiple-choice, etc., then you can even have the data visually represented as pie charts, bar graphs, etc.
On the other hand, Contact Form by Supsystic provides little when it comes to entry management. Exporting form entries is very important, and you will be able to export these data as CSV. But offering only one format is quite restricting. Don't you think?
Payment options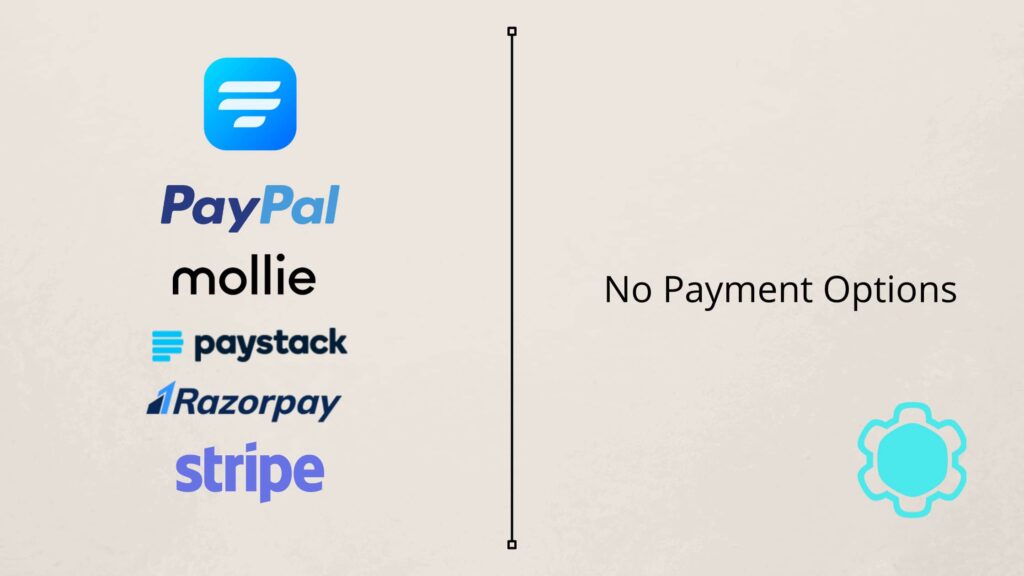 There are tonnes of circumstances where you will need to collect payments or donations. And what's easier than doing that through a webform? Just put down your details, and your payment will be complete!
Fluent Forms makes that possible through 4 robust payment gateways – PayPal, Stripe, Mollie, and RazorPay. All you have to do is configure payment settings like default currency, business address, debug log, etc., and incorporate payment options into your WordPress form through swift input fields.
Moreover, after the 4.2 update, there is also space for subscription payment, split payment, etc. And if you are using RazorPay, then you can enjoy a modal checkout as well.
Unfortunately, payments and donations remain a little out of reach for Contact Form by Supsystic users as there are no payment options currently available, even on premium licenses.
Customer support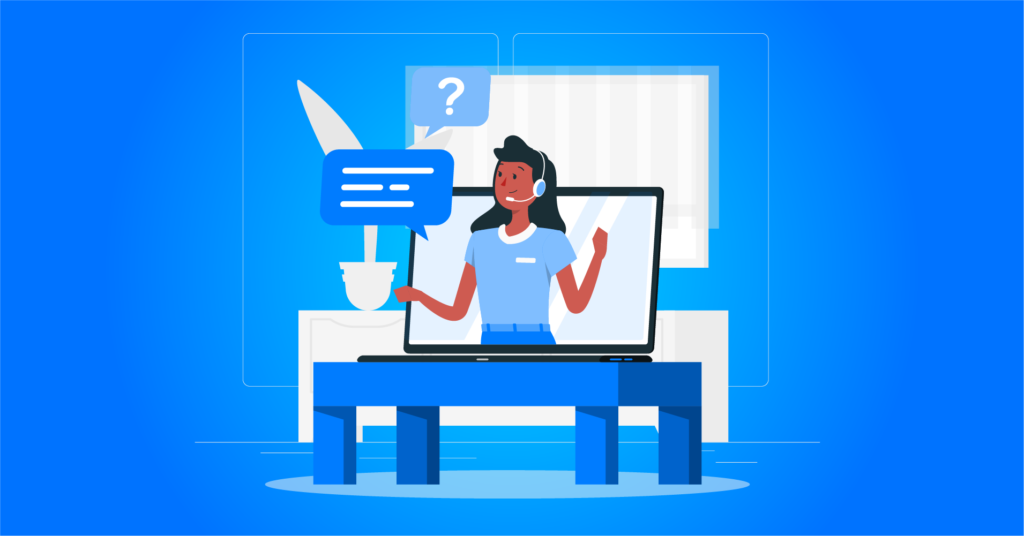 Before starting out with any WordPress plugin, you need to make sure you can get all the help should you require. The teams behind plugins provide them in various forms – documentation, tutorials, customer support, etc.
Fluent Forms leaves no stones unturned when it comes to helping out users. There is extensive documentation for each and every feature. In fact, the team is so diligent that they make sure the docs are in place even before releasing an update. Moreover, there are graphic tutorials on a designated YouTube channel for better guidance.
Should users find themselves in need of in-person consultation, there is a dedicated support team full of efficient support engineers ready to answer any and all of users' queries. There is no differentiation between free and pro users; all users are welcome.
On the other hand, Contact Form by Supsystic also offers ample customer support elements. There is enough documentation in place. However, the video tutorial option will redirect you to a 5-minute video, which is nearly not enough. Furthermore, support tickets are managed on a priority basis which is a little unfair to free users.
Pricing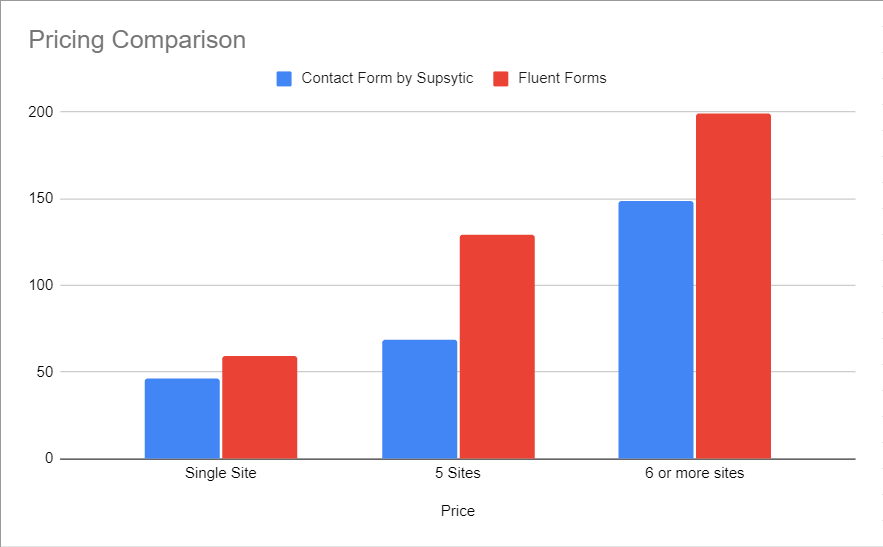 Last but definitely not least, arguably the most crucial parameter to check is the pricing of the WordPress plugin you are considering purchasing. This can essentially be the make or break point for you.
Fluent Forms is the most budget-friendly WordPress form builder out there. Firstly, a powerful free version is complete with 30 input fields, five integrations, 60+ prebuilt form templates, and other functionalities like global styler, conditional logic, anti-spam features, form submission management, etc. Basically, any and all features you may need to create a simple or complex form.
However, if your needs are a little advanced, like payment gateways, file collection, intricate surveys, etc., then a premium license is more upto your speed, starting at as low as $79 annually for a single site and going upto a maximum of $899 for an unlimited lifetime license. Moreover, except for the domain limit and duration, there is no distinction among the premium licenses in terms of features. So you don't have to upgrade unnecessarily to an "agency" or an "elite" license if you don't need to.
Alternately, there are also some attractive options when it comes to price plans. With Contact Form by Supsystic, you can start at as low as $59 annually for a single site, to a maximum of $319 for 6+ sites for three years. Hence, a lack of unlimited sites plan forces users to renew their licenses periodically, which total up to a lot of money.
Contact Form by Supsystic vs Fluent Forms in a nutshell
On the one hand, you have a professional form builder that knows what it's on about. So you can rest assured. Tonnes of input fields, prebuilt form templates, integrations, anti-spam measures, designing opportunities, payment options, and more.
On the other, a decent enough plugin with a handful of form-building features that will allow you to create responsive forms with zero code. But no conditional logic if you don't upgrade, no payment, no conversational form, etc.
The choice seems pretty obvious. And if you are still on the fence, know that 100 thousand people are on the other side, enjoying the robust features and functionalities.
---
Mahiyath C
Mahiyath is a digital marketer for Fluent Forms. She likes to explore through the alleys of WordPress and learn about the themes and plugins, currently specializing in WordPress forms. When she's not doing that, she's planning her next adventure.