How to Create Secure Online Forms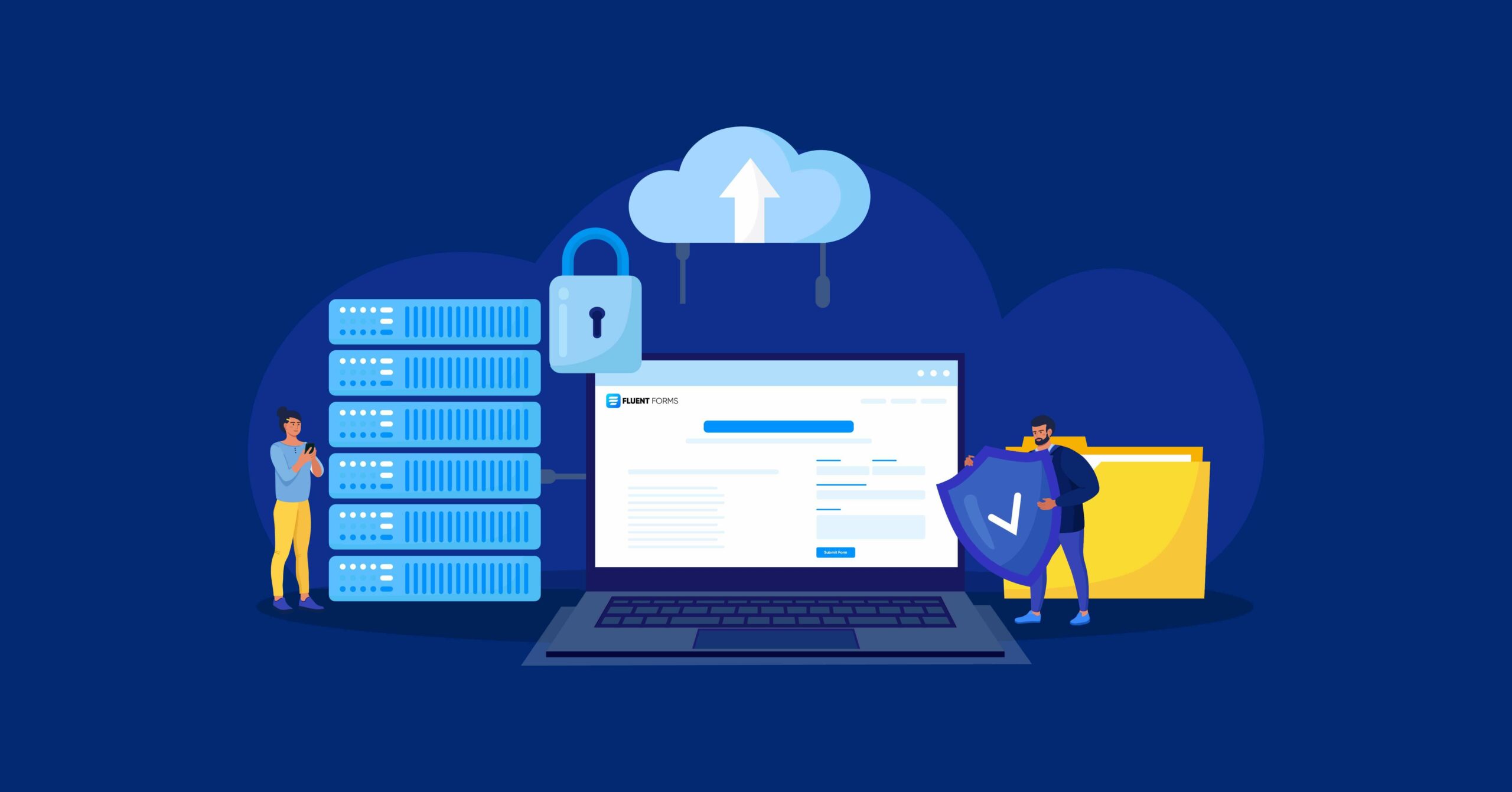 Online forms are the only constant thing you'll find on any website. This is one of the most important integral parts of the website. Spammers and hackers target the forms to find vulnerabilities and make your website misbehave. So, the owner should know how to create secure online forms to protect your website from malware/spam attacks.
In this article, we'll learn the steps to create secure online forms in WordPress and ensure the overall security of your WordPress site.
Fluent Forms is the most beginner-friendly form builder. Download now and start crafting beautiful forms FREE!!!
What do you need to create secure online forms
Basically, you need two main things to create secure online forms on your WordPress site.
A secure form builder plugin
A secure hosting platform
A secure form builder plugin
Firstly, to create secure online forms, you need a secure online form builder, as they offer various security features for your site. Fluent Forms is one of the most lightweight and secure form builders in the market.
Fluent Forms did not overlook the security issues with tons of flagship features. You'll get multi-layer protection features to play with to secure your site from spammers and hackers.
Moreover, sharing and publishing the form is more manageable than any form builder, which helps you not complicate things to make your forms vulnerable.
Fluent Forms is the most beginner-friendly form builder. Download now and start crafting beautiful forms FREE!!!
A secure hosting platform
Unlike form builders, finding a secure hosting platform is a hectic task. You need to choose from so many options out there that can surely make you confused. Also, there are quite a few factors to consider when choosing the right hosting platform for your WordPress site.
The most important things you need to keep in mind are security measures, server reliability, backup options, and so on. You'll also need to consider the offerings of your hosting company, like free or shared WordPress hosting, VPS (Virtual Private Server), dedicated server hosting, etc.
SiteGround is one of the most popular and highest-rated hosting providers in WordPress. Before choosing any hosting service, you should know all the protection layers inside the providers.
Wp Engine, HostGator are also famous for their service in the arena. Also, keep an eye if your hosting service provider offers an SSL certificate or not. SSL (Secure Socket Layers) gives an extra level of security by switching from HTTP to HTTPS. 
How to create secure online forms
After choosing the right contact form builder and hosting provider, here comes the part of creating secure online forms. As you've installed and activated Fluent Forms in your WordPress dashboard, now is the time to configure it as spam-proof.
Enable double opt-in
Double opt-in is nothing but double verification; when users make submissions, they'll get an email asking to verify their subscription. Usually, users need to click the link to get their entries verified.
Fluent Forms allows you to enable Double opt-in with a simple check box. Head over to the Global Settings and select Double Opt-in Settings; check it to enable. Then write a confirmation email to give your users some instructions. Save it, and you're good to go.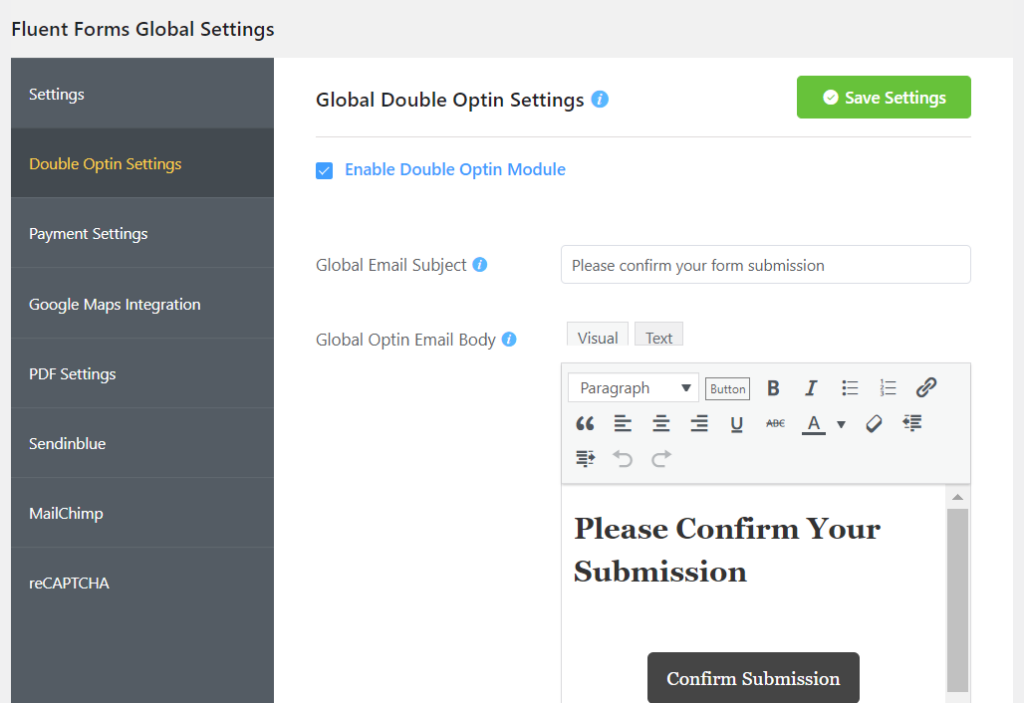 This adds a double layer to the security of your form and, overall to your WordPress site.
Use Google reCAPTCHA
Google reCAPTCHA is still one of the best options for increasing your form's security. It allows your form submission free from auto submission as it detects human visitors by using the puzzles or identifying their behavior while they're on your site.
To add reCAPTCHA to Fluent Forms, you need to have a site and secret key from Google, which you can generate within a minute. Enabling reCAPTCHA v3 or v2 in Fluent Forms is as easy as pie. Follow the instructions here, or you can watch this video.
Not only reCAPTCHA, but you can also add hCaptcha to your form if you want. There are multiple choices available to strengthen your online form's security. 
Enable Honeypot
Honeypot is another option to take your online form's security to a whole new level. This is like a hidden field that users cannot see, but the spambots have no option but to fill it in. And the filled-in submissions will be rejected.
To activate Honeypot security, go to the Global Settings and scroll down to the Miscellaneous section. Toggle on to Enable Honeypot, and that's it for making more secure online forms.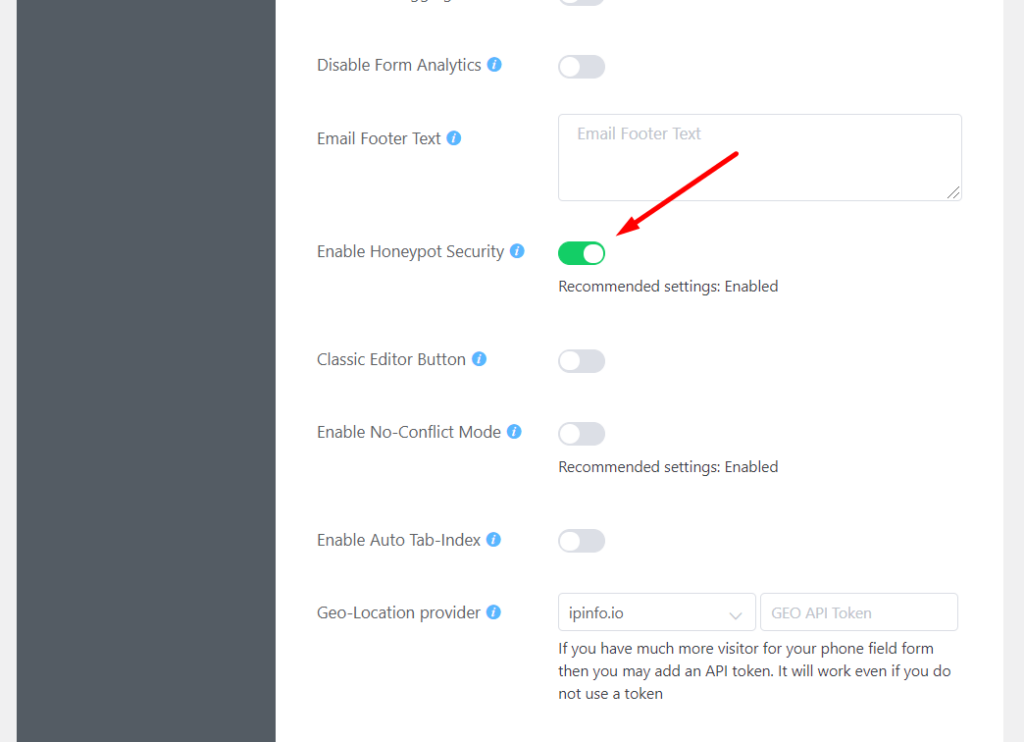 Akismet
Even if your WordPress website may come with the Akismet anti-spam solution, you still need to activate it. Firstly, go to your WordPress dashboard and click on the Plugins option from the left side. Scroll to Akismet anti-spam, and activate it to make your site secure from spammers.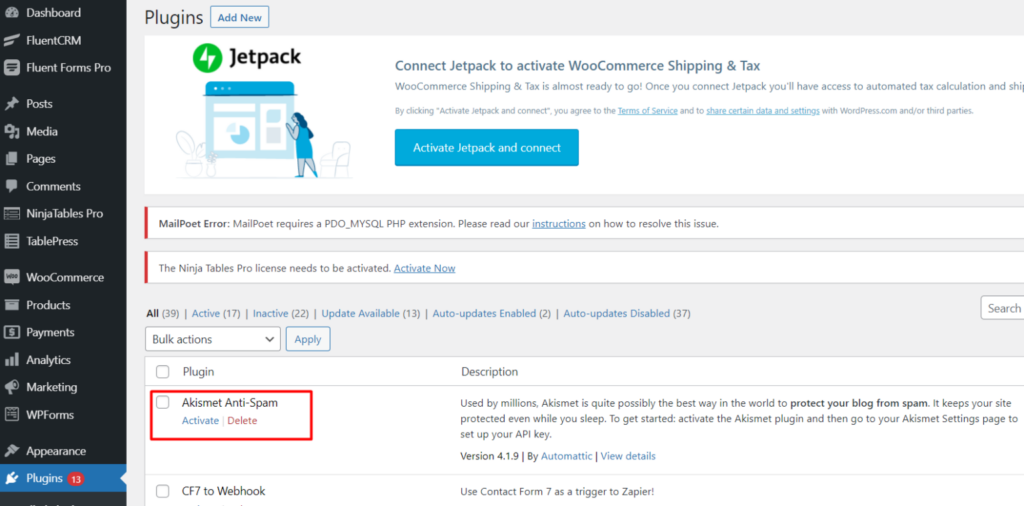 Secondly, go to your Akismet account and click on Create a new Akismet API key. You'll get a confirmation email with an API key. Then head back to your website, scroll to Akismet, go to Settings, and click on the I already have a key button. Copy the Akismet API key you've received via email and paste it here.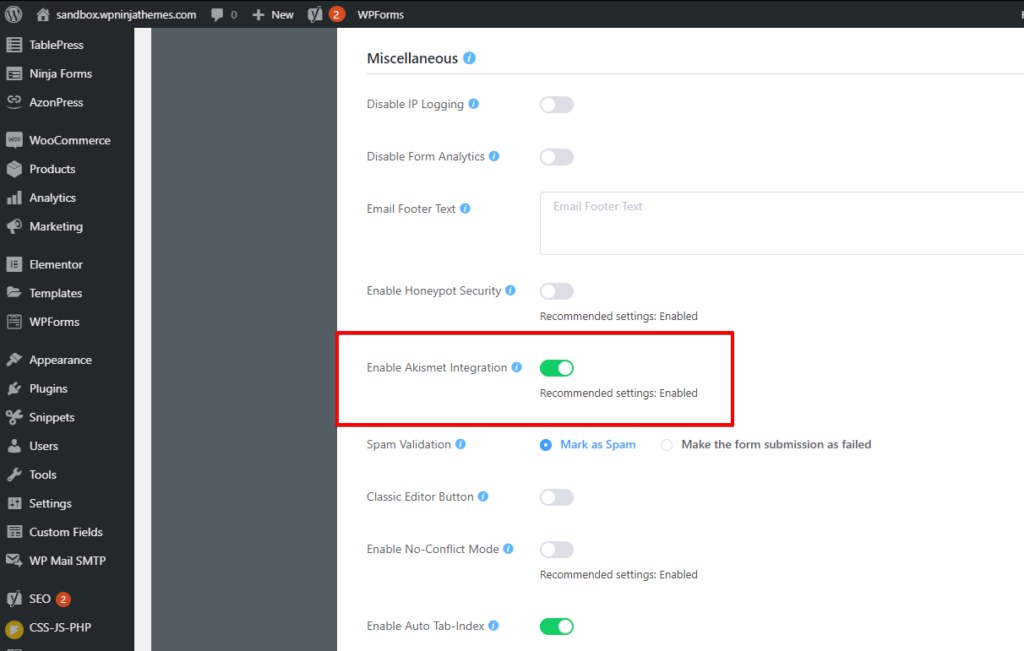 Finally, Save the Changes.
It protects your site even when you sleep. Don't be shy to put an extra security layer on your website cause spammers and hackers don't rest to find a way to breach your users' information.
File upload restriction
Users need to upload different types of files in their forms. Though it's a very lucrative feature of any form builder, it may cause your website some severe damage if not handled correctly.
Sometimes you need to limit file size and file numbers, restrict the formats, and so on to make your form less vulnerable. With Fluent Forms, it's pretty straightforward. Go to the Fluent Forms dashboard to create a new form or edit an existing one. Add file upload input field to your form and select int to customize as needed.
Go to the Form Settings and scroll to the Scheduling & Restrictions section to enable Login Requirement Settings, Form scheduling, Blocking Empty Entries, etc.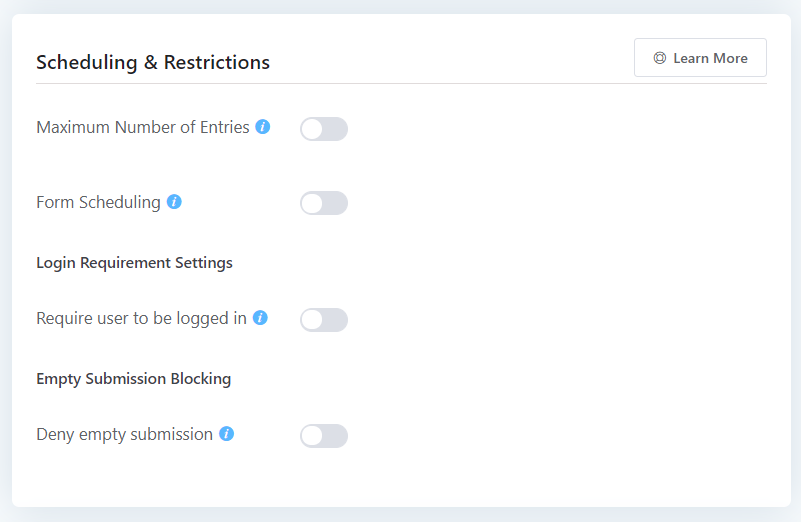 Utilize input validation
Fluent Forms' advanced input validation allows you to control precisely what a user can submit to create dynamic, secure online forms. To activate this, select the form and go to Settings & Integrations. Scroll down to the Advanced Form Validation section and tick the checkbox to enable this feature.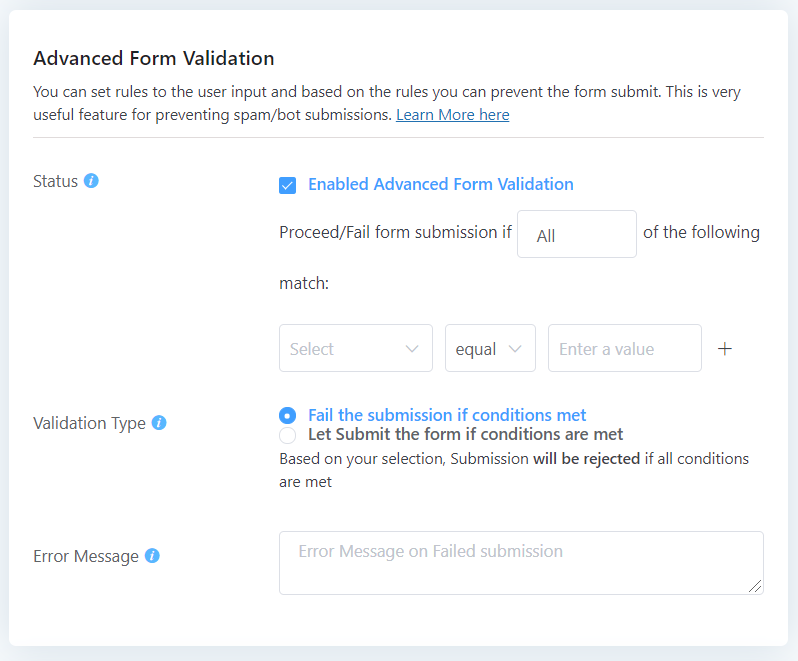 Set the conditions as you like to accept or deny any submission. You can also provide a message to display if the submissions are not accepted.
Get your website SSL certified
An SSL certificate is a type of encryption that secures the sensitive information of your website. You can get an SSL certificate from your hosting provider. Even they offer a one-click package that adds the cost to your total, this is the simplest way.
The easiest place to get an SSL Certificate is your hosting provider. They usually offer a one-click package that adds the cost to your invoice. After getting the SSL, your HTTP becomes HTTPS, and you'll get a green padlock icon on your URL.
If you want users to feel safe about your site, make sure you get your site SSL certified. This can help you to create secure WordPress forms for your users.
Some extra protective measures
You should not compromise when it's about your website security. Some plugins do the tricks for free. You can try out Sucuri, Jetpack security, Google Authenticator to protect your website from malware and DDoS attacks and make your online forms more secure. They offer real-time scans to give you an inside-out idea about your site's health.
Bottom line
Creating secure online forms is no joke. A well-polished form with little security option can be heaven for spammers and hackers. Take every measure to secure your site's data, increase your overall website security, and keep users' information intact. That's why a good hosting provider and a contact form builder are a must. You should not leave any stone unturned about website security issues.
If you want to know more practical and detailed tips to stop spammers from flooding your database, give this a read.
Follow our social channels to learn more tricks to increase your site's health and protect it from spammers/hackers.