Best Alternative for Salesforce Forms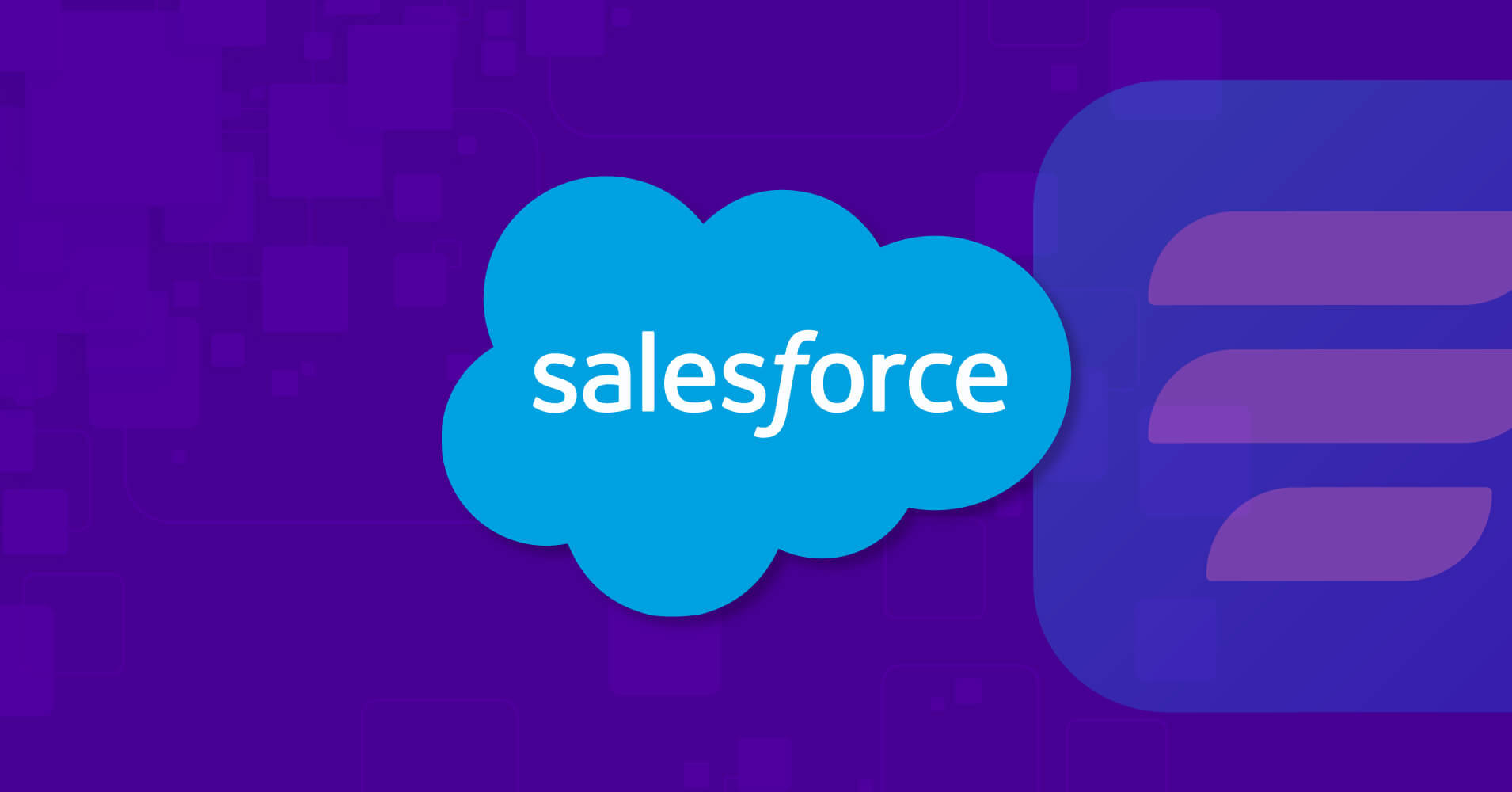 To ensure your business growth, you need to manage your customers every day. There is no alternative to a CRM or Customer Relationship Management tool to notch up your upward revenue curve. Salesforce is one of the market-leading CRM tools with tons of features and functionalities to help you build a smooth relationship with your customer.
But is it though?
Sometimes you need a bit more to get the ultimate result you desire. You need to collaborate with other products to make a full-fledged marketing tool for your company. As Salesforce forms have limited functionalities, you may need a powerful one.
Fluent Forms is the most beginner-friendly form builder. Download now and start crafting beautiful forms FREE!!!
Let's find out the limitation of Salesforce form builder first –
Limitations of Salesforce forms
If I mention correctly, there is no such form builder in Salesforce. You can create a dynamic form object to create a form page within Salesforce, but there are many limitations to that.
Firstly, there are only a few input fields like checkbox, currency, time/date.
Secondly, the functionalities are also minimal.
Finally, styling the form isn't fun as there's nothing much to do.
You need another form builder to utilize your CRM's functionalities fully- capture as many leads as possible with attractive, multi-functional forms, and convert them into loyal customers.
Features of an exemplary form builder
People have different interests and needs, but if you're running a business, whether it's small, medium, or big, you need to know the basic functionalities a WordPress form builder should have.
The number of input fields: Before choosing the form builder for Salesforce CRM, make sure it has a handsome number of input fields. Different input fields mean different functionalities, and you can make lead-generating forms and pages with the form builder plugin.

Ease of use: If you cannot navigate fluently throughout the dashboard, you cannot tag it as a good form builder. Easy navigation, slick design, and a smooth user interface are essential for a form builder.

A good number of demo forms: Sometimes, you don't have the time to create a complete form from scratch. So, you need many functional forms to be there in your form builder repository. That's the next thing to look into a good form plugin.

Conversational forms: You need to create some conversation-like form to capture leads. One after another question and getting feedback every time a user fills in a field certainly boosts your submissions.

Spam filtering and security: Spammers are the worst nightmare for any business owner. You don't want your database flooded with spam messages and malware attacks. You need some excellent spam filtering features and security options to make secure online forms.

You also need to look for the features like conditional logic, feature layout, entry management, third-party integrations, partial entries, etc., to make dynamic forms to generate leads.
Why choose Fluent Forms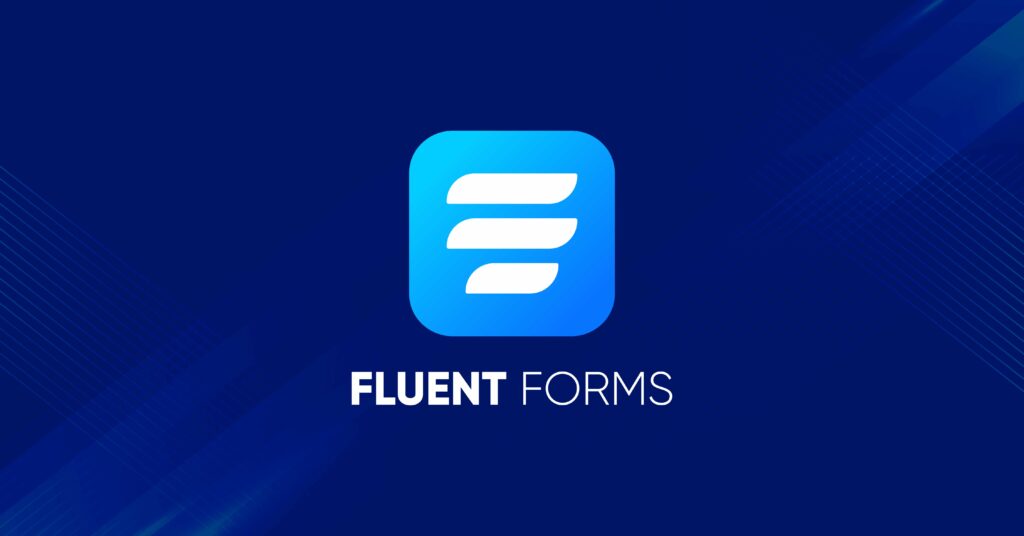 Fluent Forms is the most lightweight and easy to use form builder on the market. This is a multi-functional form builder with tons of features and third-party integrations.
This can help you with –
Create different types of forms without any coding – only drag & drop
Conversational Forms allow to make conversation-like form and give it a human touch
Different payment methods
Slick user interface (UI)
Easy integration with third-party apps
50+ input fields
70+ pre-built form template
Multiple security measurement options
File upload options, conditional logic, layout feature, and so on
Export/import file, data visualization
Easy survey and quiz creation
Moreover, Fluent Forms has so many other features and functionalities, and integrating with Fluent Forms will make it a potent marketing tool for sure. This is the best alternative for Salesforce forms to get your desired results.
So what are you waiting for? Let's integrate Salesforce with Fluent Forms, it's as easy as drinking coffee.
Salesforce integration with Fluent Forms –
Steps to integrate Salesforce with Fluent Forms
Firstly, activate the Salesforce Module
Secondly, get your Salesforce Domain URL, Consumer Key, and Consumer Secret
Thirdly, use the Domain URL, Consumer Key, and Secret with the Salesforce module
Fourthly, create a form with Fluent Forms
Finally, setup the integrations feed & map the input fields
That's it. With these 5 steps, you can easily integrate forms with Salesforce.
Go to Integrations Modules from Fluent Forms and turn on the Salesforce Module as shown in the screenshot below.

Now go to Global Settings Fluent Forms menu. Select Salesforce, and you'll be asked for the Salesforce Domain URL, Consumer Key, and Consumer Secret here.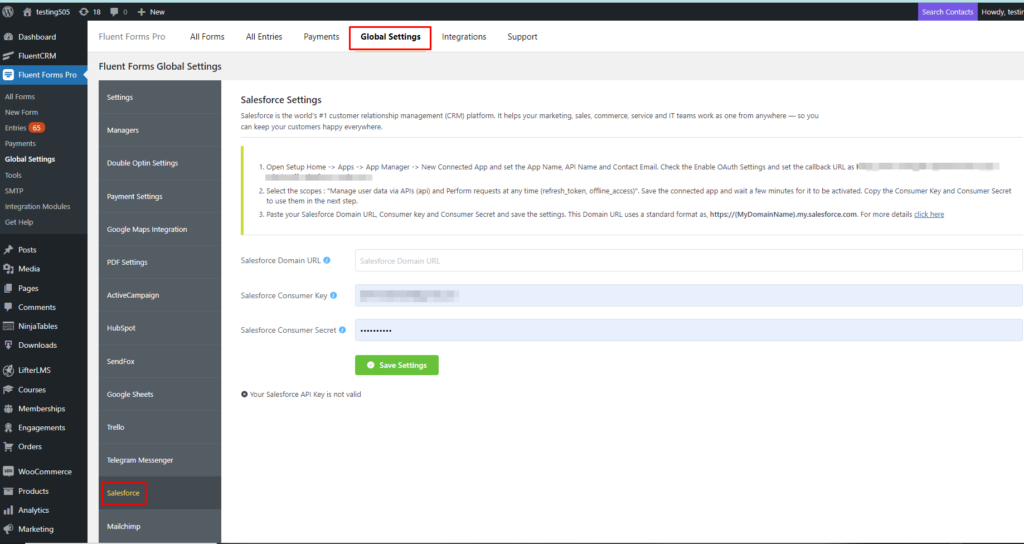 If you don't have a Salesforce account, you can sign up here.
After login into your account, a Setup page will appear.
Now open Setup Home → Apps → App Manager →New Connected App.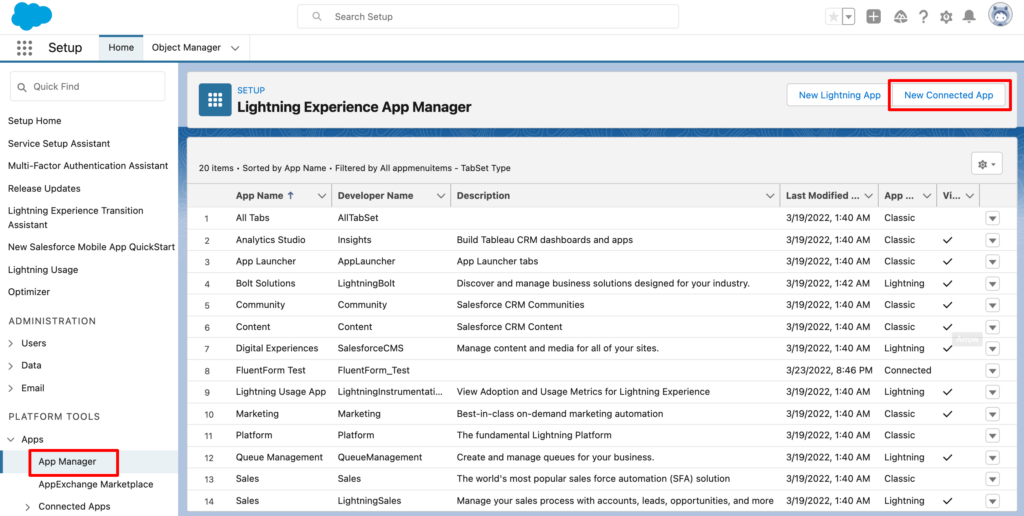 Simply set the Connected App Name, API Name, and Contact Email.
Check the Enable OAuth Settings and set the Callback URL. You will get your URL from the Global Settings of the form.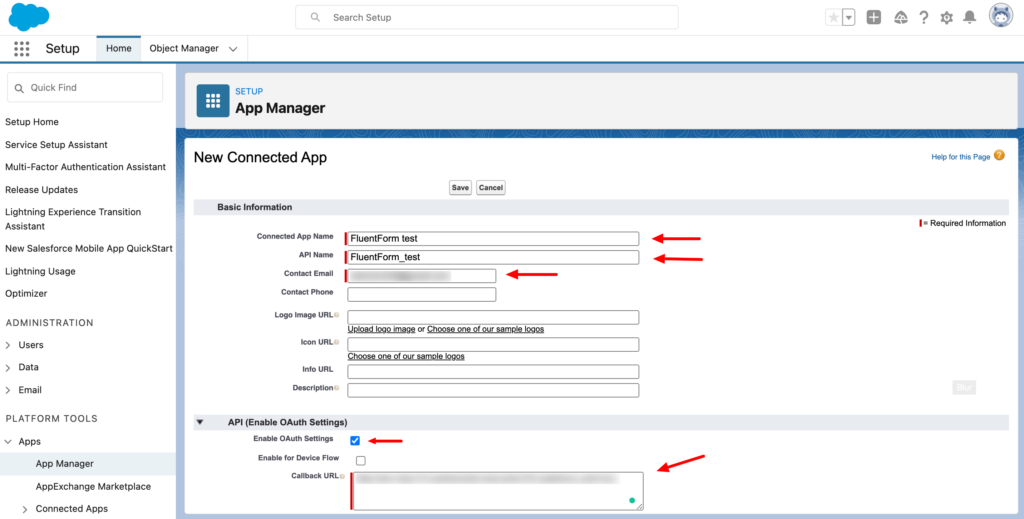 The Callback URL is unique for every single site.
Select the scopes: "Manage user data via APIs (api) and Perform requests at any time (refresh_token, offline_access)". Save the connected app and wait a few minutes for it to be activated.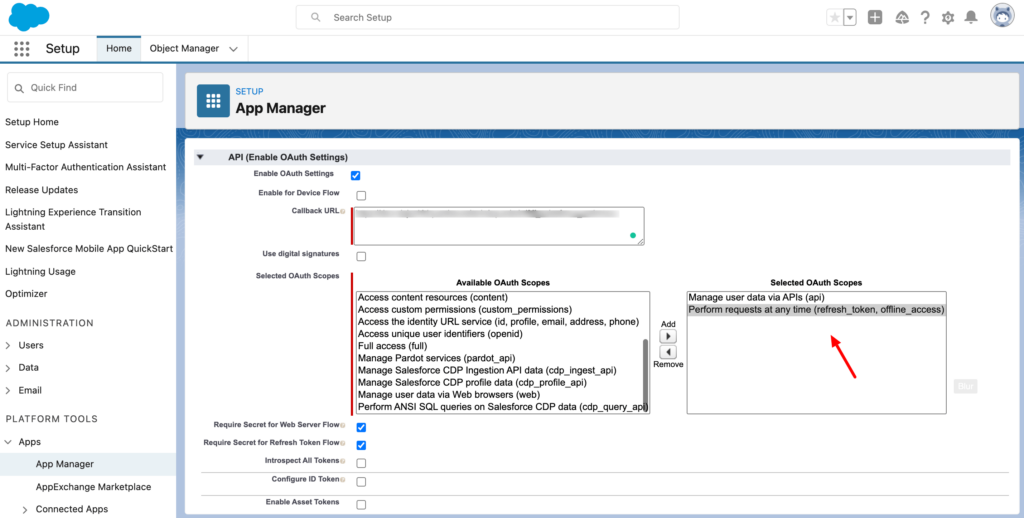 Copy the Consumer Key and Consumer Secret to use them in the next step.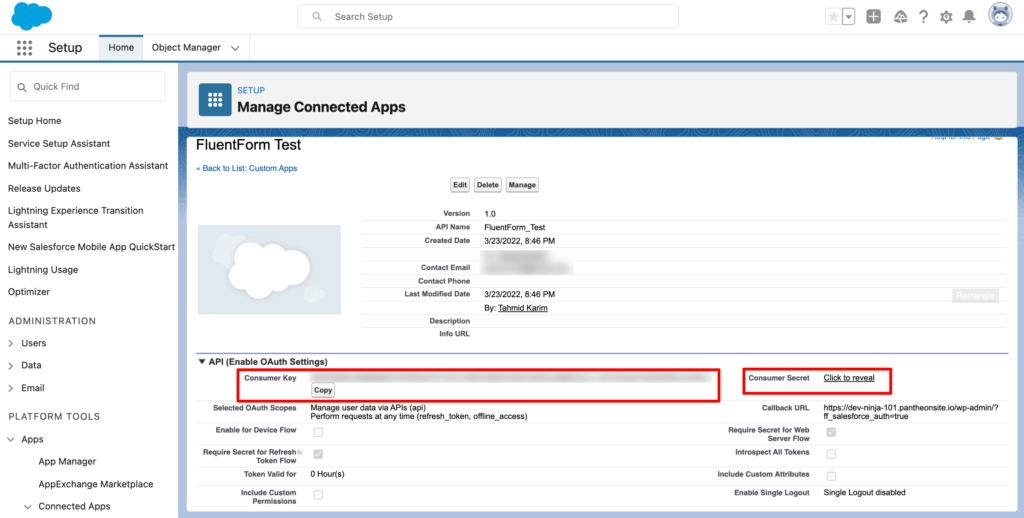 Paste your Salesforce Domain URL, Consumer Key, and Consumer Secret to Salesforce's Global setting tab and Save settings.
Get your Domain URL by Clicking on your Profile icon on the top right.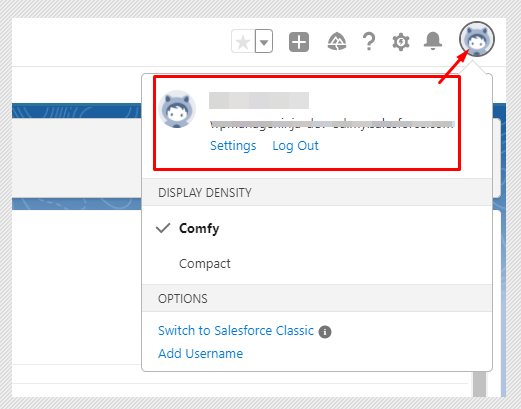 Copy the URL & please make sure you add 'https://' before the domain URL.
For more details click here.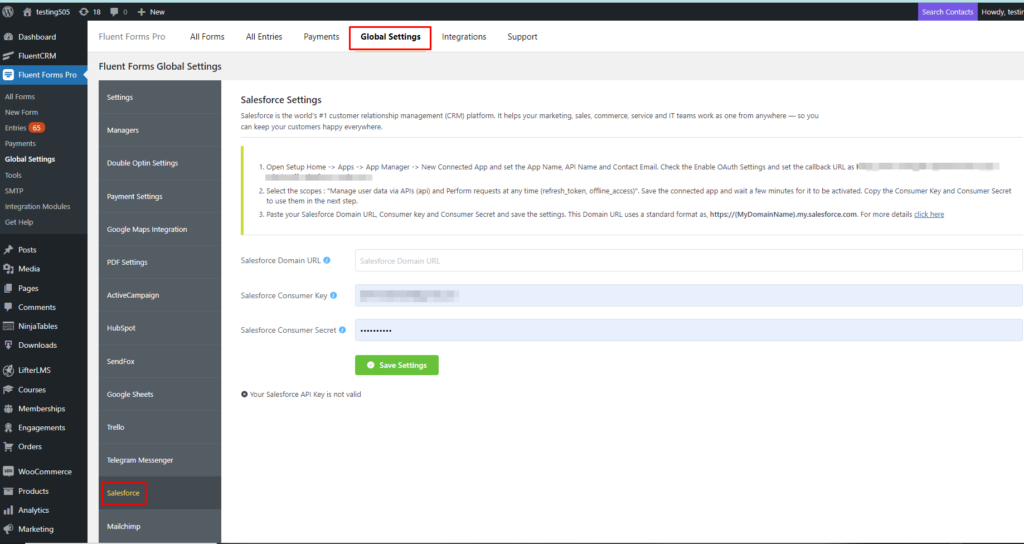 Now go to the settings of the particular form the entries which you want to be listed in Salesforce. Click on Add New Integration and select Salesforce Integration from the dropdown.
Name the Feed & select the Salesforce services from the dropdown and create the Salesforce Feed.

Configure the fields and map them to the Salesforce services corresponding rows.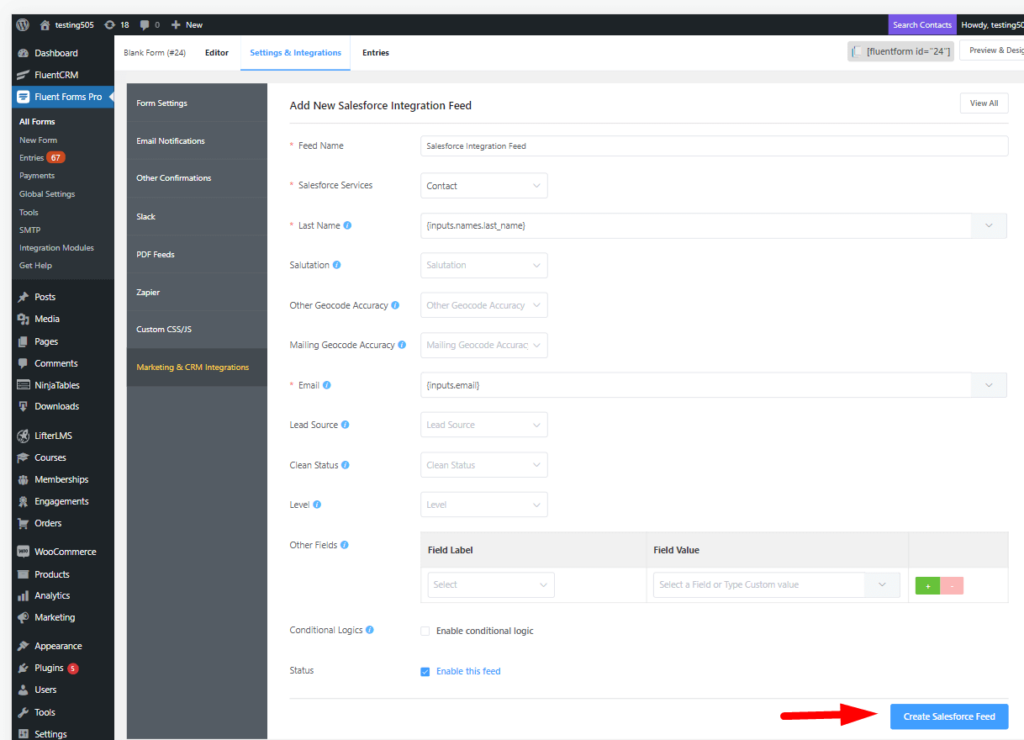 Enable Conditional Logic if required. Learn more about Fluent Forms Conditional logic here.
Click on Create Salesforce Feed when the configuration is done.
That's how without any prior knowledge of coding you get multifunctional Salesforce forms in your marketing repository.
Final Words
The importance of a CRM for the growth of your business is just ineffable. Choosing the best one and getting the desired result might be tricky sometimes. But being patient and researching before making the final decision is the ultimate key to success.
Salesforce with a form builder can certainly be the top gun of your tech stack. This is the easiest way to connect two market-leading products and help your business scale for the long run.
Hopefully, you find your best alternative to Salesforce forms.
Do you use any form builder plugin with Salesforce?
Do you have any preference rather than Fluent Forms?
Or are you having second thoughts about Salesforce?
Let us know in the comment section, and we'll reply to you ASAP.