10 Best Wicked Halloween Marketing Ideas for Your Online Store!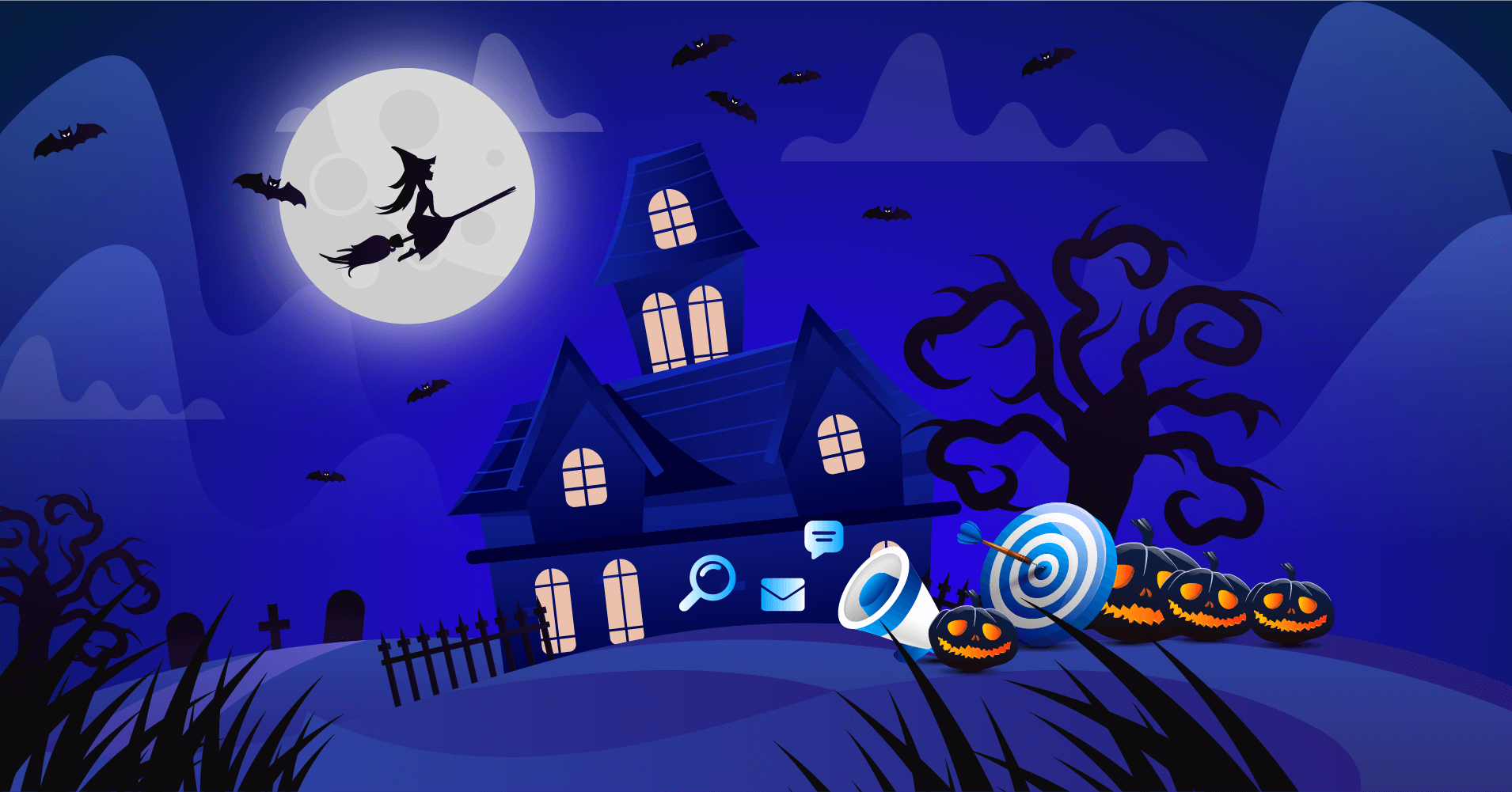 Halloween is coming close! So, it's time to get ready for the Jack-O'Lantern, trick or treat, candy bags, spooky costumes, visit haunted houses, and listen to scary stories. But for eCommerce business owners, it's time to get tensed and excited simultaneously. Because this is the peak time of the year to make the highest sales. So, you need some good Halloween marketing ideas for your website. Otherwise, you're gonna lose while others will win big sales.
This blog post is about the ten best online Halloween marketing ideas to help you make a big fortune this year. These points are detailed, applicable, effective, and easy to implement. Before talking about the points directly, let's check out the history of Halloween and some statistics about the sales marketing of this event.
Fluent Forms is the most beginner-friendly form builder. Download now and start crafting beautiful forms FREE!!!
History of Halloween
Halloween is celebrated on the 31st of October every year. People celebrate the day by going to church, praying, carving pumpkins, and children like to pass the evening by wearing scary costumes and watching horror movies. It's mostly celebrated in western countries with different beliefs but concerning its origin.
Halloween means holy evening or All Saints Day. In the eighth century, saints were honored by celebrating All Saints Day. The vigil meaning of the event is All Hallows Eve, which came to know as Halloween.
In Ireland, it was called Samhain, the summer's end. The feast was celebrated by people wearing terrifying costumes and doing bonfires at night. People believe 31st October is the night when spirits from other worlds visit the living world every year. So, they did the carnival to keep spirits away.
Additionally, the festival was held at the beginning of the cold winter and the end of the harvesting season. Celtic people used to celebrate the day by praying at the church and lighting bonfires at night to prevent themselves from any harm from ghosts.
Spooky Halloween sales stats over the past years
Here is a visual representation of planned annual expenditure on Halloween in the US from the year 2005-2021.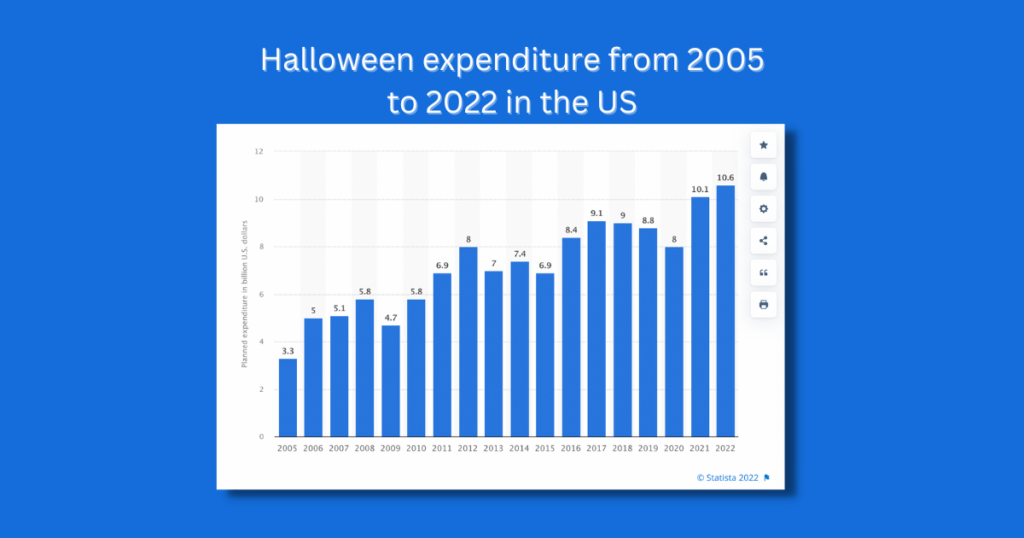 From the graph, we can conclude that the expenditure on the annual occasion increases as the year passes. It clearly means that the expenditure is because of good sales throughout the campaigns.
Halloween marketing ideas to boost sales of online stores
Researching the previous years' marketing stats and trends, we came across ten amazing Halloween marketing ideas to be followed to increase your eCommerce store's sales & marketing opportunities. Let's check out those.
Design a landing page that suits the Halloween theme
If you keep a WordPress website, then you must know about adding special themes or pages on websites for different occasions. Why? Because we already know that themes or landing pages increase conversion, generate data and insights, grow credibility, improve brand awareness, and more.
A perfect good-looking, and informative landing page for Halloween can grab your visitors and drag them to the process of making the final purchase. On top of that, you can add email newsletter signups, coupons, contests, and giveaways to make your page more resourceful and attractive.
Promote your Halloween campaign with a killer banner/popup
Have you seen a small, beautiful popup banner at the top of WordPress websites for any special event or deal? These are option popups and can help you to uplift your sales or marketing campaigns smoothly. How? When you activate this optin banner on your website, it appears on all the pages of your website.
As a result, your site visitors will see the banner on each website page constantly, no matter which page they're scrolling. Correspondingly, it'll create a sense of urgency in making a purchase, and you can easily uplift your Halloween sales.
Surprise your site visitors with ghoulish popup forms; but don't scare them away!
An email list is one of the best resources to spread the word about holiday-related campaigns to your clients. But how do collect these emails? Well, there are many ways. But the best way is to add a popup form on your website days before the occasion. This form will ask for the client's name, number, and email. That's it!
Whenever a user enters your website, show them an optin popup. How? WordPress has tons of form builders to do this, but Fluent Forms would be the best option for you. We'll show you how to design one with Fluent Forms at the end of this post.
Start tricky email campaigns
The power of email marketing always rocks harder than other marketing plans. According to Hubspot, 77% of marketers have seen an increase in email engagement throughout the year. So, if you're looking for effective Halloween marketing ideas to increase sales, you should definitely use email campaigns.
Check out our article on the best email list-building strategies to craft an effective email marketing campaign. And if you already have a healthy email list at your disposal, don't forget to go through the best Halloween email marketing strategies and ideas before you start sending emails!
Give your whole website and products a spooky vibe
Add some Halloween effects to your entire website to act a step further with your Halloween marketing ideas. There are many WordPress tools to help you out with that. Using those tools, you can add Halloween effects like horror fonts, bats, pumpkins, Jack o' Lanterns, timer, and more on your website page. Some tools even assist you in animating effects, such as bats, pumpkins falling, a witch doing her magic spell, etc. Cool, isn't it?
What's the benefit of giving your website a spooky vibe? The answer is simple! To attract visitors and make their purchases from your site.
Offer your products with a creepy Halloween vibe
If you want to participate in the Halloween spirit, offering Halloween-related products to your customers is the best way of one of the top Halloween marketing ideas. For example, selling Halloween costumes is good if you have an online cloth store.
But what if you sell other products? Like WordPress plugins, tools, or software! Don't worry! No matter what kind of business you run, you can always come up with spooky Halloween marketing ideas for your products.
For example, you can offer Halloween-based accessories like stickers, make a bundle best selling products with a special discount, etc. Don't forget to showcase the Halloween theme-based packaging for the bundles, stickers, or discounts.
Offer Halloween giveaway treats on your social media campaigns
Social media platforms are used by one-in-three people in the world. So, sharing your Halloween sales, campaigns, or even Halloween marketing ideas on social media can be a great way to get more traffic to your website and increase sales.
There are tons of ways to do social media marketing. For example, you can throw a competition or contest among your followers, host a giveaway by offering some good products of your business or ensure them a follow back to their channels. That way, it will enhance your Halloween deal season marketing and increase your brand value to others. Try WP Social Ninja, a one social media plugin to collect social feeds, user reviews, and social chat widgets on your website to enhance your social media marketing experience.
Host special online trick-or-treat events on your website
Offer online Halloween events on your website to enhance your site visitor's experience. For example, you can add a trick-or-treat spin, a wheel of fortune spin, Jack O' Lantern to exchange offers, etc., for your WordPress landing page to give your visitors a unique, enjoyable experience when browsing your website. More so, you can offer some coupon codes to offer your clients discounts. As a result, the conversion rate of your website will increase.
Collaborate with other businesses
Look for other businesses if they are planning anything for the last week of October. It can be exchanging products, services, link building, sponsorship, or many other things. Choose yours according to your field.
Suppose you have a WordPress website with some amazing tools and plugins. Now you want to grab some backlinks for your website. Halloween it's the best time to do that. You can start an email campaign from now on to connect with other businesses.
Make your website mobile-responsive
Recently, clients have preferred to communicate or make any purchase via their mobile phones from anywhere, anytime. Online shoppers make them efficient to make any purchase with their mobile devices rather than desktops.
Since the percentage the mobile device users is increasing every day, you must design a mobile-responsive website to avoid all the risks. This will smoothen your client's buying journey, especially in the deal seasons. Because on these occasions, people look for products at a special discount they were waiting for the whole year. A mobile-friendly landing page can make customers choose fast and buy from your website.
Start pre-advertising
All the above-mentioned Halloween marketing ideas except the "website landing page" need to start before the date of the Halloween celebration because people tend to buy before the occasion to wear or use them on the event day so start preparing your Halloween campaign early to grasp the clients.
You can spread awareness of upcoming sales through social media, email marketing campaigns, blogs, or your website decorations.
Now that we have the Halloween campaign ideas, let's check out how to make a pop-up form with a WordPress form builder. We'll be using Fluent Forms for that.
Why Fluent Forms?!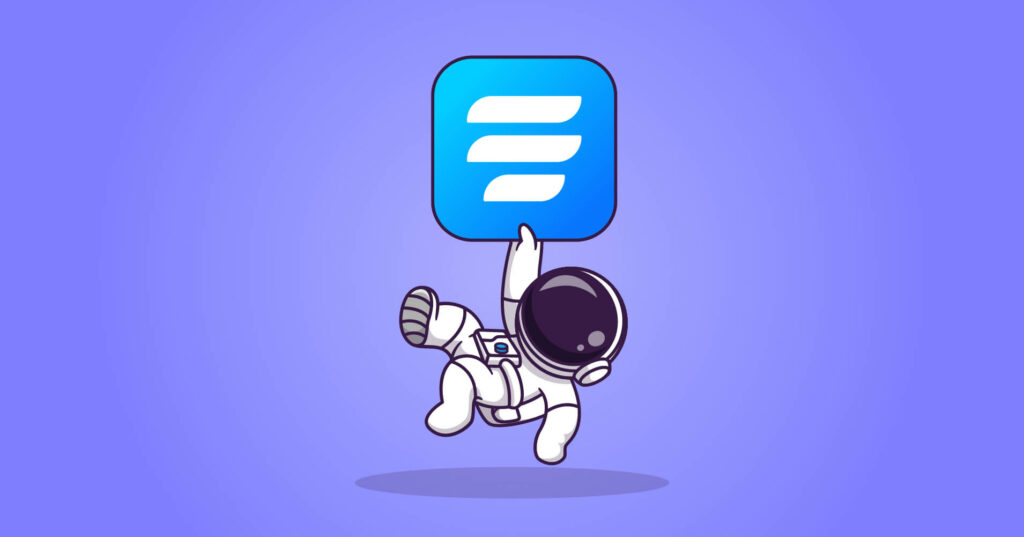 Because Fluent Forms is one of the powerful form builders with amazing features and functionality, its drag and drop fields and sleek interface made it popular among users. Fluent Forms comes with more than 60 input fields, 70+ pre-built templates, and 40+ third-party integrations, including payment options. You can create any type of form with the plugin.
Its noteworthy features are conversational forms, quiz module, range slider, net promoter score, multi-step field, conditional logic, global styler, signature add-on, PDF module, GDPR field, reCaptcha, hCaptcha, email notifications, and more.
Now, let's make a ghoulish popup form with it.
Go to your WordPress dashboard. Install Fluent Forms or Fluent Forms pro, whatever you like, because Fluent Forms' free version is enough to make any type of form except the payments one.
We're using the pro version as we want to use our website's plugin for further use. Click on the All Forms button from Fluent Forms' pro dashboard.
Then you can choose from the 70+ templates or go for the blank one. We're choosing the Blank Form template.
Now, let's name our form Subscription Form by ticking on the top left corner button that is named Blank Form.
Then drag and drop the necessary fields from the Input Fields section on the right sidebar. We're adding the Name Field and Email Field for this form only. Because we just want to collect some visitors' names and emails for the Halloween season.
Save the form by tapping on the top left corner blue button.
Let's see the form preview from the Preview & Design section.
Here is the preview.
You can make it beautiful by customizing it with the global styler option. Select any template from the Form Style Template button. We're going for the Modern (Light) option.
Then go for the Custom (Advanced Customization) button to customize your form amazingly.
You can customize the Label Styles, Input & Textarea, Placeholder, Radio & Checkbox Style, and Submit Button Style from the General section. We're changing the Label Styles color, Placeholder color, and the Submit Button color.
From the Misc section, change the Container Styles, Asterisk Styles, Inline Error Message Styles, After Submit Success & Error Message Styles separately. We're changing the background color only here.
Lastly, from the Import option, you can import previously designed any from's templates. Save the settings when done.
Let's move on to the form editor again. Now, if you want, you can convert your into a conversational form by clicking on the Convert to Conversational Forms button on the top right corner.
We're not adding anything from the input fields of the conversational form. So, directly move on to the design section of the form. Here you can set the color of questions, answer, button text, background, etc. Moreover, add a background image, set the mobile device layout, enable or disable branding, set key hints, and more.
We're adding a background image that matches Halloween. Adjust the text or button colors with the background image.
Here is the preview of the form.
Now, move on to the Settings & Integrations section of the form. Here, you can set the form confirmation messages and enable double optin on the form settings from the left sidebar.
Moreover, options are available here, set form layout, schedule or restrict your form, etc.
Set the email notifications on the Email Notifications option.
One more thing, you'll need the FluentSMTP plugin to send email notifications to your users.
In the Marketing & CRM Integrations button, you can connect the form with any available 40+ integrations of Fluent Forms. For example, if you want to automate your email campaign, you can use Moosend, ActiveCampaign, Covertkit, MailChimp, or many other options with the plugin. All you have to do is just create an account on the respective integration's website and copy and paste the API and secret key of the integration here.
Finally, let's publish the form. If you want to publish your form on a page, go to the pages section from your WordPress dashboard, and click on the Add New button.
Then add the Fluent Forms' Gutenberg block by clicking on the plus (+) icon.
Now select the form and publish it on your website.
Follow a similar process to publish the form in any blog post.
There is another way to publish the form. You can just copy the form's shortcode and paste it anywhere on your website. It can be a blog post or page.
That was amazing, right?! Keep up with Fluent Forms blog posts for more tutorials like this.
Halloween celebration for all!
Those days are gone when Halloween was celebrated only at our home with lighted candles and pumpkins. Today, businesses are joined to take advantage of this by arranging parties, get-togethers, and picnics to kick out the darkness of the event.
We hope you found this article informative for your upcoming Halloween deals and campaigns. Follow us to get more tips and tricks like this to boost your business. Check out our social channels, like Facebook, Instagram, Twitter, and YouTube, to get tutorials on our product.