How to Create a Survey in WordPress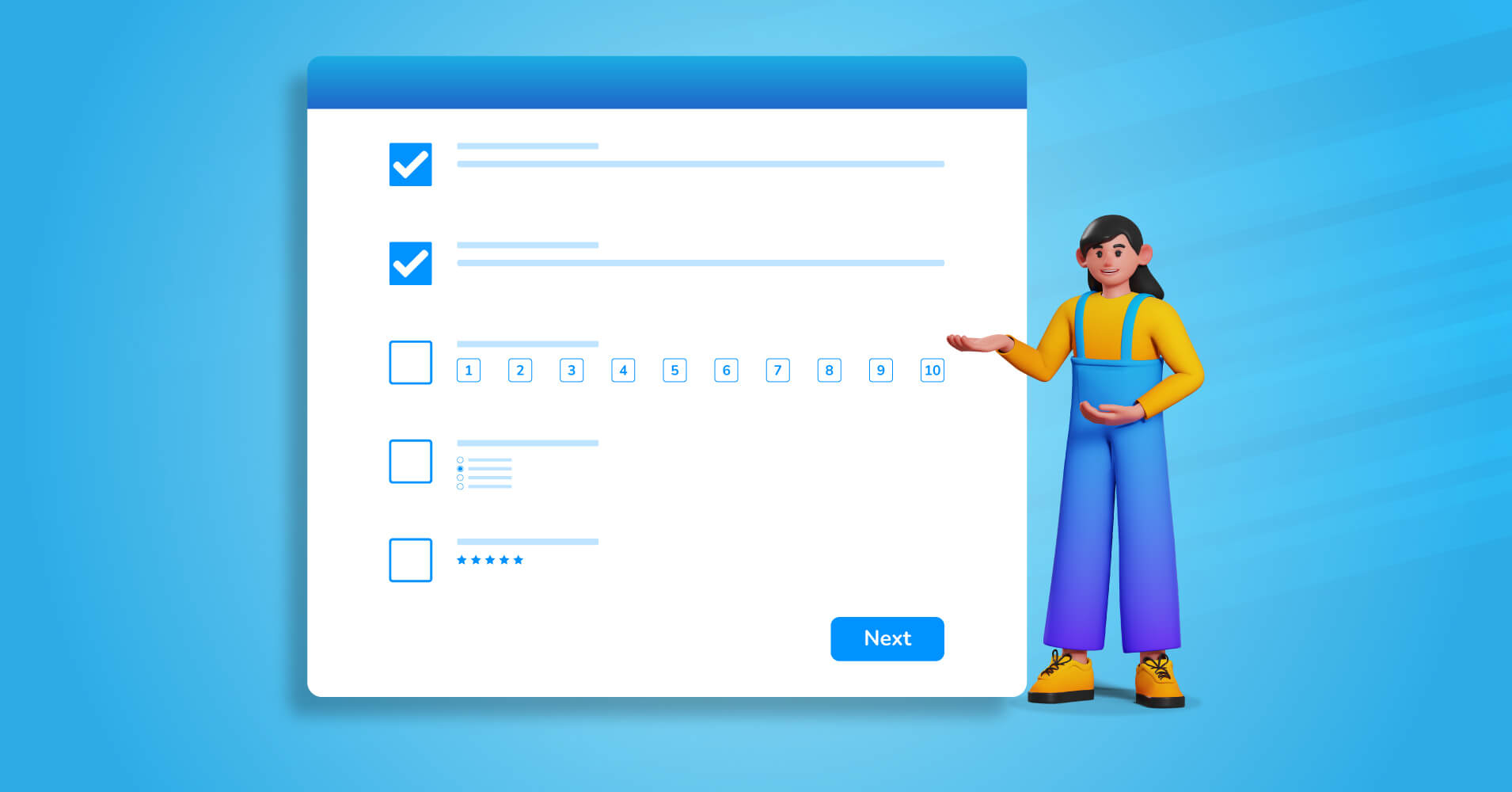 Wondering how to create a survey in WordPress? With the right tool, it's a no-brainer. Surveys play vital roles in collecting valuable information and help you make data-driven, practical decisions to improve your business strategies.

We'll show you how to create a survey in WordPress and make some eye-popping reports in this write-up.
Fluent Forms is the most beginner-friendly form builder. Download now and start crafting beautiful forms FREE!!!
Why create a survey online using WordPress
One may ask why not embed other survey services to your WordPress site. Though it's possible, they often have limitations on the number of queries, users, survey responses, etc.

Moreover, there are some other obstacles like –

1. More HTTP requests
2. More expensive
3. Not self-hosted
External survey platforms need extra code into the core function that could slow down your site miserably. To optimize your web performance and get the desired result, you should not bombard your site with unnecessary scripts.
Usually, survey platforms are pretty expensive, but still, you can find free WordPress survey plugins in the market. However, you need to spend some bucks adding more functionalities to your survey form.
And the best part of WordPress it's a self-hosted solution – means you control, analyze, optimize your data. On the other hand, survey platforms like Survey Monkey are hosted in the external cloud. This is not the problem, but sometimes these platforms have restrictions on data export and other facilities.
Fluent Forms comes with a vast range of free functionalities, including some beautiful survey templates. You can make survey forms from scratch too.
How to choose the best WordPress survey plugin
Creating a survey and collecting data can be easier if you choose the right survey creation tool.
But the real question is, how to choose the right WordPress survey plugin for your site?
As we said earlier, many survey builders store data on third-party clouds you can't easily access. They also offer limited customization options, and some even limit the number of responses you can collect, which is a major setback for your business.
Here the WordPress plugin comes to the rescue. We recommend you to check out Fluent Forms – the fastest and most lightweight feature-rich WordPress form builder for surveys.
Fluent Forms is a simple drag-and-drop plugin with hundreds of features to explore for free.
From creating surveys to building beautiful business forms, from conversational forms to quizzes and polls, Fluent Forms gives the full flexibility to scale up your business.
Not only creating survey forms, but you have to analyze the data to take steps accordingly. For that, reports are very crucial, and you'll get the full authority in Fluent Forms to keep your skin in the game.
Moreover, you can gear up with tons of important integrations and features to get the job done.
This is the best WordPress survey form builder in the market because –
Bunch of pre-built professional survey forms
Simple drag-and-drop feature helps build form without coding
Smart survey fields like Checkbox, Multiple-choice, Radio, Range Slider, Ratings, Net Promoter field, etc.
Conversational Forms to make your survey more conversation-like.
Survey reports with amazing visuals (graphs, charts, tables)
Options to share your WordPress survey outside the WordPress website
Export your data as CSV, Excel, ODS, JSON.
A Free SMTP – FluentSMTP
In a nutshell, Fluent Forms comes with a solution to create every type of form you'll need.
Now, let's make a survey form in WordPress from scratch.
How to a create survey in WordPress
To create an online survey, you need to go to the Fluent Forms from the WordPress dashboard.

Click on New Form, and a pop-up window will appear with pre-made form categories. As we will show how to create an online survey from scratch, we will click on the New Blank Form option.

You will be redirected to the form editor. You have to drag and drop the survey fields and instantly make your desired online questionnaires. We will make a course evaluation survey form, for example.
First, we will take the Simple Text field from the Input Fields option and name it Course Name.
After that, add two Numeric Fields and rename them as Course Number and Course Section. You can assign them as mandatory fields to fill up, just need to enable the Required option from Input Customization.
Add a form step to end the page and give your leads to take a breath before going to the next page.
Now we will add a section break and give some instructions. Add some Radio Button fields and name the options as you like. Make your questionnaires as precise as you can. It's a must for getting more responses from the prospects.
You can add the options and give the name as per your need.
Add a Net Promoter Score field if you want to get the response from a scale. Like on a scale of 10, how satisfied are you with this course? Or how satisfied are you with Fluent Forms? This is a must-have field of a survey form builder.
Fluent Forms has more than 50 input fields to offer and most of them are free, so you can easily create a free online questionnaire for your survey.
Speaking of must-have field, you will also get –
Multiple-choice field: Helps you to add multiple-choice question in your survey.
Checkbox field: Add questions with checkbox field to get more than one response.
Country Select Field: Participants can select the country from the drop down option.
Checkable Grid: Allows one to select multiple answers to one question.
Range Slider: It helps to collect response within a range.
Rating fields: People will find it helpful to rate a product or service with the easy-to-use interface.
Different field types will help you take full advantage of a survey form.
Back to the survey form-making, try to end the page with the same pattern of questions and then start another one if you need some other responses.
Now include a container section to give your form a different layout. Up to six columns can be added, and in each column, you add a different field.

Customize the submit button by renaming, sizing, or aligning it. You can also give some customized CSS or images to give it some extra dimension.
Sharing and visual reports of survey forms
Finally, you're done with your survey form. You can publish your form by copying the short code on the page or post. You can also embed your survey outside the WordPress website with Fluent Forms.
Hold on, we are not done yet. You also need to organize and analyze your responses to act accordingly. Visual reports are available in the Fluent Forms dashboard.
Click on the Entries from the All Forms options and click on the View Visual Reports button from the top.
Wrapping up
According to some research, online surveys are the best option to gather information and make a conclusive decision. Hope this article helped you learn how to create surveys online and design them in the proper way to get the ultimate result. Still looking for the best WordPress survey plugins?
Make survey forms with Fluent Forms, and you will never look back!