Effortlessly Create Professional-Looking Forms: Fluent Forms Oxygen Widget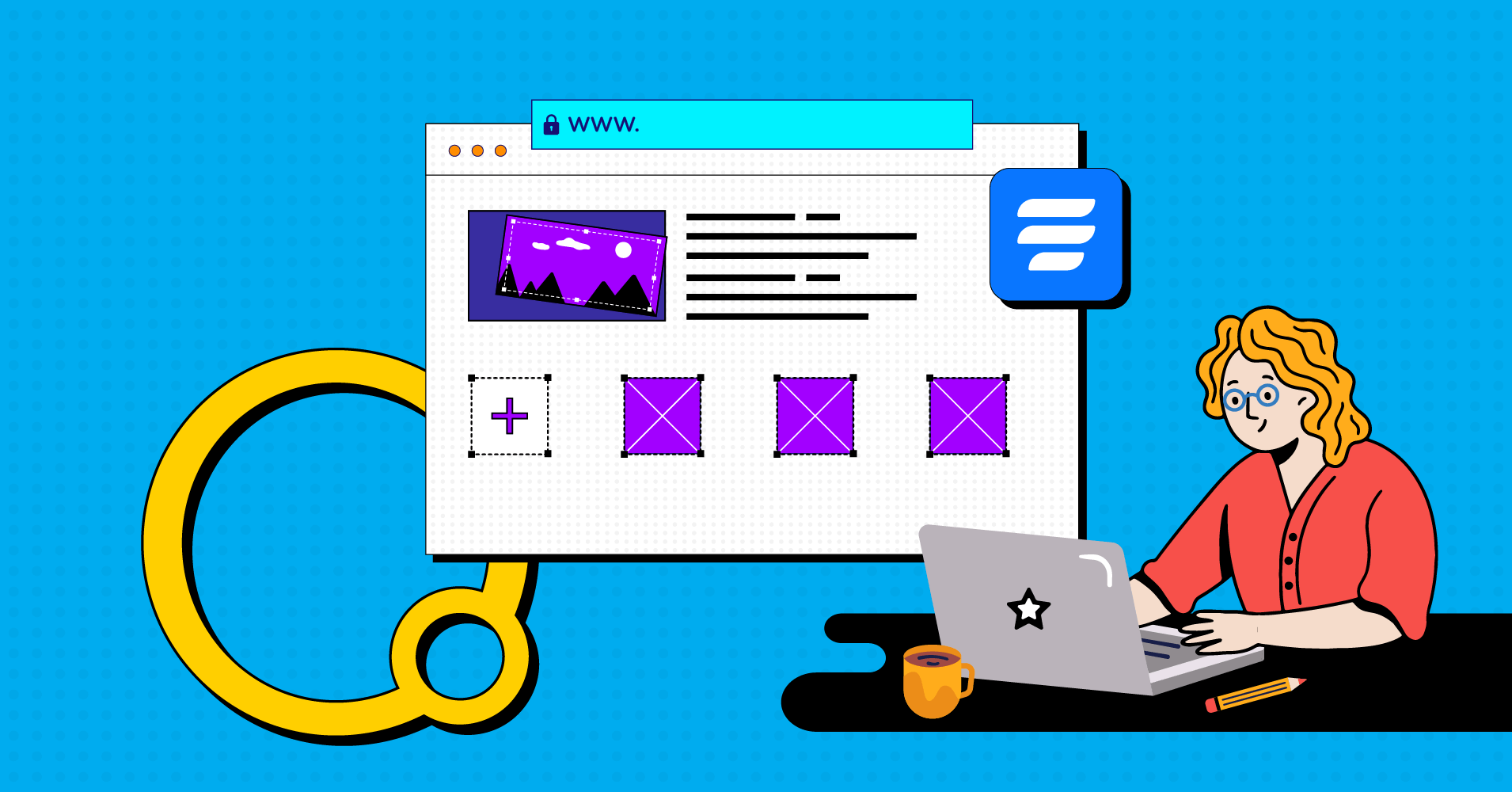 Oxygen Builder is an amazing visual website builder for WordPress that allows users to create custom designs without writing any code. With a drag-and-drop interface and real-time preview, Oxygen Builder makes it easier than ever to craft custom websites with pixel-perfect accuracy!
When it comes to crafting forms, not all builders are nifty with them. This is where you should use a plugin that has everything you can expect from a form builder.
This is where Fluent Forms comes to the rescue!
Why Fluent Forms
Don't just create a basic form to get things done. design your form and play with the colors, shapes, and sizes of the fields! Or you may want to add a background image or color, and customize the border, margin, or padding. With Fluent Forms, no hand-coding is needed! You can do almost everything visually. So The Fluent Forms Oxygen widget can give your forms a major overhaul!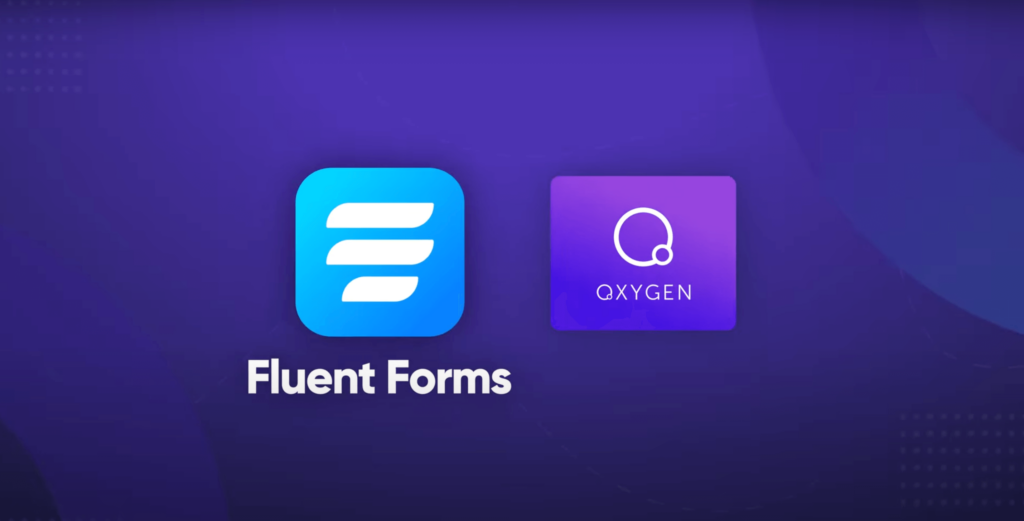 Not only because you can get native Fluent Forms widget in Oxygen builder but also you have to consider the features and functionalities it offers. Why this the form builder you should get your hands on?
Furthermore, you won't see any diversified form builder offering these many features and functionalities. Whether a multi-step form, an interactive conversational form, or just a plain old-fashioned form, you can create any type of form anytime you want without having any coding knowledge. And to design it as per your need with your favorite page builder, right from your WordPress dashboard.
Fluent Forms is the most beginner-friendly form builder. Download now and start crafting beautiful forms FREE!!!
Enough chit-chat, let's get into the business.
How to customize your form with the Fluent Forms Oxygen widget
The very first thing you need to do is to install and activate Oxygen builder, which is super easy to initiate. Simply download and install Oxygen builder to your WordPress dashboard and then head over to the Oxygen builder and add a new page.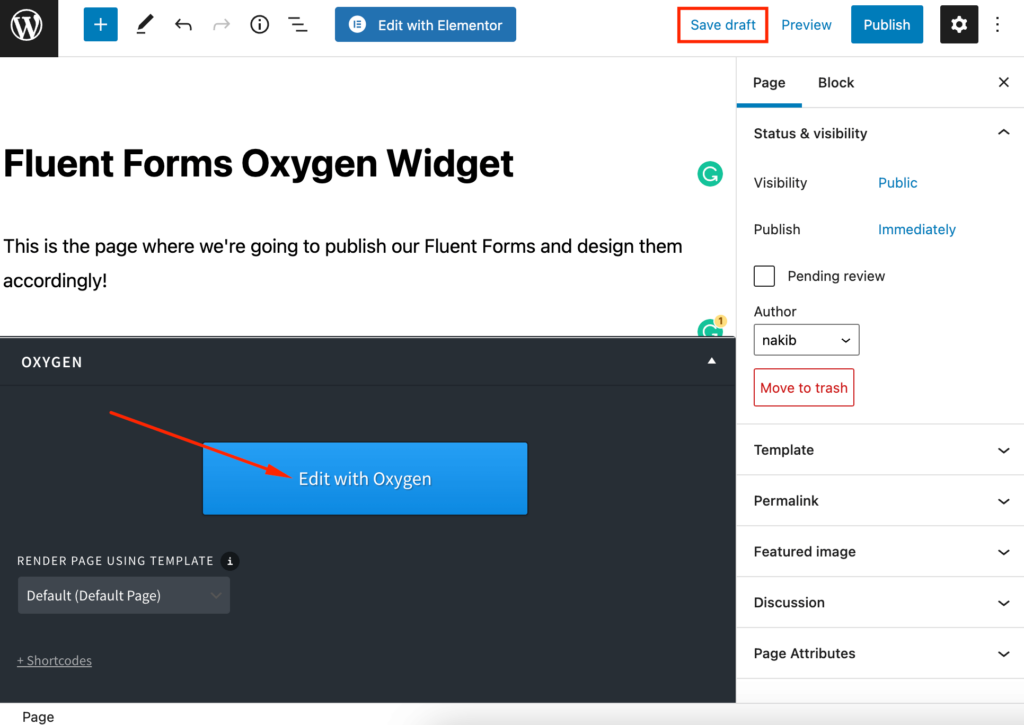 Now you need to give your page a name and save it. After that, click Edit with Oxygen builder. A nice and smooth animation will redirect you to the Oxygen builder's editor panel.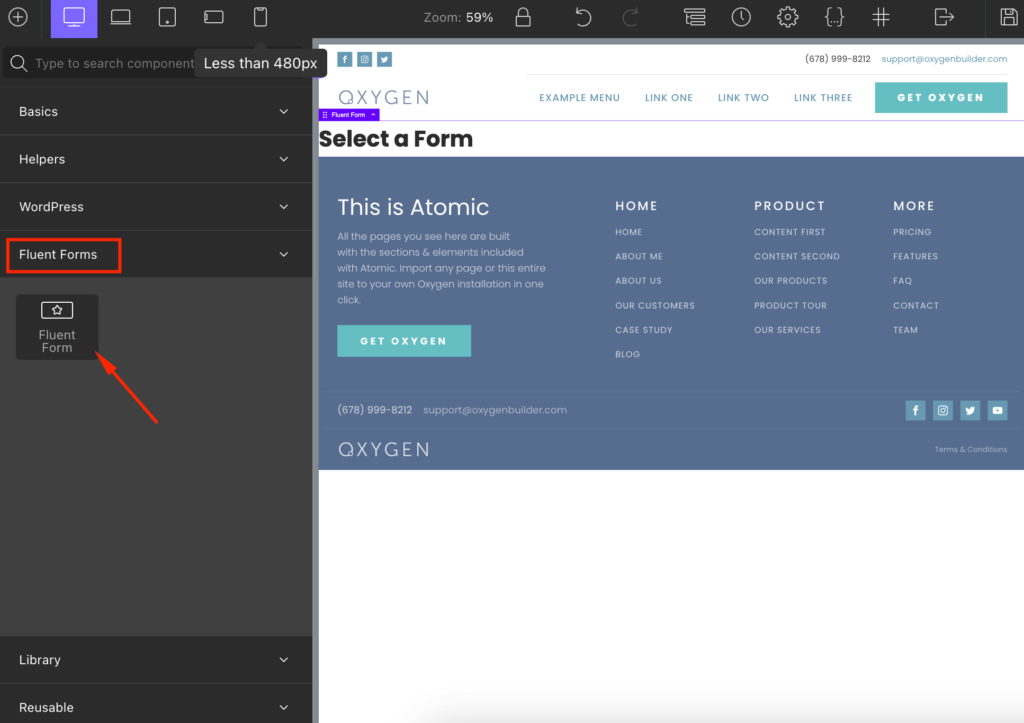 Can you see a Plus sign on your screen? You'll find it in the left top corner. Click on the sign to add elements to your page. We're gonna search for Fluent Forms to add a form to this page. Or you can simply look for Fluent Forms in the left bar.
If you already have some forms created with Fluent Forms, you'll see them on the drop-down menu. If not, create a form with Fluent Forms which is super easy and efficient in every possible way.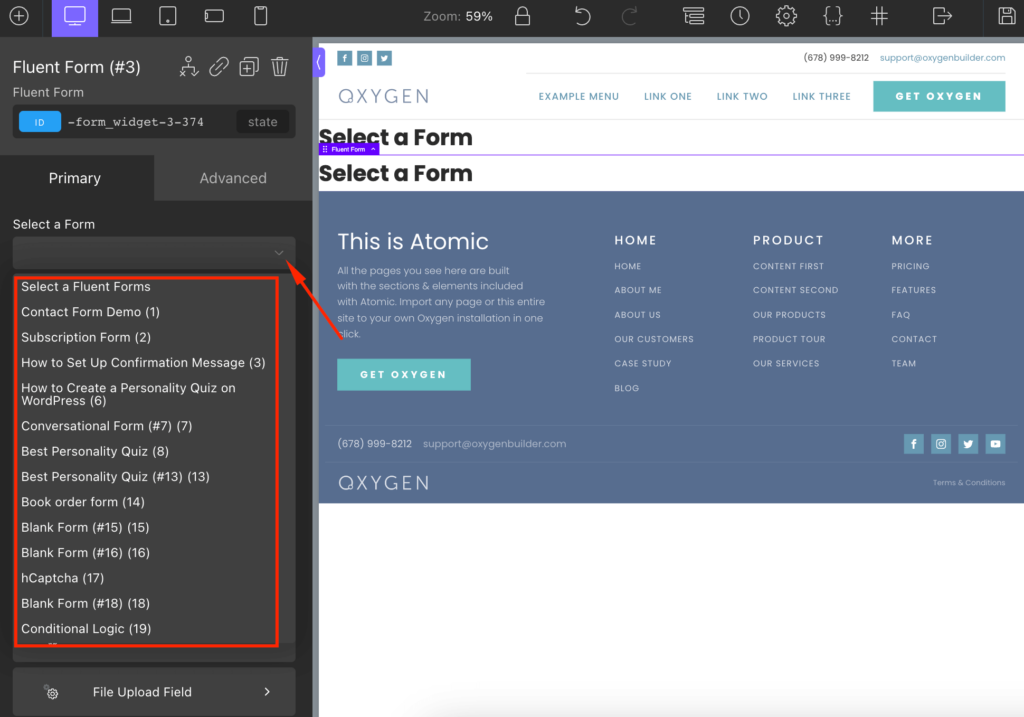 Select the form you want to edit, and I'm pretty sure you'll be awestruck to see a whopping number of options to customize your form.
If you look closer, you can see there are mainly two sections available: Primary and Advanced. And both sections have a great number of options in there. Keep and let's explore the options to build and design our desired forms with the Fluent Forms Oxygen widget.
From the Primary section, you get the option of changing the style of the form container like background color, margins and padding, border color, radius, and whatnot. Additionally, you'll have the options to change the label text color, design the Input & Text area, Checkbox & Radio buttons, GDPR & Terms, and Condition fields, and so on.
What if you include the File Upload field in your form, you can customize the field however you like with a few clicks. Styling your file upload button is as easy as drinking coffee; give some color and shape to make it really visible to visitors' eyes!
Want to style your multi-step form? Don't sweat it. The fluent Forms Oxygen widget got you all covered. If your forms have multiple pages/sections, you'll need a Section break, the Progress bar on your form. And these play important roles in a number of form submissions, form abandonment, etc. With a sophisticated look with no extra fields, you'll surely see some positive changes in your conversion rates!
Customize lead-generating CTA with the Fluent Forms Oxygen widget
Now's a good time to share an interesting stat about buttons! Bet you can't guess how much a personalized CTA can change your conversion rate. And the answer is 202%! Make some beautiful CTA with the Fluent Forms Oxygen widget since it's both really easy and super effective!
We're not done yet! Till now, we were only talking about the Primary edit section. A whole other world is there to explore.
From the Advanced section, you can add animation, transition, different filters and transformations, text-shadow, and opacity as per your need. With the help of these amazing features, you can design your desired form and keep a smile on your face at the same time!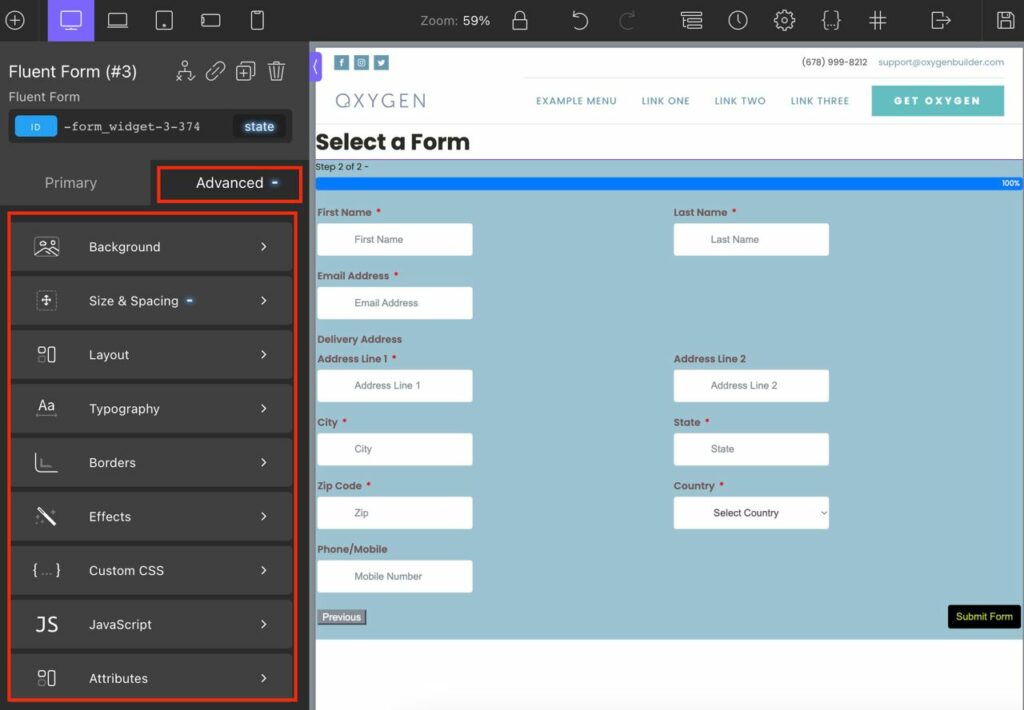 After reshaping and redesigning your form, make sure you hit the Apply Params button and then the Save button from the right top to save your changes.
Publishing and sharing your form
Publishing your Fluent Forms is no rocket science. You can just copy the shortcode and paste it anywhere within the website you want. Whether it's a blog or a page, the simple shortcode will do the trick for you.
Moreover, sharing your form via a direct URL, or directly on a social media platform may come in handy if you really want to gather some leads or conduct a survey. Even embedding your forms outside the WordPress website can be easily done within a few clicks.
From the Fluent Forms dashboard, head over to the design panel and then click on the Share option to get the URL and options to share your just-crafted form.
You can see four separate options to share your form. This is as easy form sharing can get. Just copy the URLs or click on the social media icon to directly share your form.
Wrapping Up
Yes, creating eye-popping forms with the Fluent Forms Oxygen Widget is fun, easy, and very simple. Why limit yourself when it comes to designing? The Fluent Forms Oxygen widget made it really simple for everyone who loves Oxygen builder. Now you don't need to add custom CSS or anything to look make it just the way you want. And it really helps in the conversion rates. See it for yourself. Try it, and you'll instantly fall in love with it
Don't hesitate to comment if you want to know or add something. Make sure you follow our social media platforms to get updates and learn new tricks about Fluent Forms and WordPress