How to Suggest a New Feature for Fluent Forms
Sadiq Ahmad
. February 28, 2022
.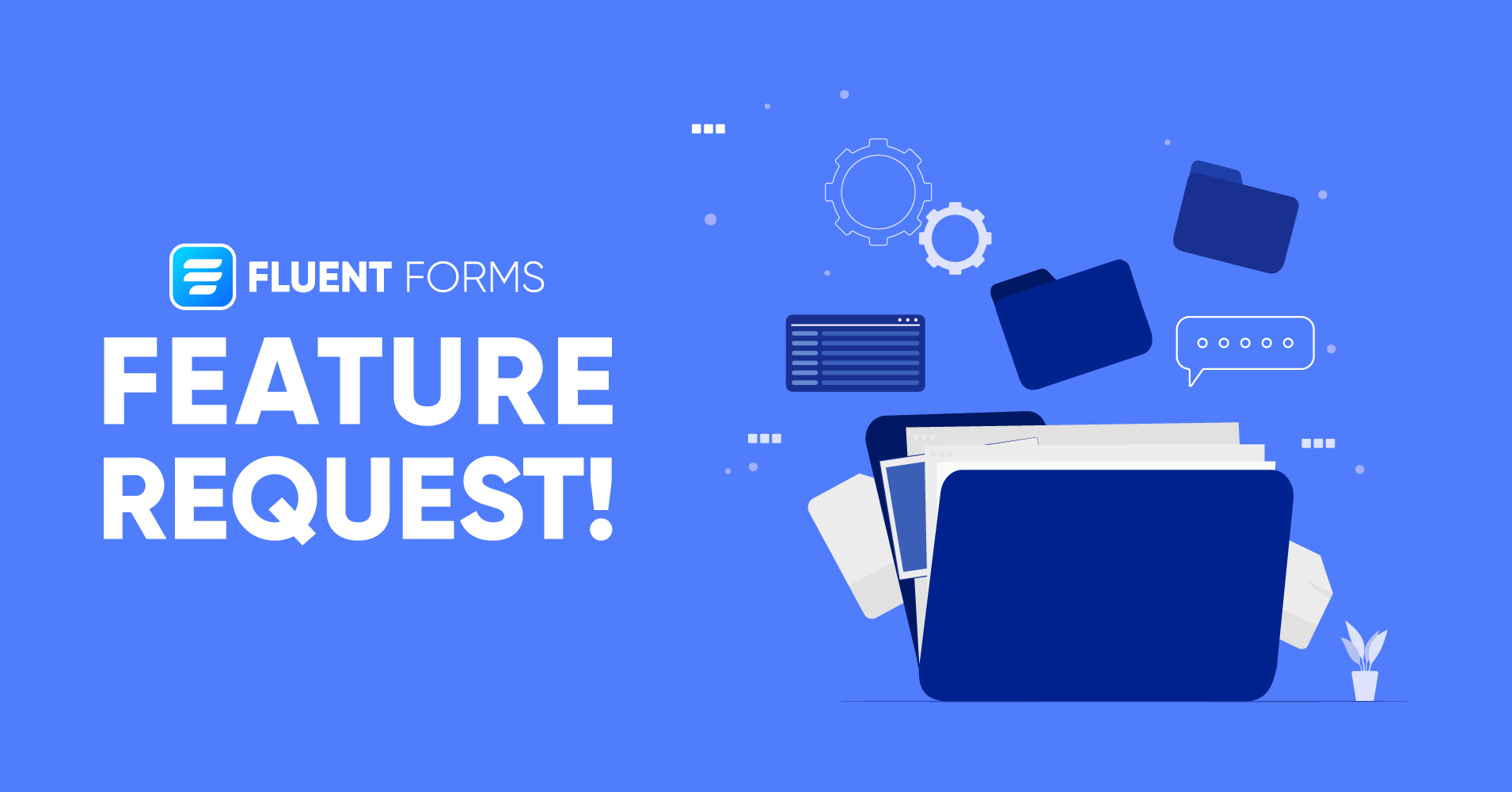 Fluent Forms is a WordPress form plugin that's made with customers' choices. We add what our customers want. Like any other business, we also perform market research. But our priority is always based on what our users want to see in the plugin. That's how we reached 100K active installations milestone and counting.
Did you know you can ask for a feature in Fluent Forms?
Yes, we have a lot of ways to connect our users to suggest a new feature. Before starting a new sprint, we always check our customers' preferences.
Start creating beautiful forms with Fluent Forms. Get the free version now. Or, download the pro version for more advanced features.
In today's post, I'd like to share the various methods to let us know what you want to see inside your favorite WordPress form builder.
How to suggest a new feature?
Use one of the methods stated below and share as many details as possible so that we can best understand your needs. At the same time, keep in mind that we are busy with a ton of workloads for the next updates. And deciding on a single feature requires time and rigorous study. Also, we need to fix bugs and perform improvements on various aspects.
Considering all, it's not always possible to implement what you're looking for. But, your suggestion definitely makes a difference. All that we ask is to have patience. Your request will see the light as soon as we can match it with our working schedules and other customer's demand.
I've done enough talking. Let's have a look at how to suggest a new feature.
1. Create a support ticket – the fastest way
Our support is one of a kind because we care about our customers very much. Besides asking for help while you're stuck at some point in your journey, you can even suggest a feature via our support channel.
You can create a support ticket and inform us what you're looking for. Our support agents then scrutinize the gravity of the needs and add this as a feature request.
Please write as many details as possible while suggesting a new feature. Our support agents first try to find out a way to resolve your issue. If they couldn't mitigate it, they will consider adding it as a feature request. Then they will forward the message to the development team.
Developers will decide whether they will work with the feature based on its needs and product status. Yes, adding a feature is often an easy task. But it needs to be decided whether it will affect in the long run. Our team always tries to write clean code and keep the plugin lightweight. That's why it's not possible every time you ask for it, and we built it right away.
2. Using featured request form on fluentforms.com
We have a dedicated feature request form on our website. Use the form and try to add details as much as you can.
By the way, you can see all the features of Fluent Forms from our site. It should also be mentioned that Fluent Forms has tons of features to discover inside the product.
After creating forms and using the product for a while, use that form to share your idea if you think there should be more features. My suggestion is don't decide based on what you have seen on the features page. Play around for a while, and then shoot your idea.
3. Public Trello roadmap
Fluent Forms Public Roadmap has an impressive story of how we reached from 10k users to 100k. We set a plan for a whole year and shared it with our future customers. And the result was amazing – people showered us with love and engagement.
Long story short, the Trello board is still alive, and you can use it to get through us with your feature idea. Go to the board and see how you can add a new card or even vote for an existing request. We also try to show the updates of our under-construction tasks.
4. Facebook thread
We already have a featured post on our official Facebook group. You can simply add a comment to that post. From there, we'll pick the right one and consider it to add to our backlog (aka our planning!)
5. Include the #featureRequest hashtag
The dedicated post doesn't limit your freedom to write an individual post to suggest a new feature. Our Facebook community is open for all users, and anyone can start and participate in all conversations.
When you want to create a new thread for feature requests, please include #featureRequest in your post. This simple practice will help us sort all the posts created for feature suggestions.
Before saying bye!
Fluent Forms puts its customers first. That's the strength that pushed us towards growth and success. I hope you can suggest how we can be better and offer you a more robust form builder for WordPress.
In the meantime, read articles written for your business and growth hacks.
---
Sadiq Ahmad
I am a fan of 'WordPress' and 'Haevn.' After spending one-third of my life with WordPress, I can advocate, this CMS lets you create anything you could imagine. Build. Expand. Grow. Hi, my name is Sadiq. I write about WordPress while listening to Haevn.
[…] If you have any queries, comment below, and make a feature request if you want to see it in the future version. We will try our best to make our users the […]

[…] If you have any queries, comment below, and make a feature request if you want to see it in the future version. We will try our best to make our users the […]