How to Create a Mailchimp Signup Form For Your Website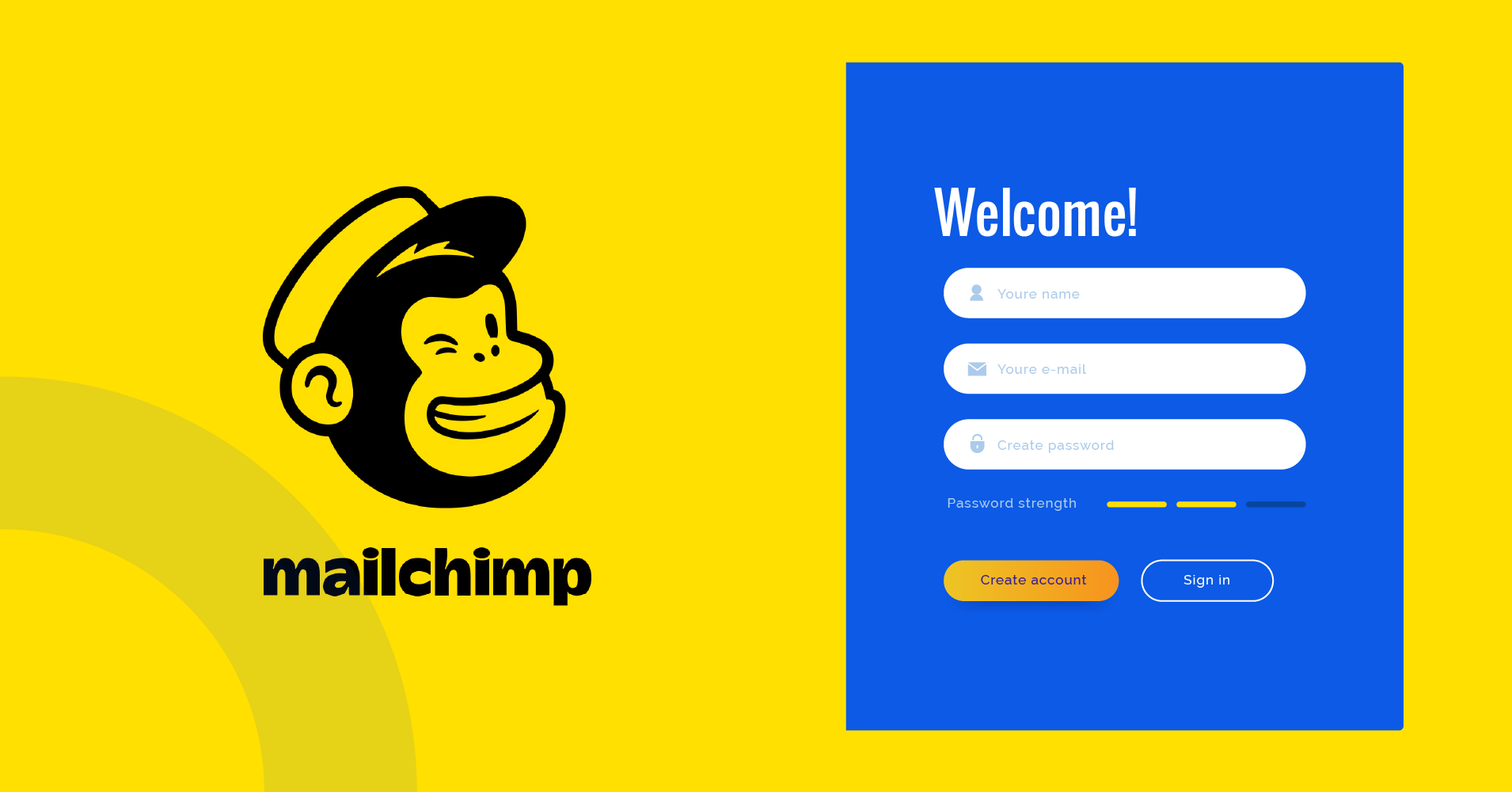 Using a signup form on a website or social media platform is an excellent way to get subscribers. The foundation for your email marketing is your audience or contacts. Mailchimp can help you grow your audience by designing different forms. Today, in this article, we will describe how to create a Mailchimp signup form for your website. 
To start, you must use the Mailchimp form builder to design your form. You can access the form builder tool from the Mailchimp dashboard. It is needed for customizing your signup forms. So, let's see how you can personalize and share your form with the Mailchimp form builder. But, first, let's know about some primary matters about drafting a signup form on Mailchimp. 
Fluent Forms is the most beginner-friendly form builder. Download now and start crafting beautiful forms FREE!!!
Basic things you need to know before creating a Mailchimp signup form.
You need to know basic things about creating or embedding a Mailchimp signup form on your website. Here are those.
To customize your signup form, use the form builder first before you generate embedded code
If you want to match your form with the design of your website, you have to modify the form code after you attach it to your site.
You will see a default legal copy after enabling GDPR. You can change the text and field options for your signup form
The form may look different on Mailchimp than it looks on your website. The embedded form will inherit your website's style sheet.
If you use SSL encryption on your website, then Mailchimp embedded and pop-up forms will support it
To avoid fake signups, enable reCAPTCHA confirmation from the audience settings of your form
Last but not least, as this is an advanced feature, sometimes you might need to use some custom coding. So, you probably have to ask your developer to help you occasionally.
So, when building a Mailchimp signup form for your website, keep these factors in mind. It will help you find an easy solution if you face any problem with making a Mailchimp form. Now, let's see the types of MailChimp signup forms for your website. This is also important before moving to the central part. You can't use the proper one for your particular need without knowing the categories and features of the forms.
Types of Mailchimp signup forms for websites
If you already have a Mailchimp website, you can easily add a Mailchimp signup form to any site page using the Signup Form content block. But if you are maintaining your website from another service provider, Mailchimp will provide you with two types of signup forms. One is the embedded form, and the other one is the subscriber pop-up form. You can use these forms for the long-term audience growth of your website. Let's have a detailed look at the two types.
Embedded form
Embedded form of Mailchimp signup forms come with four more form templates to choose from. They are Classic, Horizontal, Condensed, and Unstyled Forms. There is another option in the form styles, and that is the "Advanced" option. You can get access to this if you have a paid account. You just need to select the type of form you want to display on your website. But if you are comfortable editing the HTML code to keep the same form style as your brand, you can do that too.
From the screenshot, we can see that there is another option in the form styles named the "Advanced" option. Well, you can only access this if you have a paid account.
Pop-up form
This form occurs when you need a pop-up window to your website. You can create and design the form fields as you want. Connect it with your website by pasting the Javascript code into your site.
Build a Mailchimp signup form for your website
When you select the "signup form" option of the "Create" field from the top bar, a pop-up will appear, like the screenshot below. Select your form type from the two choices.
The "signup landing page" field is for landing a signup form to the website by providing some gift or sale offers. Well, we are only going to discuss the process of creating a Mailchimp signup form. Now, let's get back on track.
For demonstration purposes, we have selected the embedded form option to optimize our Mailchimp sign-up form.
From the screenshot above, as you can see, we have chosen the classic form template. If you want to customize the default form fields, click on "the form builder" in blue-colored text. Once you click on it, a new " Form Builder " page will open."
Here, you will see options for selecting forms and response emails, signup form URLs, and customizing the form. First, let's discuss these form design criteria below.
Build it
The Build it tab is the first tab on the form builder. It will allow you to create a structure for your signup form. You can add or remove fields as per your requirements and change the form settings. But remember, if you decide to remove any field from the Mailchimp signup form after publishing your form to the website, the collected information about the clients will be gone forever.
Design it
The Design tab lets you edit your form's style, color, and graphics. You can also modify the body & layout of the page with this tab. The other pages will also inherit the changes when you change a particular page's background or font color. This will help you build brand consistency and save you time.
Translate it
Mailchimp provides more than 50 languages. With the translate it tab, you can translate your Mailchimp signup form or response emails.
If you don't need to convert your language, you can still use the tab to customize the button text and form error messages.
Edit your Mailchimp signup form more with the form builder
The editable items for forms and response emails come with four more categories in a dropdown menu. They are the Subscribe, Unsubscribe, Update Profile, and Other Bits options. Let's discuss each section in detail.
Subscribe
You can customize the signup process for your audiences in the subscribe section. It contains five different methods of confirmation of a subscription. These are the Signup form, Signup form with alerts, reCAPTCHA confirmation, Confirmation thank you page, and Final welcome mail. Let's see what the options are about.
Signup form: The basic Mailchimp signup form for the people
Signup form with alerts: Enabling this field will allow you to customize the error messages of the form. If people enter any incorrect data, then it will show an error text
 reCAPTCHA confirmation: A reCAPTHCA page to verify users that will appear after filling up your form
Confirmation thank you page: A "thank you" page that confirms the submission to users
Final welcome email: An optional email to the new subscribers to welcome them
Unsubscribe
This section is for modifying the texts, fields, or a page for the time when a user will unsubscribe from your Mailchimp signup form. There are three choices in the unsubscribe section.
Unsubscribe from: When someone clicks on the unsubscribe link from the campaign, it will show another form that will ask for their email to unsubscribe
Unsubscribe success page: If you enable this item, it will open a new webpage to the users with a successful unsubscribe confirmation
Goodbye email: An optional email to say goodbye to unsubscribers
Update profile
Update profile is a section for showing people a text, page, or link when they will request to update their information on your Mailchimp signup form. It comes in five categories. Let's have a look.
Profile update email: Subscribers will receive a confirmation email if they request to update their profile
Profile update email sent: A webpage that shows that Mailchimp has sent the profile update form
Update profile form: Your subscribers can use and submit this form. You can add a link and tag it as *[UPDATE_PROFILE]* to your campaigns
Update profile sample form: Enabling this item will help your users update their profile through a test campaign or archive page
Update profile thank you page: A thank you page with the text about the successfully updated profile
Other bits
This option lets your users send your emails, forms, or your mail campaigns list to their friends. It comes in three categories, and those are: forward to a friend form, forward to a friend email, and about your list.
Connect your form with a third-party website
Moreover, you can embed your Mailchimp signup form with third-party website platforms. Make sure that your website platform is listed with those services. The list is as follows.
WordPress
Weebly
Blogger and Blogspot
Jimdo
Webs
Yola
Activate GDPR fields
The first step of GDPR compliance is GDPR form fields. Once you enable the GDPR fields for your form, it will automatically update all other structures to be GDPR-compliant. Furthermore, for the GDPR fields, Mailchimp has set a default language. You can use the form builder to change the language.
Go to the "audience" button on the top bar. Click on "GDPR fields and settings." Then a page will occur like the given screenshot. Finally, edit your fields as you want.
Embed your Mailchimp signup form to your website
After completing your Mailchimp signup form, you can share it on your online channels. Let us elaborate on how you can share your form on your website.
Collect embedded form code
To get the form code to add to your website, follow the following steps.
Go to the audience tab
Click the audience drop-down and select the one you want to work with
Select the Manage Audience drop-down and pick Signup Forms
Choose embedded forms
Go for any form type
Customize the form as you want
Select the code from the "Copy/paste onto your site" option
Paste it on your website's HTML where you want the form to be published

Since you've gotten to this part of the article, you now know the process of creating, customizing, and embedding a Mailchimp signup form on your website. So, why not check out the process now? After finishing your Mailchimp settings, let's see how you can embed your Mailchimp with WP Fluent Forms. 
How to connect Mailchimp in Fluent Forms
Fluent Forms is one of WordPress's most powerful form builder plugins. You can create any kind of form with the tool. Use the global styler feature of the form and make your form more attractive so that users eagerly fill up the form. Now, you must be wondering what the benefits of integrating Mailchimp with a form builder are. Let's find out!
Transfer leads and emails from submitted forms
Comes with an opt-in checkbox option
Easily customize and send emails with the autoresponder
Email marketing campaigns help to get leads
Now, let's see how you can integrate your Mailchimp account with Fluent Forms. Well, you can do that without hassle.
However, before we begin, you should know that you need the Fluent Forms pro version to get Mailchimp integration.
Now, first of all, create a Mailchimp account with your business name or whatever name you choose. Then go to the Fluent Forms dashboard. Click on Modules. Look for Mailchimp there, and enable it.
Move into the "Settings" option from there. Hit the Mailchimp button from the left sidebar. You will see it is asking for a Mailchimp API key.
Enter your Mailchimp API key here. If you don't have the API key, log in to the Mailchimp account you created just a while ago. After signing in, click on your account logo. A list will open with all the settings of your account. From the index, select Profile.
Once you go into the profile, click on Extras from there. Here, you can see a dropdown list with an option of API keys. That's where you need to go.
Now, if you haven't created an API key yet, scroll down a little and click on "Create a key" from there.
Once you get the key, like the screenshot below, copy it.
Now paste the API key on the Fluent Forms' Mailchimp Settings panel. And save the settings.
Now, go to All Forms from your Fluent Forms dashboard. Select the form that you want to integrate with Mailchimp. Then click on the form settings.
Choose Marketing & CRM integrations from the left sidebar. Here, click on Add New Integration.
Go to Mailchimp Feed from the dropdown menu. Arrange the fields according to your requirements. Fill up the name field, select the Mailchimp list from the dropdown list, choose where the data will be stored, etc.
Set the Field Mapping. Interrelate the form's input fields with Mailchimp fields. For instance, Email address with email, Name with the First and Last name fields, Birthday with Date of Birth, etc.
You can add users to different groups for better segmentation. Groups can be created based on subscribers' interests. So, a user can subscribe to multiple groups without signing in to multiple forms.
You can turn on the Double opt-in option if you want. It will send a confirmation email to users when they submit a form and only add them to the list after their confirmation. Enable the VIP field if needed. Furthermore, you can also click on Enable conditional logic. It will work just like the regular conditional logic. To find out how to set conditional logic on Fluent Forms, read one of our amazing articles based on conditional logic. After all the settings are done, click on Create Mailchimp feed.
Congratulations! You now know everything you need to know to create a Mailchimp signup form and connect that with other tools on your website. We have tried our best to keep the explanation simple while all-inclusive. So please let us know whether this article has helped you through the process.
Final words
Signup forms are significant for generating leads. They let you know about the people interested in your brand, products, or services. You can get more conversions to your site with an easy-to-follow, simple, and visually pleasant signup form. We hope you find this article helpful for designing a Mailchimp signup form.
Let us know what you think in the comment section below. If you want to know how to create responsive contact forms, we got you covered.