Typeform vs Fluent Forms: Who's Your Friend?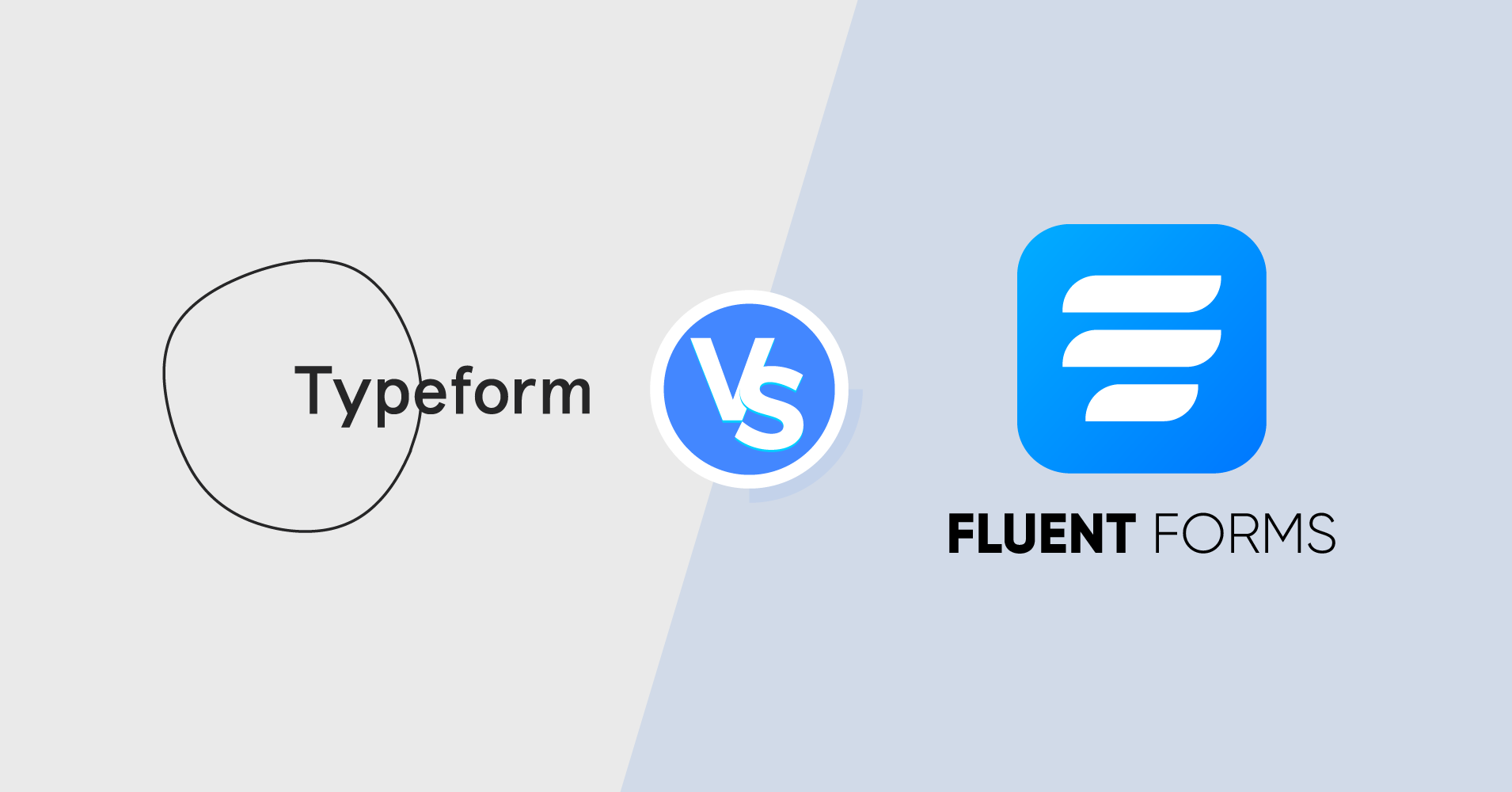 Whatever may be your field of work, if you are in the digital realm, it is almost imperative that you will need online forms. The purpose of these forms may vary depending on your job. Now, how will you create these forms?
Simple! Use form builder plugins. There are a plethora of form builder plugins that can help you do your job, and might we add, very effortlessly. The best of the best form builder plugins will have the following qualities.
Ease of use
Prebuilt form templates
Drag and drop
Third-party integrations
Premium support
These are some of the parameters that help you pin down the plugin you need. We have gone forward and short-listed two plugins from two different platforms and compared them. Read along for more insight into their similarities and differences.
Fluent Forms
Fluent Forms is a WordPress-based plugin that specializes in form building. Since its fruition in 2018, this form builder plugin has been introducing new and powerful features that make the form building experience smoother.
With smart features like drag and drop, conditional logic, numeric calculation, etc. it has rapidly made its stance. The team that works behind Fluent Forms is relentless and continues to improve functionalities, add features with every update.
Fluent Forms is a user-driven product. As such, users' feedback and demands play a huge role in the development of the product. As a testament to this, the Fluent Forms version 3.6.70 comes geared up with interactive conversational forms that make interactions more human.
Typeform
Typeform is a SaaS-based form-building platform. Typeform will let you create fun conversational forms that you can use for various purposes like surveys, quizzes, etc. Whatever your goal may be, Typeform has something for every customer.
However, Typeform requires users to do everything on their website, be it form creation or entry management. This often proves annoying as opposed to WordPress plugins, which let users do everything on their dashboard without facing any difficulties.
Typeform vs Fluent Forms: Basis of comparison
Plugins are specifically designed to arrange a particular task better. So, to ensure better performance, the developer team behind any good plugin always comes up with accessible and useful features to add to the plugin. A functional plugin brings with it a stack of smart features. Some of the basic features that help a form builder plugin stand out are listed below.
These are some of the core features that every form builder plugin should provide.
User interface
Fluent Forms is increasingly gaining an audience through its beginner-friendly interface. The developer team behind Fluent Forms always keeps the users in its prime focus. This leads them to develop a user-friendly interface. Thus, users from all coding backgrounds find this easy. The 45+ input fields are elementary to use with the help of the smart drag and drop feature.
Typeform offers a straightforward user interface as well. However, Typeform requires you to visit their site every time whenever you need to create a form. This makes adding forms directly to your WordPress site a little troublesome. Moreover, you will face increased difficulties if you are unacquainted with HTML codes.
So Typeform vs Fluent Forms – which provides a better user-friendly interface? The answer is pretty obvious. Fluent Forms is the clear winner!
Conditional logic
A smart way to create dynamic online forms is by using conditional logic. Conditional logic makes it a convenient tool. It essentially cuts down all the necessary fields and modifies a form based on the users' responses as they proceed.
Fluent Forms provides this smart feature even on the free version. This allows users to go as creative as they want with their forms. The feature is very easy to use, and users can do endless things with it. Some of the most customary ones are conditional confirmation messages, conditional email notification, conditional logic on containers, etc. Moreover, there is extensive documentation regarding them with video tutorials, that using them is a child's play.
Typeform also allows conditional logic of some sort. They call it Logic Jump, but they are a little complicated to deploy. Moreover, Typeform puts a limit on how many logic jumps you can use based on the plan you purchase. This makes it a little unattainable.
All things considered, Typeform vs Fluent Forms – which plugin do you think offers better conditional logic? Fluent Forms, right?
Third-party integration
Whatever online tool you use, it is quintessential that they come with plenty of third-party integrations. And if you are in the digital marketing line of business, you are going to need a lot of tools at hand that work together flawlessly. Fluent Forms can help you in this regard.
Fluent Forms is your friend. This plugin comes to your door with 35+ third-party integrations of varied specialties. Through these integrations, you can go versatile and accomplish a target smoothly. These integrations contain marketing tools like MailChimp, HubSpot, ConvertKit, Mailerlite, Discord, Salsflare, etc. You will also get task management tools like Trello integrated, and if you need more apps integrated, you can connect 3000+ tools through the Zapier integration.
Typeform offers some integrations like MailChimp, Hubspot, Airtable, etc. But some of the names ring a bell, don't they? Maybe because Fluent Forms provides most of them. Moreover, the integrations they provide are spread across different price plans. This limits flexibility as you end up spending a fortune to avail of most of the integrations.
So when it comes to third-party integration, it's a tie.
Entry management
If you are using a form builder plugin to create forms, it is pretty apparent that you will need a sound entry management system for all the form submissions. The one-stop database of Fluent Forms can give you a lending hand. All the form submissions get saved on a single page on the dashboard. You can operate on them further as well. Also, you can export the data as CSV if you need to. Helpful, isn't it?
On the other hand, Typeform allows for little entry management. What's more, you're going to have to visit the Typeform website when you want to manage form submissions. To access your data, you will have to go to the extra length of downloading them. This makes the process unnecessarily annoying.
Once again, if you are asked Typeform vs Fluent Forms – which provides better entry management? We think the answer is pretty obvious, but we'll let you be the judge of that.
Care to find out how Fluent Forms PDF addon makes form entries more manageable?
Spam filtering
When you are deploying online forms on the internet, security is a big affair. You need to be armed with spam filtering. There can be risks from spambots, or even unruly users spamming your submissions. Fluent Forms understands this concern. This is precisely why the plugin is well equipped with numerous spam filtering options like hidden fields, honeypot, reCAPTCHA, hCaptcha, Akismet, etc.
Typeform allows these functionalities as well. But it is somewhat restricted as Typeform does not support captcha or reCAPTCHA, etc at the moment. However, you will be able to prevent duplicate submissions.
One more time, Fluent Forms wins the Typeform vs Fluent Forms competition regarding spam filtering.
Prebuilt form templates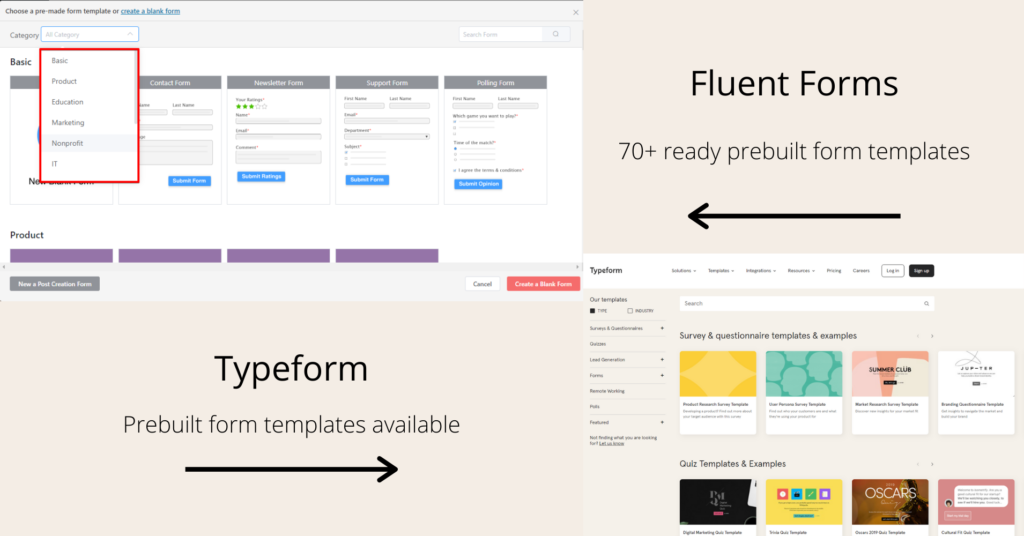 With the rapid growth of the form building industry, feasibility is something every form builder plugin is competing to provide. One essential step in doing so is prebuilt form templates. Prebuilt form templates make from building a piece of cake. Prebuilt form templates help a user deploy the webform they need without even needing to lift a finger. They include all the relevant input fields and styles. Nevertheless, users are welcome to customize if they wish.
Fluent Forms heads this issue front first and offers 70+ prebuilt form templates to choose from. These include the very prevalent contact form, the widely used subscription form, and even survey forms. You can also get complex forms like customer complaint forms. And now, you can also create conversational forms with just a few clicks. Amazing, right?
Typeform prides itself in providing interactive webforms. You can make forms yourself. Or you can choose from the prebuilt form templates. Typeform also offers abundant prebuilt form templates to choose from, and they are nicely categorized. But how many forms you can create, the responses you get, and even the number of logic jumps you can use are restricted.
Thus, as far as prebuilt form templates are concerned – Fluent Forms clearly wins!
Custom CSS
Form builders allow prebuilt forms to be deployed instantly, but if no customization is permitted, users may feel they are robbed of their creative ground. Hence, it is imperative to offer users the ability to customize the webform as they wish.
Fluent Forms pledges to ensure the best user experience for its consumers. So, you will get the chance to personalize your online forms using custom CSS. You will also find a shell to work on. You can add your classes and tweak the form as you like.
Conversely, Typeform provides no such feasibility. Thus, users are left with no choice but to go with the default one. This limits the users and lessens the forms' credibility.
Hence, there's no doubt that when it comes to providing better usability, Fluent Forms provides better flexibility through custom CSS.
Documentation & support
Fluent Forms is a relatively new form builder plugin. Despite that, it has quickly earned customers' favors. This is majorly because of the ready support and articulate documentation. Fluent Forms believes in customer service wholeheartedly. It makes no difference whether the customer has purchased the pro version or is currently using the free one. All users are revered here and provided premium support. The documentation is extensive, and they come with video tutorials to better guide users through a process.
Typeform also provides documentation and support. But the documentation is very vague and only recognizes the common issues that users may face. The documentation does not offer step-by-step guidance to use the form and it is quite hard to locate. Moreover, to be eligible for priority support, you have to purchase the premium plan.
Therefore, when it comes to documentation & support, Typeform vs Fluent Forms – you know who to choose!
Licensing & pricing
It is a common belief that good things come at great prices. But this is not always true. Especially with Fluent Forms. This form builder is available for free at the WordPress repository. Furthermore, Fluent Forms offers a lot of functionalities on the free version.
If you want to upgrade to the pro version, you won't have to spend a lot of money. The single site license starts at a base of $59. The pricing gradually rises to $199 for an unlimited lifetime site license. You can use this license for as many sites as you want for a year. Another commonly purchased plan is the 5 site license at $129.
In contrast, Typeform even begins the plans at a staggering $360 yearly. If you want to buy this on a monthly basis, then you'll have to pay $35 per month. That is too much to pay for a few features. And if you want to have access to all the premium features, then you'll have to buy the Premium pack at $840 a year. That's just outrageous!
Although Typeform offers a free version, the functionalities are greatly restricted. So, it is safe to say, as far as pricing is concerned, Fluent Forms gives you a better deal.
So Typeform vs Fluent Forms – Which will it be?
Typeform is a good option if you are looking for a way to create fun surveys for your brand. The forms you create will be conversational and useful. However, if you want to customize the webforms to make it feel more like your brand, you will be confined. The free version comes with Typeform branding, and if you want to remove that, you will have to upgrade.
On the other hand, Fluent Forms also provides a straightforward way of form creation. You're provided with ample prebuilt form templates, and features to create the form that suits your purpose. Moreover, there are substantial integrations to expand your usability.
Both these plugins offer good usability in their ground. But before you make the decision, consider the following factors.
User interface
Conditional logic
Entry management
Third-party integration
Custom CSS
So, which will it be? Try Fluent Forms for free and tell us about your experience in the comments below. Follow us on