10 Incredible Marketing Automation Tools for Small Business
Ashik Elahi
. November 9, 2023
. 21 minutes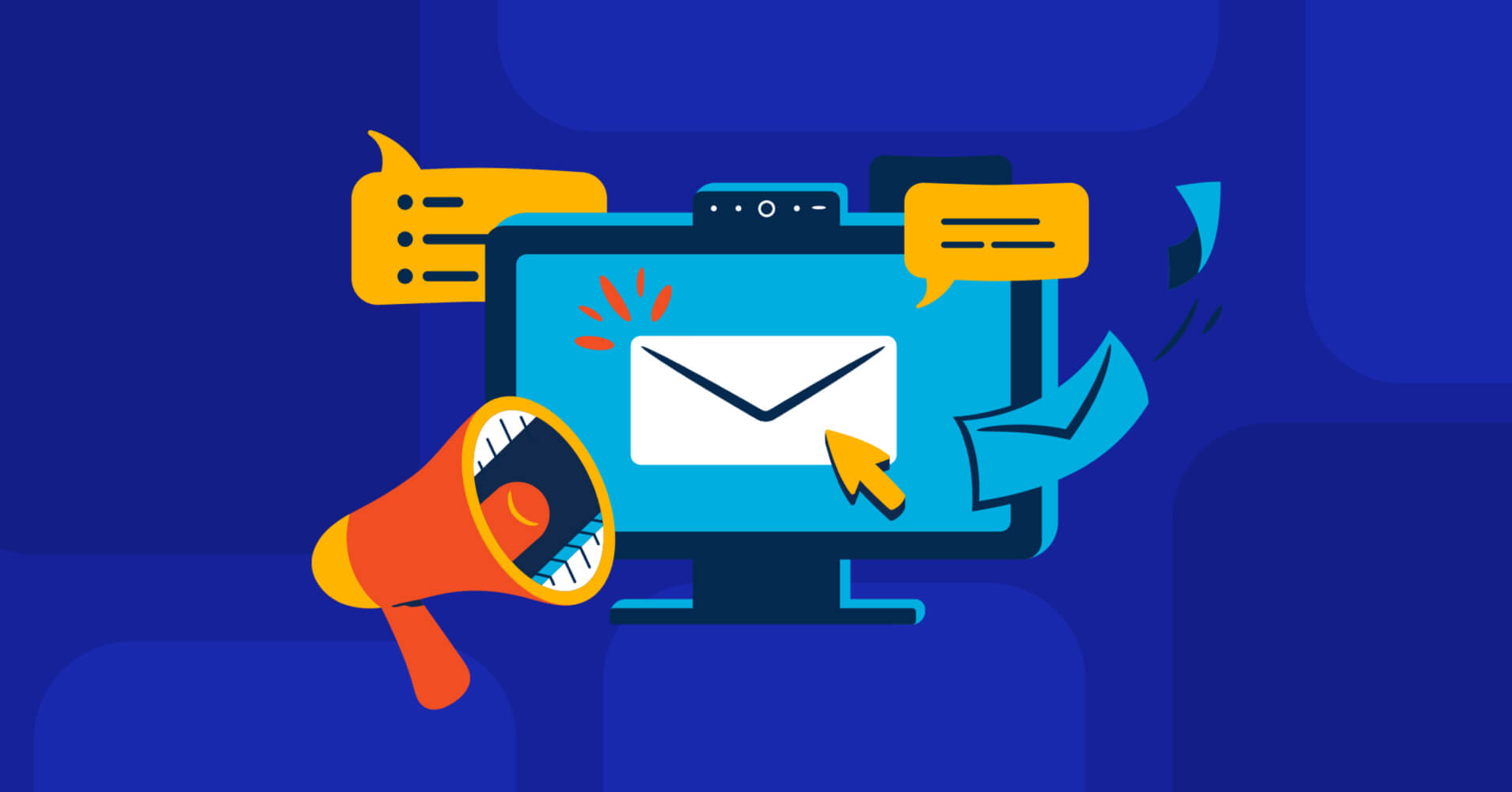 Clearly, the most unfortunate people are those who must do the same thing over and over again, every minute, or perhaps twenty to the minute– said John Kenneth Galbraith.
It's a sentiment that is also true for digital marketers who are striving to streamline their processes and maximize productivity.
Fortunately, marketing automation tools offer a solution to this problem. This enables marketing professionals to escape the struggle of repetitive tasks and focus on more strategic, value-added activities.
Our today's discussion will be around some of the incredible marketing automation tools for small businesses so you can utilize & grow efficiently and effectively.
Keep on scrolling.
Fluent Forms is the most beginner-friendly form builder. Download now and start crafting beautiful forms FREE!!!
What is automation in digital marketing?
Marketing automation is the use of specialized software in order to automate regular marketing tasks, acting as a virtual assistant for your inbound marketing efforts—including email campaigns, contact information updates, and social media postings.
The real power of marketing automation emerges when it's leveraged to nurture inbound leads, guiding prospects seamlessly through their journey with your business.
This automation not only saves valuable time but also enhances overall customer experience, ultimately boosting sales and optimizing your return on investment (ROI).
It's important to note that marketing automation doesn't mean to replace human expertise. Rather, it serves as a valuable tool for your marketing efficacy and productivity.

7 Types of Marketing Automation
In marketing automation, a variety of types exist, yet seven types stand out as the most commonly used.
Let's discuss them.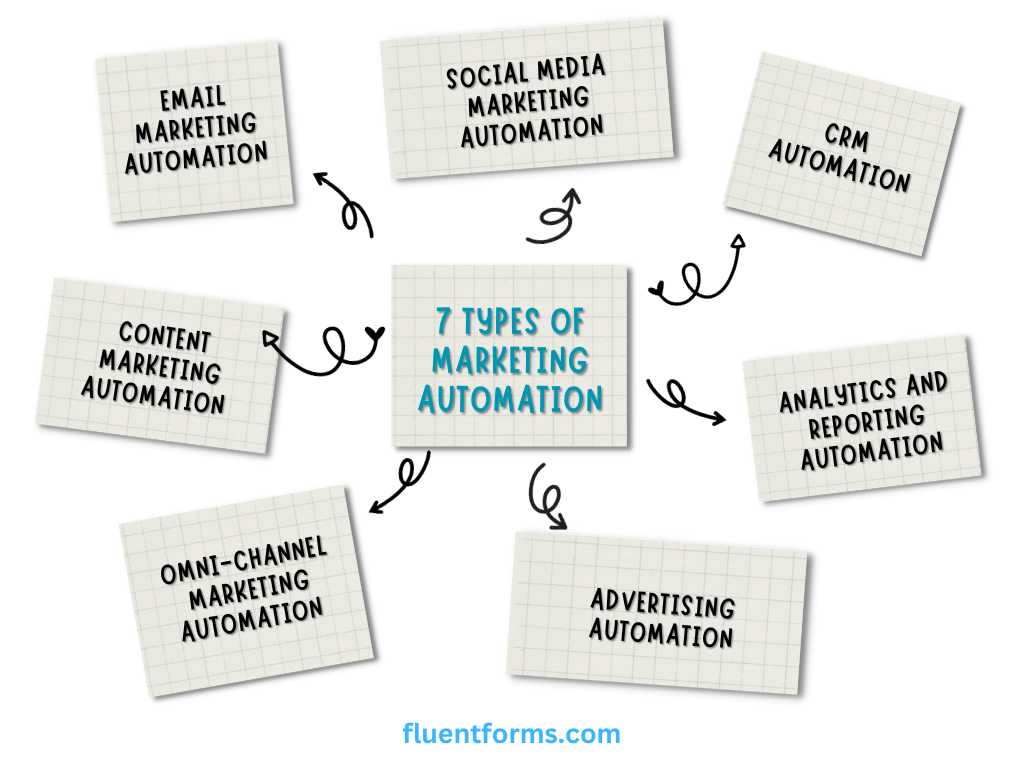 Email Marketing Automation
Email marketing automation makes it easy to send personalized emails to customers based on what they do or how they interact with your business.
For example, someone leaves their online shopping cart without buying. This tool can automatically send them an email to remind them of their abandoned cart and even offer a special discount that boosts sales.
Social Media Marketing Automation
Social media marketing automation is like an effective assistant for your online posts. Want to share something when you're asleep or busy? No worries!
Automation tools allow you to plan and set up your content to go live on different social media platforms exactly when you want. So, even if you're targeting people from different parts of the world, your social posts can show up at the perfect time.
Customer Relationship Management Automation
CRM automation is a tool that brings your marketing and sales teams together. It is efficient in customer segmentation, interaction tracking, and what they're interested in.
This way, you can take care of your potential customers and improve your bond with existing ones. With tools like Salesforce and FluentCRM, you can monitor and analyze how customers engage with your brand and then send them personalized emails. It's all about making connections easier and meaningful!
Content Marketing Automation
Content marketing automation simplifies the process of creating, sharing, and measuring content. It saves time, improves strategy, and helps monitor how content is received.
Utilizing content marketing automation, you can consistently deliver relevant content to your audience, enhancing engagement and boosting brand loyalty.
Omni-channel Marketing Automation
Omni-channel marketing automation provides an effortless and tailored experience for customers, no matter how they interact with your brand.
Automation tools help by automating customized emails, social media ads, and website pop-ups, ensuring a better-unified customer experience. This approach ensures that customers receive messaging and branding consistently, reinforcing trust and loyalty.
Advertising Automation
Advertising automation helps in improving ad campaigns by handling tasks such as ad creation, targeting, bidding, and optimization automatically.
For example, it can show product ads to users who have viewed your product page during their website visits. Google Ads provides tools like Smart Bidding and responsive search ads that improve bidding strategies and personalize ad content to user search queries.
Therefore, ad automation leads to more effective and efficient advertising campaigns.
Analytics and Reporting Automation
Analytics and reporting automation streamline the collection and analysis of data to find useful insights into marketing effectiveness. It facilitates the creation of reports and dashboards that track important metrics, enabling data-informed decision-making.
Such tools automate the tasks of data gathering and visualization, helping marketers to make well-informed decisions based on authentic and up-to-date information.
key benefits of marketing automation
In today's dynamic business landscape, marketing automation tools for small businesses stand as a game-changer.
Here's how it can transform your business: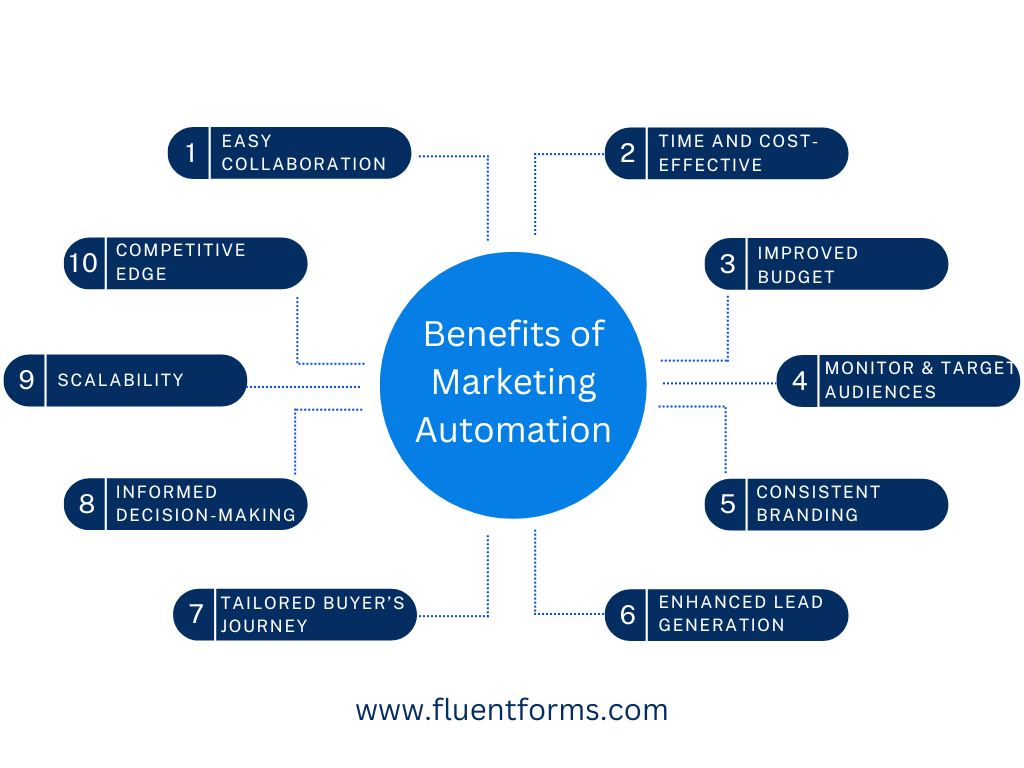 Inter-departmental collaboration: Automation helps marketing and sales teams work better together. It blurs the lines between these two groups, making it easier for them to collaborate.
Time and cost-effective: Think of marketing automation as your personal marketing assistant. It handles repetitive tasks, so your team can concentrate on creative and money-making activities.
Improved budget: Efficiency leads to productivity. Automation removes the burden of repetitive work and allows you to get the most out of your existing specialists. With the savings, you can reinvest straight into campaigns for better returns.
Monitor and target audiences: Marketing automation lets you closely watch and reach your audience. It tracks real-time data and engagement with minimal human effort.
Consistent branding: Automation tools keep your branding the same across all channels. They help maintain the uniformity of your brand.
Enhanced lead generation: Automation can identify potential customers, score leads based on their interactions with your content, and even nurture these leads with personalized messages.
Personalized customer journeys: Marketing automation allows you to create customized customer journeys by analyzing their behavior and preferences.
Informed decision-making: With automation, you'll have access to data and analytics. This information helps you understand what works and what doesn't in your marketing efforts.
Scalability: As business grows, marketing automation can scale with you. Whether you have twenty customers or twenty thousand, automation tools can adapt to your needs.
Competitive edge: Marketing automation gives you an edge by enabling you to respond quickly to market changes, trends, and consumer behaviors. It's a tool for staying ahead of the game.
Certainly, marketing automation isn't just about efficiency; it's a strategic tool that can enhance collaboration, save time and costs, improve budget allocation, target your audience effectively, and keep your branding consistent.
Now is the time to explore our list of the best marketing automation software below.
Top 10 marketing automation tools for small business
Here we go with the first one–
1. Fluent Forms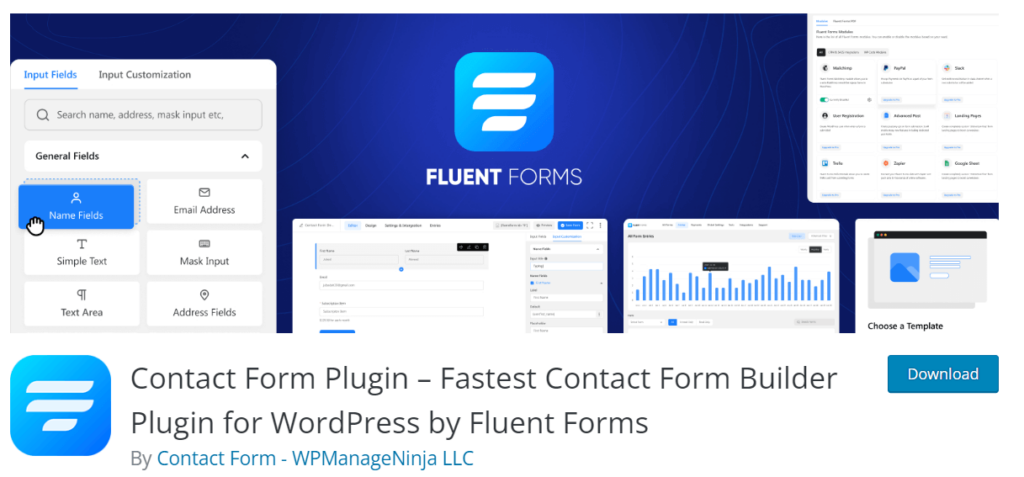 Fluent Forms is the most user-friendly drag-and-drop form builder plugin available today. This versatile form builder is one of the perfect marketing automation tools for small businesses to thrive.
You may want to ask why a form builder plugin has to secure a position on this list.
This is because great marketing starts with a great lead generation process, and here Fluent Forms plays a crucial role. With this tool, you can satisfy plenty of your marketing needs, including signup and lead capture forms on your WordPress website.
Persuasive and easy-to-use forms are integral parts of any lead generation efforts and in nurturing the prospects. With Fluent Forms, you just need a few clicks to introduce a range of forms that your audience will love and interact with.
However, creating visually appealing forms is just the beginning. So, how does Fluent Forms automate things?
Well, to effectively manage and automate the collected emails from your signup or lead generation forms, Fluent Forms offers a streamlined method to incorporate them into the contact database of your email marketing application.
Fluent Forms steps up to the task by offering robust integrations with marketing platforms such as Constant Contact, FluentCRM, HubSpot, Mailchimp, and over 45 integrations.
Such integrations ensure that every new signup is automatically channeled to the designated audience list within your marketing tool. This eliminates the laborious task of manual entry or updates, as Fluent Forms takes care of the automation.
Core features overview
Out of many, here are some of the most crucial features of Fluent Forms you can use for your business.
Lead Generation Forms: Start marketing automation by effectively capturing leads through tailored forms, designed for maximum engagement and conversion.
45+ Native Integrations: Seamlessly connect with over 45 platforms and tools in order to automate the laborious marketing tasks!
50+ Input Fields: Cater to every data requirement with a rich selection of over 50 customizable input fields.
Pre-built Form Templates: Kickstart your form creation with a vast collection of ready-to-use templates, crafted for various use cases and industries.
Conversational Forms: Enhance user interaction with forms that converse naturally, and simplify communication.
Multi-step Forms: Break down complex forms into easy multi-step sequences that allow users to complete forms with ease.
Conditional Logic: Craft dynamic forms that adapt based on user responses that ensure relevance and enhance user experience.
Numeric Calculation: Automate arithmetic operations within your forms.
Payment Feature: Safely and conveniently process transactions directly through your forms.
Quiz and Survey: Engage your audience with interactive quizzes and surveys and gather valuable insights & feedback in a fun manner.
Spam Protection: Maintain form integrity with advanced spam protection features.
2. FluentCRM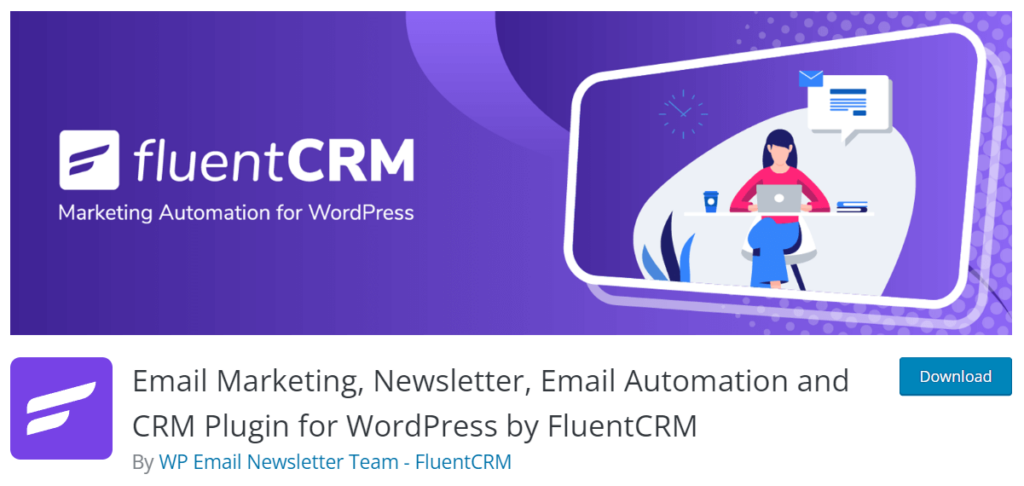 FluentCRM sets itself apart as a self-hosted email marketing automation tool specifically tailored for WordPress. From your WordPress dashboard, you can effortlessly manage leads, customers, email campaigns, automated sequences, learner and affiliate oversight, and monitor user interactions.
Different from other tools, FluentCRM not only delivers powerful email marketing automation and CRM features but also stands as a cost-effective choice for small businesses, learning management systems, and membership platforms.
Having been introduced recently, it's amazing how this plugin has swiftly become the primary choice for over 30K+ businesses.
Its core strength lies in its commitment to providing cost-effective marketing automation directly within the WordPress environment, coupled with must-needed CRM features.
Core features overview
Among the many features available, here are some of the most crucial ones that Fluent Forms offers for your business.
Email Campaign Management: Effortlessly craft and monitor your email campaigns. FluentCRM makes it easy to design, schedule, and send targeted messages to your audience that drive maximum engagement.
360° Contact Overview: Gain a comprehensive view of your contacts. From their engagement history to recent activities, FluentCRM provides a holistic understanding of each individual.
Smart Contact Segmentation: Organize your contacts effectively. FluentCRM's smart segmentation allows you to group contacts based on specific criteria that ensure personalized and targeted communications.
Email Sequencing: Nurture your leads with automated email sequences. Set the flow once and FluentCRM will make sure your mails are delivered at the right moment to the right person.
Email Marketing Automation: With FluentCRM, automate key tasks such as sending welcome emails, follow-ups, or promotional offers.
Granular Reporting: FluentCRM offers detailed reports, helping you understand what works and has room for improvement.
Built-in and Integrated Form Builder: Capture leads effortlessly. FluentCRM comes with an integrated form builder that lets you create custom forms without needing any external tools.
Automated Integration: Simplify your workflows. FluentCRM's automated integration ensures that your CRM talks smoothly with other tools and platforms that keep data synchronized and operations streamlined.
3. HubSpot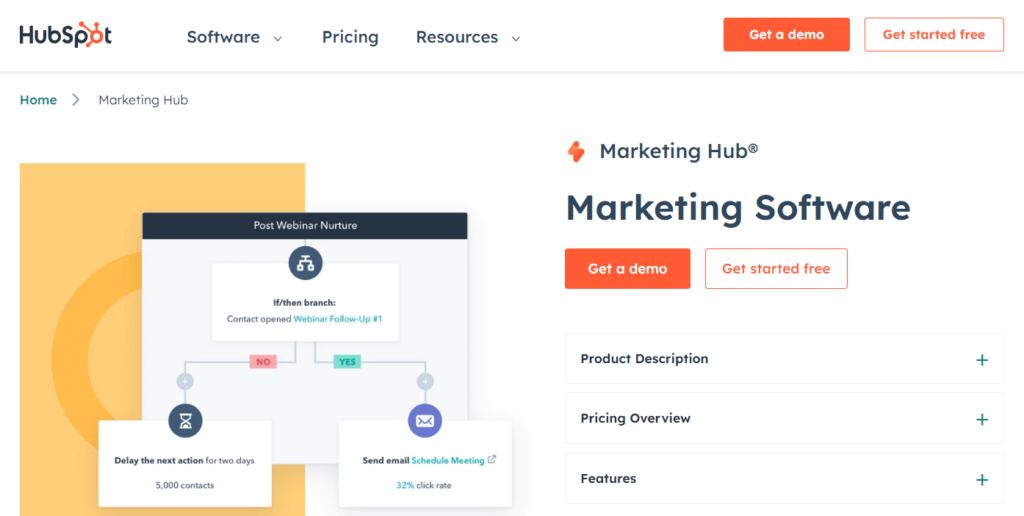 HubSpot is a BIG name in the digital marketing arena. This tool offers a comprehensive marketing and sales solution that assists businesses in drawing in visitors, nurturing leads, and sealing deals.
As a cloud-based solution, it ensures real-time data synchronization across devices and teams.
The essence of HubSpot is its ability to seamlessly integrate various business processes. From the moment a prospective client interacts with your content on social media or a blog, to their journey through tailored emails, to their first purchase aided by your sales team, and even the post-purchase support, HubSpot is there every step of the way.
One of HubSpot's major advantages is its centralized data system. It acts as a single reference point for your entire business that eliminates data barriers and inconsistencies.
This not only streamlines operations but also minimizes costly errors arising from data discrepancies.
Core features overview
From the array of features, let's explore some of HubSpot's most crucial offerings for your business.
Workflow Builder: A visual tool that allows you to craft custom, automated workflows to nurture leads and automate tasks based on specific criteria.
Email Automation: Automatically send tailored email campaigns or follow-ups based on user behavior, segmentation, or other set criteria.
Lead Scoring: Assign scores to leads based on their interaction with your brand which ensures the most qualified leads are prioritized.
Goal-based Nurturing: Create workflows tailored around specific goals, allowing for targeted nurturing paths for different segments.
Ad Campaign Automation: Integrate and automate ad campaigns, retargeting based on user interactions with your content.
List Segmentation: Automatically segment contacts into special lists based on their behavior or engagements.
Analytics and Reporting: Monitor the performance of your automation campaigns, identifying what's working and where adjustments can be made.
4. Buffer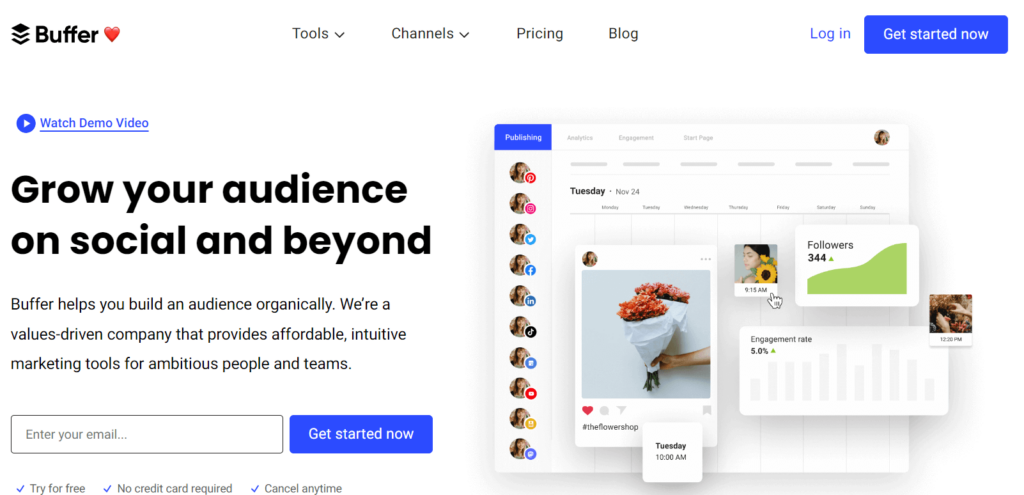 Buffer is one of the best marketing automation tools for small businesses to manage social media effortlessly.
Buffer works with multiple popular social sites like Facebook, Instagram, and Twitter. You can adjust your posts for each site and send them to all at once. Also, you can set Buffer to automatically post for you at chosen times.
With its browser add-on and mobile apps, you can post from anywhere, anytime. Plus, Buffer gives you detailed reports on how your posts are doing, which you can save for later analysis or reporting.
Core features overview
Among the numerous features at your disposal, here are some of the most crucial ones from Buffer for your marketing automation.
Scheduled Posting: Buffer lets you line up and schedule posts in advance across different social platforms which ensures a consistent online presence without the need to manually post content every time.
Content Tailoring: Recognizing that each social media has its unique audience, Buffer allows you to customize posts to fit the style and format of each platform ensuring maximum impact.
Performance Analytics: To refine your marketing strategies, Buffer provides insightful analytics data of your shared content.
Bulk Uploading: If you plan for content campaigns in advance, Buffer's bulk uploading feature allows multiple posts to be loaded and scheduled at once saving significant time and manual effort.
RSS Feed Integration: Buffer can be connected to an RSS feed, automatically queuing new content from the feed for sharing.
5. MailChimp

Mailchimp is a dynamic marketing automation platform that has revolutionized the way businesses connect with their target audience.
With its user-friendly interface and robust feature set, Mailchimp is more than just an email marketing software— it's a complete solution designed to streamline your marketing efforts and maintain your brand's presence.
Mailchimp has transformed from a simple email marketing service into a full-fledged marketing automation platform, providing businesses with the tools they need to create, execute, and analyze their marketing tactics.
By utilizing Mailchimp's suite of features, marketers can save time, engage more effectively with their audiences, and drive better conversation.
Core features overview
Here are the key features your business can benefit from with MailChimp.
Automated Scheduling: Leave the guesswork behind. MailChimp's automated scheduling optimizes send times and ensures your messages are delivered at the right moment, tailored to each recipient's time zone.
RSS to Email: Unlock the power of content automation. Send your best content directly to email subscribers, keeping them engaged and informed without lifting a finger.
Data Automation: Never miss a beat. MailChimp's data automation keeps track of important dates like birthdays, anniversaries, and milestones, allowing you to strike while the iron is hot and potentially close the deal.
Transactional Emails: Trust MailChimp's SMTP or API for your transactional email needs. Whether it's order confirmations, receipts, or account notifications, ensure your messages reach your audience reliably.
Behavioral Automation: Respond to your audience in real-time. When leads or customers take action, you can automatically progress your campaign with tailored messages triggered by their behavior.
6. Zapier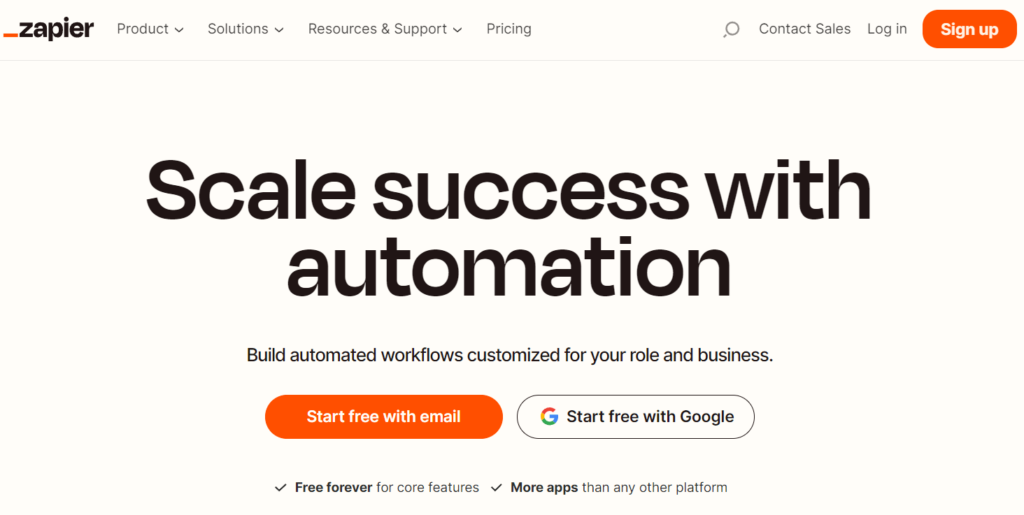 Zapier is an easy-to-use tool that helps you connect different apps and plugins. It's a handy way to move data from one place to another. Its primary purpose is to make content transfer and workflow automation super easy.
With a simple 'Zap' (automation), you can instantly trigger the creation of a new story on Medium each time you publish a fresh post on your WordPress website. It's just one example of how Zapier can transform your digital operations.
Zapier's can go far beyond content creation. You can also harness its power to automate numerous marketing tasks.
From automatically sharing new content on your social media channels and seamlessly updating your lead databases, to instantly generating Trello cards whenever a new order comes in on WooCommerce – Zapier is the bridge to efficiency in your digital efforts.
Core features overview
Let's look at the important features Zapier brings to your marketing automation.
Automation: Easily automate tasks and workflows by connecting apps and creating Zaps (automated actions) to save time and increase efficiency.
App Integration: Seamlessly integrate with thousands of popular apps and services you need to streamline your processes.
Custom Workflows: Build customized workflows to fit your specific needs, tailoring automation to your unique requirements.
Multi-Step Zaps: Create complex automation sequences with multiple steps, allowing for intricate task automation.
Conditional Logic: Set conditions to trigger actions based on specific criteria, ensuring your automation responds to your specific business rules.
Webhooks: Connect to webhooks for more advanced integrations, enabling data sharing with precision.
Data Filtering: Filter and manipulate data as it moves between apps to ensure only relevant information is processed.
Scheduling: Schedule Zaps to run at specific times or intervals, automating tasks at the right times for maximum impact.
7. Tidio Chatbot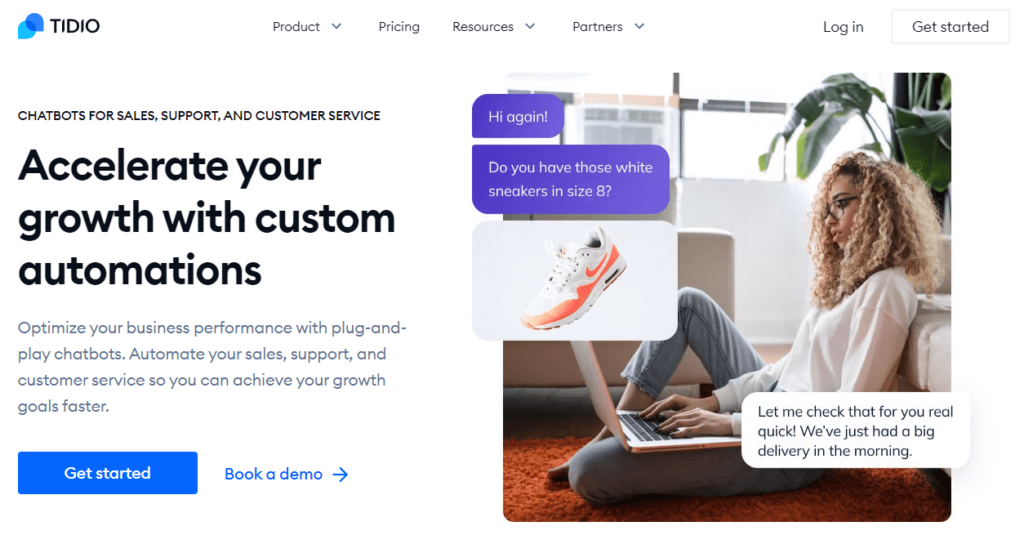 Tidio Live Chat is a robust marketing automation software that provides businesses with a versatile platform to engage with their website visitors and enhance customer relations.
Live chat has become an essential element of modern marketing strategies, as it facilitates real-time communication, improves customer support, and helps convert website visitors into loyal customers.
Tidio Live Chat offers a range of features and functionalities that make it one of the most valuable marketing automation tools for small businesses.
Core features overview
Tidio offers a variety of core features that are particularly applicable to marketing automation, here are some features listed below.
Real-time Live Chat: Tidio provides a real-time chat interface that allows businesses to engage with website visitors as soon as they land on the site.
Chatbots: Tidio's chatbots are powered by artificial intelligence and can be customized to automate routine tasks and answer common customer queries.
Lead Generation: Tidio can capture leads by collecting visitor contact information during chat interactions. This data can be integrated into marketing automation workflows for further nurturing the leads.
Automated Follow-ups: This allows businesses to set up automated follow-ups based on visitor behavior or chat interactions.
Visitor Tracking: Tidio provides visitor tracking functionality, allowing businesses to monitor visitor behavior, such as the pages they visit, their location, and their referral sources.
8. Drip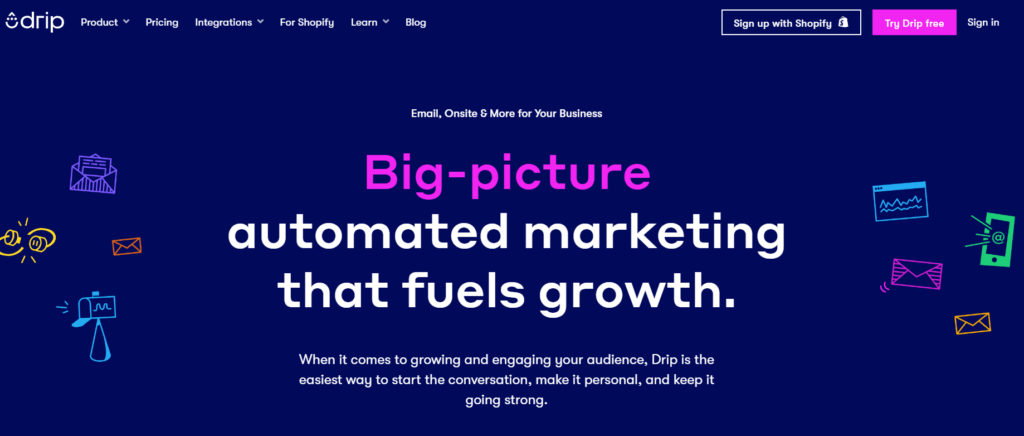 Drip is a powerful marketing automation and email marketing platform that helps businesses create, automate, and optimize email marketing campaigns.
Its robust features, including email marketing automation, segmentation, personalization, lead scoring, and e-commerce integration, make it a practical tool for businesses looking to engage with their audience, nurture leads, and ultimately drive conversions and customer retention.
Whether you're an e-commerce business, a B2B company, or any organization looking to enhance your email marketing efforts, Drip offers the tools you need to succeed.
Core features overview
Let's explore some of Drip's main features that can help your business exclusively.
Email Marketing Automation: Drip excels in automating email marketing campaigns. It allows marketers to create personalized email sequences triggered by user behaviors.
Segmentation: Drip enables precise audience segmentation. Marketers can categorize subscribers based on demographics, behavior, purchase history, and more.
Lead Scoring: It provides lead scoring functionality, which helps businesses prioritize leads based on their engagement and interaction with email content.
Personalization: It supports dynamic content and personalization tags, allowing businesses to create highly personalized emails.
Workflows: Drip offers a visual workflow builder that allows you to create complex automation sequences with ease.
E-commerce Integration: Drip is especially suitable for e-commerce businesses. It integrates seamlessly with popular e-commerce platforms to get your work done in a flow.
9. Outbrain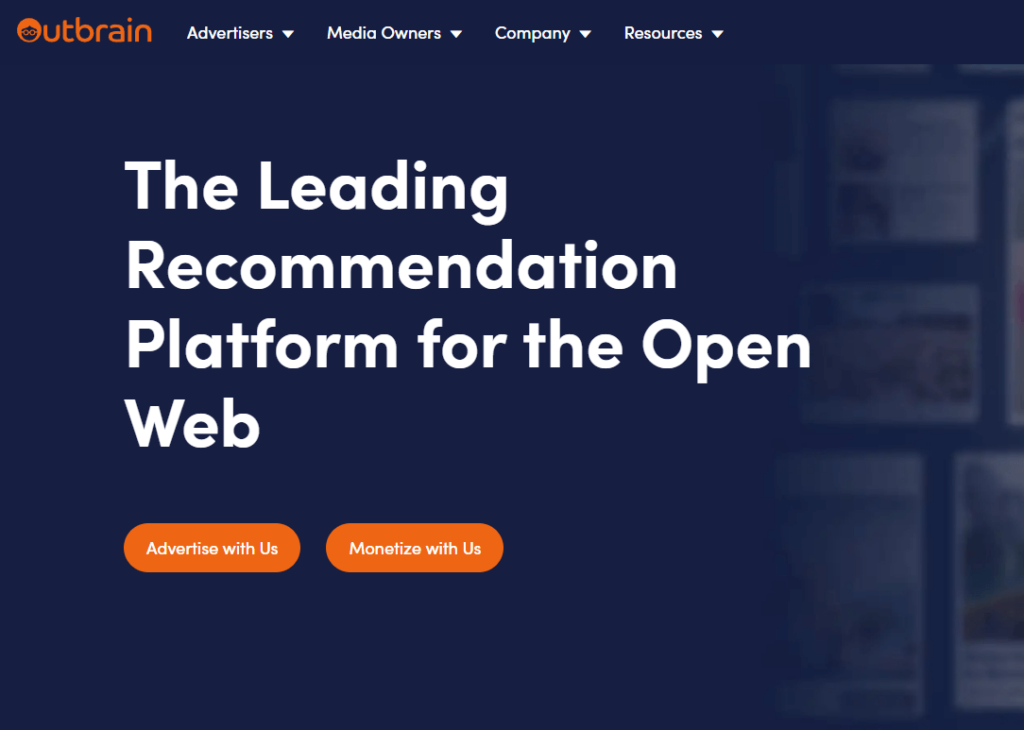 Outbrain is a leading content discovery platform that empowers businesses to extend their content's reach by showcasing it on some of the most popular and widely-read online publications.
With partnerships encompassing reputable sites like CNN, US Weekly, MSN, the Wall Street Journal, The Guardian, BuzzFeed, and many others, Outbrain offers a powerful way to get your brand's content in front of a vast and diverse online audience.
You can integrate Outbrain into your broader marketing strategies to increase brand visibility and customer interactions.
Core features overview
Check out the features of Outbrain that can make your business better.
Content Promotion: Outbrain allows businesses to promote their content on popular online publications, which can be integrated into marketing automation workflows.
Native Advertising: Outbrain's native advertising format ensures that content seamlessly blends with the surrounding content on partner publications, improving engagement and relevance.
Pay-Per-Click (PPC) Model: Outbrain's PPC model is cost-effective for marketers and aligns with marketing automation's goal of optimizing cost-efficiency in lead generation and customer engagement.
Reputable Publisher Network: Partnering with reputable publishers through this platform adds a layer of credibility to the content and the brand itself.
Global Reach: Outbrain's global network allows businesses to target audiences in different regions, which can be essential for international marketing automation efforts.
10. Scribe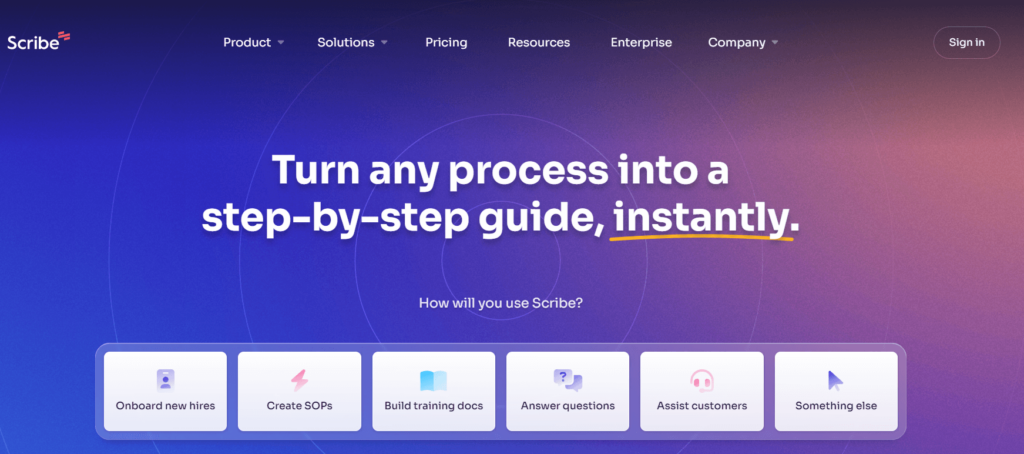 Scribe is a versatile tool that goes beyond marketing automation to support knowledge-sharing and process documentation for your teams.
In a dynamic business environment, efficient knowledge transfer and well-documented processes are essential for maintaining consistency and productivity.
Scribe offers a solution to these challenges by allowing users to instantly document workflows and create step-by-step guides.
This tool simplifies project management and accelerates the learning curve for marketing automation and various other processes within an organization.
Core features overview
Let's take a closer look at some of the important features Scribe offers.
Workflow Documentation: Scribe enables teams to capture and document their workflows in a structured and easily understandable format.
Step-by-Step Guides: With Scribe, it's easy to transform documented workflows into step-by-step guides. These guides provide a clear and concise overview of the process.
Knowledge Sharing: Scribe promotes knowledge-sharing within the organization. By documenting processes, best practices, and insights, teams can easily access and share useful information, fostering a culture of constant learning and improvement.
Project Management: Scribe can streamline project management by providing a central repository of documented processes.
Onboarding and Training: For marketing automation and other processes, Scribe assists in onboarding new team members.
Version Control: Scribe often includes version control features, ensuring that documented processes stay up to date as workflows evolve.
Wrapping up
Marketing automation tools for small businesses are your magical weapon to grow and thrive. Automation tools do the boring and repetitive tasks for you and allow you to focus on more important stuff.
Throughout the blog, we've discussed some of these amazing tools for small businesses. They help you do your work better and faster, like sending emails, analyzing data, making your customers happy, and more.
By leveraging these tools, you can be more efficient and successful in your business domain because The future of marketing is all about using these tools to make your work easier and your business better.
---
Ashik Elahi
Ashik Elahi is a seasoned Digital Marketer with a passion for Content Marketing. He believes in the power of storytelling and crafting valuable content that resonates with readers.