10+ Powerful Lead Generation Ideas You Should Try
Ashik Elahi
. October 5, 2023
. 16 minutes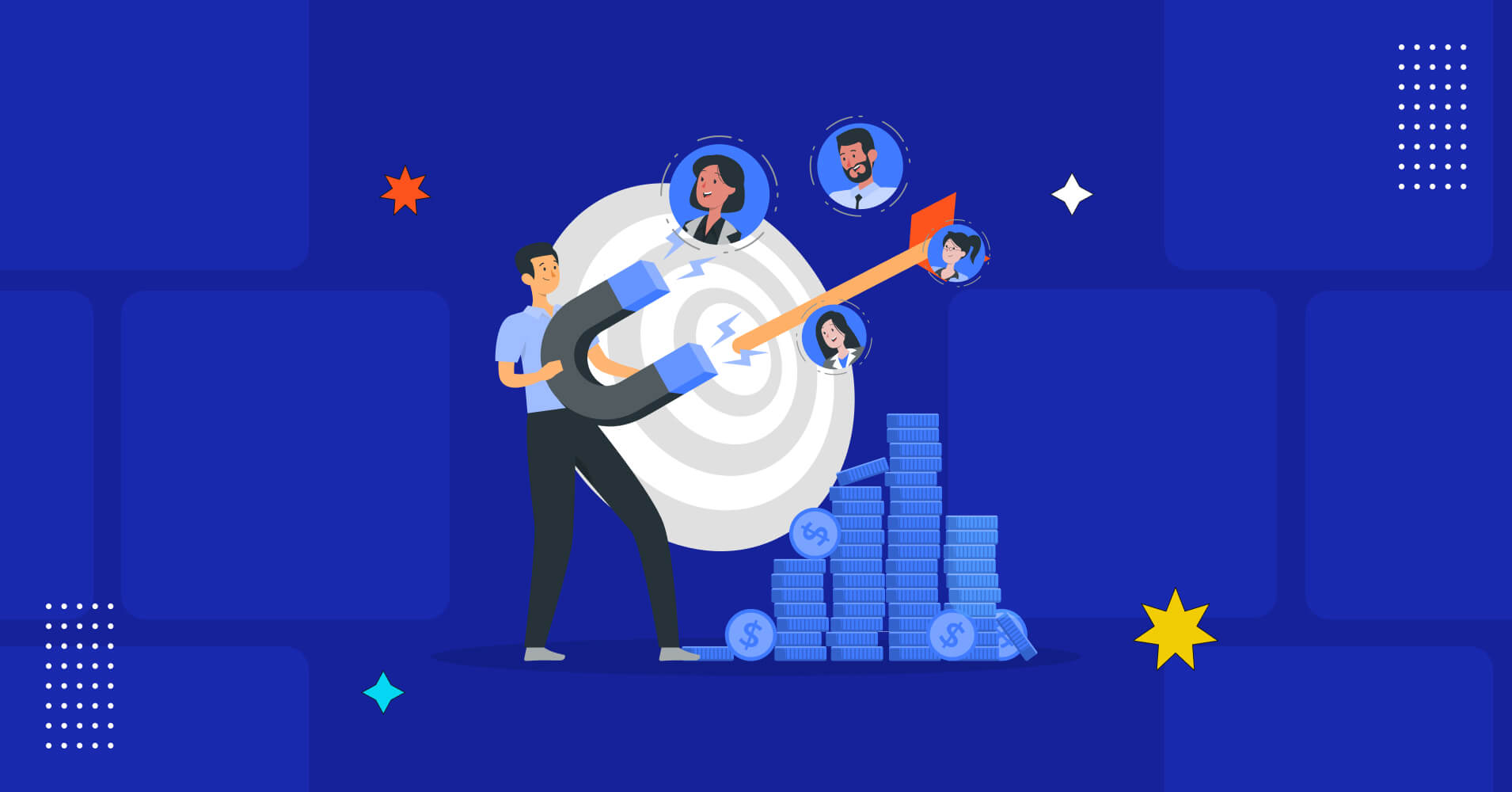 Lead generation, attracting potential customers— is something that every business must do at some stage of their business.
Through content, email, social media, and other marketing mediums, brands have to get creative to grab the attention of future customers.
But the fact is the whole process is tough– according to research, 61% of marketers think lead generation is their number one challenge.
So, to ease the process for you, we are here to share 15 lead generation ideas that you can COPY and IMPLEMENT in your business to witness dramatic growth.
Let's get straight to the point.
Fluent Forms is the most beginner-friendly form builder. Download now and start crafting beautiful forms FREE!!!
15 Lead generation ideas for your business
Before starting, you just need to remember that these best lead generation ideas are universal, meaning these fit with any business. All you need to do is modify as far as your business's unique needs, and find out what works best for your brand.
Now, we are good to go.
1. Provide high-quality blog content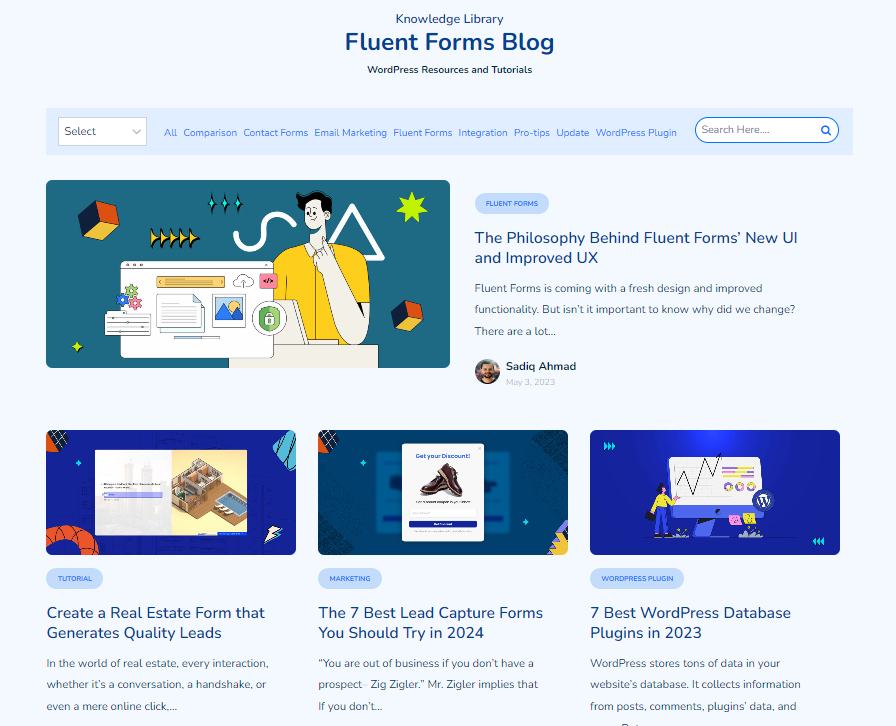 Your blog is important in establishing your brand and enhancing your website. It serves as a powerful tool for generating leads. So, ensure that your blog delivers insightful content that resonates with your target audience and keeps them engaged.
By offering high-quality content, you can achieve multiple goals. You can boost brand visibility, enlighten readers about your products or services, and ignite their curiosity, encouraging them to take action.
In this regard, your goal shouldn't only be to retain your existing customers but also to captivate potential ones who are not yet familiar with your brand.
Finding the right balance between these requirements needs time, dedication, and a deep understanding of the audience. Start by getting to know your customers deeply. Also, create detailed buyer personas to tailor your content strategy to suit each group.
In your content marketing strategy, always remember that beyond informing, educating, or entertaining your audience, your ultimate goal is to convert them into leads and eventual customers.
For example, Fluent Forms is experiencing remarkable growth through its consistent delivery of valuable content to its audience. While providing value, Fluent Forms invites readers to subscribe to its newsletter. This straightforward newsletter subscription process has proven highly effective in getting leads over the years, contributing significantly to its continued success.
Enjoying this article?
We regularly publish helpful content on our blog. Subscribe to get them delivered straight to your inbox.
We won't spam you. You can unsubscribe whenever you want.
2. Offer free trials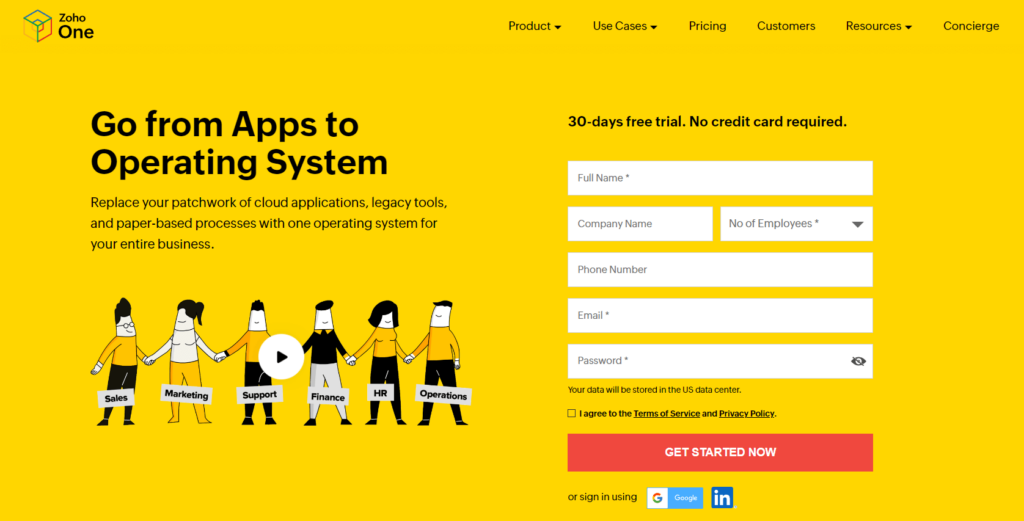 Providing free trials benefits the customer and your business in multiple ways. It reduces potential customers from the pressure of making quick decisions, allowing them to explore your product or service at their own convenience.
These free trials offer an opportunity to demonstrate the value of what you provide while also capturing high-quality leads. Once you've gained these leads, the next step is nurturing them, which can significantly boost sales.
While these leads may not convert into immediate buyers, they will remember the positive experience and may return to make a purchase.
Furthermore, satisfied trial users can become advocates for your brand, recommending your offerings to others who might benefit from what you have to offer.
This approach not only sweetens customer satisfaction but also builds brand loyalty and drives word-of-mouth referrals, ultimately contributing to the growth and success of your business.
For example, Zoho has crafted an appealing sign-up page that brags a compelling offer: a 30-day free trial. This compelling proposition serves as a magnet for potential clients, drawing them to explore Zoho's offerings. This strategic move not only generates valuable leads but also converts them into sales, indicating how Zoho efficiently combines lead generation and sales strategies to drive growth.
3. Contest or giveaway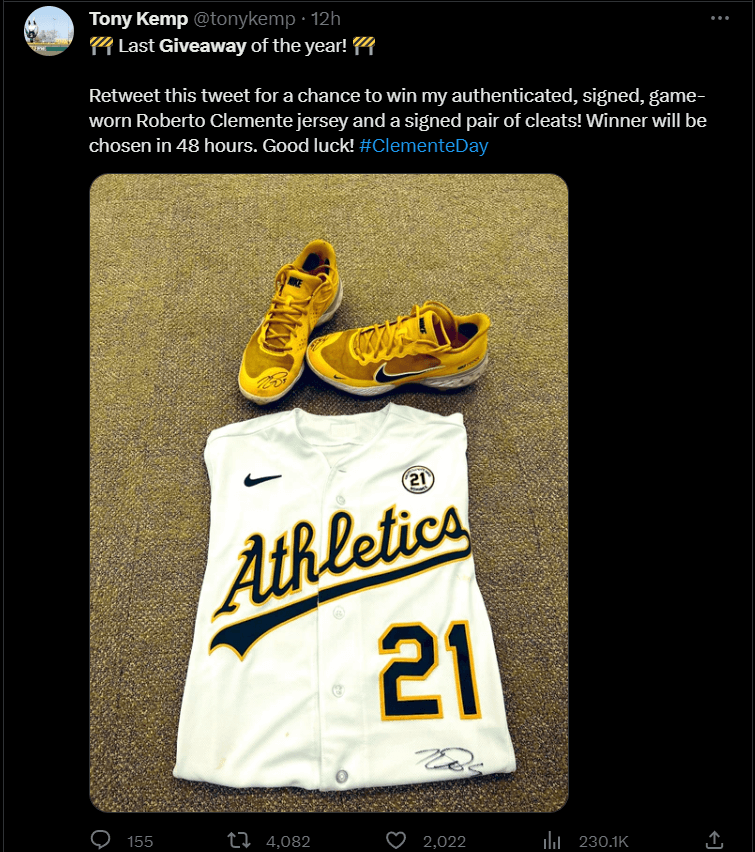 Contests and giveaways have long been effective marketing tools dating back to the pre-digital era, and their relevance remains strong in today's digital landscape.
Social media, in particular, boost the reach of contests and giveaways, making them even more effective. They excel at promoting word-of-mouth marketing, and it comes with no additional cost to your business.
While some companies may be hesitant to provide prizes "for free," the reality is that contest prizes are generally a small investment compared to the engagement and brand awareness they generate. You can further encourage participation and referrals by offering additional entries to your followers when they share your content with others.
Utilizing a dedicated giveaway platform streamlines the process. It allows you to set up new contests using pre-defined frameworks, minimizing logistical concerns and saving time and effort.
If you've been hesitant to offer giveaways and contests, this is the time to check out this lead generation idea. Once you do, your sales team can leverage these campaigns to nurture leads and convert them into loyal customers, making them a valuable addition to your marketing strategy.
For example, Tony Kemp has initiated a fascinating giveaway campaign tailored to their audience. In this instance, they encourage X users to retweet, effectively expanding their reach and engaging a broader audience with their business. This clever strategy not only delights their existing followers but also brings in potential new customers, creating a win-win situation for all.
4. Create insightful videos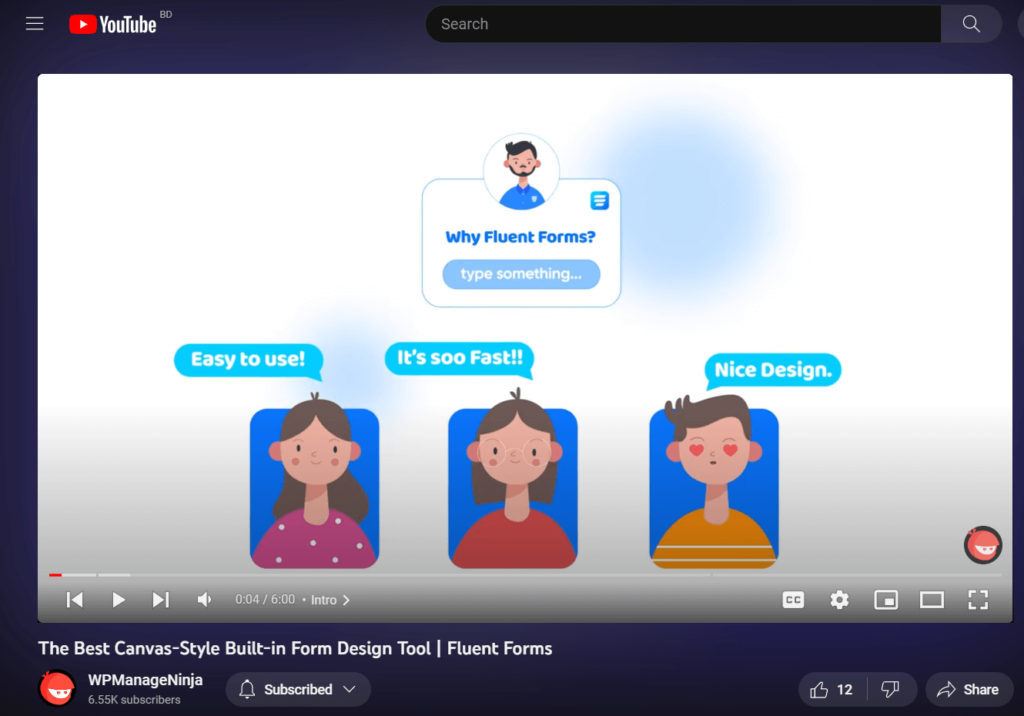 Videos remain a powerhouse in the online landscape, so leveraging them effectively in your digital marketing strategy is essential.
You should focus on crafting informative videos that address the problems of your target audience. Keep the video format engaging, entertaining, and professional to maintain viewer interest.
You can Integrate these videos into your blog posts and share them across social media platforms.
To maximize lead generation, make your videos interactive. You can discreetly embed lead capture forms within the videos without overwhelming or distracting viewers. While opting in isn't mandatory, it offers viewers an immediate opportunity to take action.
In today's fast-paced world, people seek quick and reliable solutions. Videos can provide precisely that if they're readily available in the right places. In addition to creating helpful videos, prioritize optimizing each one for high visibility in organic search results, social media feeds, and any other platforms frequented by your target audience.
By fine-tuning your video marketing strategy, you can create valuable content and effectively cultivate leads, ultimately enhancing overall digital marketing success.
For example, Fluent Forms is providing the solution for those seeking to effortlessly create quizzes on their website. How does it achieve this? Through a detailed step-by-step video tutorial, Fluent Forms demonstrates the seamless process of quiz creation.
This promise to provide valuable guidance not only keeps its audience engaged but also attracts new users by effectively addressing their needs and challenges.
5. Offer a handy checklist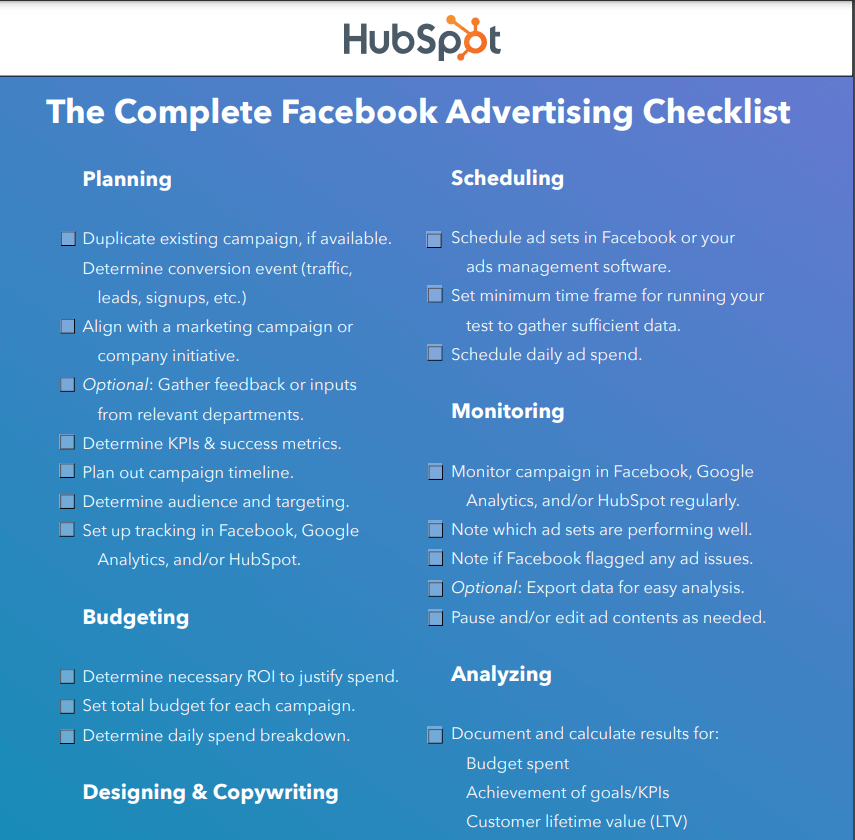 It's true that most people have a running to-do list that can sometimes become overwhelming. Planning an upcoming event is no exception, as it involves numerous important tasks and details.
To assist marketers in managing these tasks effectively, you can offer a thoughtfully created checklist that can be downloaded and used. This checklist ensures that no critical steps in any effort are overlooked.
This approach provides value to the audience and showcases your brand's expertise on the subject, positioning them as a trusted resource.
Regardless of the lead generation strategy you choose to experiment with next, ensuring that the content you offer is genuinely helpful to your audience is crucial. By consistently offering valuable content, you encourage visitors to return to your website repeatedly.
For example, HubSpot provides an effortless yet highly effective Facebook Ads checklist, appealing to individuals interested in paid media advertising. To access this valuable resource, users are prompted to sign up, a strategy that HubSpot utilizes to expand potential customers. This approach effectively grows their list of prospective clients, positioning them for future success.
6. Create a useful spreadsheet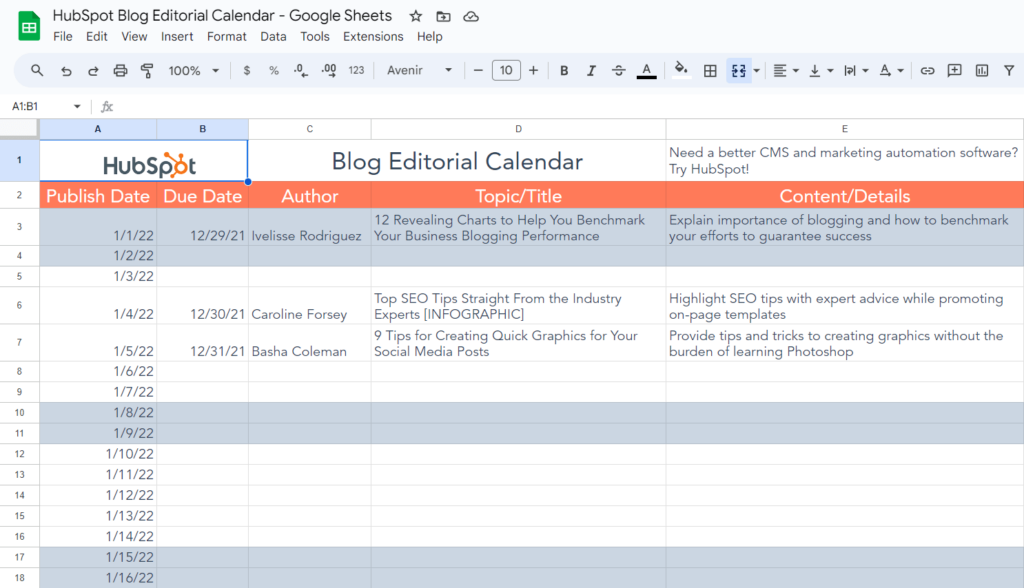 Creating a comprehensive spreadsheet of resources can indeed be a time-consuming task, and the value becomes evident when someone else does it for you.
One real-life example is HubSpot's blog calendar, which recognized this and took a smart approach by developing an easy-reference spreadsheet directory, essentially a map of the blogging landscape. They made this practical resource available to their audience in exchange for an opt-in, such as an email subscription or contact information.
By making this information easily accessible through a well-structured spreadsheet, HubSpot created a highly valuable piece of content that not only helps its audience but also serves as a powerful lead-generation tool.
Ultimately, they leveraged the convenience of their content to boost user engagement and data capture, eventually benefiting both their audience and their own marketing efforts.
7. Exit-intent popups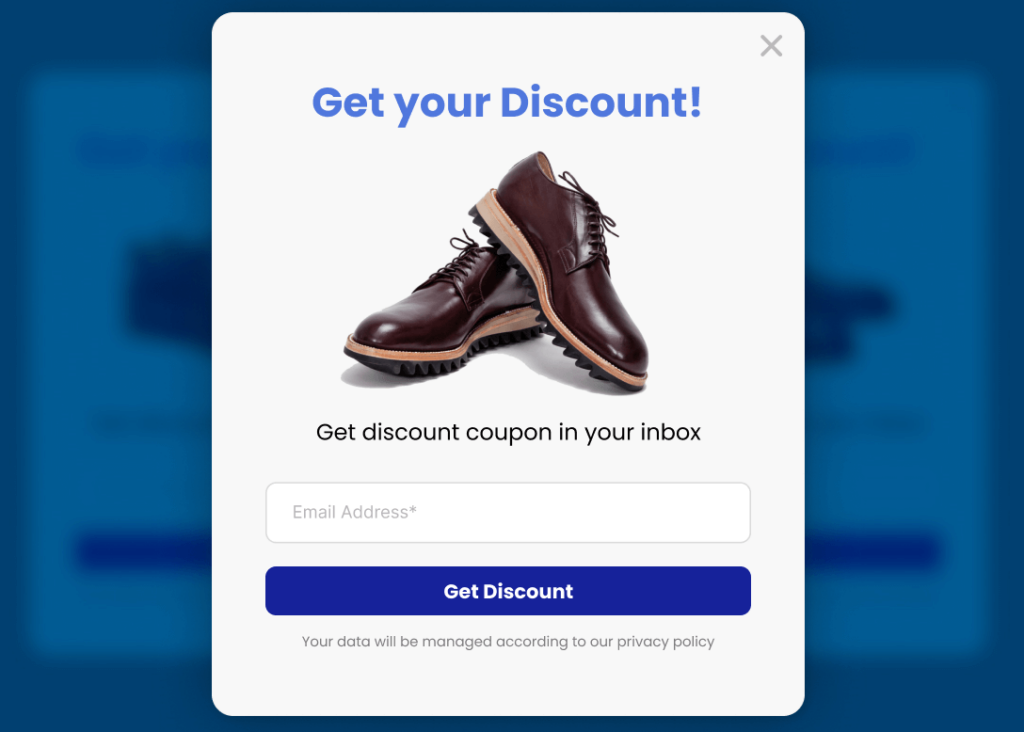 It's understandable that businesses may have an uneasiness about using popups in their lead generation efforts, as poorly executed popups can indeed disrupt the user experience.
However, when used strategically, popups can be highly effective lead generation ideas.
Exit-intent popups, in particular, are a smart approach. These pop-ups are designed to show up only when a visitor is on the verge of leaving your website, typically indicated by moving the cursor towards closing the tab or window.
Since exit-intent popups only trigger when the visitor intends to leave, they are less likely to be sensed as annoying. This timing allows you one last chance to engage with the user without disrupting their experience.
For example, if you take a close look at the image above, you can see that they are offering a discount for those who are likely to exit the web page.
In exchange for their email address (a valuable lead), users are rewarded with a discount incentive, driving them to provide their email and claim the discount. While the user may not make an immediate purchase, this approach significantly increases the probability of a future conversion.
8. Referral rewards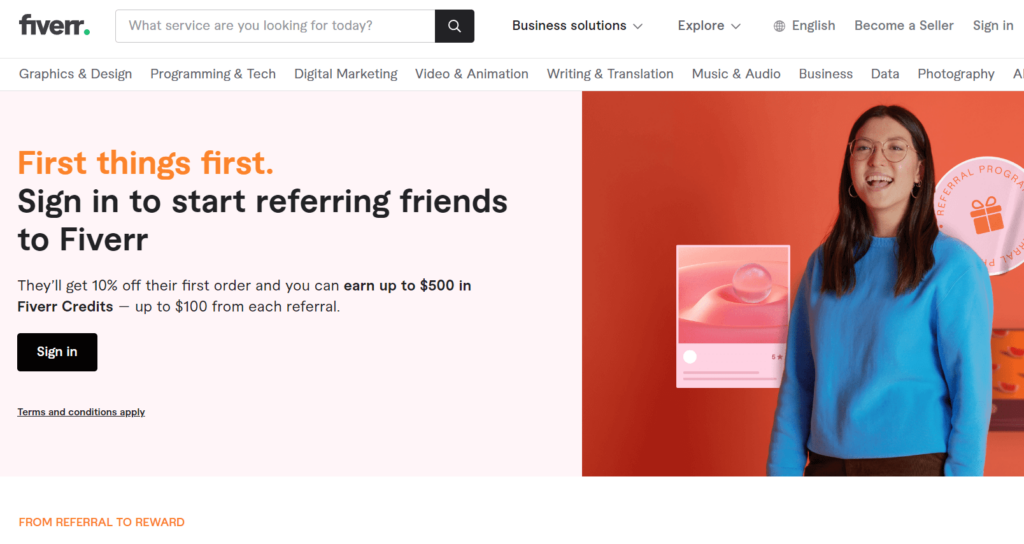 Existing customers are definitely a valuable resource for lead generation, and tapping into their enthusiasm can be highly effective.
Referral programs provide an excellent way to engage your audience to spread the word about your brand, bringing in leads that are not only low-effort but also high-quality because they come with a pre-existing interest in your products/services.
What makes it one of the best lead generation ideas is that referral programs utilize the trust and goodwill of existing customers. When your sales team reaches out to potential new clients referred by satisfied customers, they often receive a warm reception because the referral acts as a trusted endorsement.
For example, Fiverr maximizes the potential of referral programs as a robust lead generation idea. By tempting users with monetary rewards for both referrers and referees. Fiverr effectively generates a stream of highly qualified leads while also securing the prospects of their future endeavors. This approach not only drives engagement but also facilitates long-term growth for the platform.
9. Testimonials and case studies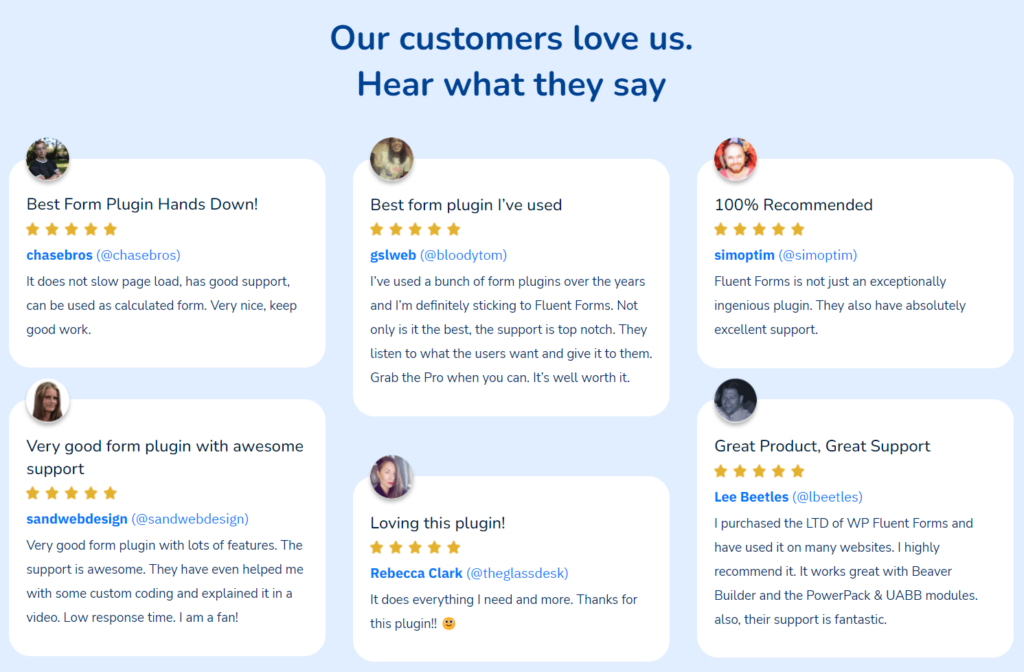 Consumers certainly place a high level of trust in recommendations and experiences from family members, friends, and genuine customers.
Utilizing testimonials, case studies, and user-generated content can be an effective way to build trust and credibility for your brand.
Testimonial videos are a great way to showcase satisfied customers. Keep them concise, around two to three minutes, and focus on capturing the customer's genuine experience. This will positively impact your new customers' impression, and they might join your business.
You can consider using case studies to demonstrate how your product or service solved real-world challenges for your customers, emphasizing measurable outcomes.
Employing these lead generation ideas not only helps build credibility but also creates a sense of authenticity and transparency around your brand.
So, by showcasing the positive experiences of your customers, you can effectively influence the decision-making process of potential buyers and foster a stronger connection with your audience.
For example, Fluent Support utilizes this lead-generation strategy that showcases customer reviews and testimonials to great effect. Whether directly or indirectly, customer reviews play a significant role in influencing the overall growth of any brand. By leveraging these positive testimonials, Fluent Support effectively generates leads and builds trust with potential customers, enabling the continued expansion of their business.
10. Offer online courses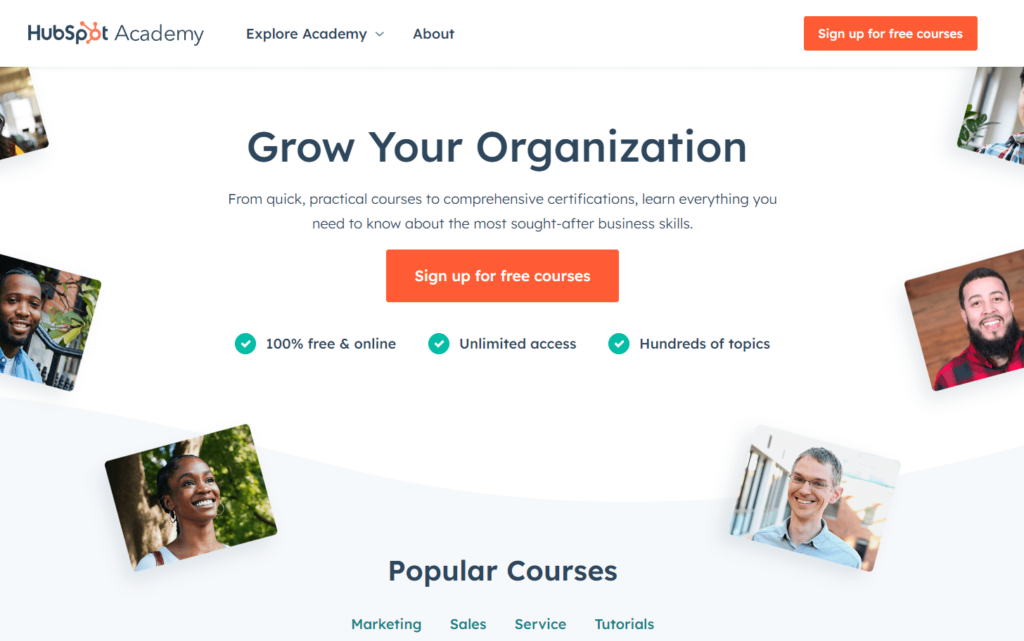 Online courses provide diverse content delivery formats, offering multiple platforms to connect with your audience and provide value.
Mighty HubSpot is leveraging this lead-generating idea. They have created many online courses that align perfectly with their audience. In the digital marketing arena, almost every marketing professional has tried HubSpot's courses around the digital marketing industry at least once.
However, selecting the right course topic that should be as straightforward as understanding your audience is particularly important. If you run a fitness center, consider creating a course about effective morning workouts. You got it, right?
The intent is to create a course that addresses your target customer's pain points and empowers them with actionable solutions. When they decide to seek further assistance or outsource projects, you'll be in a prime position to provide your services.
For example, HubSpot's extensive collection of courses tailored to the digital marketing industry serves as one of its primary sources of high-quality leads. Through the development of these courses, HubSpot not only educates aspiring marketers but also targets their ideal audience. HubSpot's business revolves around these future marketers, making them an integral part of their growth strategy. It's an impressive approach that not only educates but also fuels the evolution of their business.
11. Engage with online communities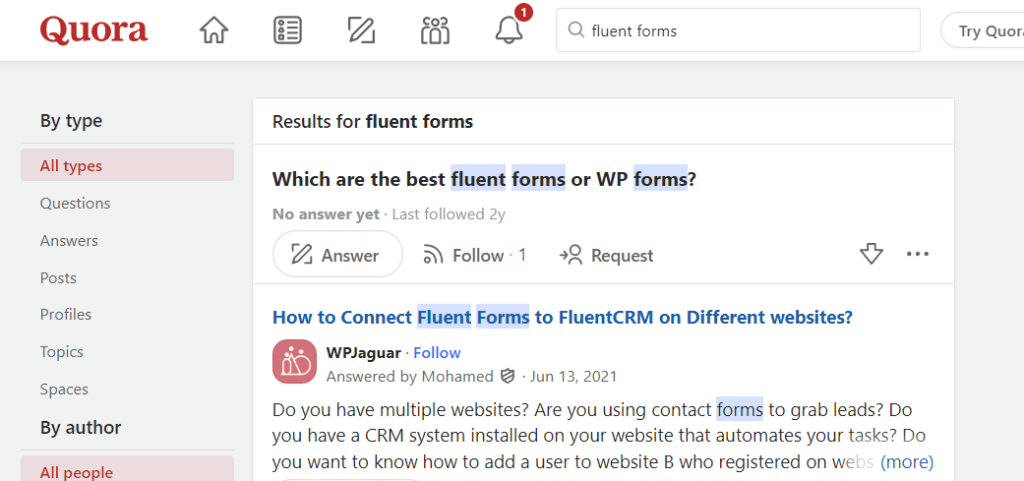 Online communities like Quora or Reddit provide valuable opportunities to connect with your target market, as they are often actively seeking solutions to problems you can help them solve.
Creating a Quora or Reddit answer usually takes a few minutes. While answering include relevant images, key data, and helpful links to authoritative resources that support our intent.
The success of your Quora answers depends on the topic's demand, the quality and depth of your response, and the creativity you include in your answer.
Beyond the benefits of tastefully linking to your website for interested readers to learn more, answering questions on Quora is a long-term strategy. Dedicate just 30 minutes each day to crafting thoughtful responses to important questions in your niche, you will generate a good number of qualified leads.
12. Infographics for your audience to share
Visual content is known to perform exceptionally well in digital marketing. Surveys reveal that over 40% of marketers consider original infographics to be the best-performing form of visual content.
The objective is to craft infographics that convey valuable information, such as survey results or step-by-step processes, which your audience will find informative and shareable.
Infographics not only engage your audience but can also lead to backlinks from blog posts or articles that reference or feature them. This not only enhances your content's reach but also contributes to your website's SEO by building high-quality inbound links and lead generation is a PLUS.

By incorporating infographics into your content strategy, you can effectively communicate complex information in an easily digestible and visually appealing format, helping you connect with your audience and drive more qualified leads.
13. Quizzes to engage leads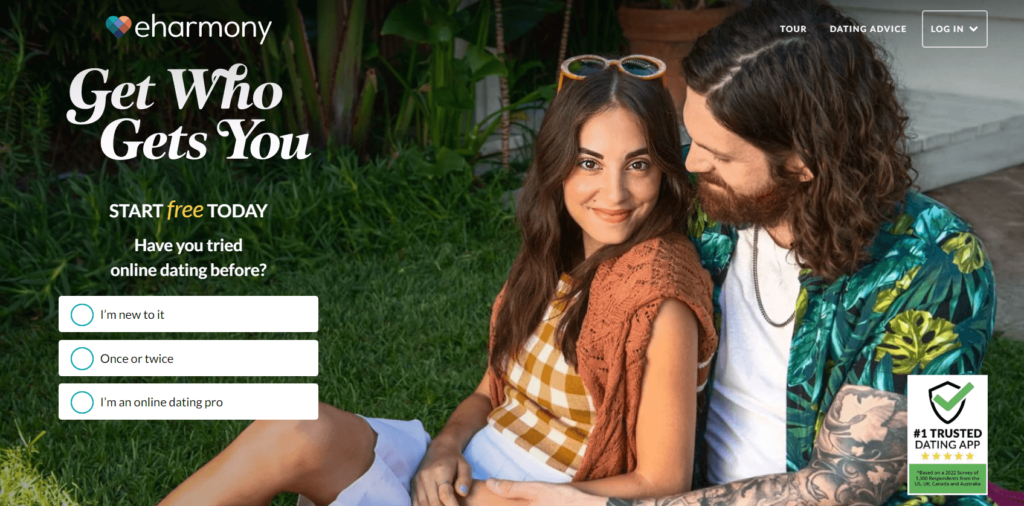 Creating interactive quizzes is another effective lead generation idea to engage prospective customers and gain valuable insights into their needs and preferences. These quizzes should be both fun and relevant to your target audience and industry.
For example, you can develop quizzes that assess how well individuals are managing various aspects of their business, such as growth, marketing, or operations.
The quiz results can provide valuable data that inform your content creation and help you generate product or service ideas tailored to your audience's specific problems and solutions.
14. Build a chatbot for your website to engage visitors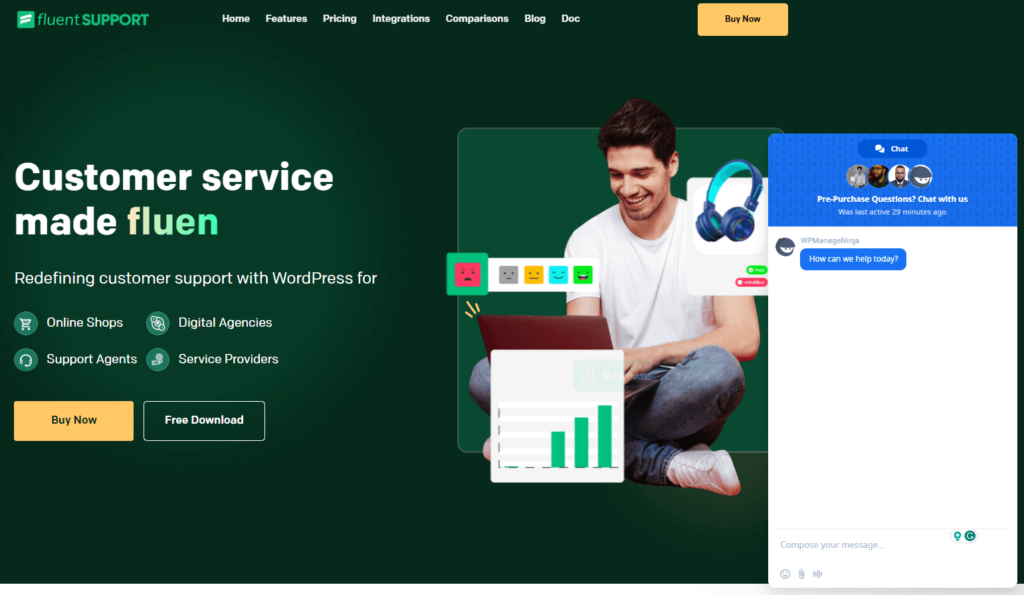 Chatbots have gained widespread acceptance among B2B buyers, particularly when they prove to be helpful in providing information and assistance.
The use of chatbots in marketing has become a valuable tool for engaging with potential customers, providing instant responses to queries, and guiding users through various stages of the buying journey.
These intelligent conversational agents offer real-time support and assistance, contributing to improved customer experiences and increased efficiency in generating leads.
15. Give special offers to create exclusivity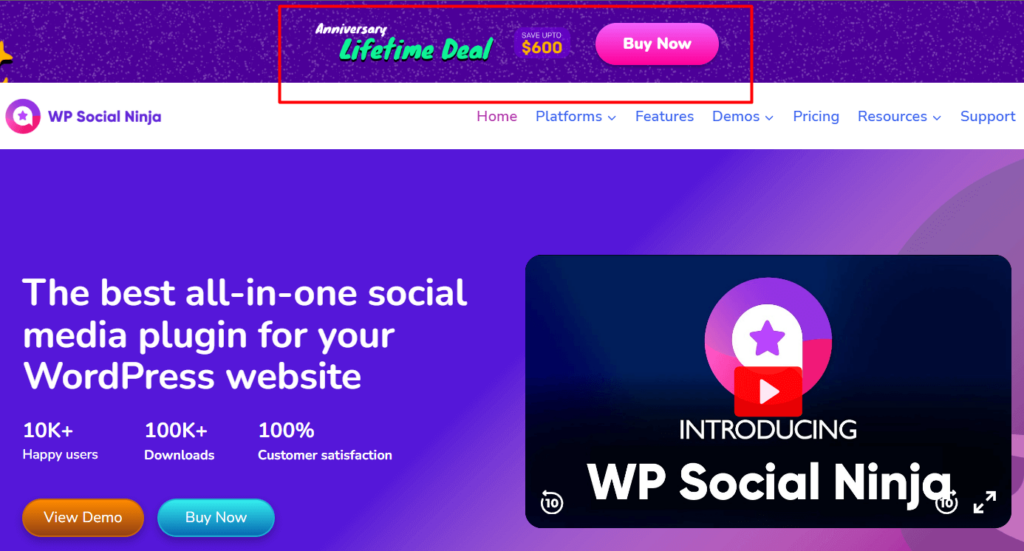 Creating a sense of exclusivity by offering leads a VIP deal is an effective strategy for driving conversions. People love feeling special and privileged.
Consider offering special discounts or pricing packages that are available only to your VIP leads. For example, you can provide a discount for an annual subscription, which encourages longer-term commitment.
By implementing this lead generation idea, you can gain more leads and advocates for your business.
So, we are done with our list of lead generation ideas.
But, if you are looking for the best WordPress lead generation plugin to use in your lead-gen effort, then the next part is for you.
Let's get familiar with one of the best lead generation tools in the market.
Fluent Forms – Best WordPress lead generation plugin
Fluent Forms is an excellent inbound lead generation plugin to supercharge your WordPress website with powerful forms that not only collect data but also streamline your entire workflow.
With Fluent Forms, you gain access to incredible features and functionalities, making the form-building process a breeze. Whether you need to create engaging quizzes, pop-ups, and contact forms, collect secure payments, or conduct insightful surveys, Fluent Forms has you covered.
Here are some of the standout features that make it a must-have tool in your lead generation effort::
Pre-built Templates: Kickstart your form creation with ready-made templates.
Drag and Drop: Intuitively design your forms using a simple drag-and-drop interface.
Quiz Module: Engage your audience with interactive quizzes.
Conversational Forms: Make user interactions more engaging and conversational.
Double Opt-in: Ensure high-quality leads with double opt-in options.
Spam Protection: Keep your forms secure and spam-free.
Signature Add-On: Capture digital signatures with ease.
PDF Add-On: Generate PDFs from form submissions effortlessly.
Third-Party Integrations: Seamlessly connect with over 40 third-party tools, including Mailchimp, Moosend, Slack, and more.
Payment Options: Choose from five different payment gateways, including PayPal, Stripe, Mollie Payments, Razorpay, and Paystack.
But that's not all!
Fluent Forms empowers you to collect client emails through advanced forms and integrate them into your workflow, whether it's email marketing, project management, or any other purpose.
It's your all-in-one solution for your business website or online business. Ready to harness the full potential of Fluent Forms for your website?
Final Words
In today's world, lead generation is the lifeblood of businesses looking to thrive and expand. The 15 lead generation ideas we've explored are versatile, adaptable, and proven to drive positive results.
By experimenting with these strategies and crafting them to your unique needs, you can harness the power of creativity and innovation to attract prospective customers and convert them into valuable leads.
Just remember that lead generation is not a one-size-fits-all endeavor. What works best for your brand may differ from others, but the key is to stay engaged, consistent, and attentive to your audience's needs.
Moreover, as you step into your lead generation journey, don't forget the importance of the right tools. Fluent Forms, our recommended WordPress lead generation plugin, can streamline your efforts, making the process smoother and more efficient.
---
Ashik Elahi
Ashik Elahi is a seasoned Digital Marketer with a passion for Content Marketing. He believes in the power of storytelling and crafting valuable content that resonates with readers.