What Everybody Ought to Know About WordPress Forms
Sadiq Ahmad
. February 2, 2021
. 28 minutes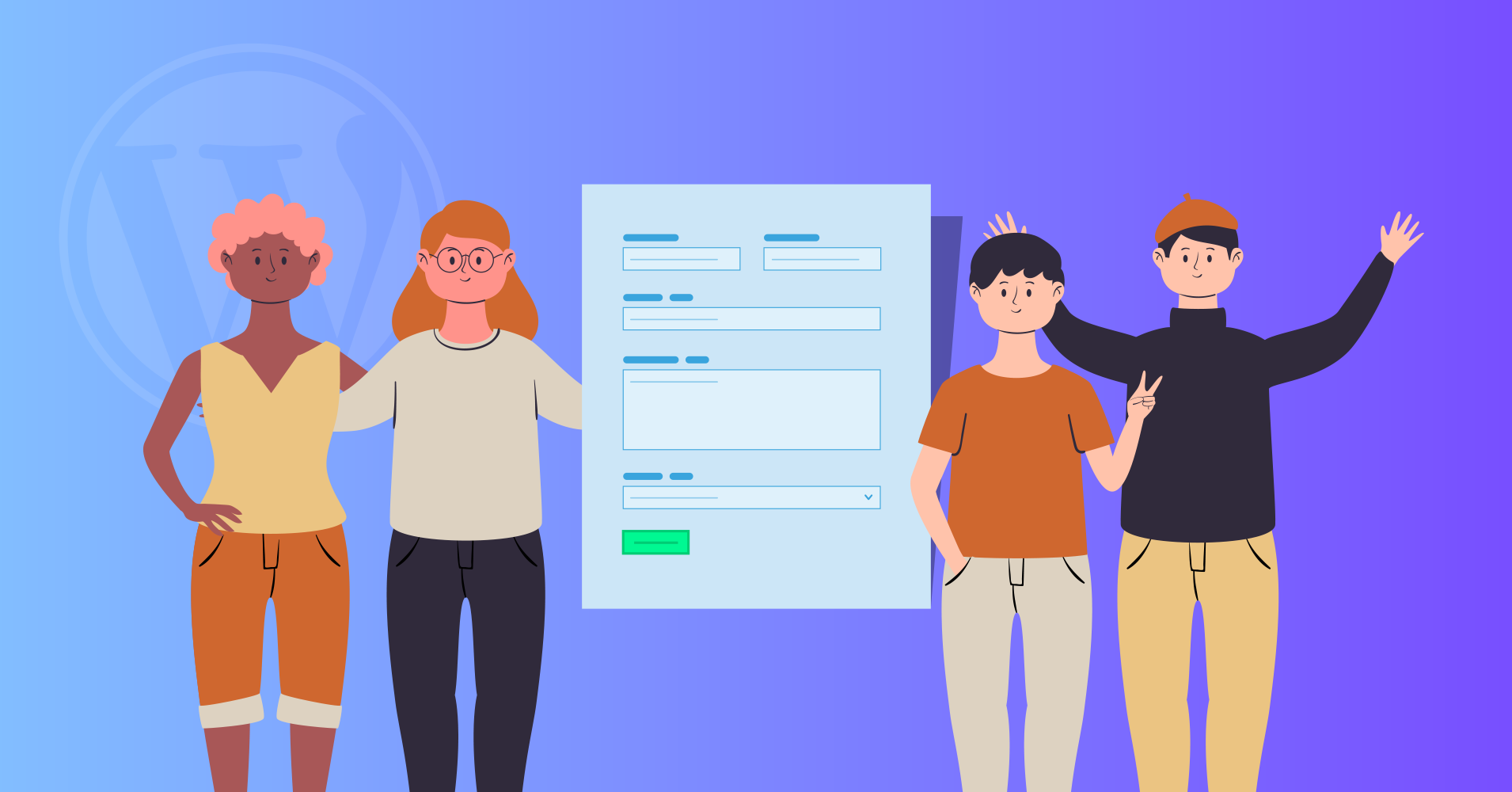 Online businesses are getting attention now more than ever. People seek a way to get out of their everyday job and look for means to work from home.
That's why tools that help shape your business are high on demand. Without the right support you'll need time but can't succeed.
Why is it essential to choose the right option?
Well, your excitement may get fizzled if you end up holding on to the wrong toolkit. Not only you will lose some time but your money will be wasted and reaching your goal will be delayed.
You may face a trainwreck while you're trying to build something as you imagine.
But with the support of the right tool, you can have your momentum and achieve success and growth at a different level.
That being said, let's move on to how WordPress forms are beneficial for your business and learn about the popular WordPress plugins to identify the best option.
What's a contact form
A contact form is a way of bridging connections between users and site owners.
You can use a contact form to learn the feelings of your customers regarding your website and products.
What pains they're having, how's the buyer journey for them, and what can make them more satisfied – you need to know all of these.
For increasing user's trust, getting the right feedback, and boosting thorough communication – a contact form is an essential part of a great website.
The evolution of web forms
Web forms have existed in the market from the beginning of the website history.
Without having an option to contact the site authority, a website can't be complete.
The origin was only for activating a way of sending messages to the website admins.
After the entrance of WordPress – and WordPress plugins at a time – form building was the only purpose.
Even Contact Form 7 was created to allow people to make working contact forms.
Later, developers took the opportunity to compile many functions into one plugin – to stay ahead of the competition and generate more revenue.
Thus, contact forms turned from a simple form creation tool to an advanced marketing tool.
Today, people no longer need a WordPress form plugin only to generate contact forms for their site.
From skyrocketing email success to boosting revenue – a WordPress form plugin is something you want to invest for.
Is Contact Form 7 dead?
There was a time when a WordPress theme was considered as a good one if it's compatible with Contact Form 7.
Yeah, the plugin was that famous.
A Japanese developer built that, and it was a revolutionary inclusion back then.
It was free from the beginning till date, and there was never a premium pricing plan.
The problem with Contact Forms 7 is it couldn't ace the competition.
I can't deny the contribution of this fantastic tool for opening a new era in the WordPress industry.
As it didn't comply with evolution, it's no more a tool to pick for your next form building experience.
In a nutshell, it's not dead, but it's not alive as well.
You can't go too far in today's fast world without having the right set of tools.
Choosing Contact Form 7 these days means you're already behind the race, to elaborate – you chose to be on the last row.
No drag n' drop builder, no charming UI, no advanced functionalities – a form builder is not only for creating a simple contact form.
These days are over long ago.
A simple contact form is needed. That's why you built a form with Contact Form 7 and left it forever.
Listen carefully! You didn't create merely a form but opened the door for spams.
Unlike other modern form builders, this plugin has no advanced spam protection. Only the reCAPTCHA is not enough; trust me.
Why you need a WordPress form builder
WordPress is a giant leap for the advancement of the entire human race.
When you are in WordPress, you need to stick with the best WordPress tools tailored for a higher success rate.
Creating a contact form is not a challenging task. Many WordPress themes come with working prebuilt contact forms.
Even with a simple WordPress plugin, you can create a contact form in a minute without difficulties.
But that's not the purpose of a WordPress form builder.
Beyond a contact form, a WordPress form plugin can resolve many issues regarding your business operation from one place.
You need a WordPress form builder:
to accomplish more tasks within your WordPress dashboard
to require fewer tools for more actions
to maintain a workflow that's beneficial for your team
to introduce an efficient option for your users to communicate
What you can do with a form builder
Let's see what else you can do with a WordPress form building tool.
Lead generation: Connect your WordPress forms to your favorite email provider, and you can populate leads from your WordPress site.
Survey and feedback: Run a survey to learn about what people think about your products or services with a WordPress survey form.
Payment: Get paid for something you want to sell on your website without integrating WooCommerce or other eCommerce platforms.
Polls and quizzes: A WordPress form builder can be as advanced as letting you create interactive content, like polls and quizzes.
Coupons: Coupons have a significant impact on increasing sales, and you can use a form plugin to associate the coupon system along with the payment forms.
Event management: Creating event registration forms, sending notifications for successful entries, getting paid for tickets, applying restrictions on the number of seats – a lot of options are available in a WordPress form plugin to do all these things.
User registration: Want to create a membership site or to add users to your current website? An advanced form plugin will allow you to do that.
Front-end post creation: One of the easiest and effective ways to get user-generated content is by enabling front-end post submission options. A WordPress form plugin is the right answer for that.
As I said, the possibilities are endless with a WordPress form builder.
Get the right option, and enjoy a brilliant experience for taking your business to the next level without accessing a different set of tools.
Why people are denouncing Gravity Forms
What's interesting about Gravity is they don't sell a set of tools.
They sell a combo of different sets, like what you see in the super shops during an offer or SALE.
What's more frustrating is they organized their packages so unfairly that you'll have to think a lot about whether to go for it.
Let me put an example. They don't offer payment options in their basic plan. What's worth the $59 for?
With Fluent Forms, you can get access to all the advanced features, including the payment.
You have to spend $259 for Gravity Forms Elite if you want to enable user registration or advanced post creation.
Gravity Forms boasts about their ecosystem, which is nothing but a hoax to cut the user's pocket.
Whereas they could've integrated the features inside their plugin, they introduced many ventures.
Someone explained it very well.
Developers tend to open their own company with a small product after working in Gravity and announce it as a part of the ecosystem.
Every WordPress form plugin can include quizzes, coupons, surveys, and other options as an individual feature.
But Gravity tries to convince people that they are helping the community by developing tools for business growth.
Point to be noted, people are not leaving Gravity only for crazy pricing, but there is something bitter and disappointing.
Gravity doesn't bother about updates!
Yes, they think they're the #1 WordPress form builder, and they onboarded enough customers on their loyal fan base.
That's not how it works in the technology world.
Think about WordPress, Facebook, Chrome…
How often do they release new updates? One fine morning, you'll see the favicon appears on the left side of the page title on SERPs. A few days later, they're gone!
I don't talk about Facebook because you must experience that a lot.
Changes are good. Sometimes they might not deliver what's expected. But changes are necessary.
When you stop updating your products, it means you no longer care about your customers.
Not listening to customers, unfair package distribution, and spurious ecosystem – the reasons that trembled customer's beliefs.
WPForms is utterly a BAD BOY
A lot of people put their trust in WP Forms.
The number of active installations on the WordPress directory makes us rub our eyes twice to believe if it's the right number.
They did well there, and we couldn't restrain ourselves from clapping for them.
Soon our appreciation became frustration, and their excellence got questioned.
One day, a tweet caught our sincerest attention, where the user complained WPForms is not letting him check or use his entries in the free version.
And, there are more tweets.
It's like a flock of birds chirping in the morning.
This is unfair. What you say free you should let people use it free.
You can't say the water is free, but you need to buy glasses from us for drinking.
That's not the end of their wickedness.
On a recent YouTube, the owner of WPForms made a video from their mother site, also known as wpbeginner.
The topic was the best WordPress Form Plugins.
He wrote a video description where he mentioned only three. The three he owns.
I mean no Gravity, no Ninja. I don't mind no Fluent Forms, though.
Ninja Forms – the ultimate money sucker
After seeing the above image, you can understand why they're called money suckers.
You can see I have added only four features to the cart, and it costs me $175.
These are not integrations or third-party tools.
You can find these features in any core package of WordPress form builders, including Fluent Forms and WPForms.
Why should someone have to pay separately for conditional logic or multi-page forms while they're genuinely basic options?
Ninja Forms free plugin on the WP directory is a popular one with lots of reviews.
The truth is, many plugins are now available in the market with genuine quality where you don't have to pay for using the conditional logic.
Maybe at the beginning, Ninja Forms was a charming option. But the scenario is different now.
New WordPress form builders entered the market and added value to users' lives.
It's clear that the Ninja Forms core plugin lacks fundamental features that other plugins offer without any charge.
Once in the beginning, I have shown you how costly Ninja Forms is if you want to use some basic features only.
When you want to go for the premium option, you might think at first, "I'll take only what I need."
That seems cheap because you don't have to pay for the whole package.
Your needs will grow along with your business, and you can then understand how expensive Ninja Forms is.
The cost will be so huge that it will surpass all its competitors.
A New Dawn For Caldera Forms Users
Why Fluent Forms over the legendary form builders?
Count less or countless.
That's the lucid difference between Fluent Forms and all other tools reigning the industry.
Let's make it clearer.
With Gravity Forms basics, you'll feel deprived because it was devised that way. You'll be felt luring to get to the Elite.
Likewise, if you choose WPForms free, you're going to learn soon, a lot of essential and fundamental options are blocked.
That's "count less."
Is Fluent Forms that better?
Why should you believe me? Isn't it obvious I'm promoting this product?
Why don't you get all the free plugins and compare yourself?
That needs time, a'ight?
Precaution: Gravity will not allow you to touch it without spending some pennies.
However, pretty soon, you'll discover Fluent Forms offers everything in its free version that a big question will come into your mind: why the hack should I buy this plugin or any plugin?
And, 100K+ people can't be wrong. (That's the active installation number in the WordPress directory. I know it's not that big compared to other GIANTS, but that's like Liverpool's win the Premier League title.)
Not everything is free in Fluent Forms. Some options are locked to make you go for the pro. C'mon we have families to feed.
Long story short, Fluent Forms free is better than other free options like WPForms or NinjaForms.
You got it. That's "countless."
Because of the integrations, it might seem Gravity basics is winning. Still, Nah!
Think about the scenarios:
You're budding with your business and cannot afford a tool for building a for, but you need one
You're not a big shot marketer. A tool is needed to make regular forms for contact or quick market research
You want to start building your email list but aren't capable of spending money right at this time
You want to know a product better before making the purchasing decision
You don't need the integrations and payment, but input fields might come handy to design a form
You want to analyze your collected entries without seeing any censor there
You want to be able to create any form, I repeat, any form, with the combination of prebuilt forms and barrages of data
I can go further, but I want to make my point here. At any of the situations pointed above, Fluent Forms is the winner every time the battle repeats.
It's an open challenge and an honest statement. Readers can justify their conscience, I believe.
Fluent Forms literally shook the form industry by storm, and it's becoming the Last Jedi.
It's the trendsetter, the groundbreaker, and future leader.
Our users will say a promise keeper. Don't trust me? Join this Facebook community, and hear the shouts.
How to choose the right form builder
Without having a professionally sophisticated tool, your effort will end up getting torments and the least expected outcomes.
Therefore, you need to look out for the following parameters before making a form builder as your growth partner.
Essential features: The list of essential features is severely long. I won't go to that extent. But conditional logic, multi-step forms, entry management are a few important ones to mention now.
Drag and drop builder: A no-brainer solution is always appreciated, especially by users who have no coding knowledge. On top of that, everyone loves time-saving options, even developers who can build something from scratch. An advanced tool like Fluent Forms doesn't require you to drag and drop because all you need to make a click.
Prepared templates: The more pre-built templates you have the better you can work. A readymade template not only saves your time, but it will help you get the idea also.
File upload: For many reasons, file uploading is a great option. You may want your users to upload an image or a document to process the next steps. In those cases, uploading files will resolve issues excellently.
Inbuilt fields: These are more helpful than the ready form templates. A bigger number means you can have more added benefits. Choose a WordPress form plugin that has a myriad of input fields made for action.
Calculation: With advanced calculation, you can create a car loan calculator to dynamic payment summary. Subsequently, you can apply the calculation to survey, lead scoring, the payment total, and what not!
Instant notification: After submitting a form, users should be notified instantly. That includes a 'thank you message' as well as an email confirmation. Either way, a smart form builder must have the notification feature.
Analytics reports: Don't you need to know how your forms are performing, and which form is gaining the most responses? That's what a report does, showing you total submission with the user's details.
Zapier: It's a connection tool that bridges between two apps. Currently, Zapier has 2000+ integrations in its hoard. If a WordPress form builder doesn't have an integration you wanted but has Zapier, you can connect the tool with your forms.
Comprehensive Docs: A form builder tool might have hundreds of options, and each one has its own style. But, the documentation makes it easy to educate users on how to customize forms and integrate functionalities. The docs should be presented in a way that you don't have to go for support.
Higher compatibility: Today, a tool can't work alone. It's needed to work with other applications without any confrontation. WordPress itself offers a vast ecosystem where thousands of apps work together. Your form plugin must not have any issues running with WordPress theme builders and various themes. Mobile users also should get the same experience as desktop screens.
Limiting and restrictions: In many cases, you may have to restrict your forms with numbers, for example, closing form submissions after 1000 respondents. Scheduling is also another required feature so that you can open the submission time as your preferences.
Email connection: Can you imagine a successful online business without email marketing? By connecting your favorite email providers with your forms, you can take your marketing effort to a monumental level. Look out what email marketing integrations are available with the form builder you choose.
Third-party integrations: Some tools offer only a limited number of external applications, while others can inundate with loads of connections. In contrast, you may see popular inclusions on the small list but many unnecessary options on the big list. On top of all counts, the bigger numbers may seem most beneficial, but I'd suggest to check out if it holds what you need. If you don't know about what to look for, then see if it gives you familiar apps. Options like ActiveCampaign, GetResponse, Mailchimp, Trello, Google Drive, PayPal, Stripe, and HubSpot could help you better.
Developer-friendly: While most of the users are general people – meaning without hands-on coding – there are also a great number of developers who want to use the tool with their freedom. One of most wanted features is action hooks that empower the users to go extra miles beyond the default setting. Furthermore, the custom CSS allows customizing forms with beautiful styles. And, that's really a handy feature because it's easy to implement by anybody.
Support and update: Support should be a top priority of any service because anyone can get stuck at any moment regardless of their knowledge and experience. Although WordPress form builders are self-explanatory users might get convoluted sometimes with advanced functionalities. After support, regular updates are also essential. If a tool claims that we built the most sophisticated system and we don't require any improvements, then it's wrong. Technology world is changing fast and a new trend takes place anytime. Besides, an unknown feature of today may become a necessity tomorrow. That's why updates should be in order if not frequently.
Pricing: What cost is the right for a plugin depends on features and third-party addons. However, a plugin should not break your bank because you have to buy other plugins as well. A form plugin is not the answer to all problems. Many plugins show a fair pricing module while some demand unbelievable pricing structure. For example, some plugins sell their addons separately and some have discrimination with different packages. You should look for a plugin that gives you all the features you need and cost at your ease.
How to create a form in WordPress
Let me show you the step by step process of creating a form in WordPress for any purpose.
First, go to Add New from Plugins, which is located on the left side panel of your WordPress dashboard.

Type Fluent Forms on the search bar and Fluent Forms will appear on the top.
Click Install, and then Activate.
Now that Fluent Forms is installed and activated, you can start building your forms.
Now go to Fluent Forms. Click the Add a New Form button from the top.
It will open a new window with all the prebuilt templates (there are 66 in total). If you're free users, you can use some of them.
Alternatively, you can choose the blank form because you can customize the whole form easily.
Now you're on the editor panel.
Let's make a simple contact form.
Either you can click the '+' icon or select a field from the right side of your editor.
You don't even have to drag the fields – a simple click is enough.
I'm choosing the name, email address, and simple text, respectively.
That's it! We're done with creating our first form.
Have a look at the top-right of your editor. You can see something like .
This is called a shortcode that you can paste anywhere on your blog posts, images, and sidebar.
That's how you can place the form multiple times without generating a new form every time.
Best free WordPress form builders
Almost every WordPress form builder has a free option except Gravity Forms. Free form plugins are great when you want to get an idea of how the plugin works or if it fits your requirements. You can also understand the learning curve with a particular tool.
WPForms
WPForms offers a lite version on WordPress directory, and has millions of active installations.
In the free pack, you can get four templates to get started: blank form, simple contact form, newsletter signup form, and suggestion form.
However, they have 150+ templates available with a premium addon.
WPForms has 30 input fields, and you can use only 10 fields as a lite user.
With pre-built forms and drag and drop builder, you can create beautiful forms for your websites.
You can embed any form to any post within your website through gutenberg block.
In addition, WPForms is mobile responsive and server-optimized, so your forms will work better on different devices and websites.
Well, there's nothing more to say about WPForms when we choose the lite option.
Inside the premium package, there are advanced features and dozens of addons to take your form building experience into the next level.
CONS: The biggest con of WPForms is you have to pay to see the entries. They allow you to use the plugin free and get data by user's submission. And then, you can't see acquired info because it's under a premium option.
Ninja Forms
Ninja Forms is another popular WordPress form plugin with a lot of features and functionalities.
It also has drag and drop builder which makes the process easier for beginners.
You can display any form on your website using shortcodes generated naturally.
Along with the blank form, there are 16 additional templates in Ninja Forms although some of them require you to buy.
Another exciting thing is the free version offers all the input fields unlike WPForms.
CONS: While Ninja Forms basic allows you to use all the input fields, it requires a lot of extra work to customize the field according to your need.
Fluent Forms

If your search is based on which plugin is most popular in the WordPress directory, Fluent Forms appears under a few other prominent plugins.
Aside from active installations, Fluent Forms comes with some ridiculously amazing features that other plugins are missing out. By the way, Fluent Forms has now 90K active installations.
So, what's the difference? How Fluent Forms stands out the crowd?
While other form builders passively force users to convert to premium version, Fluent Forms wants its users to be beneficial, without spending a dime.
26 form fields, 27 ready templates, and 5 third-party applications are available with the free option. The excellence continues with conditional logic, confirmation message, form restrictions, and custom CSS.
You can also export, import, and analyze data in the free version. In some form tools, viewing entries require buying the pro.
With Fluent Forms PDF, a free PDF submission plugin, you can export all data in PDF.
For email marketing, you can rely on Fluent Forms even with the lite package. Connect your favorite email providers from Mailchimp, MailPoet, and Mautic.
Some of the form fields are exceptionally useful because many form builders charge you to use them. Fields for GDPR, custom HTML, country list, reCAPTCHA, section break, multi-column container, and T&C are needed to mention.
Fluent Forms free is a powerful tool when you're not ready to buy the premium option, but want to run your small business and enjoy a complete form building solution.
Forminator
Forminator is a free WordPress form plugin with tons of features and integrations. The visually appealing layout will turn your form building experience into a pleasant one.
Besides contact forms, you can create payment forms, interactive polls, registration forms, order forms, and more.
You can avail many important features without spending a dime with Forminator, such as surveys, polls, front-end post submissions, and custom registration forms.
Forminator even offers popular integrations free that include Mailchimp, Trello, Campaign Monitor, Slack, and a few more. Not only that, you can use Stripe and PayPal payments in the free version too.
I think those free features are a big reason to consider this plugin. But it also got a nice drag-and-drop interface and some other benefits to offer.
In my view, Forminator has all the best things in the free package when you're looking for budget option. If you need more advanced functionalities, you can upgrade to pro anytime later.
CONS: Although Forminator is overall a brilliant form plugin, it loads unnecessary CSS which can be alleviated for faster loading. It also doesn't have PDF entry submission. Lastly, the number of form fields is fewer than other plugins, and it appears poorly with the ready form templates.
Best premium WordPress form plugins
With premium WordPress form plugins, you can avail more trailblazing features that can lift your form building experience from ground to the top. The price varies depending on what a tool offers. After reading the details, you can understand which plugin is right for your money.
Fluent Forms
Fluent Forms Pro holds the best value among all the WordPress form plugins exist in the market.
It's a comparatively new WordPress form plugin, but it became popular faster than its other competitors.
The reasons are pretty obvious. First of all, the free version is so promising that anyone can integrate it successfully for their business.
Let's check out a few things you can get with any pricing plan.
Conditional logic
User registration
Conversational forms
Accepting payment
Advanced calculation
75+ pre-built templates
Spam protection
File uploads
25+ integrations
Visual reporting
…and a lot more
FYI, Fluent Forms doesn't have an unrealistic pricing plan like Gravity Forms, or that bank-crushing plan of Ninja Forms.
The only difference you'll see here is connected with the license duration — whether it's annual or lifetime.
Unlike Gravity Forms, every user gets equal support, without a classification of Standard Support and Priority Support.
Fluent Forms is the only plugin that provides support for free plugin, not only in WP directory but also in-house.
Fluent Forms is an utterly developer-friendly tool that shows the talented people the right path to follow.
The extensive API docs cover tons of useful guidelines, such as developer docs, action hooks, filter hooks, reference API classes, and data definitions.
Gravity Forms
With the Gravity Forms Basic license, you can use conditional logic, multi-page forms, and the Basic addons.
Gravity Forms has three different plans with a lot of features, all are separated within the bundle.
What that means is, if you spend for the basic plan you can't access payment or surveys because they're under Elite plan.
The basic license has some interesting features like conditional logic, 30+ input fields, file uploads and basic addons.
Well, you may count on some differences like you won't fide rating fields in Gravity Forms although it's available in Fluent Forms.
Customers can rate their experience with stars if you add this field to your form, that's why it's really a handy feature.
Don't expect to see the live preview in Gravity Form because it's missing out this essential feature.
Fluent Forms, on the other hand, lets you see how the form looks during your customization.
Gravity Forms has reCAPTCHA, Really Simple Captcha, and Akismet to prevent spam through your forms.
If you upgrade your license from basic to pro, you have to spend $100 more but it doesn't add value that much. Why?
Because, payments, partial entries, signatures and a lot other crucial features are yet to access via the Elite license.
WPForms
WPForms Pro offers some great functionalities with its user-friendly settings and some limitations as well.
While they set a bar for accessing entries in the lite version, you can use unlimited entries with the pro.
Above that, it bolsters your form building experience with 100+ templates, spam protection, offline forms, file uploads, and more.
The customization with WPForms is easy because it lets you change a field size from the dropdown option and positioning fields with the layout buttons.
Other than these, you can embed forms made with WPForms across your whole site and that requires no extra coding – using shortcode or block.
Ninja Forms
The Ninja Form form builder shows you what your finished form will look like as you work.
All form fields are available in the free version of Ninja Forms. Keep in mind that some fields won't work unless you pay for an addon.
It's also worth checking that the fields work the way you expect. For example, the address field is primarily designed for US addresses. You can customize this manually. But there's no way to quickly change the address scheme.
You can add spam protection to your forms. Ninja Forms supports some types of Google reCaptcha, but not the latest reCaptcha v3.
If you want to change the layout of your fields, you will need to write your own CSS, or pay for a $49 add-on.
Which WordPress form plugin to choose
Being a little biased, Fluent Forms is the best WordPress form builder that helped many businesses grow.
It's your turn to accomplish more with less effort and see your business jumps to the apex of success.
Let's see a few reasons why I'm bragging about Fluent Forms:
It's easy for no-brainers without requiring previous coding experience
Selected as the fastest form builder tested by a research firm
More spam protection
Click and see. Seriously! You don't even need to drag.
Fluent Forms has the most features that you can find in other plugins. Only some integrations may be missing, which is ignoble because everybody's need is different, and there's Zapier to connect 2000 applications. We also add features based on requests.
The future of WordPress forms
From the evolution of web forms, we can see that contact forms turned into a powerful marketing tool.
Beyond allowing users to connect to the site admin, we use forms to populate data for various purposes.
We can create a survey to collect feedback, poll to generate opinions, payment forms to get paid for services.
WordPress forms are already empowering small businesses with tons of world-class features.
The payment would be more robust. People might not look for a separate payment tool.
Forms would work more vigorously that we don't have to integrate many third-party plugins.
WordPress plugins will fulfill more additional necessities.
Conversational forms will be popular. Currently, Typeform – a SAAS form building tool – is gaining tremendous traction for the conversation-style form creation. In WordPress form plugins, WPForms offers conversational form. People will go for the type-and-enter forms in the future.
Conclusion
Now you know the ins and out of WordPress forms, and I hope your knowledge bud is filled with some great information.
Confusion is a killer for growth. Apply what you've got from this post by selecting the right WordPress form plugin.
We suggest the lite versions of Fluent Forms because:
It's doesn't cost a single buck
It offers many cutting-edge features that normally come with a premium plan in other plugins
You can test the functionality and get acquainted with the interface
You can upgrade to the pro version easily if you feel you need that
That's all! Time to get action and accelerate your business growth.
---
Sadiq Ahmad
I am a fan of 'WordPress' and 'Haevn.' After spending one-third of my life with WordPress, I can advocate, this CMS lets you create anything you could imagine. Build. Expand. Grow. Hi, my name is Sadiq. I write about WordPress while listening to Haevn.