Effortless Recruitment With Easy Job Application Form
Mahiyath C
. April 3, 2021
. 8 minutes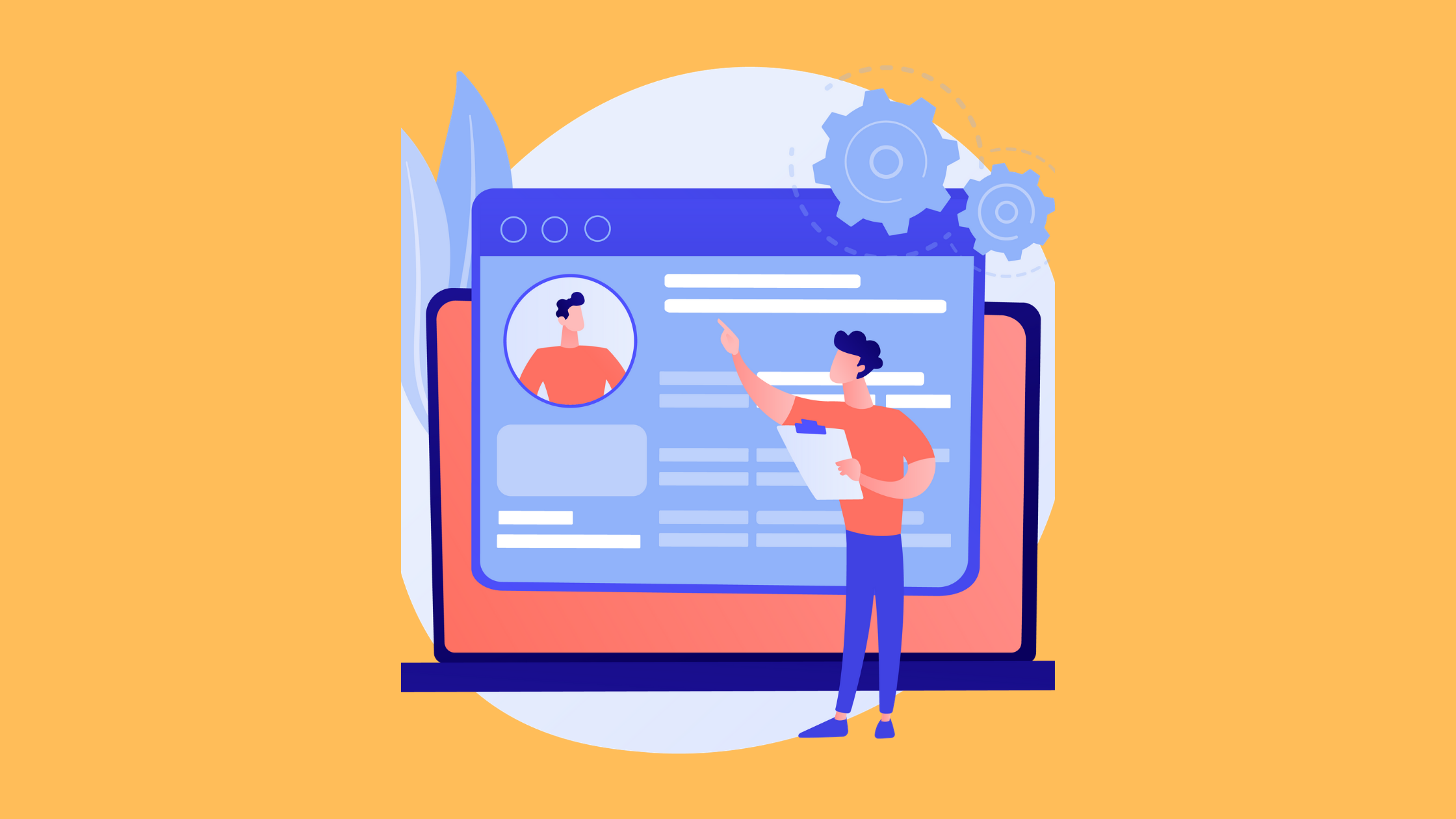 The entire hiring procedure is a very hectic and troublesome one. You will have to collect a lot of data, most of which will be discarded. So, the tricky thing here is knowing when to ask for what.
A job application form can help you fetch data on a need-to-know basis and compartmentalize that. And to ease the process even more, choose a powerful form builder with plenty of input fields and integrations.
An efficient WordPress form builder, Fluent Forms provides a seamless form-building experience to the users. Anyone can use it to collect precious information without needing any codes.
To make things even more smooth, the plugin comes with 45+ input fields. They range from the basic name field, email field to advanced GDPR fields, file upload, payment fields, color picker, etc. You can use them to effortlessly create any form you want.
One such widely used is the job application form. And you can create it easily with Fluent Forms to make the selection process even smoother.
How to install Fluent Forms
We will be using Fluent Forms to create our job application form. To do that, first, we need to have Fluent Forms installed. So let's go.
Head to the WordPress repository and download Fluent Forms for free. Now head back to your dashboard and go to the plugins section. Click on the Add New button and upload Fluent Forms to install. And you're done.
Some features are restricted to premium users only. So it may be wise to upgrade your free license to a pro one.
How to create a job application form
Creating a job application form is a very easy task. Just note down the information that you need for holding an interview, and you can collect the rest afterward.
Follow these simple steps, and you'll be able to make a job application form with ease. So let's go.
Start with a fresh page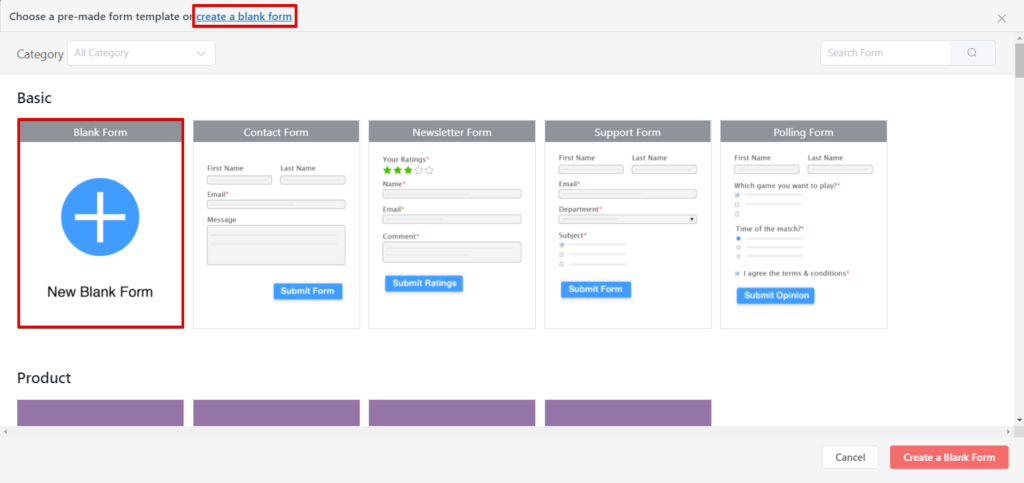 Before you start designing a job application form, you're going to need to create a form where you can work. To do that, go to the Fluent Forms dashboard and locate the Add New Form button. Since we will be designing our own form, it's better to go with a blank form template. This will allow us a blank canvas to work on. When you select the blank form icon, a blank form will be instantaneously created.
Ask what to call them
First and foremost, you're going to know what to call your applicant. You can obviously do that with a single-line text field. Or, you can make a more brilliant choice and opt for the name field.
The name field is an elegant way to collect names. It breaks down a first name, last name, and middle name into separate fields to avoid confusion. These are complete with their own placeholders, help messages, and labels, etc.
Know where they live
Next, you're going to have to ask them for their address. This is asked regarding concerns about the candidate's availability or whether the company would need to pay a relocation payment.
Drag the address fields and check all the information that you need. From Address lines to country fields, add all that you need. You can configure placeholders, help messages, etc., for all of them.
Ask for their contact information
The most vital part of the job application form is the contact address. You'll need to inform candidates whether they made it to the shortlist or not. Even if they forgot to submit their CV, you would need a contact address to inform them of that.
Mostly, emails and cellphone numbers are asked as contact addresses. For easy functionality and simplicity, drag a two-column container from the right. Now, on one of the containers, drag an email address field, and on the other, a phone number field.
There you have it—one column for collecting contact addresses. You get the data you need without making the form complex.
Ask for a photo
This is entirely optional. Some companies ask for a photo, while others do not. If you feel like you need to collect a photograph of your candidate, feel free to use an image upload field in your job application form.
Although a file upload field will also do the job, image upload makes it more straightforward. Define the maximum image size and image format, and you're done.
Image upload is a premium feature. To avail this feature, download Fluent Forms Pro.
Clarify the position they are applying for
At this point, it's better to clarify why they are filling this form. Now that you have all their basic information ask them about the post they are applying for.
Just drag a dropdown field, and configure your posts in the options. The candidates can select the position they are applying for.
Additionally, attach a Trello board for this form to make things easier. Set conditional logic so the submissions get added to different lists based on the option they tick on the dropdown.
Know when they can join
Next, you will have to make sure the candidates are available when you need them to fill in a post. An excellent way to do that is by asking when they will be able to join.
To do that, add a Time & Date field, and a calendar will appear for the candidates to pick a date from. Moreover, you can filter more by setting advanced date customization.
Collect their cover letter
Now for the crucial part, ask them about themselves. How a candidate presents themselves has a lot to tell about the candidate. Offer a text area field and tell them to define themselves.
This can also work as a cover letter. A simple text area can be used in many ways. You can either ask them to "Describe yourself in a few words", or "Why do you wish to work here? This will work as your cover letter" Just edit the Element Label of your job application form accordingly.
Collect resume
Finally, it's time to collect the resume. A file upload field in your job application form will help you in this regard. Just drag it into the editor, and configure the settings.
You can restrict the file size, file number, and even file type. This way, you don't have to deal with unnecessary hassles. Simply compose an error message, and the candidates will readily know about their mistakes and correct them without any commotion.
File upload is a premium feature. To avail this feature, download Fluent Forms Pro.
Automate emails
If you give out a recruitment notice, you are going to be flooded with tonnes of submissions. More so, if you plan to hire for more than one post. Hence, it is absolutely vital to keep all the job application forms organized and assess them systematically.
Fluent Forms gives you several options in this regard. If you plan to communicate via text messages, then connect your form to a Twilio feed, and you'll be able to send updates and news through text messages.
And if instant messaging is more up your speed, then set up a Telegram feed, and it'll take care of the rest. You can also group candidates up and hold a discussion beforehand.
Lastly, there are several options for traditional emails like GetResponse, ConvertKit, Campaign Monitor, etc. Simply create a feed, and the integrations will take care of the rest.
Job application form in a nutshell
The entire recruitment process is already a tedious and hectic one. But with Fluent Forms, at least your resume collection doesn't have to be that.
Build a straightforward job application form in minutes, set up email or text message feeds, and embed it into your page. Share the link across all your channels, and viola! See the magic happen.
Your form submissions will automatically be sorted, and that too without any extra hassle to you. Don't believe us? Try it out yourself! Download Fluent Forms Pro today, and if you don't like it, money back is guaranteed.
---
Mahiyath C
Mahiyath is a digital marketer for Fluent Forms. She likes to explore through the alleys of WordPress and learn about the themes and plugins, currently specializing in WordPress forms. When she's not doing that, she's planning her next adventure.