Squarespace vs WordPress: Which One is Best for Your Website in 2023?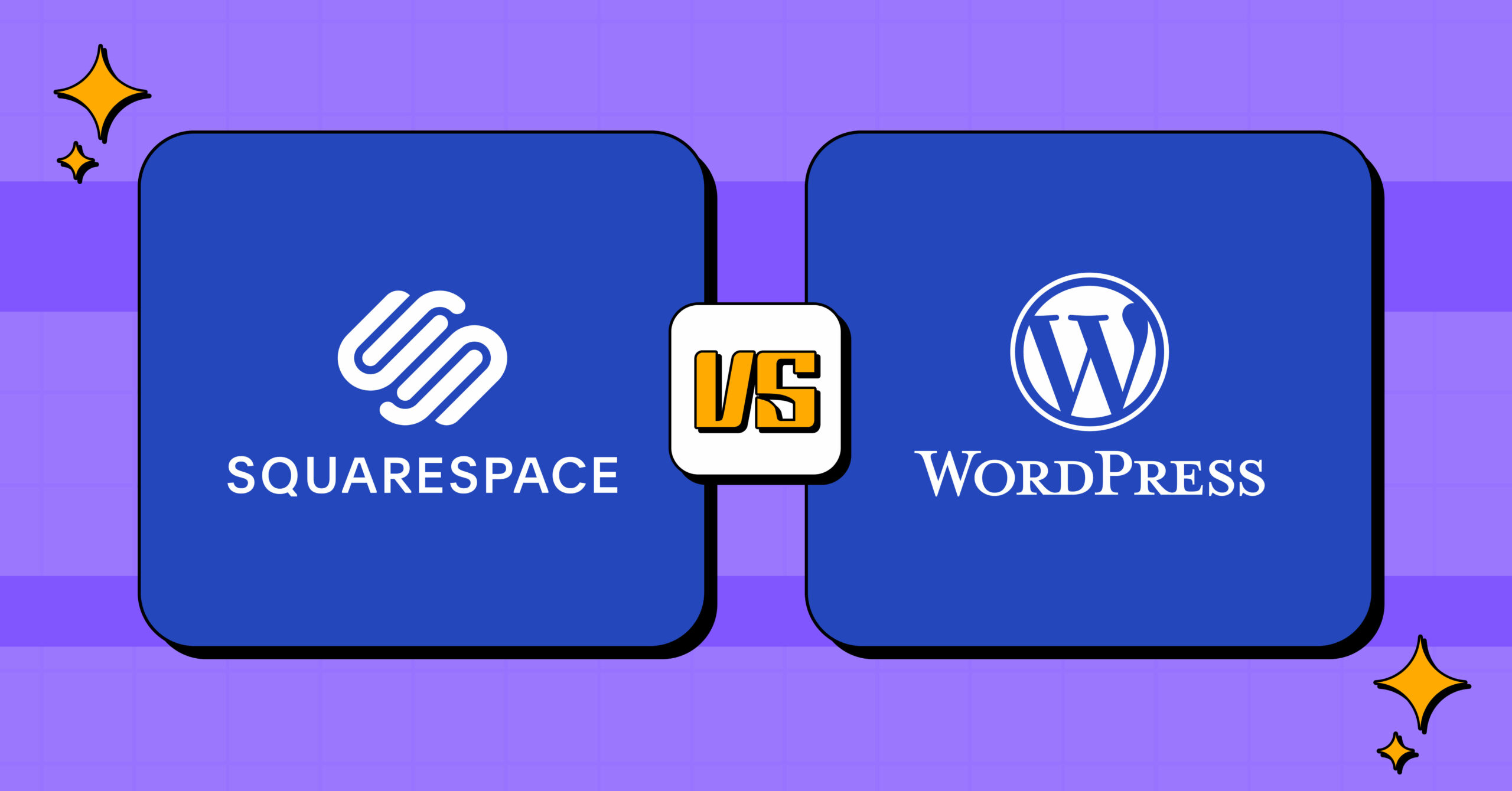 Are you stuck in a Squarespace vs WordPress dilemma and wondering whether to go for one or the other? With so many website-building platforms available today, it can be overwhelming to decide which platform to use for your website.
But fear not, in this article we'll dive deep into the differences between these two famous website-builder platforms that will make your decision a breeze.
Whether you're a beginner looking for an easy-to-use website builder, or an experienced developer seeking maximum customization, we've got you covered. So, let's put these platforms to the test and see which one comes out on top.
Fluent Forms is the most beginner-friendly form builder. Download now and start crafting beautiful forms FREE!!!
A brief introduction to Squarespace and WordPress
Before comparing these two famous content management systems, let's quickly get a brief overview of Squarespace and Fluent Forms.
Overview of Squarespace
Squarespace is a website builder that offers a wide range of customizable templates and features. It is a popular choice for those who want to create a sleek and modern website with ease. Squarespace offers a user-friendly drag-and-drop interface, which means that you can build your website without any coding experience.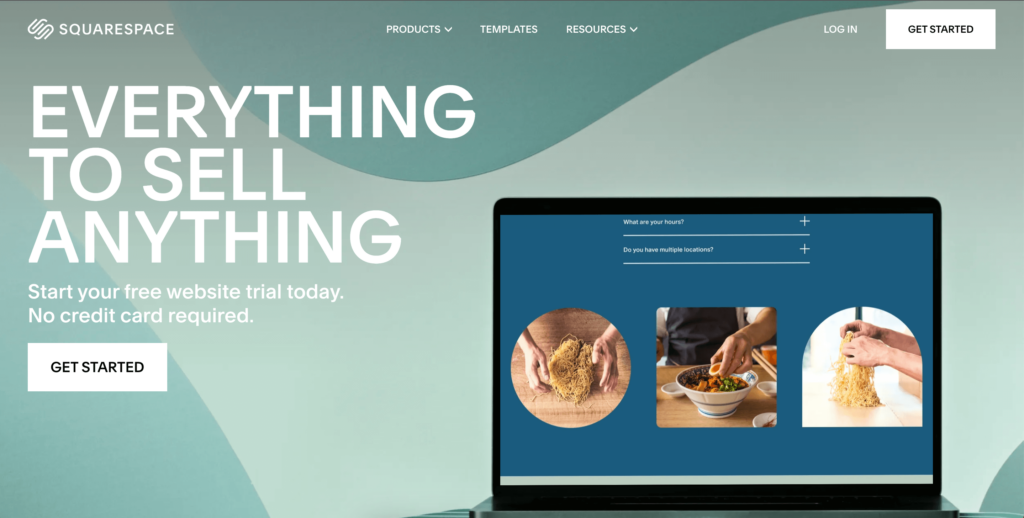 The platform was created in 2004, and according to BuiltWith, currently, it is powering more than 2.8 million websites, including some of the popular websites like Medium, Etsy, Shutterstock, etc. 
One of the standout features of Squarespace is its design. The platform offers over 100 professionally designed customizable templates, so you can make your website look and feel unique. The templates cover a range of categories, including business, portfolio, blog, e-commerce, and more.
Overview of WordPress
WordPress is, rather, a more popular CMS that was first launched in 2003. It is a flexible and versatile platform that can be used to create all kinds of websites, from blogs to eCommerce stores to corporate websites, you name it.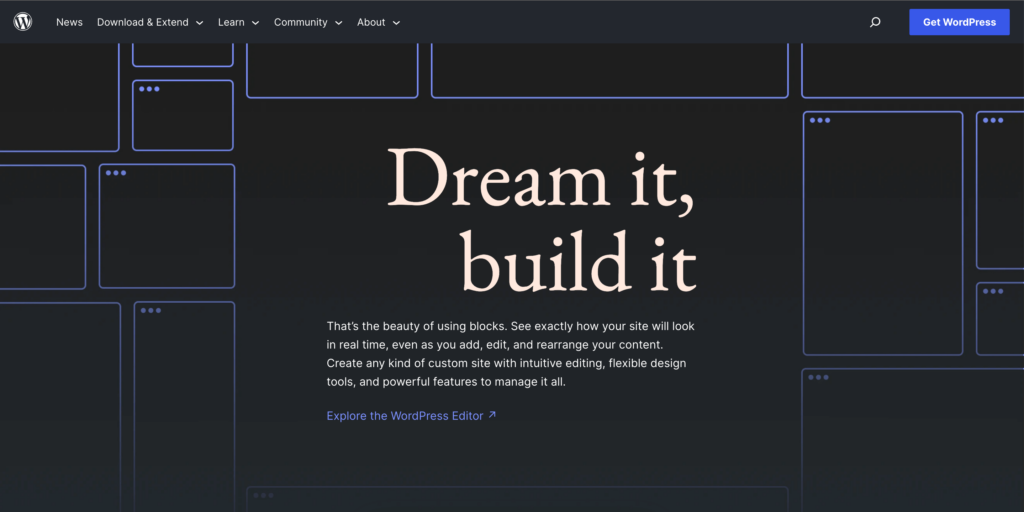 Currently, WordPress powers over 38 million websites. Some of the most well-known brands that use WordPress include Bloomberg, Booking.com, Tripadvisor, and more.
It's worth noting that there are two versions of WordPress available: WordPress.com and WordPress.org. While WordPress.com is a free-hosted solution, it does have some limitations. On the other hand, WordPress.org is a self-hosted, open-source platform that gives users complete control over their websites.
When it comes to choosing between Squarespace and WordPress, this article concentrates specifically on WordPress.org, which is the open-source version and the most popular choice among website creators. The open-source aspect of WordPress implies that anyone can utilize and adjust the software to fit their needs, making it a highly customizable and versatile platform.
Comparing Squarespace vs WordPress
When comparing two content management systems, it's essential to consider various factors. In this comparison of WordPress vs Squarespace, we will take into account the following factors:
Ease of use
Flexibility
Features
Themes
Plugins
eCommerce
Blogging
Security
Maintenance
Support
Pricing
Ease of use
Squarespace
When it comes to ease of use, Squarespace is one of the most user-friendly website builders available. You can create professional-looking websites in just a few minutes using Squarespace.
Since Squarespace is a hosted solution, you don't have to sign up for hosting or buy a domain name to start. All you need is a Squarespace account, choose a template, add some extra features, and you're good to go.
Squarespace offers a drag-and-drop editor that allows users to customize their website design without any coding knowledge. The editor is intuitive and straightforward, with a user-friendly interface that makes it easy to navigate.
Additionally, the platform provides a wide range of templates that can be easily customized to fit any website's unique needs.
One of the coolest things about Squarespace is that you don't have to worry about doing any updates yourself because they take care of it all.
WordPress
WordPress has a steeper learning curve than Squarespace, but it's still relatively easy to use. It's perfect for those who are looking for a more customizable and scalable website.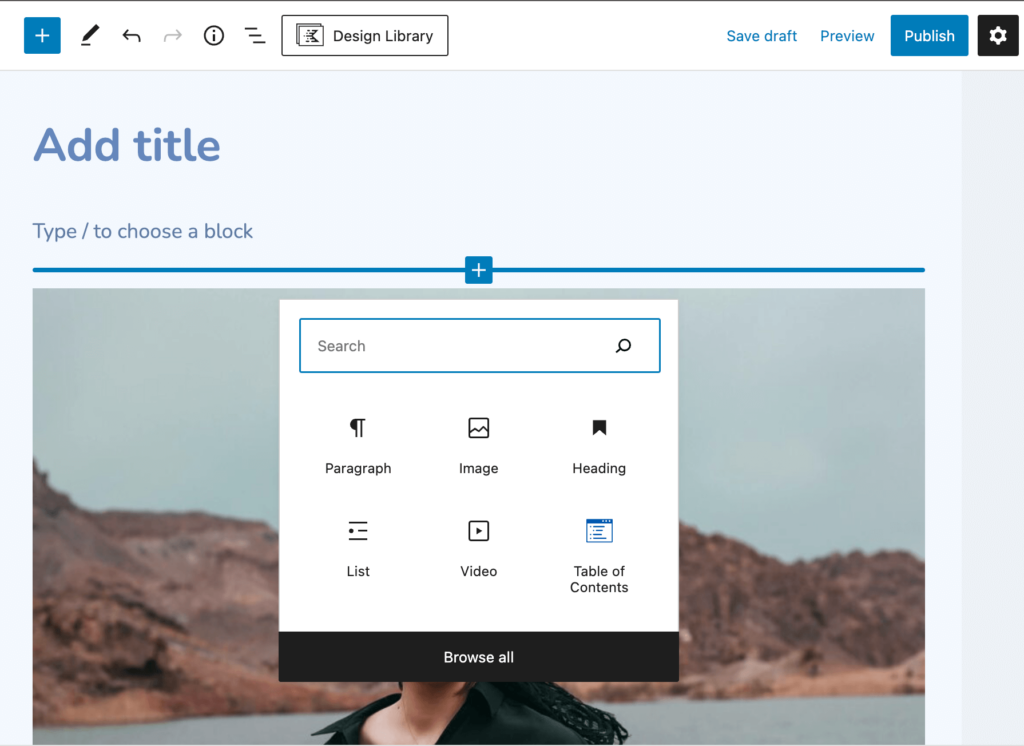 Installing WordPress requires some time and effort compared to Squarespace. However, if you opt for a managed WordPress host, you can effortlessly install WordPress within seconds.
Similar to Squarespace's drag-and-drop editor, WordPress uses a visual editor. But installing third-party plugins is required to get the complete drag-and-drop feature.
WordPress also allows users to edit the website code directly, which gives them more control over the website's design and functionality. This means that users with coding skills can really push the limits of what their website can do.
Winner: Squarespace wins the ease of use category for those who are completely unfamiliar with web development.
Flexibility
Squarespace
Squarespace prioritizes ease of use over flexibility. While it doesn't allow users to access the website code directly, there is a range of built-in customization options. Users can customize their website design using the in-built style options or use custom CSS to further customize the website's appearance.
Squarespace also has a good range of integrations, including social media, marketing, and analytics tools, that users can easily add to extend the power of their websites.
Squarespace may not be as flexible as WordPress, but it provides a good level of customization options for users who want to create a professional-looking website without dealing with the technical aspects of website building.
WordPress
WordPress provides unparalleled flexibility to its users. Unlike Squarespace, WordPress allows users to access its code and modify it as per their requirements. With thousands of WordPress developers, users can benefit from the knowledge and expertise of a large community. 
Users can configure their server according to their needs, and work with specific CDNs that may not be possible with Squarespace. Additionally, WordPress allows users to create their own custom blocks within the page editor.
In addition to that, WordPress offers a vast library of plugins and themes that you can utilize to enhance your website's functionality and aesthetics. With over 60,000 plugins and thousands of themes, users can choose from a vast array of options to customize their websites.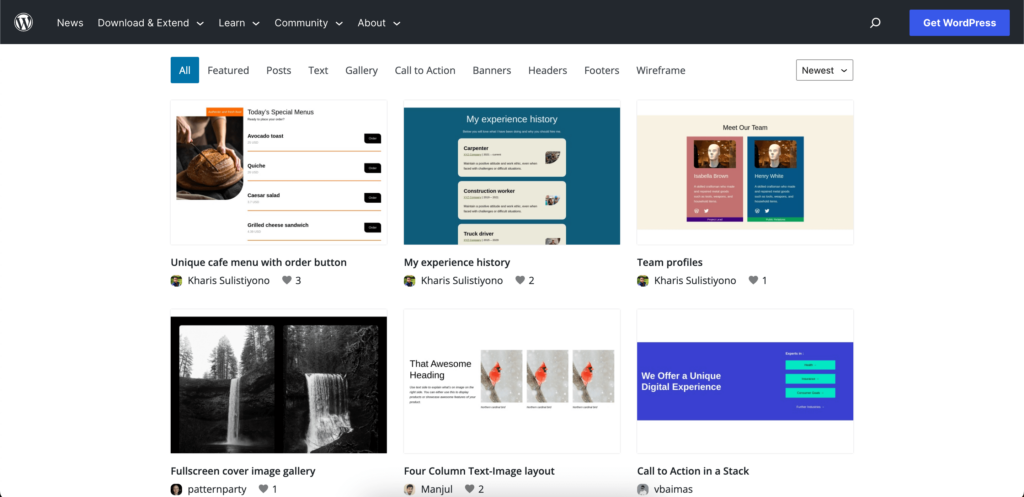 If you are familiar with coding, WordPress allows you to customize its theme as per your preferences. With WordPress, you have the freedom to create a unique website that reflects your brand's personality and resonates with your target audience.
Winner: WordPress! With unparalleled customization options, access to the code, and vast plugins, it beats Squarespace in terms of flexibility.
Features
Squarespace
Squarespace offers more pre-built features compared to WordPress. Apart from a huge collection of customizable templates, there are blogging tools, SEO tools, integrated Analytics features, marketing tools, ecommerce and more. And all these are built-in!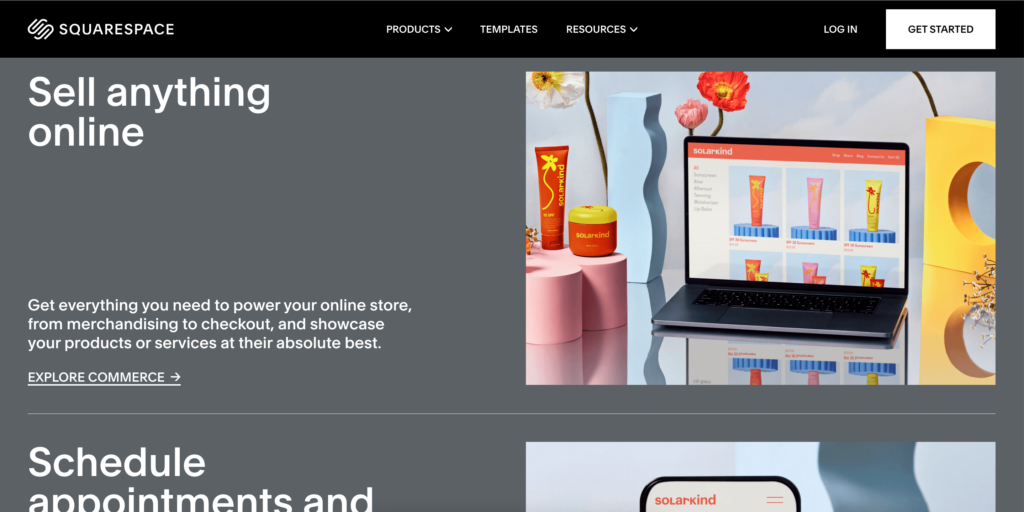 Accessing all these features is possible directly from your Squarespace dashboard without installing extra apps or plugins. You can also leverage leading payment, shipping, social media, and marketing tools by easily integrating and connecting them to your Squarespace website.
WordPress
WordPress offers customizable designs, with hundreds of free and premium themes available that can be customized to fit your needs. Additionally, WordPress has built-in blogging tools as it was first started as a blogging platform.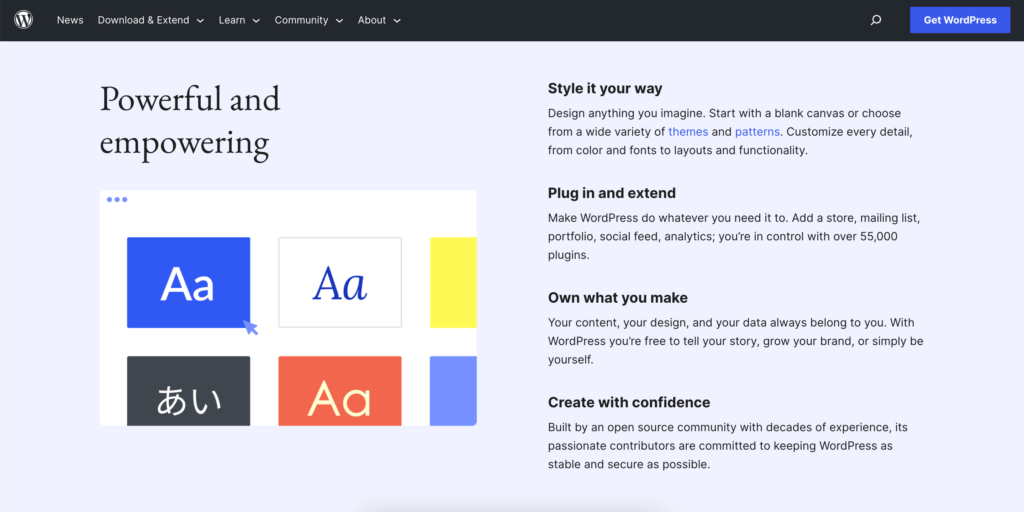 Another impressive feature of WordPress is its ability to support multiple contributors. You can set up different levels of access for each contributor.
While these features are impressive, WordPress's true strength lies in its vast library of plugins. With thousands of plugins available, you can add everything from social media integration to e-commerce features to your website. Whatever you need for your website, chances are there is a plugin available to help you achieve your goals.
Winner: WordPress comes out as the winner in this category with virtually unlimited features.
Templates and Themes
Squarespace
This platform is famous for providing beautiful responsive templates. You can start with a pre-built template and customize it according to your needs. Once you've selected your template, you can add your own images and videos, and adjust the fonts, colors, and backgrounds to make it unique.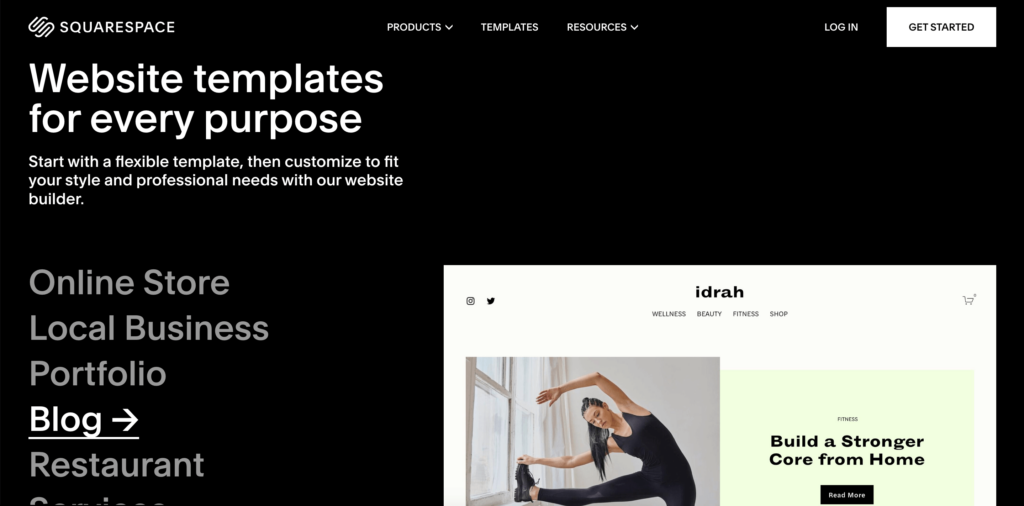 Additionally, every Squarespace template includes a Product page, which comes in three styles: Classic, Advanced, and Unique. Compared to the Classic style, the Advanced option offers more features such as Image Zoom and Quick View.
WordPress
Regarding the number of themes that are accessible, WordPress surpasses its rival Squarespace. WordPress offers its users an ample range of themes. Apart from free themes, you can explore commercial themes or upload your own theme to use on WordPress.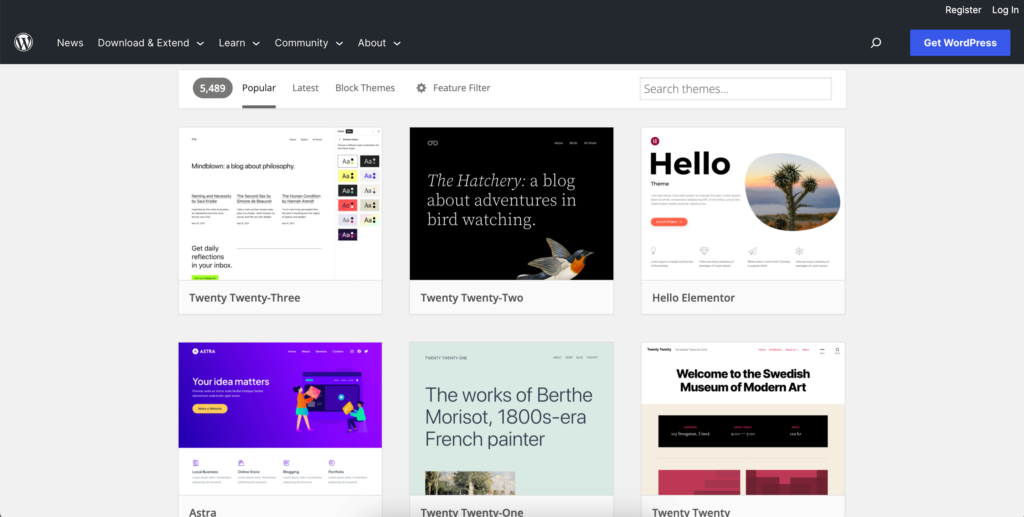 Regardless of the type of website you need, you will discover hundreds of professionally designed themes suitable for the task. If you have some knowledge of coding, you can customize the themes according to your needs, or even create your own. This is not possible in Squarespace.
Winner: When it comes to getting a theme that perfectly aligns with your brand identity or specific need, WordPress is the way to go.
Plugins
Squarespace
Squarespace does not offer plugins that allow users to add custom functionality to their websites. Instead, Squarespace provides a limited selection of extensions. But these are primarily focused on e-commerce functionality and do not provide the same level of customization and flexibility as WordPress plugins. 
WordPress
The true strength of WordPress lies in its extensive ecosystem of plugins that function like apps for your WordPress site. You can install these plugins to introduce new features or modify the default behavior of your site.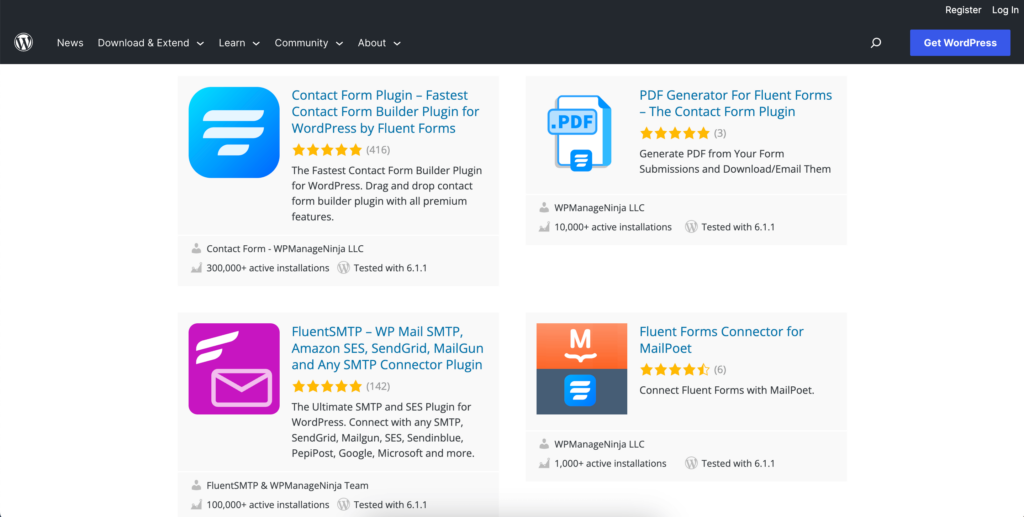 Currently, the WordPress plugin directory lists over 60,000 free WordPress plugins, and numerous premium third-party plugins. You'll find plugins for a variety of needs, ranging from website performance optimization, contact form, security, SEO, social media integration, e-commerce, and more. 
WordPress plugins are incredibly powerful, with some functioning as entire platforms that have their own add-ons and thriving communities. If you are wondering which WordPress plugins your site needs, we've put together a list of essential WordPress plugins that are must-haves for every website. 
Winner: With its impressive range of plugins, it's no surprise that WordPress comes out as the clear winner.
eCommerce
Squarespace
Squarespace has eCommerce capabilities, but they are not as extensive as those offered by WordPress. You can only use three payment gateways – Stripe, Paypal, and Square, which are only available in some selected countries. This limits your capacity to receive payments from a wider global audience.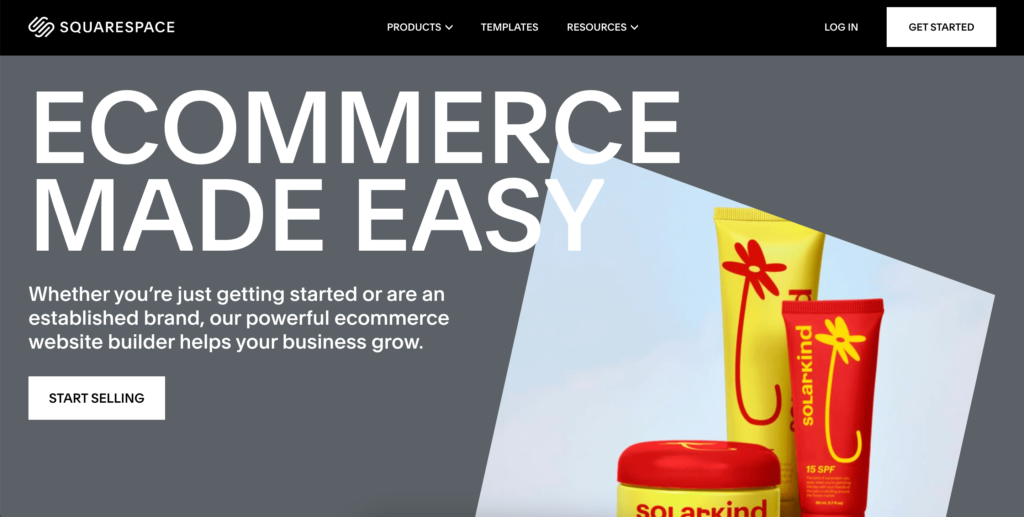 Regarding external services, there are only a handful of third-party services that you can connect with your Squarespace website. Unless you pay for a Commerce plan, Squarespace charges a certain percentage of transaction fees on top of credit card processing fees.
WordPress
WordPress, on the other hand, has a number of different plugins that are capable of turning your website into a fully-functioning online store. One of the most popular plugins is WooCommerce. You can add as many products as you want, display them any way you like, and sell them without any restrictions.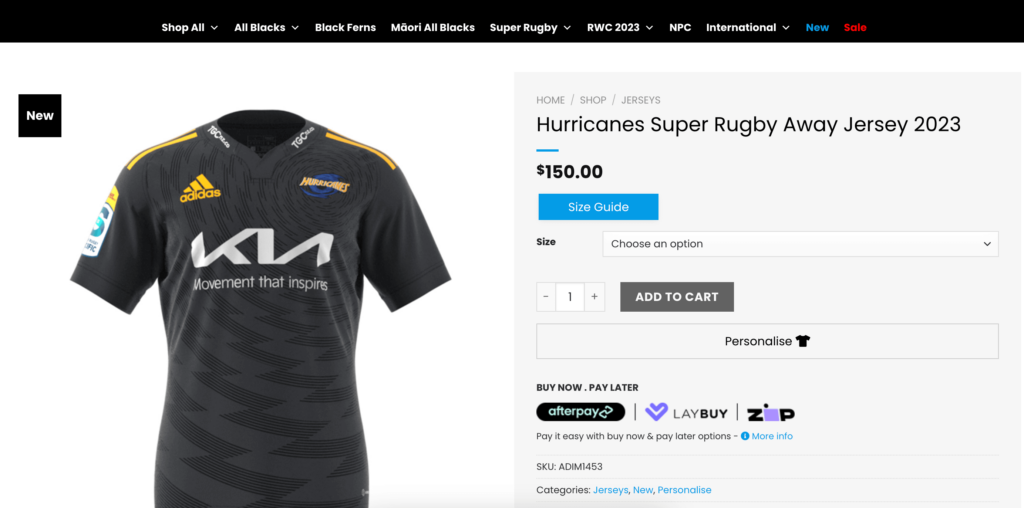 You can connect any payment processing system or platform in WordPress and enjoy the freedom of accepting payments from all over the world. With WordPress, you're free to create your own affiliate program and use any marketing techniques you like to boost your sales. There are no limitations! 
Winner: For anyone seeking to build an online store, WordPress is the obvious choice.
Blogging
Squarespace
Squarespace provides a comprehensive blogging platform that enables users to create, publish and manage their blog content with ease. It also allows users to add tags, categories, and edit their blog posts. Additionally, users can create excerpts and have links to their new posts automatically shared on social media platforms such as Facebook, Instagram, and Twitter.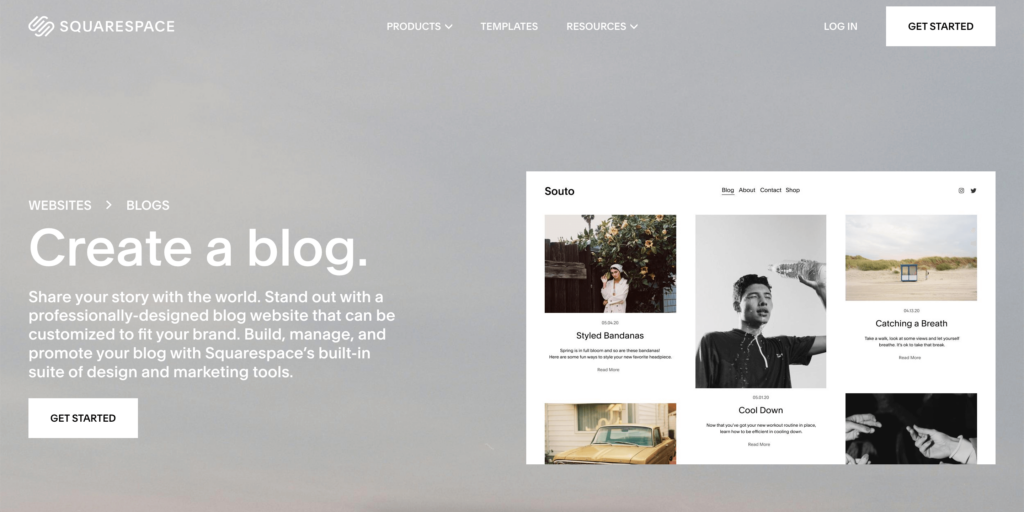 Users can select from a collection of templates to showcase their blog posts on the homepage, either in a single reverse chronological feed or in a more compressed magazine-style grid.
WordPress
WordPress was initially started as a blogging platform that later evolved and got popular as a CMS. That is why WordPress is naturally optimized for creating and managing blogs. It offers a user-friendly interface for publishing and organizing blog content, with features such as tags, categories, and custom post types.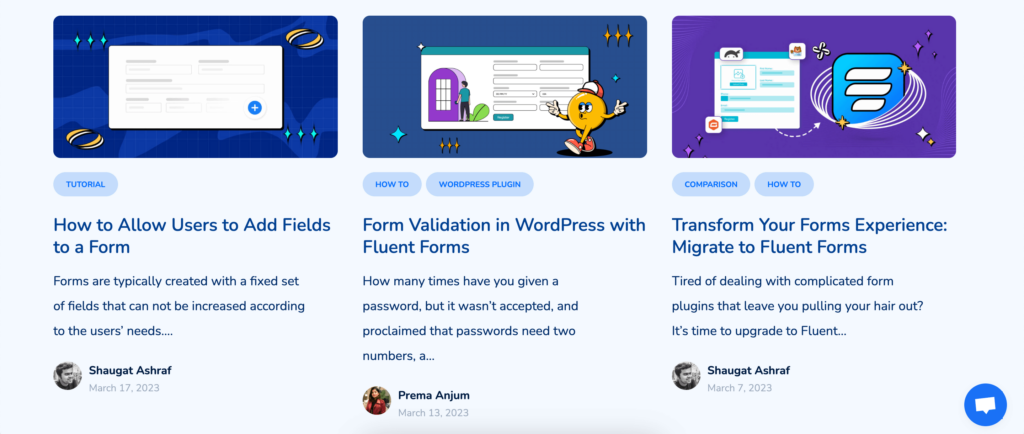 With its extensive plugin library and themes, users can create a unique look and feel for their blog in WordPress. Users can also add additional features and functionality to their blog, such as social media integration, SEO optimization, and more. Overall, WordPress is a flexible and versatile platform for bloggers of all levels.
Winner: WordPress it is! An extensive plugin library and customization options make it the clear winner in terms of blogging.
Security
Squarespace
Since Squarespace is a hosted platform, it handles all security-related tasks on your behalf. This means that the platform is responsible for safeguarding your website against hackers and ensuring that all data is backed up.
Additionally, the platform offers two-factor authentication to add another level of protection to your financial and personal information.
WordPress
In contrast, when using WordPress, you are primarily responsible for ensuring security measures are in place. This means you need to take charge of obtaining your own SSL certificate and keeping WordPress up to date.
WordPress does offer a variety of security features, such as two-factor authentication, encrypted communication, and automatic security updates. Additionally, there are many third-party security plugins available for WordPress that can further enhance website security.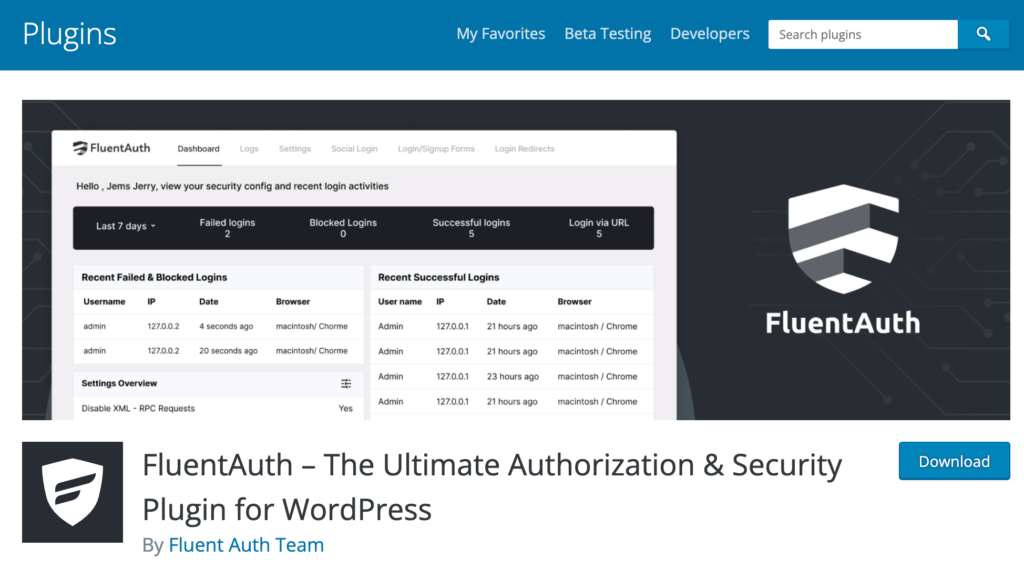 While the security options in Squarespace are limited, WordPress gives you the freedom to manage your security by adding an SSL certificate and various other security layers.
Unlike Squarespace, WordPress users have more control over the customization of their website, and they are able to implement certain security measures they desire.
Winner: For those who prioritize control and customization in their website security, WordPress is the clear winner.
Maintenance
Squarespace
Maintenance for Squarespace is easy as all updates undergo testing before being automatically implemented on your website. The maintenance process is handled by Squarespace, freeing up your time to concentrate on site design.
That said, Squarespace does not provide essential maintenance features such as backups. This shortcoming leaves users unable to back up their entire site, which is a significant oversight on the part of Squarespace.
WordPress
WordPress places the responsibility of handling updates, backups, and security on the user. While this may appear overwhelming, the majority of the tasks are straightforward and can be automated through the use of plugins.
Moreover, if you choose a managed WordPress host, your host will take care of many of these nitty-gritty details for you.
Winner: Squarespace is a better choice if you want to sit back and relax while the updates are managed for you automatically.
Support
Squarespace
Squarespace offers customer support around the clock through email and live chat. In addition to direct support channels, Squarespace has also developed a helpful library of resources for users. This includes detailed help guides, workshop videos, and a community forum where users can ask questions and receive insightful responses.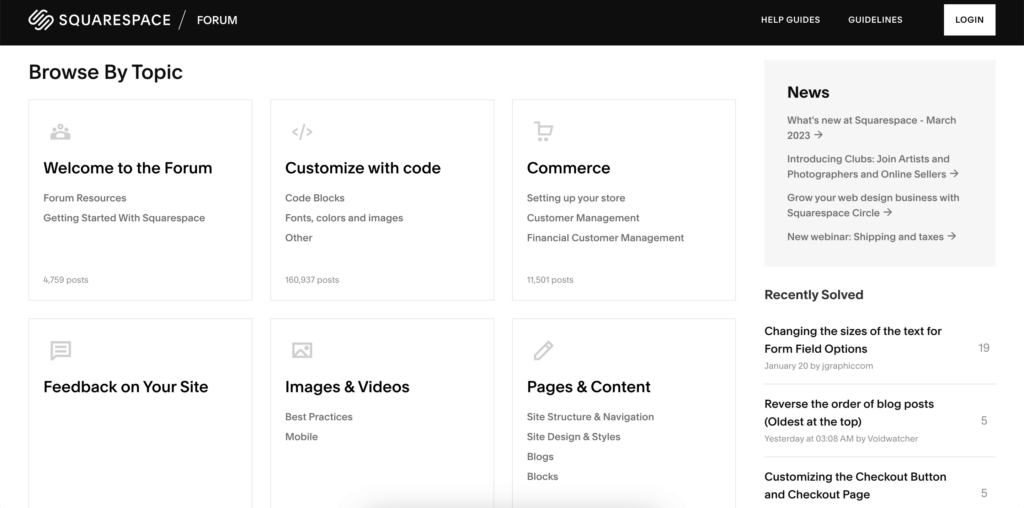 WordPress
Because WordPress is an open-source platform, there is no live chat, phone, or email support available. However, given the platform's incredibly huge user base, users can seek help from virtually anywhere.
In addition, there are numerous blogs, video tutorials, and guidelines available online that have been compiled by other WordPress users. If you come across any issue with your WordPress site, you will almost always find a solution for that.
Users also get dedicated support for some premium themes and plugins.
Winner: WordPress's vast community and wealth of user-generated resources give it the edge in terms of support.
Pricing
Squarespace
Squarespace offers four different pricing plans to cater to the diverse needs of its users. These are Personal, Business, Basic Commerce, and Advanced Commerce, with costs ranging from $23 to $65 per month. You can choose to pay either annually or monthly.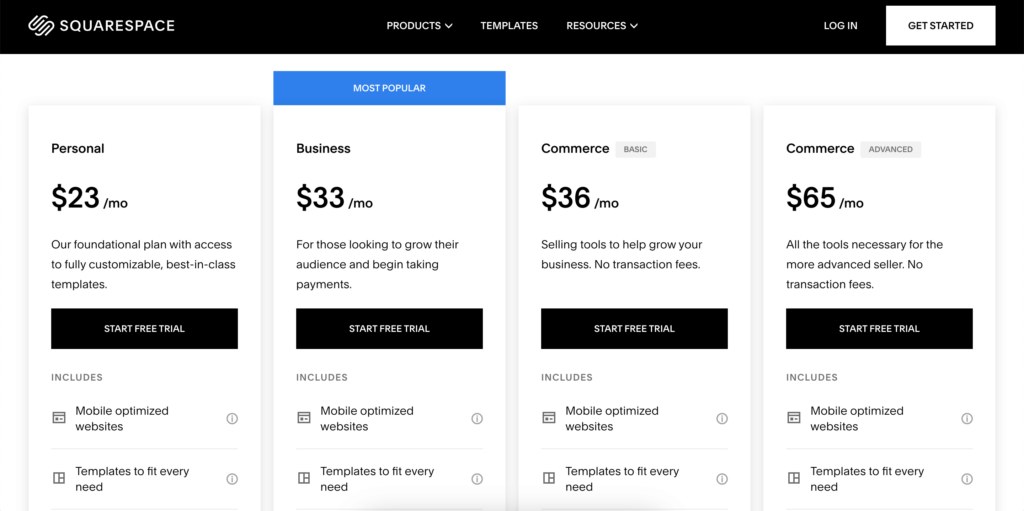 WordPress
WordPress itself is a free, open-source platform, but users still need to pay for web hosting and domain registration to create a live website. The cost of web hosting varies depending on the provider and the hosting plan you choose.
Some hosting companies offer managed WordPress hosting plans, which typically include features such as automatic updates and backups, security measures, and support specifically tailored for WordPress users.
Additionally, users may need to purchase premium themes or plugins to add advanced features or customizations to their websites. The cost of these themes and plugins can vary widely, ranging from a few dollars to hundreds of dollars per year.
Winner: With the flexibility to choose their own web hosting and purchase themes/plugins as needed, WordPress provides a more cost-effective option compared to Squarespace.
Final verdict: who wins the battle?
Squarespace is best for users with little to no web development experience who want to create professional-looking websites with ease. On the other hand, WordPress is suitable for those who have some level of coding knowledge and want a more customizable website with more functionalities. WordPress allows users to access the website code, modify it, and use a vast library of plugins and themes to enhance their website's functionality and aesthetics. After a thorough comparison, WordPress wins the battle for its unparalleled customization options and virtually unlimited features.
Conclusion
In this article, we have compared two popular CMS – Squarespace vs WordPress and showed you their capabilities in terms of several factors. Finally, WordPress came out on top in our comparison with its great flexibility and incredible power.
Let us know your thoughts regarding which CMS you prefer for building your website. You can follow our website and social media channels for more content like this.