How to Start an Online Business (All-in-One Guide for Dummies)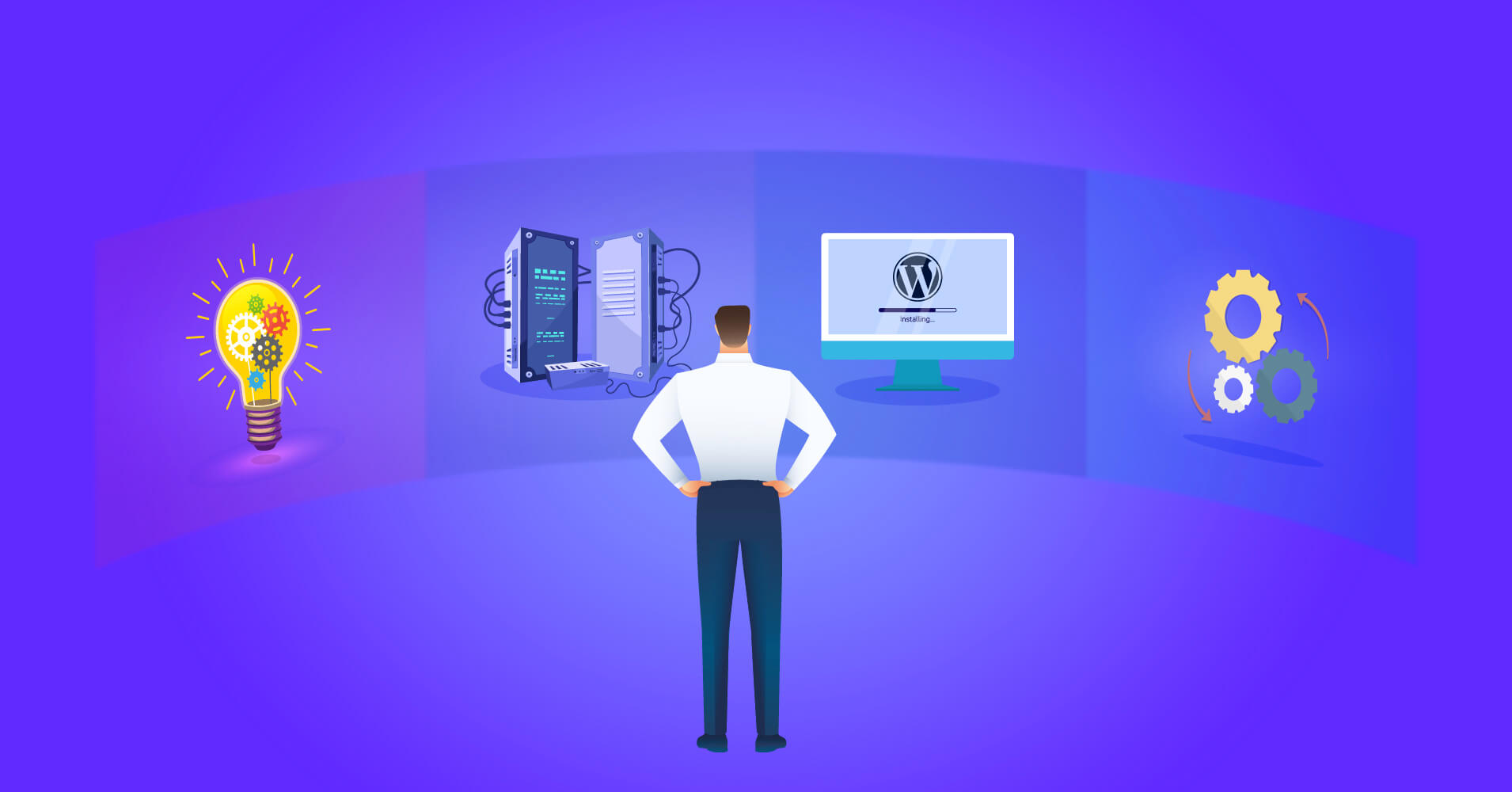 Starting an online business can be overwhelming – a thousand questions may pop up in your mind. No need to lose sleep asking yourself where to start, which platform to host your website, or do you need to use a CMS or hire a developer to create a whole site with hand coding.
Don't sweat it; we're here for you to guide you from start to end. From choosing your niche to some amazing online business ideas, from choosing the best online hosting to setting up your website, from setting up payments to optimizing your website – in this article, we tried to cover everything you need to know to start an online business.
People tend to fail when they've doubts. Are you having second thoughts on –
How to start planning the roadmap?
Confused about the business that will suit you the best?
Which platform to choose for building the website?
How to organize content and set up the store?
Setting up the best payment method for your niche?
Extending your website with appropriate tools?
Optimizing your site for speed up and SEO purposes?
Whether you are a beginner or an expert, read to get the whole picture of creating an online store from scratch and learn to optimize your site for better performance.
Fluent Forms is the most beginner-friendly form builder. Download now and start crafting beautiful forms FREE!!!
Step 1: Choosing the niche for your online business
We hope you did your research well and know the potential market for your product or service. Knowing your customers and competitors is very crucial to becoming a successful online business owner.
Are you struggling to determine the niche you want to work in? Or are you out of business ideas? We're here to give you some ideas to think over.
Before that, you need to ask yourself some questions to find out your strong suit, such as,
What am I really good at? What knowledge, skills, and talents do I possess that can help me make money?
What are the things I enjoy doing? What work and tasks do I love doing and can do every day?
How much fund I can invest initially? Do I need other investors, and how long can I last without earning a dime while my new career finds its footing?
What resources do I own that can be used to build my online business? Laptop, HD camera, popular social accounts?
Got the answers? If not, take your time to think through every step before jumping into it. No need to hurry first to find the answers. It's a big decision, and you must give time to planning.
Let's look into some of the best business ideas for beginners with zero or small investment.
Top 5 online business ideas (small or no-investment)
Looking for the best innovative ideas for an online business? Here's a list for you to take inspiration from and learn what you need to start your dream business.
eCommerce: selling physical goods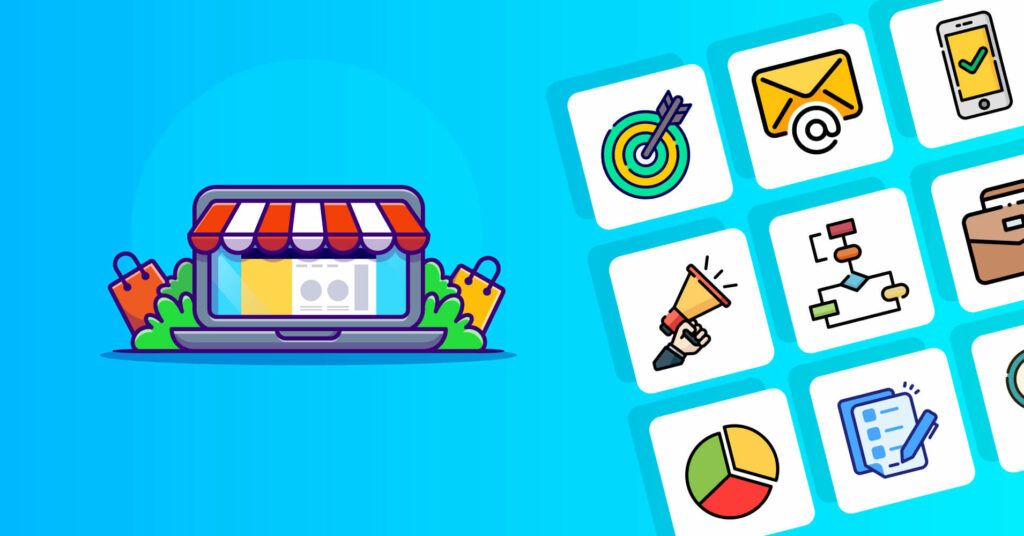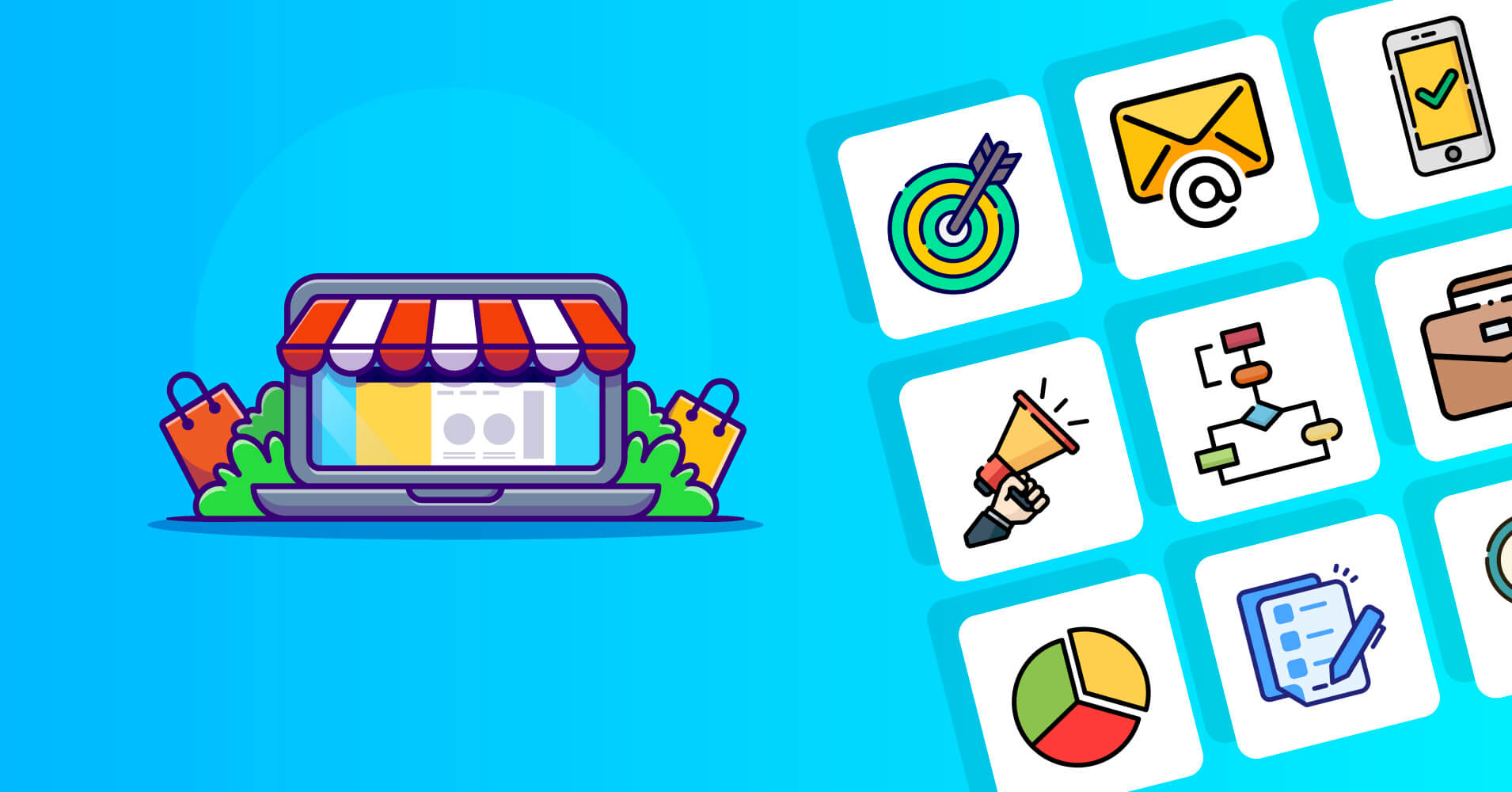 Selling your own product is one of the more obvious ideas. If you have a good product in hand, you're a step closer to becoming a successful entrepreneur. Now you just need the motivation and the right marketing plan to sell your product. Make a professional-looking eCommerce website with all the required pages and payment methods available.
As you make your own product, you can give it your own touch to meet the market demand. One thing you should keep in mind, unique products pique more interest than other common ones.
However, there are things you should do carefully to run a successful eCommerce business. Like creating your online store, warehouse setup, shipment process, payment methods, returning policy, and so on. Making short money and staying in the game for a long time are totally different things. Stay focused, stay hungry!
Capital investment: cost of production, cost of supplies, cost of shipment, cost of the website
Necessary resources: trade tools, warehouse (depending on the scale of production)
Skill set: expertise in whatever you're making, marketing your product
Start affiliate marketing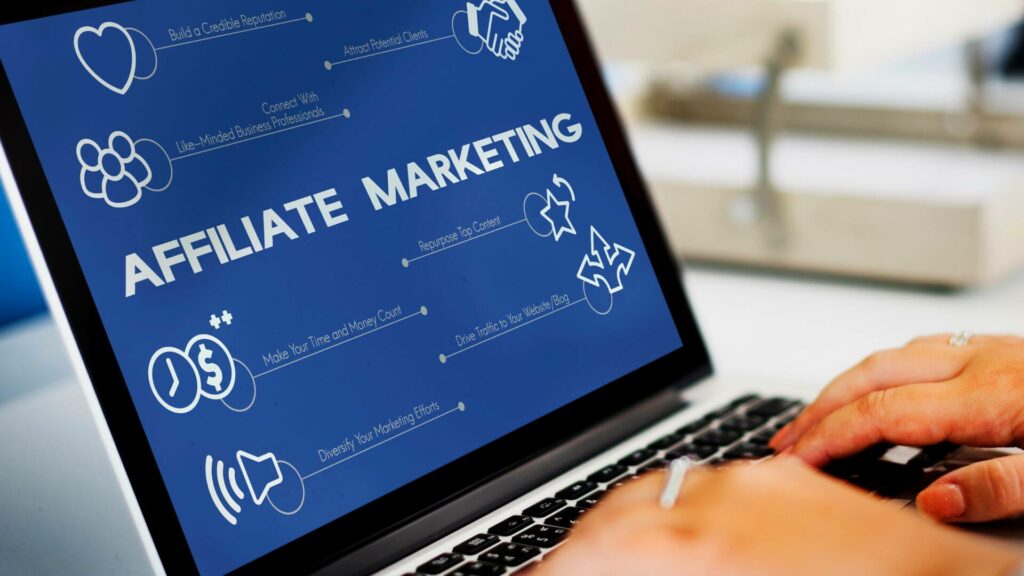 Affiliate marketing is nothing but referring your traffic to different products or services. And if the user makes a purchase, you get a commission for that. Though it comes in many forms today, it comes as sponsored content, like a blog or video.
Running a successful channel online could give you a headstart to becoming an affiliate marketer. Suppose you manage a popular blog with a handsome amount of traffic – with more leads, you'll get more clicks means more conversions.
Moreover, other companies would like to pay you to promote their product or post articles about themselves. Sponsored contents are one of the most subtle approaches to advertising online. That's why the affiliate marketing business is huge and has a bright future for sure. Take Wirecutter, for instance; it's a multi-million-dollar company doing affiliate marketing for some time now.
Capital investment: making a website and hosting it (for social media, no investment is needed if you grow it organically)
Necessary resources: nothing but a successful online channel
Skill set: marketing and advertising
If you're interested in amazon affiliates, you can read this article on amazon affiliate marketing for beginners.
Social Media Influencer
People want to be social media influencers without understanding the work aspects. Using social media for fun is one thing; doing it professionally is a whole other thing.
You may have the natural talents for trending. But when you do it professionally, there are some technical aspects you need to know, like researching your traffic volume, finding the right timeframe to get more interactions, choosing perfect hashtags and knowing their impacts, and knowing your traffic's demographic to promote the right product.
However, having a strong interconnection with your niche is important—sponsors usually try to reach your follower's group to promote their product, so the more specialized you are, the better.
Capital investment: initially, very little.
Necessary resources: successful social media account, decent device to take pictures and videos.
Skill set: social media skills like knowing what to post and how often to post, how to link the products or services, post scheduling & editing, how to reply to comments, etc.
Podcast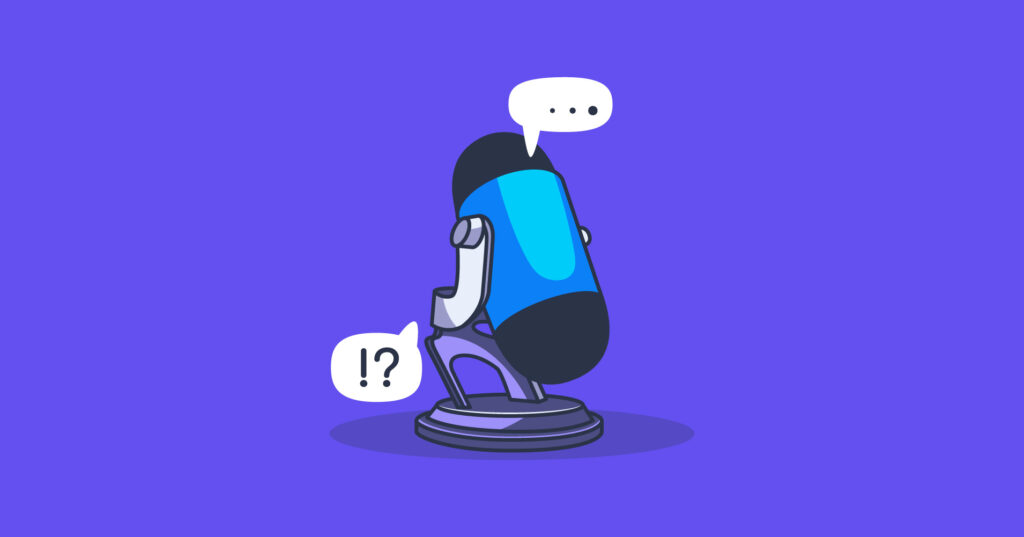 Do you know 51% of US adults listen to podcasts daily? Podcasting is the modern and better alternative to talking on the radio. If you're good at talking, it could be your perfect career choice.
To be successful in this arena, you must create something worth listening to, which requires amazing speaking skills to glue your audience. Good podcasts are informative, entertaining, and emotional, so find out our perfect niche where you can achieve all these. Collaboration with celebrities and experts will lure more audiences and help you become a successful podcaster.
Capital investment: media hosts, marketing funds, etc.
Necessary resources: recording and editing software, professional-grade microphones, etc.
Skill set: speaking skills and presentation power to connect with the listeners
Blogging
It is said that content writing is the spiritual successor of print journalism, and such relies on the same skill sets. Bloggers create different content for their websites to grow their leads and eventually monetize their blog through affiliate links, ads, sponsored content, or selling their own products.
You need good writing ability to engage your audience to stay on your website and some SEO skills to rank higher in the search engines. Writers are hotcakes on digital platforms as many people search for ideas and solutions on Google daily. If you write useful content with interesting facts and people find the answers in your blog helpful, you will likely get more traffic to your site.
You can specialize in certain topics (advice, DIY & how-tos, industry news) or certain writing styles (i.e., dry legal copy, humorous essays).
Capital investment: little (hosting and creating your site. Pro tip: WordPress sites are the best for blogging)
Necessary resources: laptop/pc or tab, whatever device you love to write
Skill set: researching keywords, writing and proofreading skills, search engine optimization (SEO)
But that's not all. You can explore a few other avenues other than the ones mentioned above. Some profitable and zero-cost business ideas for dummies would be:
Dropshipping eCommerce
Photography and Videography
Selling services online
Freelancing and designing
Social Media Marketing
Teach an online course
Become a virtual assistant
Online agency business
Music or voiceover service
Now, you need a website to present your service or product online as you have some business ideas. For this, you must choose the right platform to make your website without hassle.
Step 2: How to choose the best website builder for online business
If you aren't a website developer and don't have a team for yourself, it won't be wise to hand code the whole website for yourself. Website builders are the best solution for entrepreneurs, business owners, or even individuals to create a website without hiring a developer.
Nevertheless, finding the perfect website builder can be tricky for you, as hundreds of them are out there. If you trying for a magical one-fits-all approach to choosing the best website builder, you'll be lost in eternity!
To narrow things down, you should ask yourself these questions:
Will you manage your site yourself, or will you hire a third-party service provider?
How much customization do you need in terms of design and layout?
Do you need to store a lot of data, or do you need special features for your site?
Do you just need to display things, or should your visitors be able to interact with the pages?
How much are you willing to pay for the extra features?
If you're still confused or don't know all the answers, you can take inspiration from your competitors. Considering these questions and comparing the builders, you'll soon find the best fit for you.
The touchstones for the best website builder
Usually, most website builders come with an intuitive drag-and-drop interface to build a website and offer trial accounts, free plans, or a generous money-back guarantee. You can take this advantage to test drive before making your final decision.
Criteria to be the best website builder:
Check out these criteria to choose the best website builder to make your online
User-friendliness
To be the best website builder, it needs to be user-friendly for beginners. Customizable drag-and-drop, easy no-code designing options, powerful editing tools, and scope for customizing via codes are essential to building a website easily.
Pricing
As you're looking for the best website builder for your online business, you should consider which builder fits the bill. Find out if it offers some extra benefits like free domain, free business email, free SSL, or free eCommerce features. If not, consider how much it will cost to get these extra features. However, offering extra features doesn't make it good; price along with the functionalities make it the bang for the buck!
Design and features
Another thing to remember while choosing the best website builder is that it has a great array of professional website templates and the option to add additional features like CRM, Google tools, third-party marketing tools, and so on.
Customer Support
A vast range of features and low cost aren't the only things to look for. You need to make sure the website builder has 24/7 customer support available when needed. You never know what kind of issues you're going to face while making your online business website. That's why a dedicated and friendly customer support option should be on your priority list.
Data ownership and portability
Another thing you might overlook as a beginner, even people with experience in website building sometimes forget about this. Make sure you read the policy before purchasing, especially the data ownership. So, you can take all the necessary data whenever you change or want to shift your website.
That being said, let's look at the best website builder to create your online business website.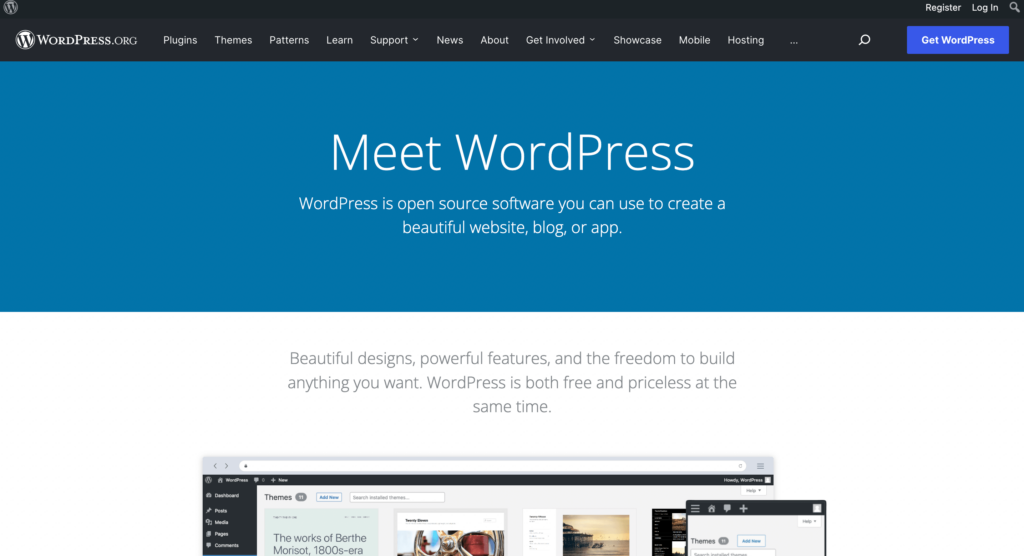 Do you know over 40% of all websites on the internet are powered by this amazing platform?
WordPress is a free, open-source, powerful website builder that tops the list in the website builder market. With WordPress, you don't need coding knowledge to build your website. It has a huge community, powerful features, scalability, and ease of use.
Moreover, you don't need any third-party control; you have full website ownership, which gives you maximum privacy.
Many big fishes made their websites with WordPress, like Microsoft News, The Walt Disney Company, Vogue, Whitehouse.gov, Etsy Journal, Yelp Blog, and other small and medium businesses.
However, you need to choose a WordPress hosting account to host your website, and you have a bunch of great hosting platforms available with different plans for your online store.
Pros
WordPress gives you full authority over your online presence. You can build any kind of website like an eCommerce store, blog, membership website, corporate website, portfolio website, social network, community forum, affiliate website, landing pages, and whatnot.
If you don't want to make your website from scratch, there are thousands of high-quality pre-made WordPress templates you can use for your website's design and layout.
No matter how big or small your company is, a page builder can help you easily create amazing pages for your online store. Elementor, Divi, Oxygen, and Beaver Builder are some popular page builders with multiple functionalities and drag-and-drop features to help you make your site without zero coding.
WordPress is limitless; you can extend your website functionalities with plugins and themes. Plugins are software for WordPress that lets you add additional functionality to your websites, such as contact forms, social media reviews and testimonials, CRM (customer relationship management), live chat, shopping carts, payment methods, Google Analytics, and more.
Another big reason to be the most popular website builder in the world is that they allow you to create multilingual websites that can be translated into over 75+ languages.
Additionally, WordPress comes with some robust SEO tools that search engines love that help you to outrank your competitors.
The WordPress community is huge. If you face any issues running your website or unfortunately come across WordPress bugs, there're available resources to fix your problem.
Cons
There aren't so many cons of WordPress. Still, we're mentioning some to give you a full view of the platform.
With WordPress, you need to manage your own website. For that, you have to familiarize yourself with the system. You could easily overcome this slight learning curve within a few days.
Also, you need to update the WordPress version, plugins, and create backups regularly. All of these can be automated by your WordPress hosting provider.
Wix.com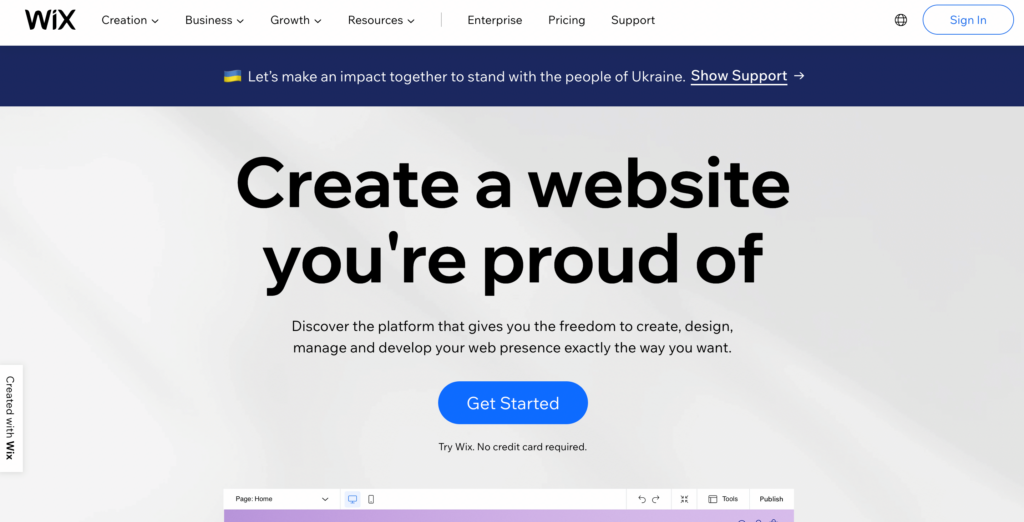 Wix is another powerful cloud-based website builder that offers ease of use and freedom to create, design and manage your web presence as you like. Almost 2% of all websites online use Wix as their website builder. Though some amazing professional templates and features are available on Wix.com, you also need to consider some aspects before using Wix as your primary website builder.
Pros
Wix itself is a fully hosted platform, so there's one thing you can take off your mind – paying for hosting. You'll get access to a bunch of pre-built templates to choose from for your website. You can fully customize your website with their intuitive drag-and-drop builder.
Wix also offers some free and paid apps that you can install and add new features and functionalities to your site. All of them aren't created by Wix; other developers can build Wix apps and sell them online (Here is another online business idea for you!)
It offers a free plan with limited bandwidth and storage. But it doesn't include a domain name, if you want to keep the website, you need to upgrade to a premium plan. However, this is a good option for a test drive.
You will also get a free SSL certificate if you buy the premium plan.
Cons
If you use free or Connect Domain plans of Wix, they will show the branded ads to your website. To avoid those irritating ads from your website, you need to upgrade your plan to Combo or Unlimited plan, which is pricy.
You might hear that Wix hides the complexities. This isn't necessarily good. People sometimes feel overwhelmed by seeing many settings and options on their dashboard, but you won't get the full exposure if you cannot properly manage your site's backend.
It's very difficult to migrate your Wix website or data, which is another major setback for it. Once your business is outgrown, you may need more authority or design differently, which requires moving your site to a different web builder platform. Wix isn't friendly in website migration.
Spoiler for you – Wix isn't FREE! It costs more than you think. Premium plans start at a mere $4 or so per month, so it's not expensive by any means, and they go up to $24 per month.
Shopify.com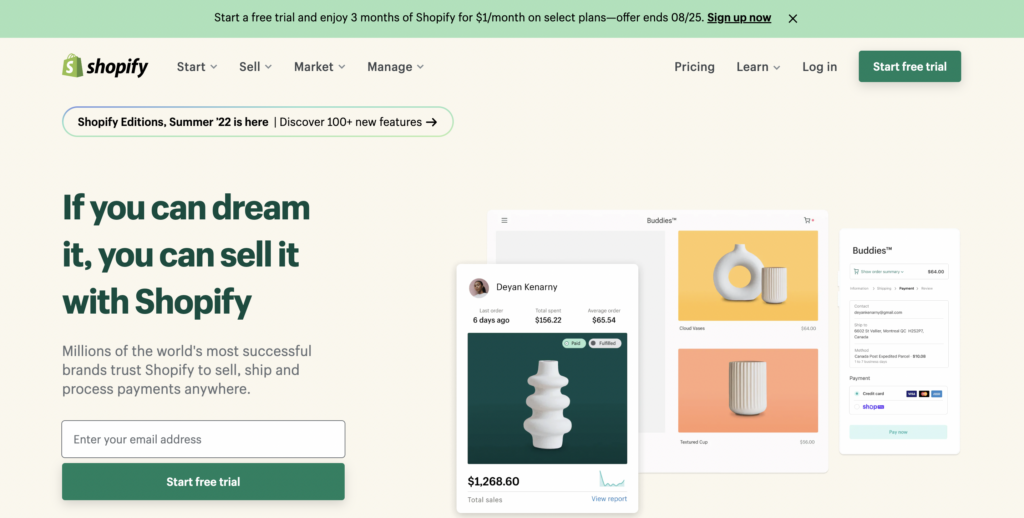 Shopify is a popular eCommerce website builder specifically designed for online stores and eCommerce. You can build and customize your online store and sell in multiple places, including the web, pop-up shops, mobile, multiple social channels, etc. Shopify is powering millions of online stores across 175 countries, and 4.4% of all websites on the internet are using Shopify as their eCommerce website.
Pros
With Shopify, you don't need to worry about managing different software, installing updates, or keeping backups. Shopify handles all for you.
This also offers the famous drag-and-drop feature to help you make your own website without coding. You'll also get hundreds of designs to choose from and also make adjustments as you please.
It offers its own integrated payment solution named Shopify Payments which allows your customers to pay via their credit cards. However, you can also add a third-party payment gateway if you want.
Unlike other eCommerce website builders, Shopify comes with better inventory management, powerful analytics, unlimited products, and simple marketing and SEO solution, all wrapped in one package.
If you want to migrate from any other eCommerce builder, you can do it swiftly with Shopify. Moreover, a free SSL certificate, versatile shopping cart management, mobile app, and 24/7 customer support are available on Shopify.
Cons
They force you to use their payment gateway, which will charge you an extra 2% transaction fee.
If you compare it with other platforms, Shopify is on the high-price product side. You have to pay some extra cash to add more functionalities and features.
Moving from Shopify can be difficult sometimes, so people who start with Shopify usually don't take the hassle of changing the platform.
Step 3: How to set up your online business
Setting up your online business gets much easier when you choose the right platform. WordPress is the best solution for you if you think long-term and scalability. This section will illustrate how to set up your online business step by step.
What do you need to set up your online business
Starting your online business is easier than ever. You can get tons of resources online to get started. Anyone with a PC/Laptop can create their online store within a few hours.
Here are the things you need to start your online business:
A domain name (name of the website like www.example.com)
A web hosting account (this is where your site will be launched online)
One or two hours to set up
Yes, this is as simple as it gets.
Let's walk you through every step to starting your online business.
The things you will learn in this section are:
How to register your domain name, and from where
How to choose the best hosting platform for your website
Learn how to get a free SSL certificate
How to install WordPress
How to choose themes and page builder
Customize and extend your website with plugins
Registering domain name
Registering your domain name and choosing the hosting provider for WordPress typically happen around the time of the web creation process.
Think of your domain name as your home address – it's how your users will locate your website on the internet. And your hosting provider is just like the piece of land you built your house on – where your website's files are located. Without a good hosting provider, your site wouldn't have any space on the server to show content online.
There are many WordPress hosting providers in the market. Choosing the best fit for you is a major key point you should remember.
Picking the best domain and hosting provider for your website
If you choose WordPress.org, you need to create your own domain and get a third-party hosting provider for your website. WordPress.com takes care of the hosting, but you need to choose whether you want a custom domain or not. You need to give extra attention while choosing the hosting provider because it impacts your website's speed, security, management, and reliability.
When choosing the hosting provider, all you need to do is keep these simple criteria in mind to pick the best one for your website:
PHP version 7.4 or greater
Different plans for scalability as your business will grow and you'll need more room
MySQL version 5.6 or greater
Or MariaDB version 10.1 or greater
A good hosting provider must take reasonable steps to protect your data
HTTPS support
A good WordPress hosting provider should have a solid reputation within the community
The best pick should provide top-notch 24/7 live or chat support at every turn
When choosing a hosting provider for your WordPress website, ensure it meets all of the above criteria. Some providers offer free domain name registration; if not, you can always register your domain name through domain registrars.
Namecheap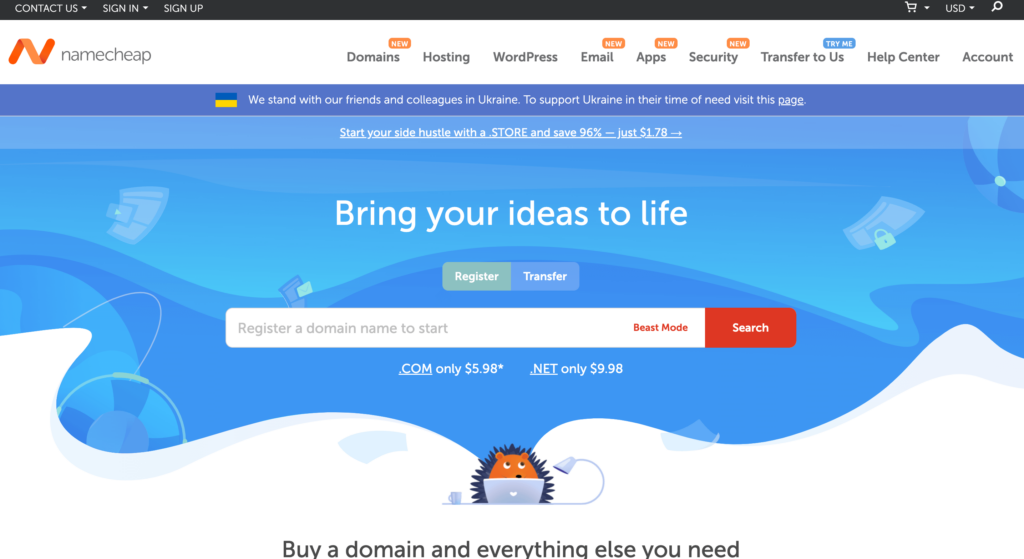 Namecheap is an accredited domain registrar that has been around since the start of the century. It serves over two million customers with an affordable $8.88 price for .com domains, including WHOIS privacy protection (pronounced "who is"- short for the question, "Who is responsible for this domain name?") privacy protection, which makes for a solid deal.
First, you need to go to namecheap.com. Choose a unique name for your domain and search it to check if it's available or not. Namecheap is a great marketplace where you can buy or sell domains and offers 24/7 live chat support if you need assistance.
Now, if you want domain+hosting+free SSL in one place, Bluehost is the platform you are looking for.
Let's build your beautiful online business store in a jiffy!
Choose your hosting plan
First, head to Bluehost's website and click the Start Building button to choose your plan. Once you've chosen your plan, click on the Select option, and you'll be redirected to a new screen to sign up with a domain name.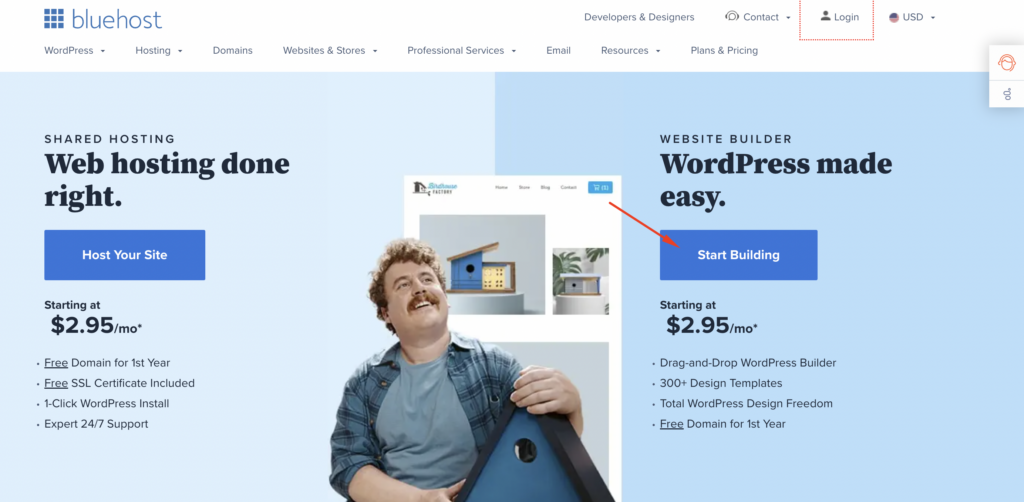 If you don't have any domain name registered, type your unique domain name in the Create a new domain option and hit next. Or you can select Use your own domain if you already have a registered domain name.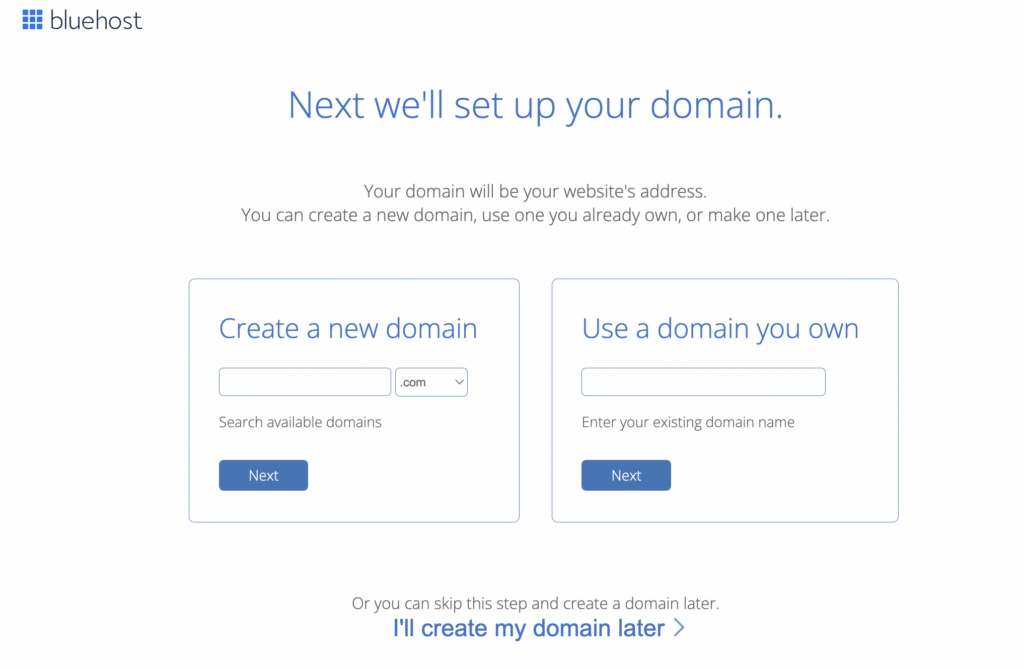 After selecting your domain name, you'll be brought to the Billing and Accounting information page to complete the purchase.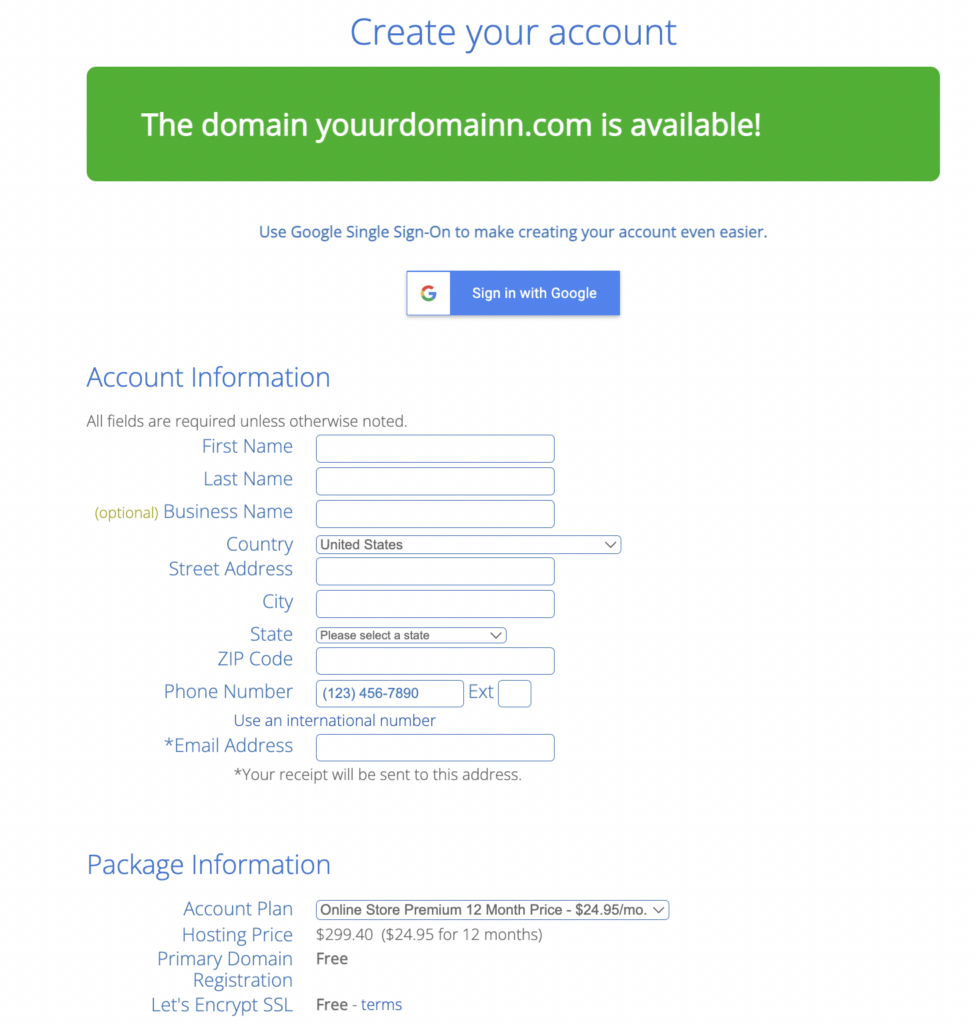 Once you confirm your account and purchase your domain, you'll have access to your hosting dashboard (cPanel) via email. This is where you can manage your website files, emails, support, and so on.

Pro tip: Always ensure your hosting provider has a cPanel or File Manager option in its dashboard.
When you log into your cPanel, you'll notice that Bluehost has already installed WordPress for you, and you can just click on the login to WordPress button to access your website's backend.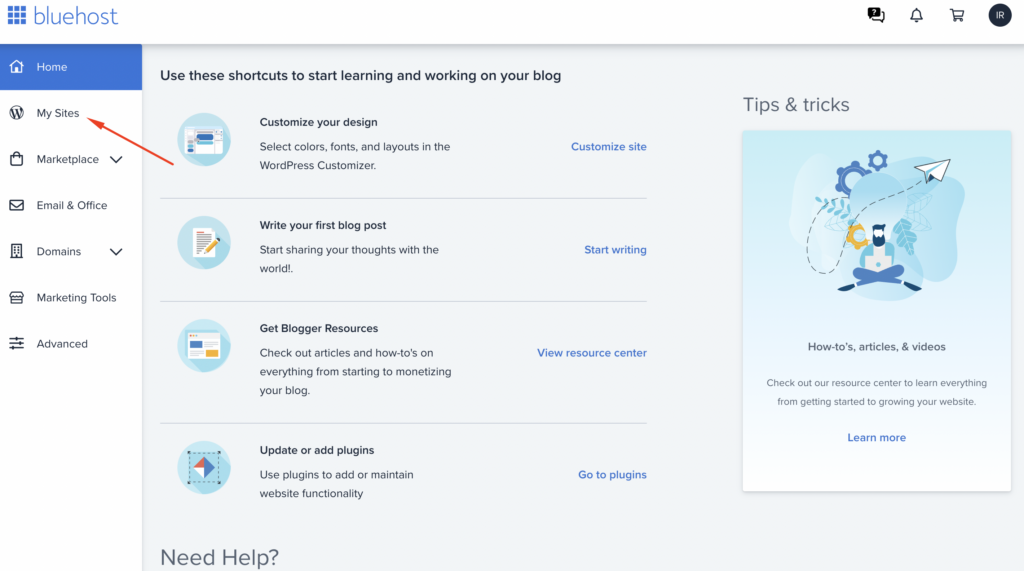 After that, you'll get access to the dashboard of your WordPress website. Though we prefer to log in via the www.example.com/wp-admin URL. If you have a WordPress site, you can log in to the dashboard by putting the "/wp-admin" text after the site's URL. Type your username and password to log in to the dashboard.
Install and set up WordPress
If you choose a hosting provider outside of WordPress, you'll need to install the WordPress CMS to connect your new domain to your website.
Unlike a managed WordPress hosting service like Kinsta or WP Engine, if you pick GoDaddy for hosting, you have to go through the process of installing the CMS.
First, log into your GoDaddy account, and click Web Hosting, then Manage. You'll be redirected to a page with your account details.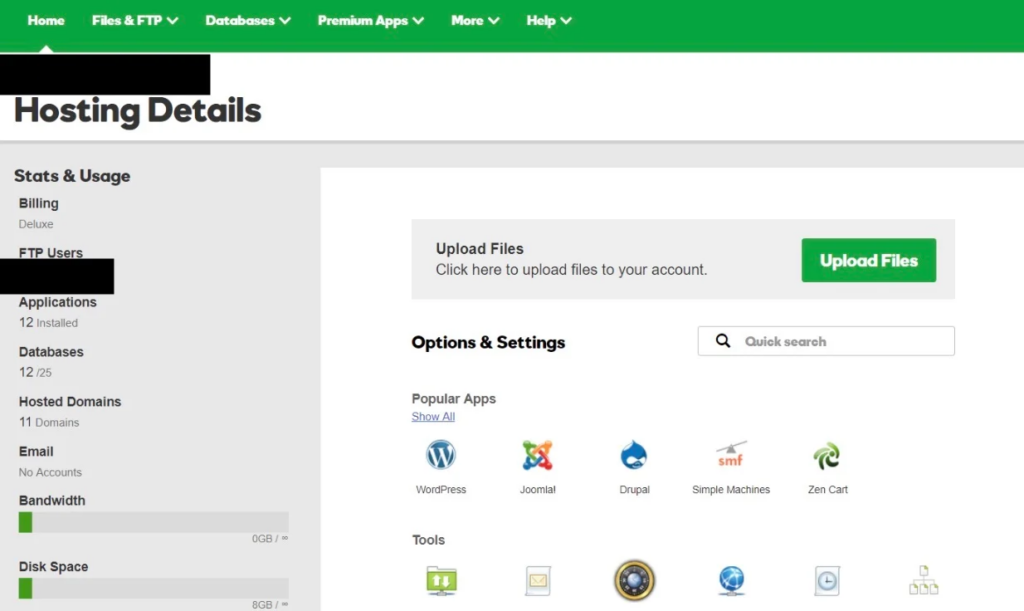 Now scroll down, and you'll see an area named Popular Apps under Options & Settings. To install the WordPress app, you need to click on it.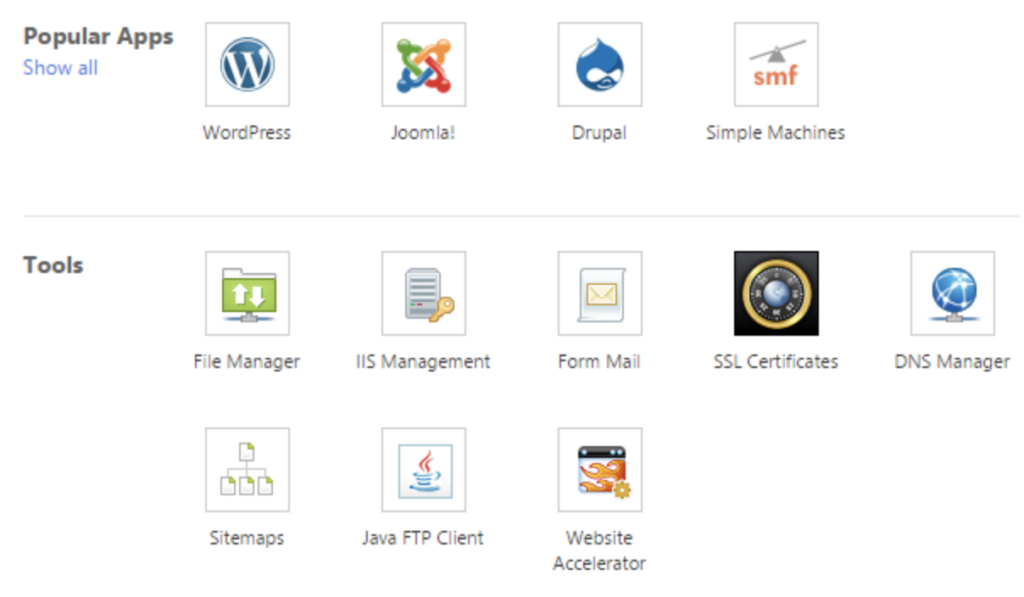 After finishing the installation, you have to answer a few questions about the domain you want to use, your admin information, and the location where you want to install WordPress.
It'll take about 24 hours for your website to be installed on your hosting account, and GoDaddy will send you the confirmation email.
Now, as you have set up your domain and installed WordPress, you'll need to set up your primary domain within WordPress so that your visitors see your website when they search your domain.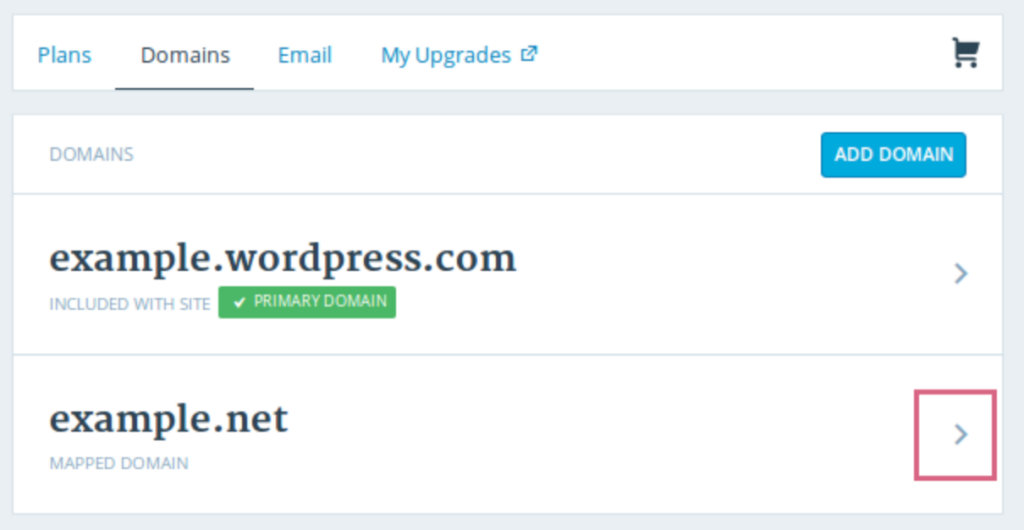 From WordPress, go to My Site and click on Domains. Then select the custom domain you want to make your primary domain.
Click the Make Primary button and confirm the change by clicking Update Primary Domain.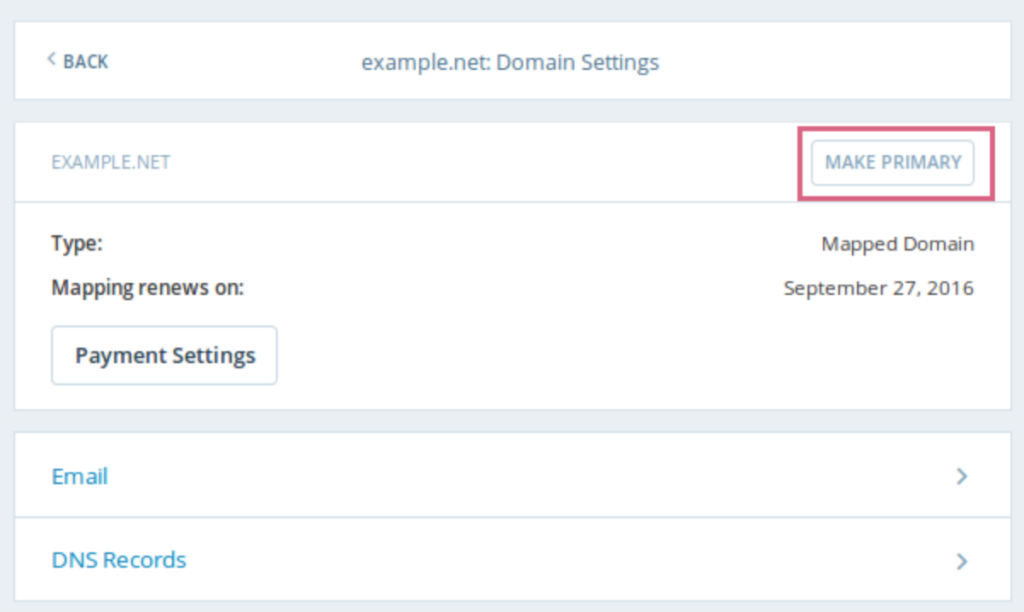 Now you need to make some adjustments to your WordPress site to run smoothly. First, go to Settings » General page to set up your WordPress site title and description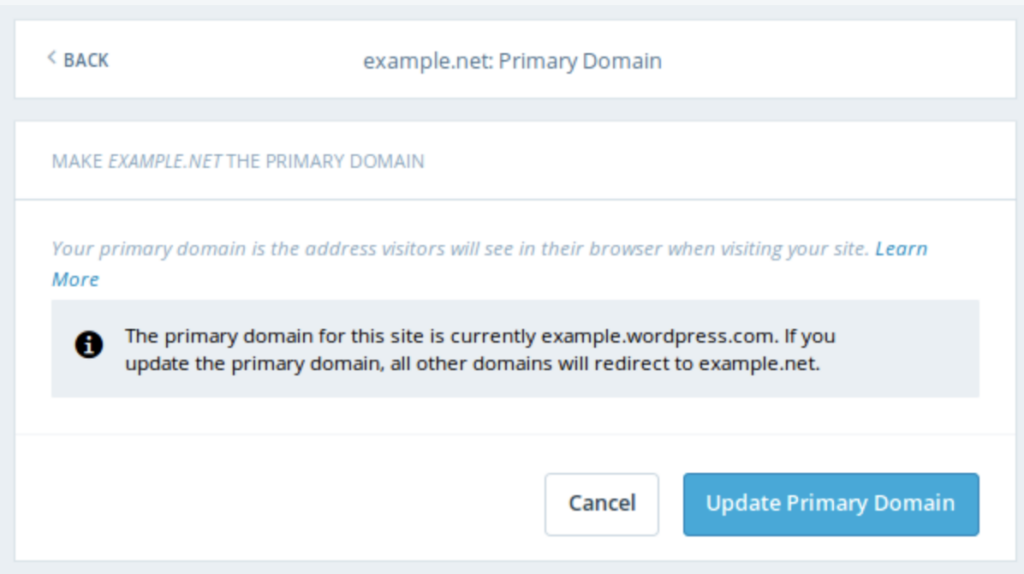 Select a nice site title (name) for your online store, and give a catchy tagline for your site to stand out. This part is optional, so there is no need to worry if you cannot come up with something immediately.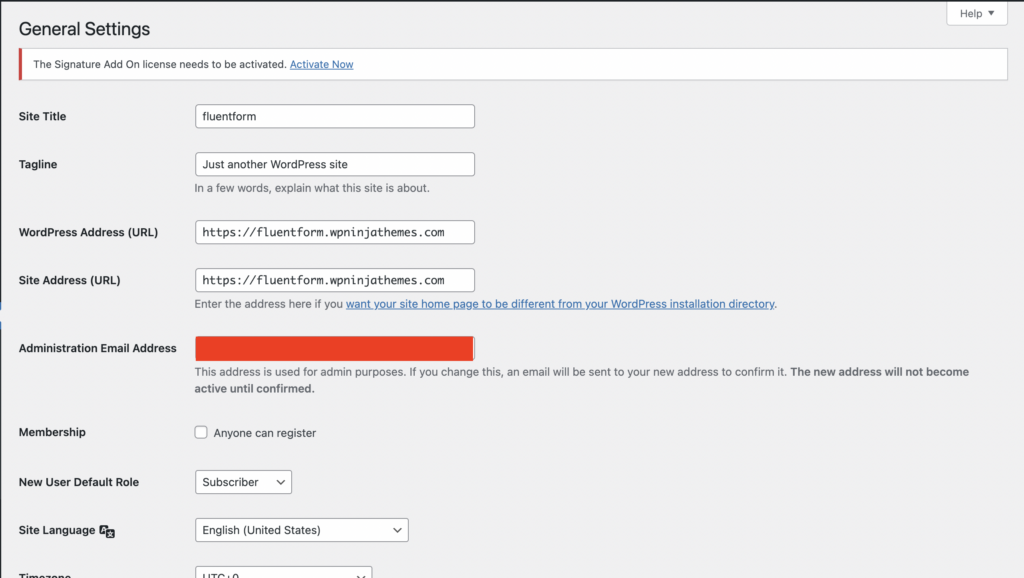 Some hosting provider offers a free SSL Certificate; if not, you need to purchase it separately. With Bluehost, this certificate comes pre-installed to your domain name. However, you need to configure your WordPress site to get the HTTPS (Hypertext Transfer Protocol Secure) in your URL.
Activating an SSL certificate makes your site secure and enables a padlock icon before your site's URLs. On the same Settings » General page, you just need to change your WordPress Address (URL) and Site Address (URL) HTTP to HTTPS.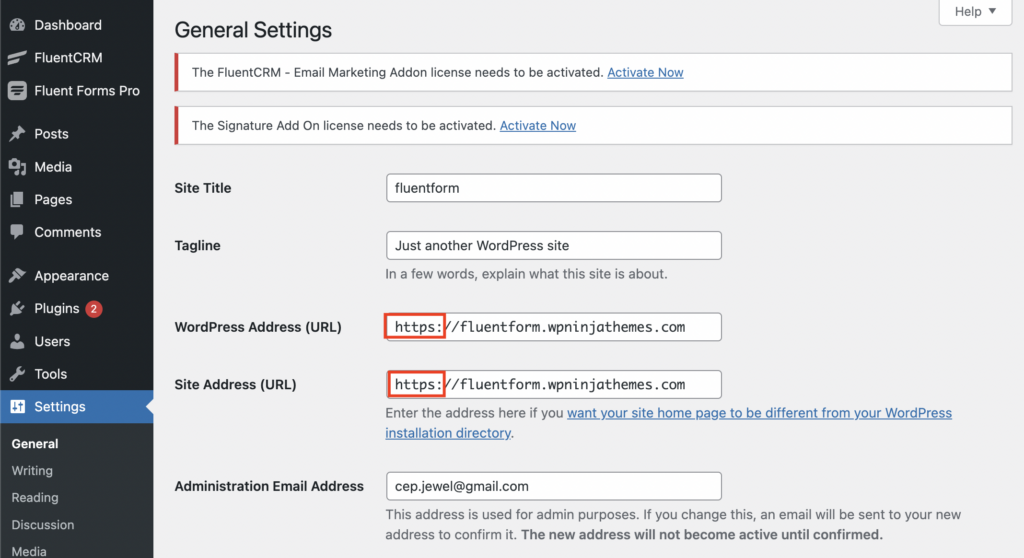 After the modifications, don't forget to scroll down and click the "Save Changes" button to store your settings.
Congratulations, your basic WordPress setup is complete. Next is to set up your online business store.
Choose your theme and page builder
Whenever you create a site with WordPress, a default theme is pre-installed on your site. You can keep it if you want, but your visitors won't be impressed and may quickly leave the site. Whether it's free or paid, you need to choose and customize your theme that should look professional and appealing to your buyer personas.
You can easily design beautiful pages with these page builders, no coding knowledge is needed. But if you have basic HTML and CSS knowledge, it can be a cherry on top.
Head to your admin dashboard to find the compatible theme for your online business site. Now click on Appearance, then Themes. Another page will appear where you can browse available themes or search for a specific one you have in mind.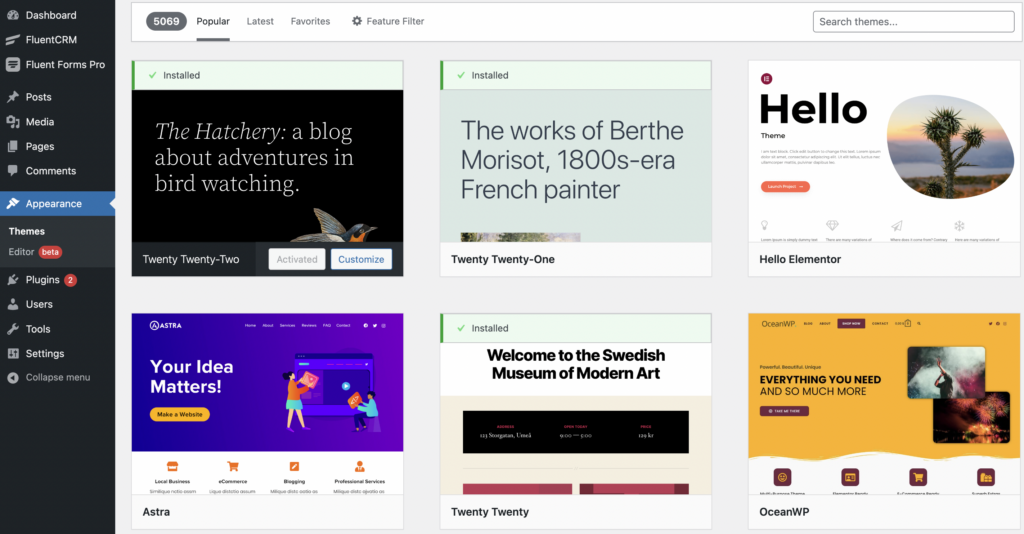 Once you find the perfect theme for your site, simply install it to begin customizing. Check if the theme has a website or not, and check the documentation and tutorials if available as you work through the customization process.
Add posts and pages to your site
A website needs content, and it's usually displayed in the form of posts or pages. Content are great to give your website exposure that's why you need to learn how to add post or pages to your WordPress website.
Posts (which are dynamic) are typically used for blogs or portfolios because they automatically appear on top of your featured content. Whether you run a blog site, affiliate site, eCommerce site, or service-providing site, blogs play a crucial part in lead generation.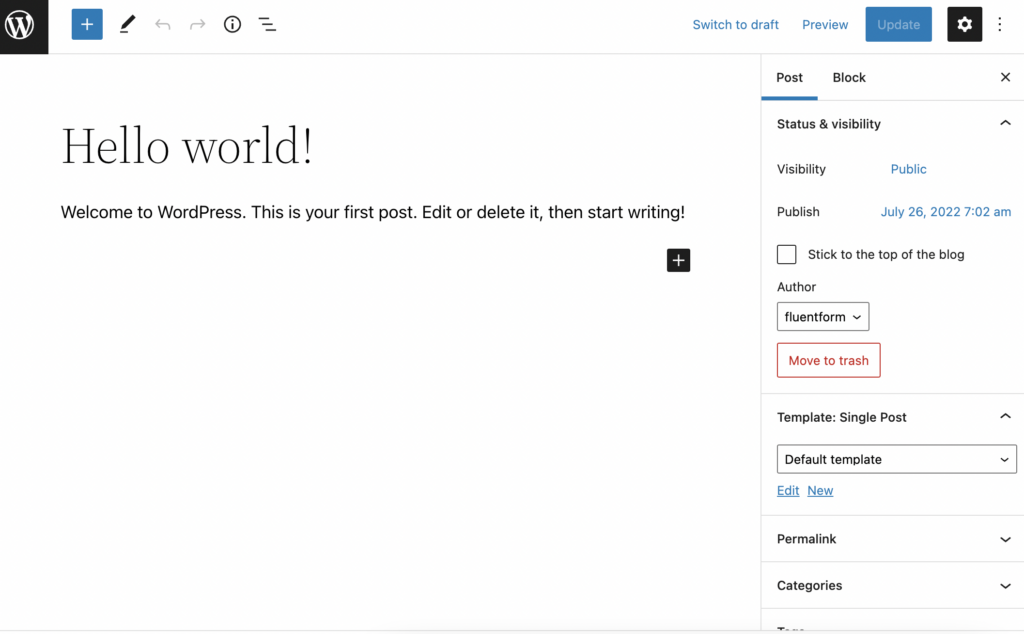 On the other hand, pages are static; whatever content you put on the page stays in the same place. Landing pages generate sales, give visitors a tour, and appeal more business owners to your site.
As you know, Posts and Pages are the main post types in WordPress, but there are other native post types and custom post types too. To add a post to your website, simply go to the admin dashboard, click Post and then Add New.
With WordPress, it's quite straightforward. You can add a title, body, buttons, images, embed videos, and insert different elements via blocks and shortcodes like forms, tables, social proofs, etc., to make your post visual, more functional, and attractive. You can see two buttons in the upper section of the page, one is Save Draft, and another is Publish. You can either save it in the draft or publish it immediately. There are a bunch of options like scheduling the post, adding the author name, category, and then some.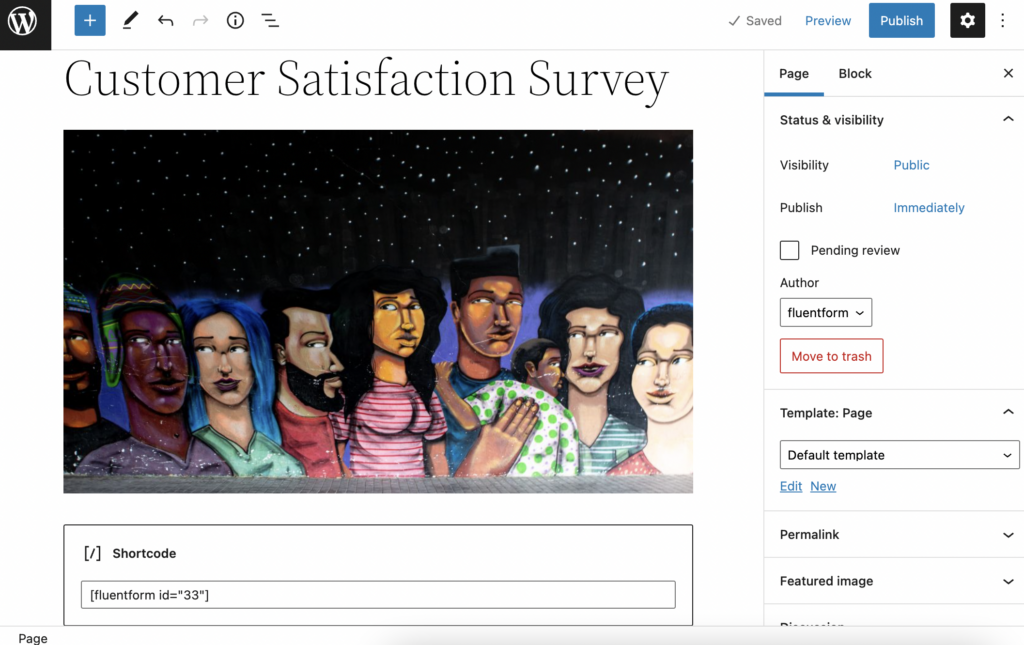 You can add a title, photos, content, forms, shortcodes, and different blocks your page builder offers. You can customize and style the blocks to your liking, follow the same steps and make multiple pages for your business site. It's good practice to have some landing pages on your website.
Setting up Woocommerece to your site
WooCommerece is undoubtedly the best online store builder in the market. As it's built on top of WordPress, that gives it all the flexibilities of WordPress with the freedom to sell anything you want.
Simply install and activate the WooCommerece plugin as any other plugin. From the plugin section, go to Plugins and then to Add New page, search for WooCommerce.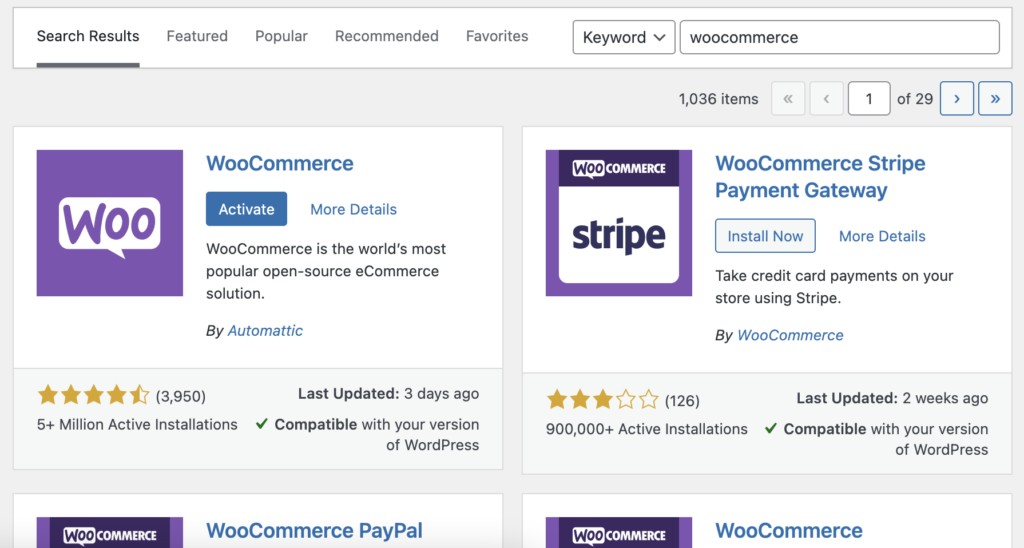 After finishing the installation, click on Activate to get started.
After activating the plugin, there will be a setup wizard, which will walk you through the important WooCommerce settings.
First, you need to provide the basic information for your online business stores, such as an address, region, and country. If you own a retail shop, you can add your retail location to match the same address.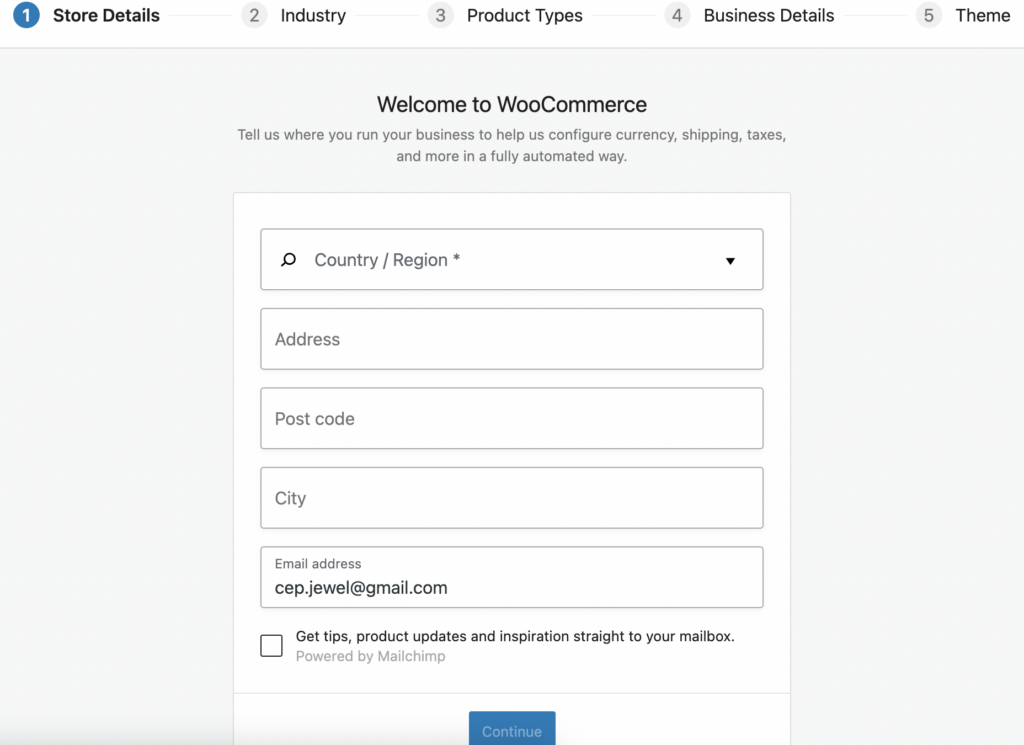 Now, click Continue and move on to the next step.
Choose a store industry closest to your niche and hit Continue.
Select the types of products you'll be selling to your online store. For instance, if your product needs shipping, you should choose physical products, or you can choose other options like subscriptions, downloads, memberships, etc. too. You can sell more than one type of product in your online store, but selling one niche product/service on one site is better.
You've to click Continue again to move to the next section.
In this part, you'll be asked to provide some business details, such as how many products you plan to display on your site and if you are selling elsewhere or not.
Switch to the Free Features tab now, and you'll see a box pre-checked to install free features for your website. Uncheck this option, as it will install some WooCommerece extensions you may not need. You can install them later according to your need.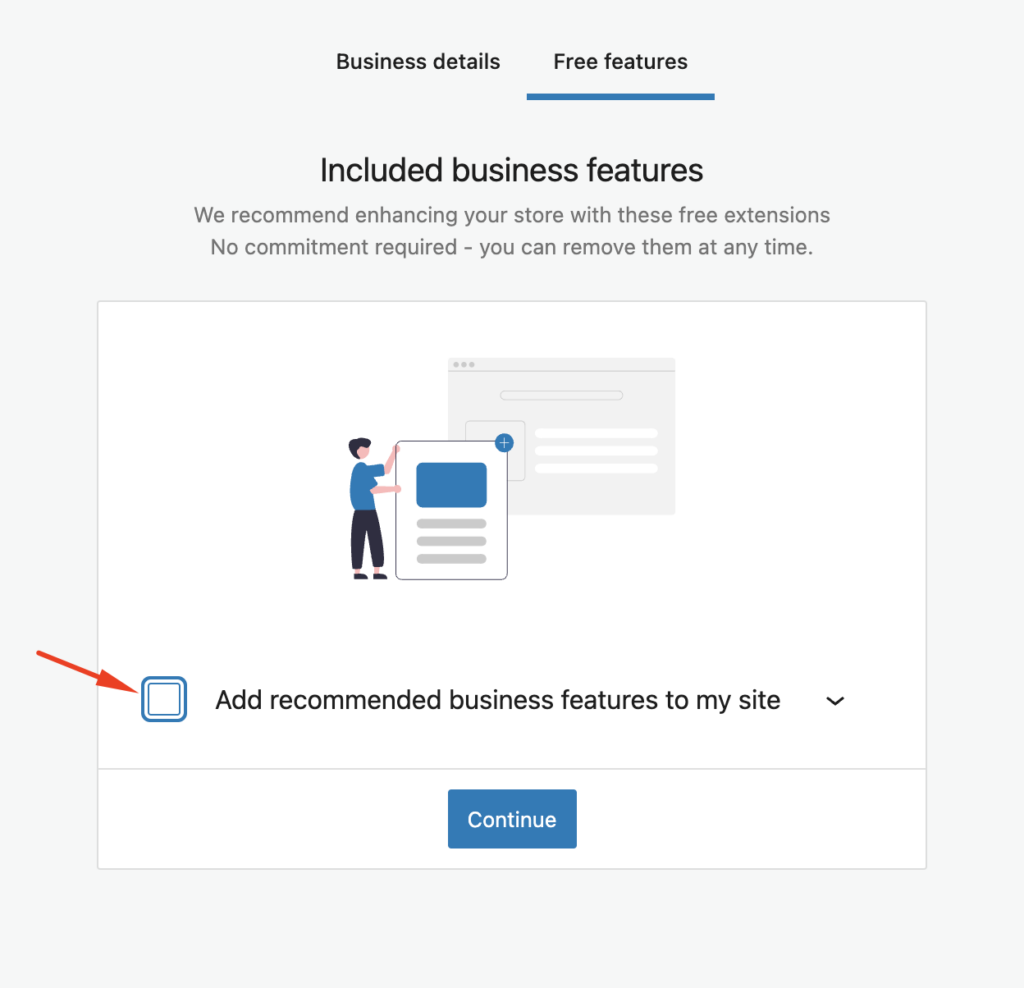 Next, if you don't choose any theme, you'll be asked to choose one for your online store. You can continue with your current theme or choose any free option on the page.
Congratulations, you've successfully set up WooCommerece to your site.
Note: If you don't want to sell products on your site, you can avoid this WooCommerce setup section.
You may not need to set up WooCommerce from scratch but rather a simple form for a recurring subscription, one-time payment, or even a donation. For instance, you can create a T-shirt order form with Fluent Forms with many payment options. We'll discuss Fluent Forms in the later section.
Payment option configuration
Now you need to set up payment methods to accept online payments in your store. WooCommerece provides a bunch of payment gateways that you can set up easily.
Just go to WooCommerce from your dashboard, then the Settings page, and switch to the Payments tab. By default, you can choose from PayPal Standard, Checks, Cash on Delivery, and Bank Transfers.

If you scroll below, you will see the options to install PayPal, Stripe Checkout, and WooCommerce Payments.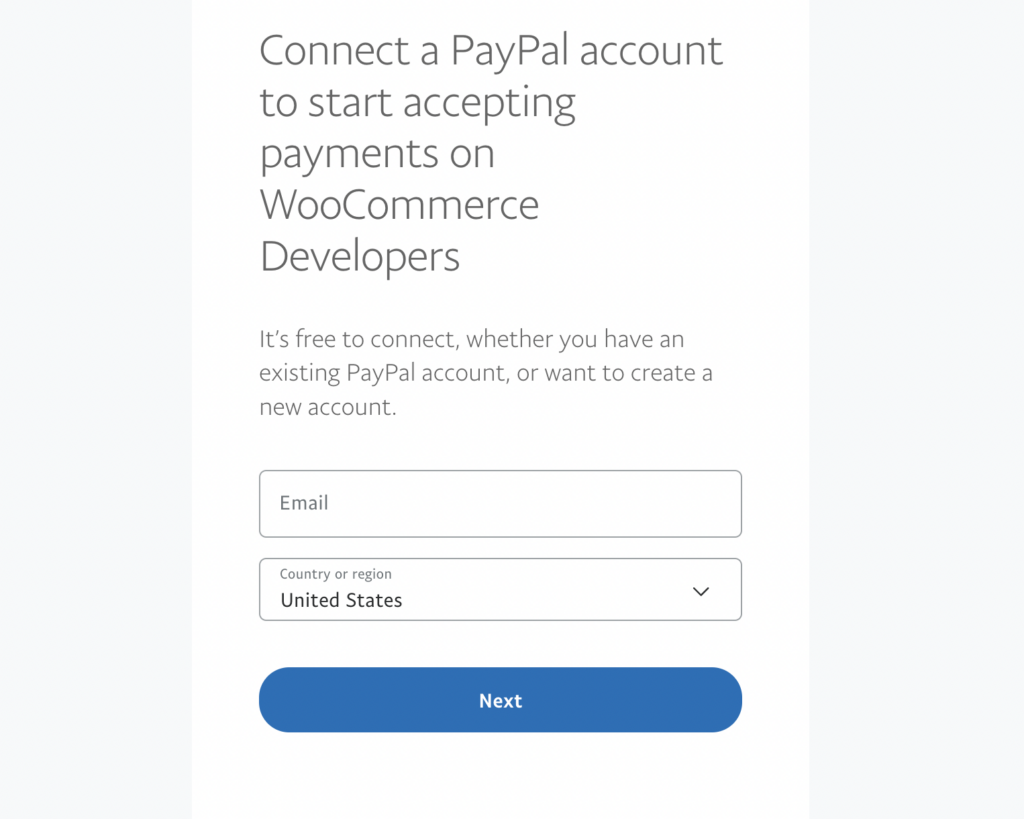 You need to set up your payment option by providing some information like API key, ID, etc., that are provided to the payment gateway's site. For instance, if you want to connect stripe payment, you need to open a stripe account, and you'll be provided with an API key and ID, copy them to your site, and you'll be able to receive payments via Stripe.
Before exiting the payment setting page, don't forget to Save the changes you've made.
Step 4: Extend your online business site with plugins
Plugins are like apps that add different functionalities to your WordPress website and can enhance the user experience. As you already know, there are over 60,000 plugins available in the market. To create a successful online store, you must add more functionalities to your website, and that's why you'll need some must-have plugins for your WordPress site.
However, the abundance of choices also makes it difficult for the dummies to choose the right plugins for their website. That's why we have listed some essential plugins to add dimension to your online store.
Fluent Forms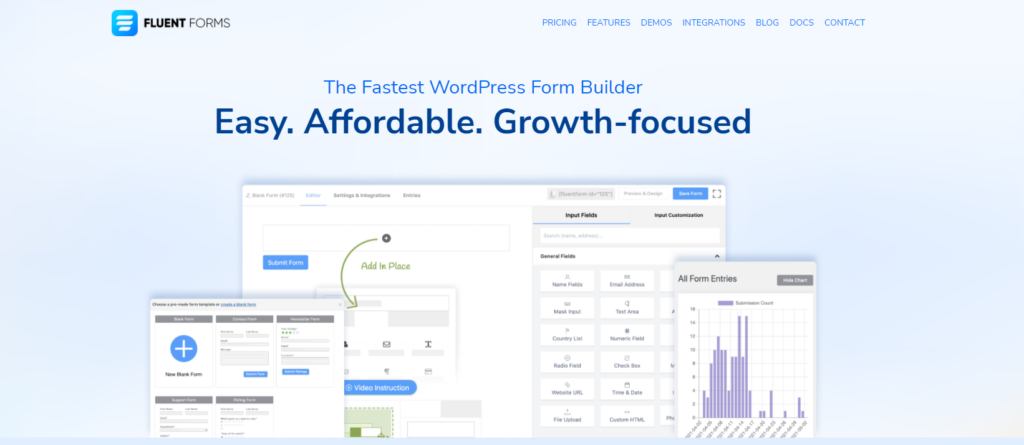 Fluent Forms is one of the best secure form builders in the market. It's lightweight, fast, and full of functionalities. From contact form to booking form, survey form to conversational form, user registration form to payment form, you can make whatever form you want with Fluent Forms.
This market-leading plugin has an intuitive drag-and-drop builder to help the non-coders create beautiful, functional forms within minutes.
More than 200K businesses are powered by this amazing form plugin that offers 25+ free input fields (more than other's premium versions).
If you don't use heavy plugins like WooCommerce on your site yet want to sell products and get payments, you can easily make product order forms with Fluent Forms. Give it a try, and you'll never switch back for sure.
WP Social Ninja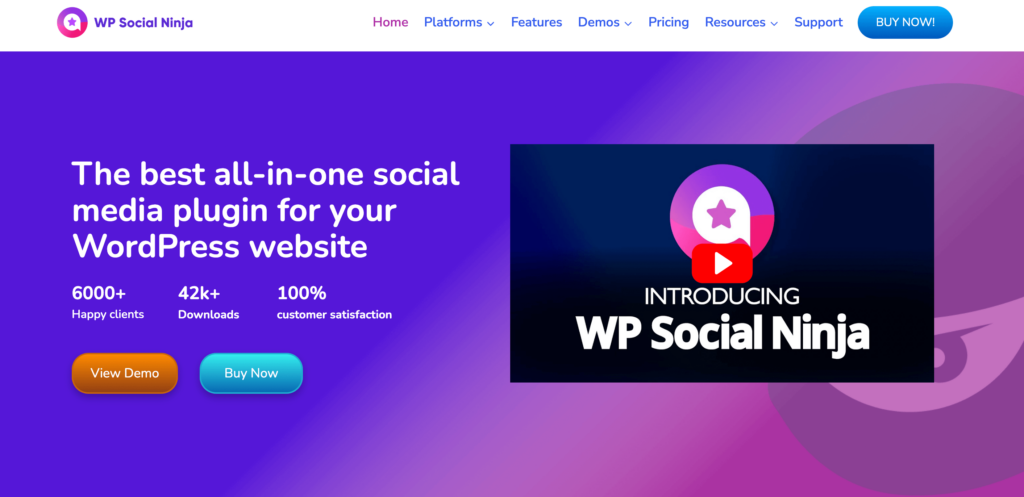 To gain your customer's trust, sometimes you need to show your social media feed, display business reviews, and connect chat widgets with your WordPress website. It helps you to make a social presence, and customer engagement and ultimately helps to grow sales.
For that, WP Social Ninja is the all-in-one social media plugin that offers 4+ social feeds (like Facebook, Instagram, Twitter, Youtube) to show your social activities, 9+ review platforms (amazon, yelp, GMB, AirBnB, etc.) to show live reviews of your customers, 15+ chat widgets (Whatsapp, Telegram, Snapchat, Line, WeChat, Skype, and so on) to connect with its customer base.
Taking care of every social feed, review, and showcase in one place can be a game-changer. Install WP Social Ninja and make a strong customer base to take your business to the next level.
FluentCRM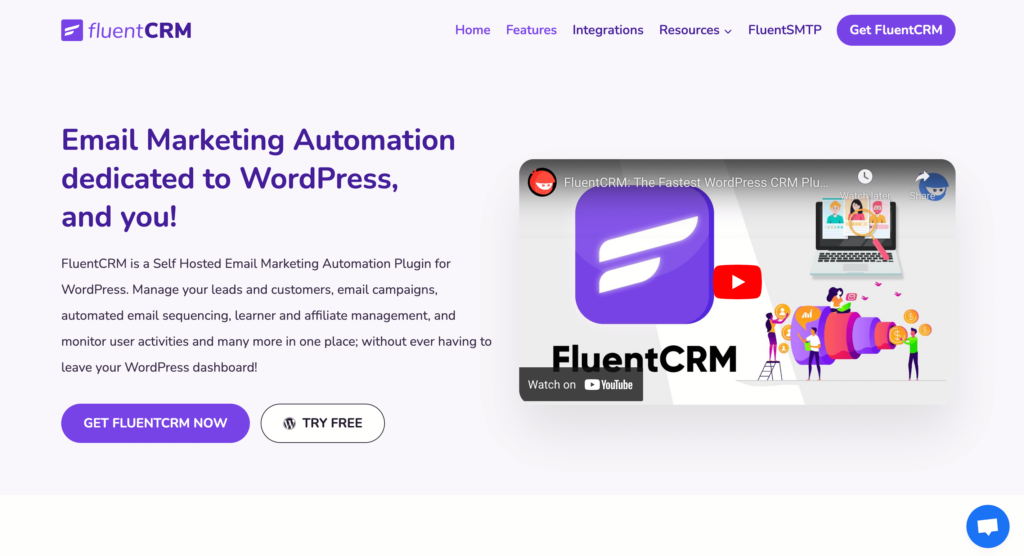 Without a smooth customer relationship, you cannot have a profitable business. Customer Relationship Management (CRM) systems are powerful tools that help you understand your customers throughout their entire customer lifecycle.
FluentCRM is the best self-hosted email marketing and CRM solution for WordPress. Manage customer relationships, build email lists and run sophisticated campaigns, automate email sequences, manage learner and affiliate, monitor user activities, and much more without leaving your WordPress dashboard. A free version of FluentCRM offers many features to increase your conversion rate!
AzonPress
This is a must-have plugin if you want to become an amazon affiliate. Exhibit your products the way your audience likes to see them. Make your visitors compulsively click on the Buy button!
From product tables to geo-targeting, bestseller lists to customizable layouts, shortcodes to automatically tracking affiliate links, all can be done with AzonPress.
You need to list more products on your site to get more exposure. That should be the main motto of your affiliate site. With quality content, you need to showcase more products to get redirect users to amazon.com. That's how you'll earn a handsome amount. AzonPress will help you with everything you need to become a successful amazon affiliate.
Ninja Tables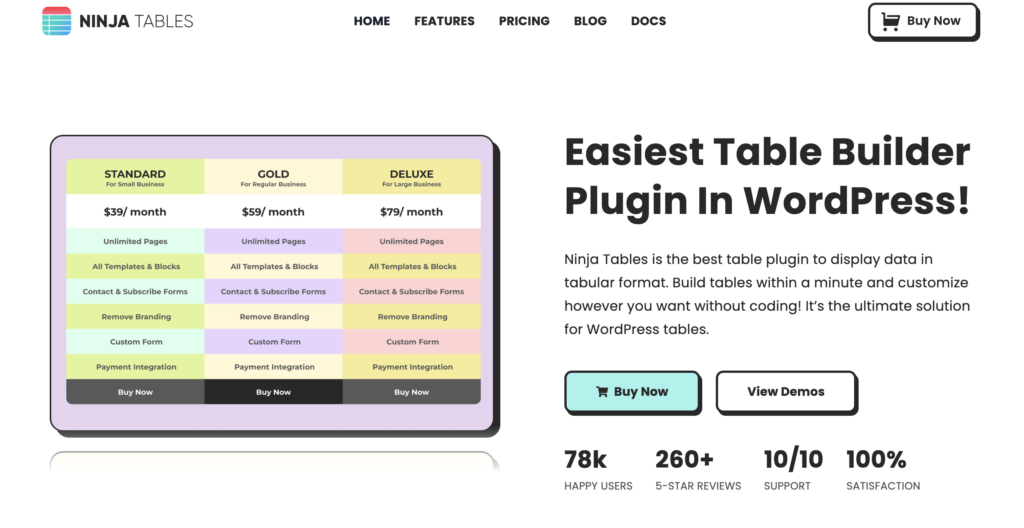 Adding and managing data can be frustrating; tables can be the perfect solution if you want to show them differently.
Showing data in diagrams, charts, or tables on a WordPress site with different layouts and designs will attract more visitors. Ninja Tables is the plugin you should consider, as it has a user-friendly interface, customizable design features, several cool integrations, the most affordable pricing plans, and others.
So, what are you waiting for? Make some beautiful tables with Ninja Tables to unleash the untouched potential of your business without any coding knowledge!
Rank Math
Optimizing your post and pages is as important as creating the whole site. Rank Math is a handy tool for content analysis, on-page optimization, breadcrumbs, redirects, rich snippets, and so on. You should not rely solely on an SEO plugin; having one in your dashboard is helpful.
It helps you to find out the basic and advanced on-page SEO issues. You can insert targeted keywords like other SEO plugins, but some extra features like schema markup, rich snippet, no-follow enable button, and things like that make this emerging plugin to make a standout.
Don't wait up; install a search engine optimization plugin for your online business site that can make it easy for anyone to optimize content with built-in suggestions based on widely-accepted best practices.
FluentSMTP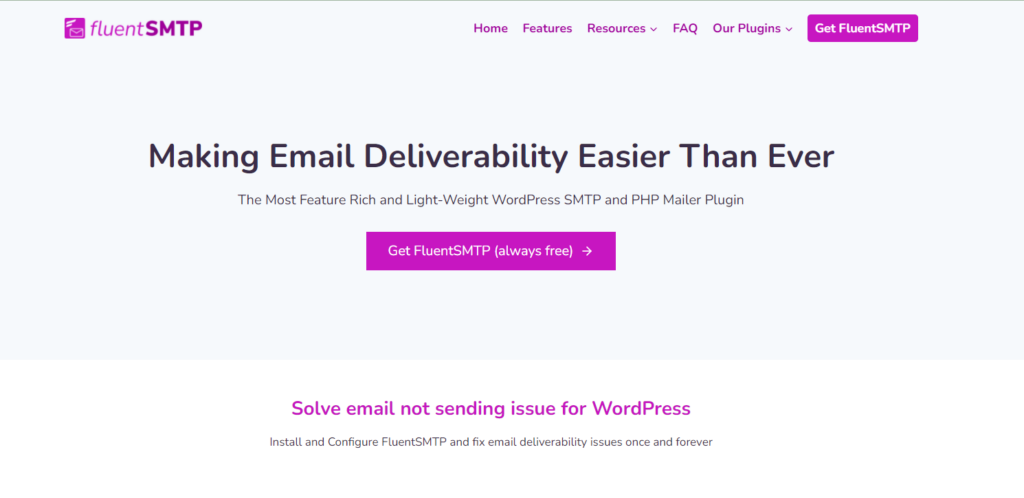 A business site needs to send emails regularly to its users. Email deliverability is WordPress users' most common issue when handling bulk email.
By the textbook definition, SMTP (the simple mail transfer protocol) is an internet standard communication protocol for electronic mail transmission.
SMTP plugin uses a robust SMTP mailer service which solves the WordPress email going to spam issue and increases overall email deliverability.
FluentSMTP is a free, feature-rich, and lightweight SMTP plugin in the WordPress market. With FluentSMTP, you can set up multiple SMTP servers, keep track of every email sent from your WordPress site, view them all, get a detailed report, view email logs, resend emails, and so on. So we recommend downloading FluentSMTP to solve any WordPress email deliverability issue.
Other tools you should try
Semush: While thinking about site optimization, images are a key culprit in slowing down your website. Optimizing every image is a tedious, time-consuming task. Thankfully, Smush, the image optimization plugin, comes to the rescue. This plugin automatically compresses images across your website as you upload them to your media folder, which helps to load images quickly for users, keeping them engaged and converting.
Yoast SEO: This is arguably the most popular SEO tool in the WordPress arena. If you want any alternative to Rank Math, this is the plugin you are looking for. Not only it can help you to improve your SEO, but also it can analyze the readability of your content. With this amazing SEO plugin, you can add focus keywords, manage metadata, URLs, excerpt, and many more.
WP Rocket: WP Rocket is a powerful caching tool that helps to speed up your loading times by creating cached copies of dynamically-generated pages of your site. Load times are crucial for your conversion, and this plugin can decrease your load times by a whopping 43%!
Akismet: If you want an extra layer of protection from spam, Akismet is a lightweight but effective solution for you. It checks your comments and forms submissions, keeps your blogs clean, and helps your site to be spam-free.
Pro tip: Never bloat your site with unnecessary plugins, as it will drain your site's speed.
Step 5: Tips and tricks to optimize the site for better performance
There are a bunch of WordPress tips and tricks to make your website as user-friendly and impactful as possible. We've listed some of the important ones for you to optimize your online store.
People tend to forget to add Image Alt Text which can be used to improve your SEO and SERP position.
Enable browser caching to improve your website performance. Browser caching temporarily stores your website's data on visitors' browsers and helps load pages faster.
You need to back up your website regularly so that if you ever lose access or have any technical difficulties, you have everything to restore your content completely. Several plugins, such as Snapshot Pro, are made specifically for backing up your WordPress content.
Don't forget to include an "About Us" page on your website to show your visitors you have a trustworthy business. This page is known to be the second most visited page on any website after the homepage – so introducing yourself is important.
Create a custom navigation bar to access different pages to give a smooth user experience. You need to organize your footer and add copyright to the footer as well.
Make sure your site is secure from hackers and DDOS attackers. Add CAPTCHAs to your form to avoid spamming. Plenty of plugins like Sucuri and WP Defender help you with the security and firewall available in the market.
It's no secret that people search the internet on their tablets, phones, and other devices. A major portion of your visitors may come from these devices. That's why you need to consider the mobile-friendliness of your website. While designing your page, click on the mobile icon to see how it will look on mobile devices and make changes accordingly to look good on phones. You can also use plugins like WPtouch to make it happen.
You should keep an eye on your website's performance and learn what is and isn't working for your visitors. You can look up Google Analytics and Google Search Console, as well as some plugins, to observe the performance of your website.
Try to update the WordPress version and plugins regularly. WordPress will remind you when updates are released. This will help your website stay fresh and work efficiently.
You must structure your business website according to your business model, visitors, and buyer personas. For instance, use posts if you're a blogger and pages if you own a conventional business.
While organizing the sidebar, stick to the essentials and think about what your website visitors and buyer personas need easy and quick access to. Make the CTA buttons visually attractive to get more clicks.
WordPress will provide you with a default homepage, but you need ot create a custom homepage for your online store. Even if you choose a theme, do not copy the whole website design and layout from the theme. Customize the site to get brand recognition.
To boost your conversion rates and reduce the bounce rate, learn SEO basics and understand the optimization process carefully.
Sum up
Just the moment you thought about starting an online business, your daunting days began. Thinking about the challenges and outcomes is necessary, but you don't need to overthink anything. That's why we tried to give you a full overview of how to start your first online business and set up an online store to make sales.
Having a great website and synergizing with your thinking matters. From business model to choosing the hosting plan, choosing a niche to optimizing your website, capturing leads to increase conversion rates, all linked to the road to success.
To sum up the whole story:
Choose your niche, and strong suits to start your online business.
Organize your thoughts about how to initiate your project and register a domain name for your website.
Next, you need to choose the hosting platform to host your website.
Learn and choose the best website builder for your site. Take your time in this part; switching the whole website to another one is not easy if you choose the wrong platform.
Set up your WordPress site and get an SSL certificate to make your site secure. We suggest WordPress as it's the most popular and the richest website builder you'll ever come by. A great community, more flexibility, and tons of extensions made it powerful to create any type of website you want.
Customize and organize your website as per your need to enhance user experience and exposure in the SERPs.
Add different plugins to extend website functionalities.
Optimize pages to enrich site health and speed.
Hope this guide will help you to make your dream website and be a successful business owner.