Inside Paymattic – WordPress Payment Plugin and Donation Management
Sadiq Ahmad
. December 20, 2022
. 10 minutes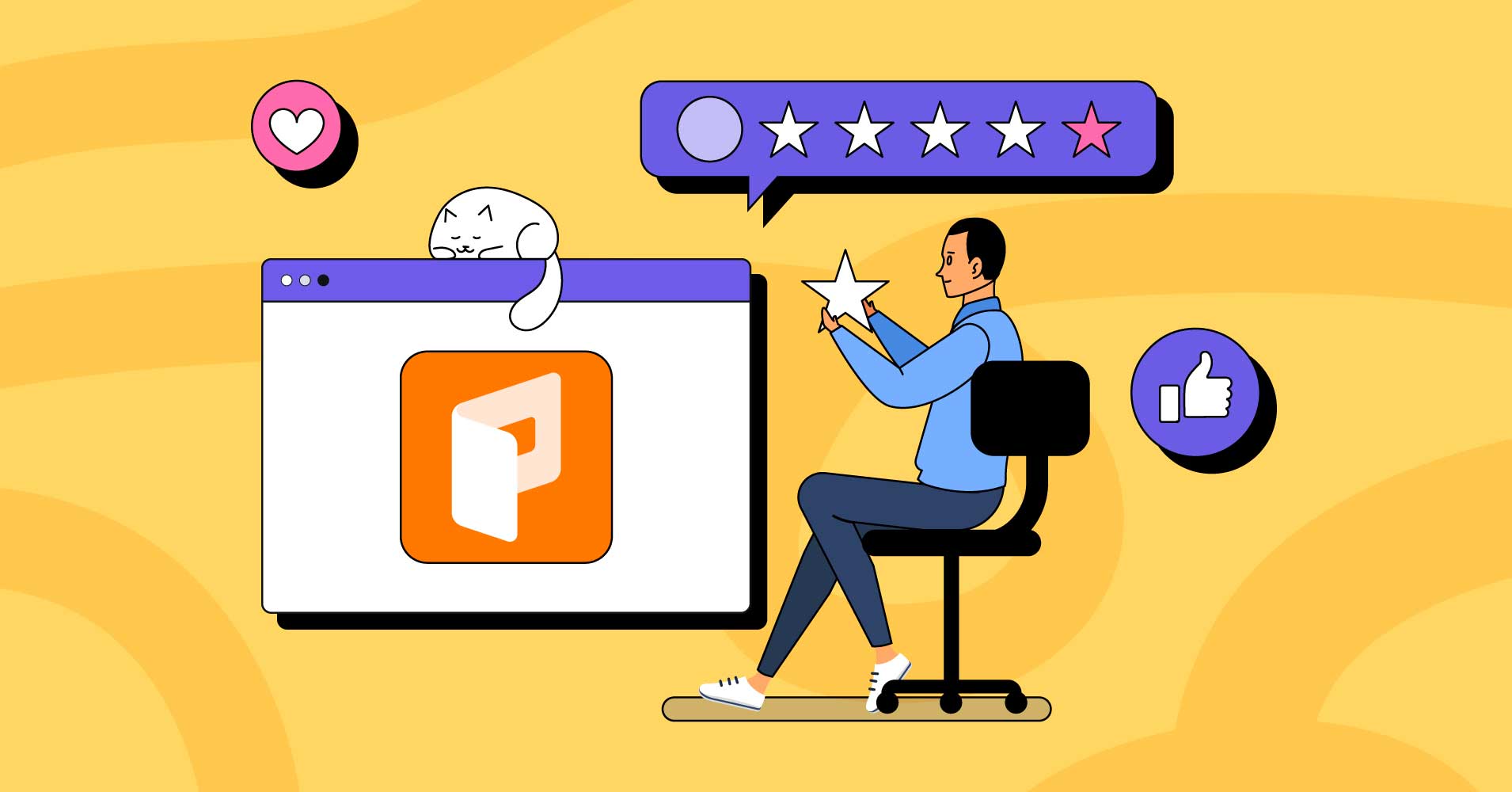 Writing about this plugin is not pleasant for me. LOL
Once it was WP Pay Form, and we were busy answering how it was different from Fluent Forms. Many of our customers bought both plugins out of their love for WPManageNinja products. Then they got confused with two products since both have payment and form creation options.
I answered this question many times. Here, I came again with a detailed review, and you'll understand why Paymattic differs from Fluent Forms.
A powerful insight for you: Paymattic supports 135+ currencies along with a box of payment methods.
Let's explore. More.
Fluent Forms is the most beginner-friendly form builder. Download now and start crafting beautiful forms FREE!!!
What's Paymattic? How is it different from Fluent Forms?
Paymattic is a WordPress payment plugin made to collect payments and donations. For small businesses and non-profit organizations, Paymattic made payment easy for all.
I'll discuss all the amazing features one by one. But now, let me clarify the confusion. So, why is Paymattic different from Fluent Forms?
We have a bunch of powerful WordPress plugins, all for different purposes for different customers. Users often confuse Paymattic with Fluent Forms because both have options for building forms and collecting payments.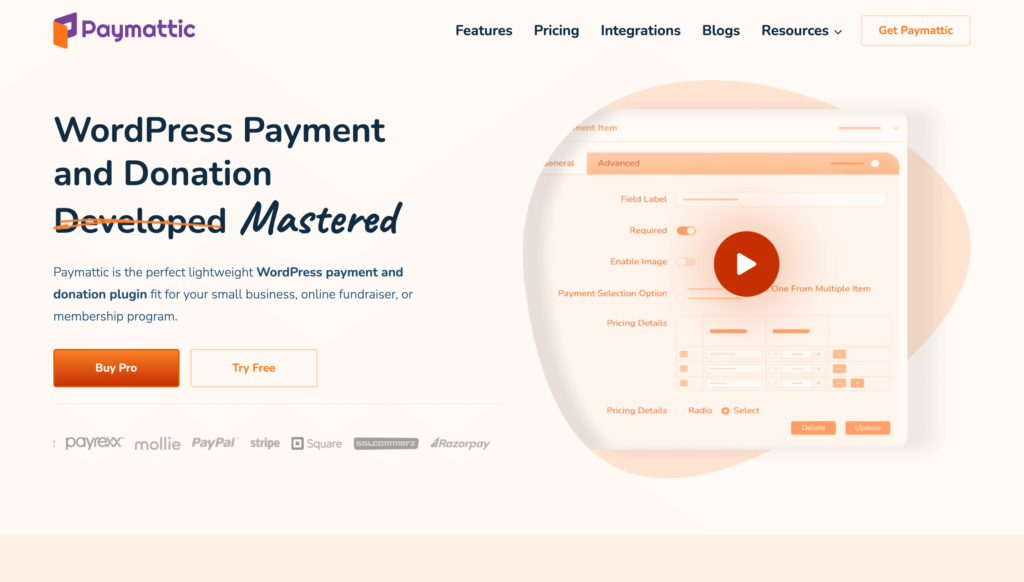 Except for these similarities, they're way apart from each other. For instance, Fluent Forms has a lot of email marketing integrations, quiz builder, conversational forms, and more.
Paymattic is made solely for payment. When you're determined about your goal – collecting payment and donations – you can easily select Paymattic.
When you want to do a lot more beyond collecting payment, you need Fluent Forms. That includes PDF submission, patient intake form, data collection, market research survey, and whatnot!
I hope I have made it clear.
In brief, Paymattic is a dedicated plugin for collecting payments and donations in WordPress.
What Paymattic does and who needs it
There are many fully-fledged shopping system like WooCommerce and Shopify. With them, you can organize your store and sell products where you don't have to worry about payment processing. At the same time, configuring these systems are heavy tasks. That's not a challenge when you have a business plan on a large-scale.
But the most common scenario in this time, people want to start small, they need to put effort for their small startups. Often it's an overkill for a big systems that I mentioned above. That's where a tool like Paymattic comes handy.
What to you want to sell? A book? Digital products? Online courses?
Yes, Paymattic is a great tool to start small businesses where you'll sell products for one-time payment or recurring payments.
Selling online products is one part of Paymattic. Another great feature is donation. For collecting donations, Paymattic has dedicated options so that you can run your charity smoothly. But, what exactly are there that can make you succeed with your ventures?
Let's have a look at all the features in a nutshell:
100+ currencies
Lively form builder
10 payment gateways
Add coupon for discount
Export and import forms
14 powerful integrations
Detail reporting
reCAPTCHA for security
Roles and permissions
Ready form templates
Redo/undo options
Create customer profiles
Form scheduling & restrictions
CRM & LMS integrations
From the above discussion, you've got an idea of who may need Paymattic. Simply put, it's for the people who want to start small and take payment online without an extra headache.
Paymattic is beneficial for:
Small business owners
Non-profit organizations
Online course builders
Subscription-based services
Multiple payment methods
Paymattic brings many payment methods to ease receiving payments and donations. They smartly chose the gateways among the tons of choices so that the benefit could be more prolific.
While Stripe and PayPal are available worldwide, Mollie covers the European region, and Paystack is popular in Africa. They also started implementing local payment gateways specific to a country or a small region.
Stripe
Paypal
Mollie
Razorpay
Billplz
Paystack
Square
Payrexx
SSLCOMMERZ
Direct Transfer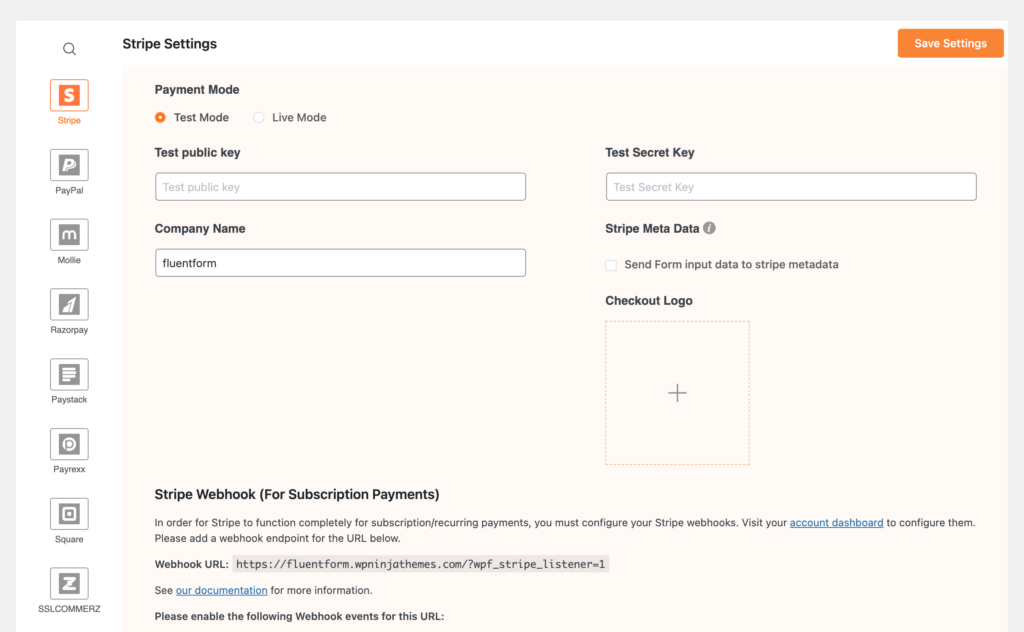 Alongside the online payment gateways, you can collect payments directly to your bank.
100+ currencies
The large number of payment methods allows you to accept various currencies. Yeah, you can receive 135+ currencies from your customers. This is really beneficial when your business is global and you want your customers to pay no matter where they live.
An amazing Gutenberg-style builder
The intuitive form builder is something I can tell you about. It's so smart and lively. All you have to do is type "/". That's it. Now you'll get the list of fields from where you can choose the one you need. The idea is to type the field name after the slash sign. But that's not always possible, right? I mean, you can easily write the name, address, and these types of common field names. But you may not guess what an HTML field name or quantity field name would be. That's when the list will help you out.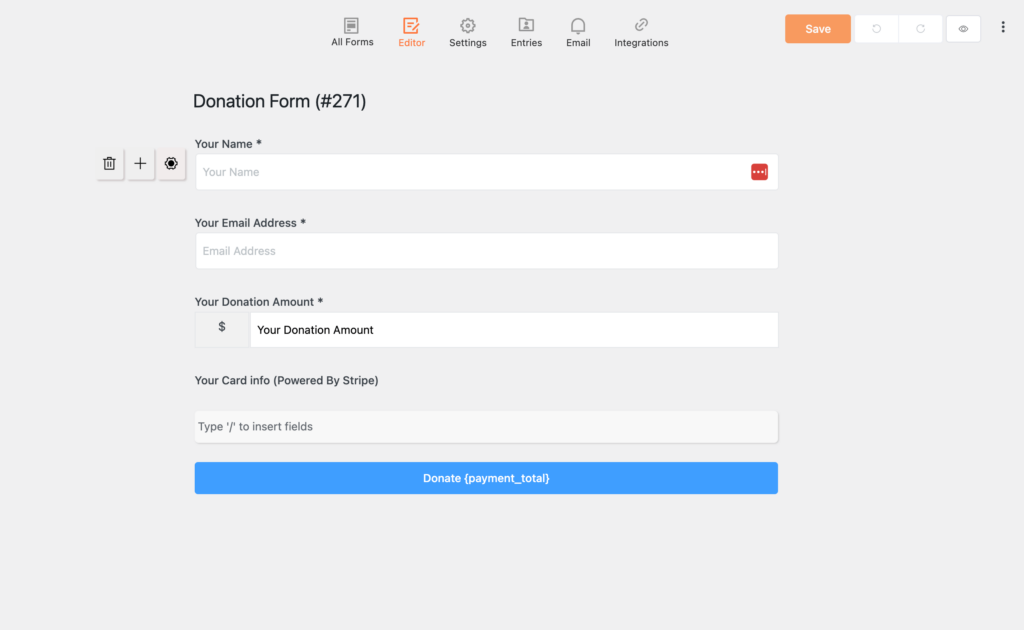 Right upon adding a field, you'll see three icons appear on the left. The bin icon will help you trash the field. Use the plus if you want to add more fields. And gear icons will take you to the settings related to that field. Awesome, isn't it?
The editor is clean, and you don't require a tutorial to operate it. Other fantastic options are the Redo and Undo buttons. They're surely helpful — you'll get it in time.
You can see the preview of your forms, switch the editor (there's a classic editor for drag-and-drop fields), and go to the design options.
Third-party applications
Paymattic also comes with some important native integrations so your business can be managed in a comprehensive manner.
The integrations with FluentCRM, Mailchimp, and ActiveCampaign are a gesture that you can connect this tool to follow up with your customers. Once they subscribe to your offers, you can communicate with them easily. There are tons of ways to utilize email marketing tools – Sending customers offers, reminding them of due payment, and asking them to support your cause.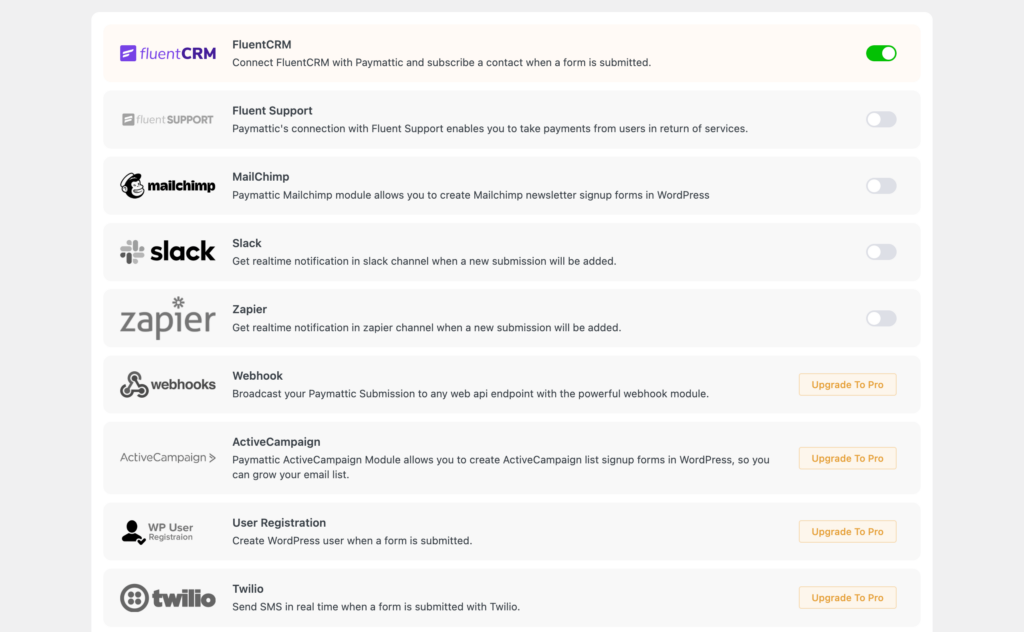 Since the plugin has Webhook compatibility, you can integrate any tools you want using Zapier. FYI, Zapier is a powerful connectivity platform with 5000+ apps in its store.
Why can't you use Paymattic to send messages to your customers with popular tools like Slack and Telegram? Yes, you can because it has integrations with the mentioned tools. Oh, you want an option to get to your customers' phone numbers? Twilio integration made it easy. Now send an SMS when a payment is made. Happy?
This is an era of online learning, and that's why there's a rise in learning management systems (LMS). Paymattic sincerely focused on that part so that you can smoothly collect payment from your students. Whether your school is on LifterLMS, Tutor LMS, or LearnDash – Paymattic connects them with ease.
Connect with Google Sheets
Right upon form submission, data can be sent to Google Sheets. From there, you can easily analyze data and create reports as you want. This way, you can export data from your dashboard before uploading it to Sheets.
This one is made for donation
Of course, you can collect donations with any WordPress payment plugins. What about having dedicated options for a donation? If you think that's amazing, then Paymattic wins your heart.
Donation management with Paymattic is easier than you think. You can set donation goals and show users the progress bars. Set donation amount to encourage users to support your cause. Custom donation amount, recurring donations, displaying stats – there are many options with Paymattic.
Paymattic free vs. pro
At this point, I've been able to give you a summary of what's there inside Paymattic. Since there's a free version and it has so much power to let you kickstart your online business, you should know the difference between the pro version and the free option.
I'll add a table for a bird's eye view.
| Features | Free | Pro |
| --- | --- | --- |
| Input Fields | 19 | 37 |
| Stripe | ✔️ | ✔️ |
| PayPal | ❌ | ✔️ |
| Mollie | ❌ | ✔️ |
| Razorpay | ❌ | ✔️ |
| Paystack | ❌ | ✔️ |
| Payrexx | ❌ | ✔️ |
| Square | ✔️ | ❌ |
| Disable IP Address | ✔️ | ✔️ |
| JSON Export/Import | ✔️ | ✔️ |
| FluentCRM | ✔️ | ✔️ |
| Webhook | ❌ | ✔️ |
| Telegram | ❌ | ✔️ |
| Slack | ✔️ | ✔️ |
| WP User Registration | ❌ | ✔️ |
| ActiveCampaign | ❌ | ✔️ |
| Ready Templates | 12 | 74 |
| Customer Module | ❌ | ✔️ |
| Reports | ❌ | ✔️ |
For starters, Stripe is available on the free version, while 9 more payment options are available on the pro. From all 37 fields, you can use 19 with the free version.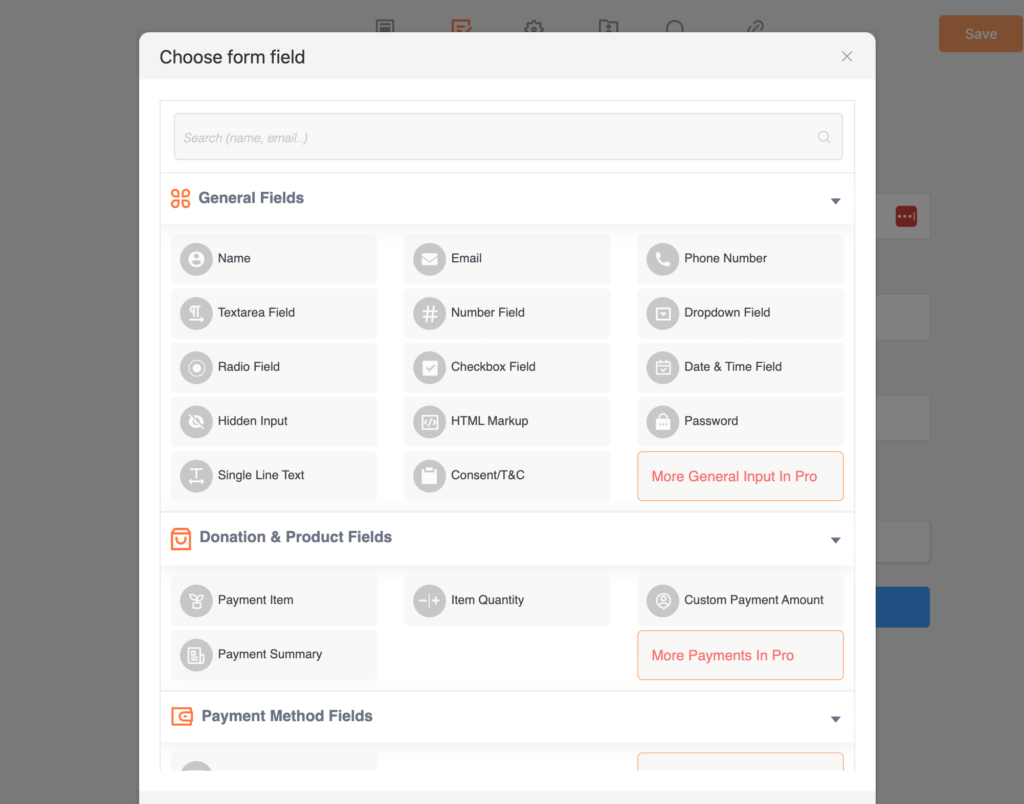 If we go to the Settings, some parts are available with the premium plans. Individual payment settings is a pro feature, while confirmation and currency settings are free. Form scheduling and custom CSS/JS are required to be paid.
Well, the best part is you can design your forms with the lite version. Paymattic also comes with tons of ready templates, which will make your work easier. Currently, the pro version has 74 templates, and the free package has 12.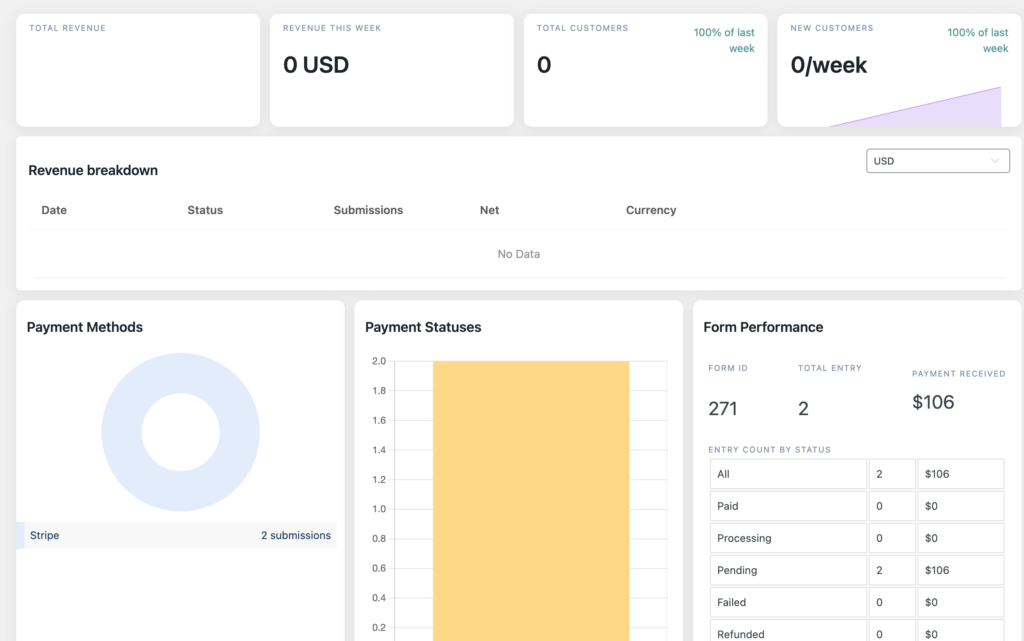 Some significant modules like customers and reporting are also for pro users only. Webhooks, Twilio, and LMS platforms like LearnDash and TutorLMS are other pro integrations. The list of free integrations is not poor, though. Slack, Mailchimp, FluentSupport, Zapier, and FluentCRM are available inside the free pack. FluentCRM and Paymattic can be a powerful combination here. You can kickstart your business or donation by utilizing free versions for each. Once you start growing, you can opt for the premium packages for both tools and enjoy more power.
All the settings: design, currency, payment, and more
Settings are available inside Paymattic to control your forms. Some are global, and some are form-specific. I want to give you an idea of what these settings offer.
General Settings: Here, you can define currency settings, currency sign positions, separators, etc. Moreover, you can enable Honeypot security to add an extra layer of protection for your forms.
Coupon: Adding a coupon to your form can help it convert faster. With Paymattic's Coupon settings, you can decide whether the discount will be fixed or percent-based. Minimum purchase amount, start date, end date, and many options are available.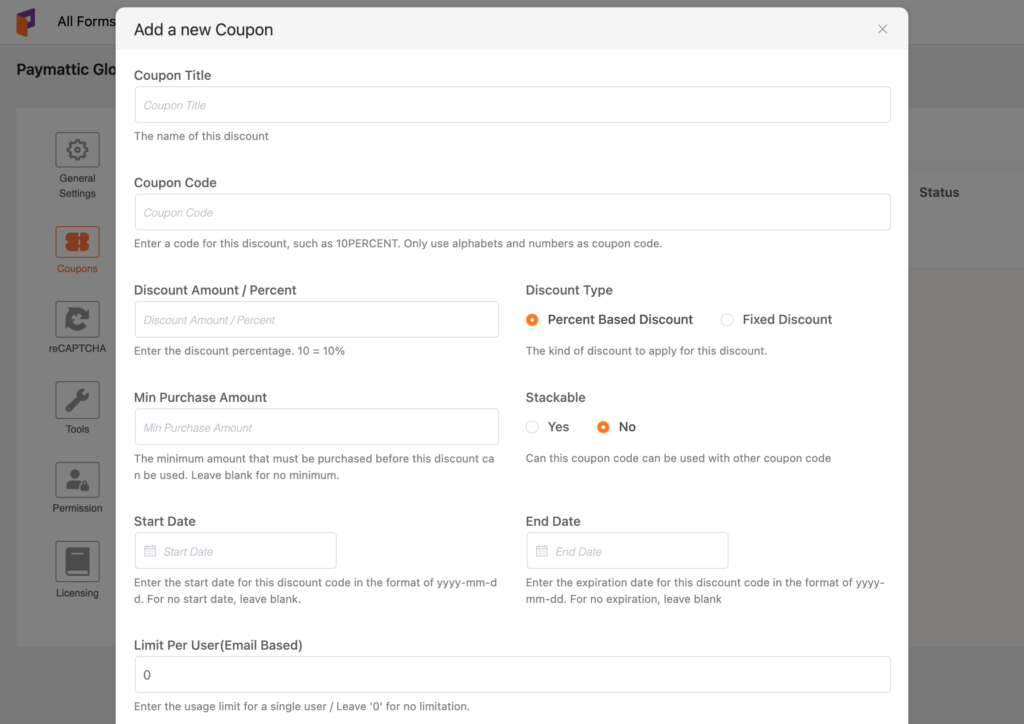 Confirmation: Besides form confirmation, you can customize receipt and confirmation. To ensure the form security, configure the reCAPTCHA setting.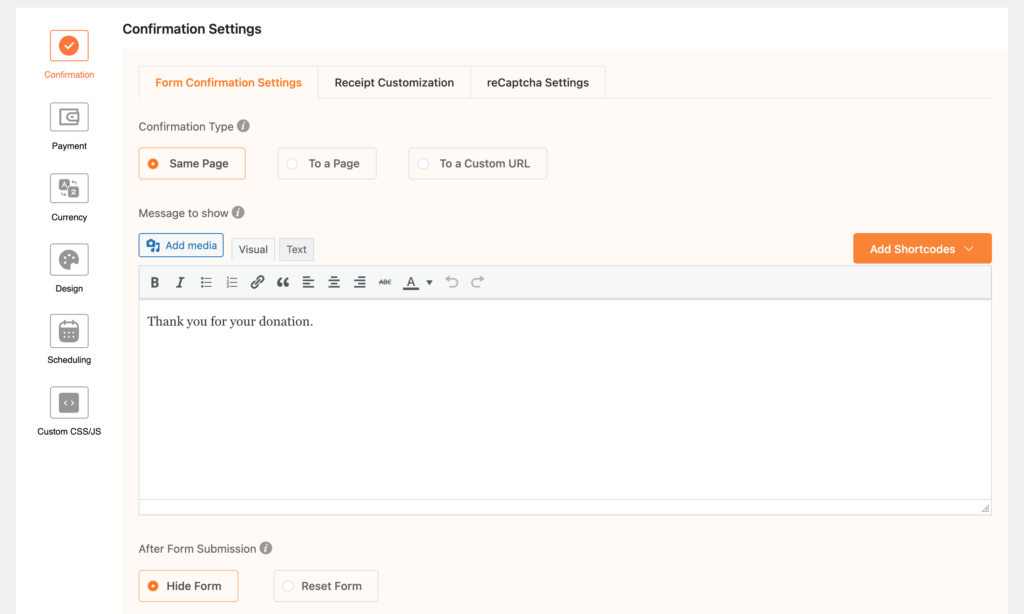 Payment: First, decide whether you receive payment for products or donations. Then, go for some general settings related to payment methods.
Currency: If you go as the global settings, then you don't have to do anything here. Otherwise, select Custom Settings, and choose the Currency and Stripe Locale.
Design: From label alignment to asterisk positioning, you can play with your form's design until you're happy with the correct styling. Not many functions are available here, but you can choose from what's already there.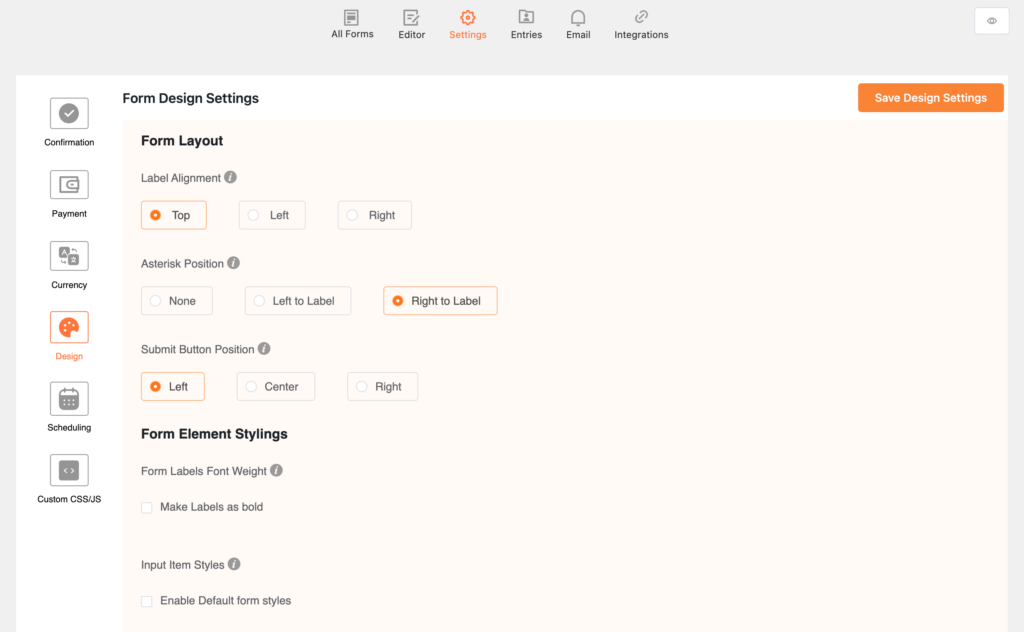 Scheduling: Scheduling forms will help you prepare your forms for submission at a certain time. Similarly, you can restrict the number of entries and limit forms by payments.
Where is Paymattic headed?
If you've come this far and are eager to know about Paymattic's future, I'd say you can trust this product. Money-wise, it's affordable. Featurewise, it's invincible compared to existing payment plugins.
But that's not all. The team is working to make it more feature-rich and business-friendly. They'll bring more product showcasing templates in real soon. Now users can have the frontend currency switching option. And more payment gateways will be added to the list.
---
Sadiq Ahmad
I am a fan of 'WordPress' and 'Haevn.' After spending one-third of my life with WordPress, I can advocate, this CMS lets you create anything you could imagine. Build. Expand. Grow. Hi, my name is Sadiq. I write about WordPress while listening to Haevn.
HI, Can Paymattic support Fluent form?

No need for support because both are form builders: one for payment and donation and the other for various business activities.